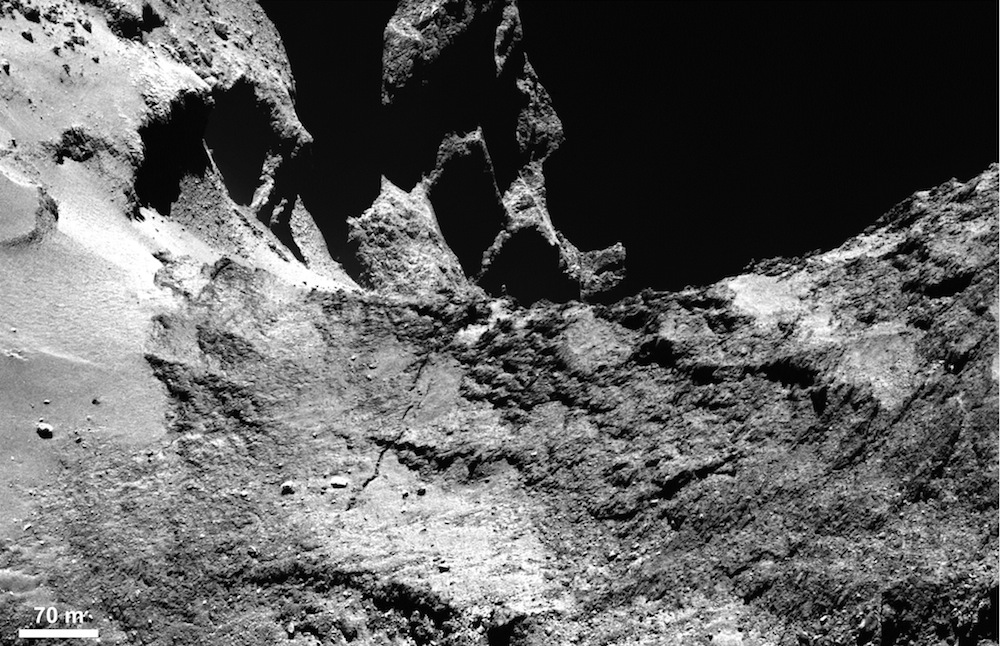 Scientists have released new findings from the European Space Agency's Rosetta mission, adding fresh pages to a catalog of comet data that officials promise will swell with more discoveries over the rest of the year.
The comet being studied by Rosetta is porous enough to float in an ocean, and it exhibits alien phenomena still being unraveled by scientists on Earth.
The flurry of announcements coincided with the Jan. 23 publication of Rosetta's initial findings in a special issue of Science magazine.
Rosetta arrived at comet 67P/Churyumov-Gerasimenko in August, then surveyed candidate landing sites for the mission's piggyback Philae landing craft. Philae dropped to the comet's nucleus Nov. 12 and bounced to rest near the face of a cliff made of rock and ice, beaming back unprecedented measurements from the surface of a comet for two days.
With Philae now in hibernation on the comet — which is about the size of small city — the Rosetta spacecraft began its own science campaign scheduled to last until some time in 2016.
Imagery from Rosetta's main camera has seen 70 percent of the comet's surface, revealing it to be rugged and diverse, ranging from jagged knife-like rock outcrops to dust dunes up to several meters deep that appear to be blown by wind on the airless body.
Scientists believe gases flowing from jets on the nucleus could drive dust particles across the surface, creating features similar to sand dunes on Earth.
The origin of the comet's irregular shape — a subject fascinating to scientists and the public alike — remains a mystery, scientists said in an ESA press release.
Comet 67P has two distinct lobes separated by a narrow neck, resembling the head and body of a duck.
One hypothesis is the comet is a remnant of a once-larger body that eroded through the solar system's 4.6 billion year history. Another way the comet could have ended up with its shape is by the fusing of two objects that formed separately at first.
An initial look at the comet shows its two lobes are made of similar material, supporting the idea that the body formed in one piece and withered away over time, scientists said.
Some steep cliffs on the stark world are marked with unexpected textures scientists have dubbed goosebumps. The features are all about 3 meters — nearly 10 feet — across, suggesting they may be clues on how the comet formed.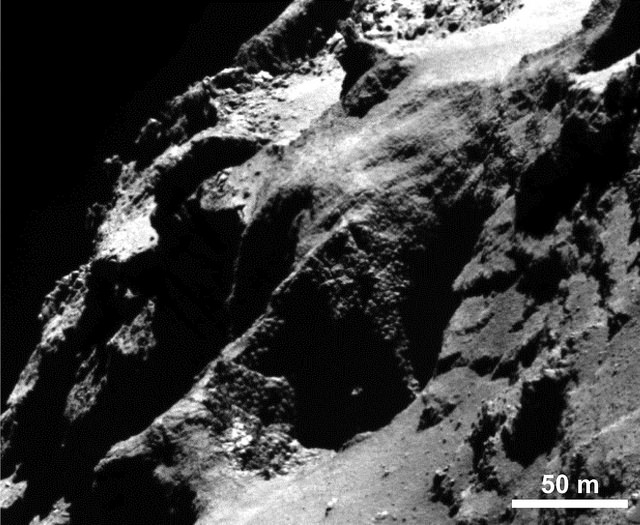 Rosetta also found a crack in the neck of comet 67P, a possible symptom of flexing or stress in the region separating the comet's head and body.
Most of the comet's jets have also come from the neck region, shooting columns of volatile materials like water into space as Churyumov-Gerasimenko coasts closer to the sun, exposing the comet to more heat that activates the plumes.
Scientists have designated the smooth region where much of the jet activity originates Hapi — after an Egyptian deity — keeping with the theme of the Rosetta mission, which was named for the Rosetta stone that unlocked the hieroglyphic text used by ancient Egyptians.
Researchers identified eighteen other geologic regions across the comet's nucleus, each typified by a different type of texture or make-up.
The jet activity at Hapi suggests the area may harbor a different type of ice or deeper ice deposits than other parts of the comet, according to a paper published in Science by lead author Holger Sierks, principal investigator for Rosetta's high-resolution German-built OSIRIS camera.
Measurements from a U.S.-made instrument on Rosetta indicated water was pouring out of the comet.
"In observations over a period of three months [June through August 2014], the amount of water in vapor form that the comet was dumping into space grew about tenfold," said Sam Gulkis, principal investigator of the MIRO instrument at NASA's Jet Propulsion Laboratory in Pasadena, California, and lead author of a paper appearing in the special Jan. 23 issue of Science.
The cloud of water vapor and dust around the comet is expected to thicken as the comet moves closer to the sun. Churyumov-Gerasimenko will be nearest to the sun — a point known as perihelion — in August, when it will be just outside the distance of Earth's orbit.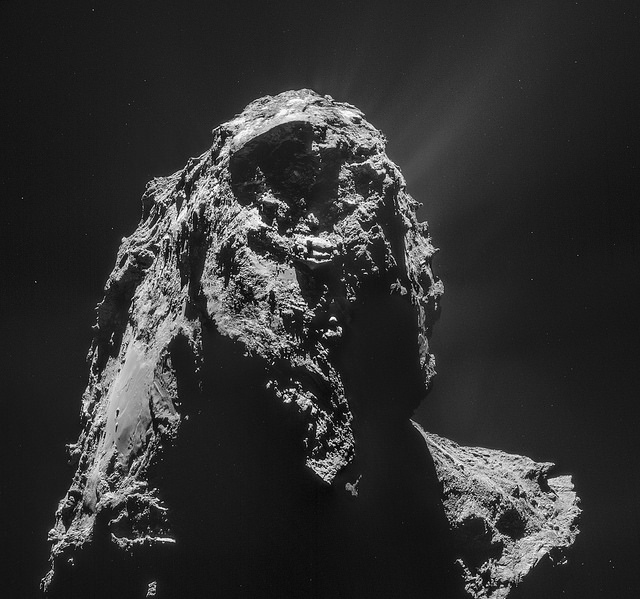 "To be up close and personal with a comet for an extended period of time has provided us with an unprecedented opportunity to see how comets transform from cold, icy bodies to active objects spewing out gas and dust as they get closer to the sun," Gulkis said.
But the water is not like Earth's, according to another early finding by Rosetta.
The water on comet 67P has a different flavor than the water found in Earth's oceans.
The ROSINA instrument on Rosetta measured the proportion of deuterium — a form of hydrogen with an additional neutron — to normal hydrogen in the comet's water, according to ESA.
It turns out the deuterium to hydrogen ratio on Churyumov-Gerasimenko is more than three times higher than the figure for water on Earth, hinting that Earth's oceans were seeded by many types of objects — not just a certain kind of comet or asteroid.
Scientists are interested in studying comets because they are rich in building blocks and elements essential for life: organic molecules and water.
Rosetta's Italian-led visible and infrared imaging spectrometer, or VIRTIS sensor, detected organic compounds similar to carboxylic acids that make up amino acids, which combine to form proteins.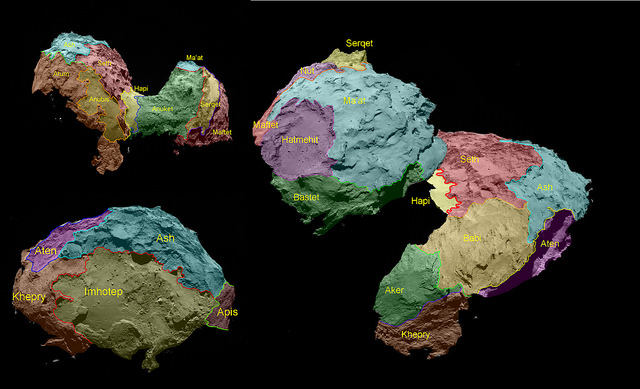 Experts suspected Rosetta would find such material on comet 67P after discovering amino acids in meteorites that fell to Earth, but Rosetta made the first measurement of the polymer-like compounds on a comet. The signal detected by Rosetta indicates complex organic molecules were abundant in the material that formed the comet's nucleus, according to a press release issued by the National Institute for Astrophysics in Italy.
"The formation of such compounds requires the presence of ices of volatile molecules such as methanol, methane or carbon monoxide, which only freeze at very low temperatures," said Fabrizio Capaccioni, principal investigator for the VIRTIS instrument at the Institute for Space Astrophysics and Planetology in Rome.
"Therefore, these compounds must have formed at large distances from the sun, during the early stages of the build up of the solar system," he said in a translation of a press release posted on ESA's website. "This suggests that we are facing a comet that locks up, in its interior, traces of primordial chemical compounds that date back to the formation of our solar system, or possibly to an even earlier epoch."
The comet is one of the darkest objects in the solar system — the moon is twice as bright — with little ice exposed at its surface, according to a paper authored by Capaccioni and supporting scientists.
Rosetta will fly as close as 6 kilometers (4 miles) from comet 67P on Feb. 14, getting its closest look yet at the craggy world. It will fly through one of the comet's jets of outgassing material, sampling its contents as it hurtles closer to the sun.
"Rosetta is essentially living with the comet as it moves towards the sun along its orbit, learning how its behavior changes on a daily basis and, over longer timescales, how its activity increases, how its surface may evolve, and how it interacts with the solar wind," said Matt Taylor, ESA's Rosetta project scientist.
"We have already learned a lot in the few months we have been alongside the comet, but as more and more data are collected and analyzed from this close study of the comet we hope to answer many key questions about its origin and evolution."
Follow Stephen Clark on Twitter: @StephenClark1.