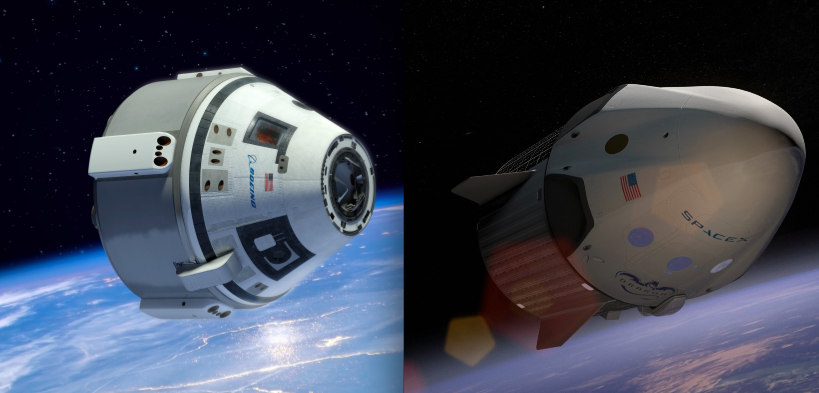 The U.S. Government Accountability Office has denied a protest filed by Sierra Nevada Corp. challenging NASA's selection of competitors Boeing and SpaceX to build commercial human-rated space capsules to fly astronauts to the International Space Station.
The GAO's decision Monday upheld $6.8 billion in contract awards to Boeing and SpaceX, in which the space agency bypassed a proposal by Sierra Nevada to develop the Dream Chaser mini-shuttle, which would launch with up to seven astronauts and return to Earth for a runway landing.
Sierra Nevada claimed it could develop its commercial spacecraft at less cost than Boeing when it filed its protest with the GAO on Sept. 26, 10 days after NASA's selection of Boeing and SpaceX for the next phase of commercial crew contracts.
The company also cited what it said were inconsistencies in NASA's process of selecting winners for the Commercial Crew Transportation Capability, or CCtCap, contracts.
According to a GAO statement released Monday, Sierra Nevada argued "that NASA's evaluation departed from the solicitation's stated evaluation and selection criteria by significantly elevating NASA's stated 'goal' of obtaining an integrated crew transportation system no later than the end of 2017, and by failing to put offerors on notice that the agency's goal would be central to the evaluation and selection decision."
In its request for bids for the CCtCap contracts, NASA said price was the primary evaluation criteria for its decision. Two other factors, mission suitability and past performance, were to be combined to receive equal consideration by NASA when it decided which companies would win awards.
"GAO disagreed with Sierra Nevada's arguments about NASA's evaluation, and found no undue emphasis on NASA's consideration of each offeror's proposed schedule, and likelihood to achieve crew transportation system certification not later than 2017," the GAO said in a statement attributed to Ralph White, the GAO's managing associate general counsel for procurement law.
The GAO review also found that NASA advised companies participating in the commercial crew program that the goal of completing certification of a human-rated spacecraft by the end of 2017 would be a factor in the space agency's contract decision.
Boeing won a contract for development, testing and crew flights of the CST-100 space capsule. NASA tapped SpaceX for the same job with its Crew Dragon spacecraft in a separate deal.
Each company is guaranteed at least two operational missions to transport crews between Earth and the International Space Station. Boeing and SpaceX's contracts each include options for up to six flights after the CST-100 and Crew Dragon spacecraft's demonstration missions.
If NASA chooses to exercise all options, Boeing's contract could be worth up to $4.2 billion. The value of SpaceX's contract — including the optional flights — is $2.6 billion.
In addition to its claim that it beat Boeing on cost, Sierra Nevada disputed the realism of the cost proposed by SpaceX, a California-based company which has made a point of undercutting the prices of its competitors. The GAO said Sierra Nevada's protest also questioned SpaceX's overall financial resources and argued that NASA failed to adequately review SpaceX's price figure.
SpaceX's price in its Crew Dragon proposal was $1.75 billion, Boeing's price was $3.01 billion and Sierra Nevada's was $2.55 billion, according to the GAO. Those prices do not include the extras bundled into the final contract values, such as full-fledged crew rotation flights once the CST-100 and Crew Dragon vehicles are certified by NASA.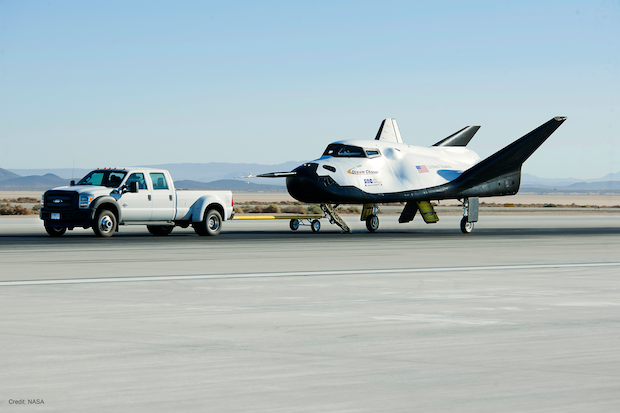 The protest also asserted that NASA improperly evaluated how well each proposal met the agency's requirements and the past performance of Boeing, SpaceX and Sierra Nevada.
"Based on our review of the issues, we concluded that these arguments were not supported by the evaluation record or by the terms of the solicitation," the GAO statement said.
Boeing's CST-100 spacecraft will lift off aboard United Launch Alliance Atlas 5 rockets with up to seven crew members. After spending up to 210 days docked with the International Space Station, the capsule will re-enter the atmosphere and land with parachutes and airbags in the Western United States.
The Crew Dragon concept under development by SpaceX — a thorough redesign of the company's cargo-carrying Dragon capsule — will launch on Falcon 9 rockets and return to Earth under parachutes with the assistance of soft landing braking rockets.
The GAO said it took no position on the merits of each company's proposal but examined NASA's decision-making process, which concluded the Boeing and SpaceX bids represented the best value to the government.
"Specifically, NASA recognized Boeing's higher price, but also considered Boeing's proposal to be the strongest of all three proposals in terms of technical approach, management approach, and past performance, and to offer the crew transportation system with most utility and highest value to the government," the GAO statement said.
In its decision between Sierra Nevada and SpaceX, NASA "ultimately concluded that SpaceX's lower price made it a better value than the proposal submitted by Sierra Nevada," the GAO said.
A formal document detailing the GAO's decision was not released Monday because it contains proprietary and sensitive source selection information, according to White's statement.
The decision is being circulated among NASA personnel and other parties, who can submit proposed redactions to the document before its public release, the GAO said.
"NASA is pleased the GAO's decision allows the agency to move forward and continue working with Boeing and SpaceX on the Launch America initiative that will enable safe and reliable crew transportation to and from the International Space Station on American spacecraft launched from the United States, ending the nation's sole reliance on Russia for such transportation," the space agency said in a statement.
Sierra Nevada said it is "evaluating" the GAO decision as it seeks other business for the company's Dream Chaser program.
"While the outcome was not what SNC expected, we maintain our belief that the Dream Chaser spacecraft is technically very capable, reliable and was qualified to win based on NASA's high ratings of the space system," Sierra Nevada said in a statement.
The company said it "firmly believes that the Dream Chaser will play a central role in shaping the future of space transportation with its unique capabilities which address a wide spectrum of needs."
Sierra Nevada said it is competing for a contract to launch supplies to the space station with the Dream Chaser space plane. NASA expects to decide on winners of the resupply contracts in May to follow up on existing cargo delivery agreements with SpaceX and Orbital Sciences Corp.
Orbital Sciences, Sierra Nevada, Boeing and presumably SpaceX have submitted bids for the Commercial Resupply Services 2 contract.
Sierra Nevada is still working on the Dream Chaser under a previous agreement with NASA. An atmospheric approach and landing test of a prototype Dream Chaser vehicle is planned later this year at a runway at Edwards Air Force Base, Calif.
Follow Stephen Clark on Twitter: @StephenClark1.