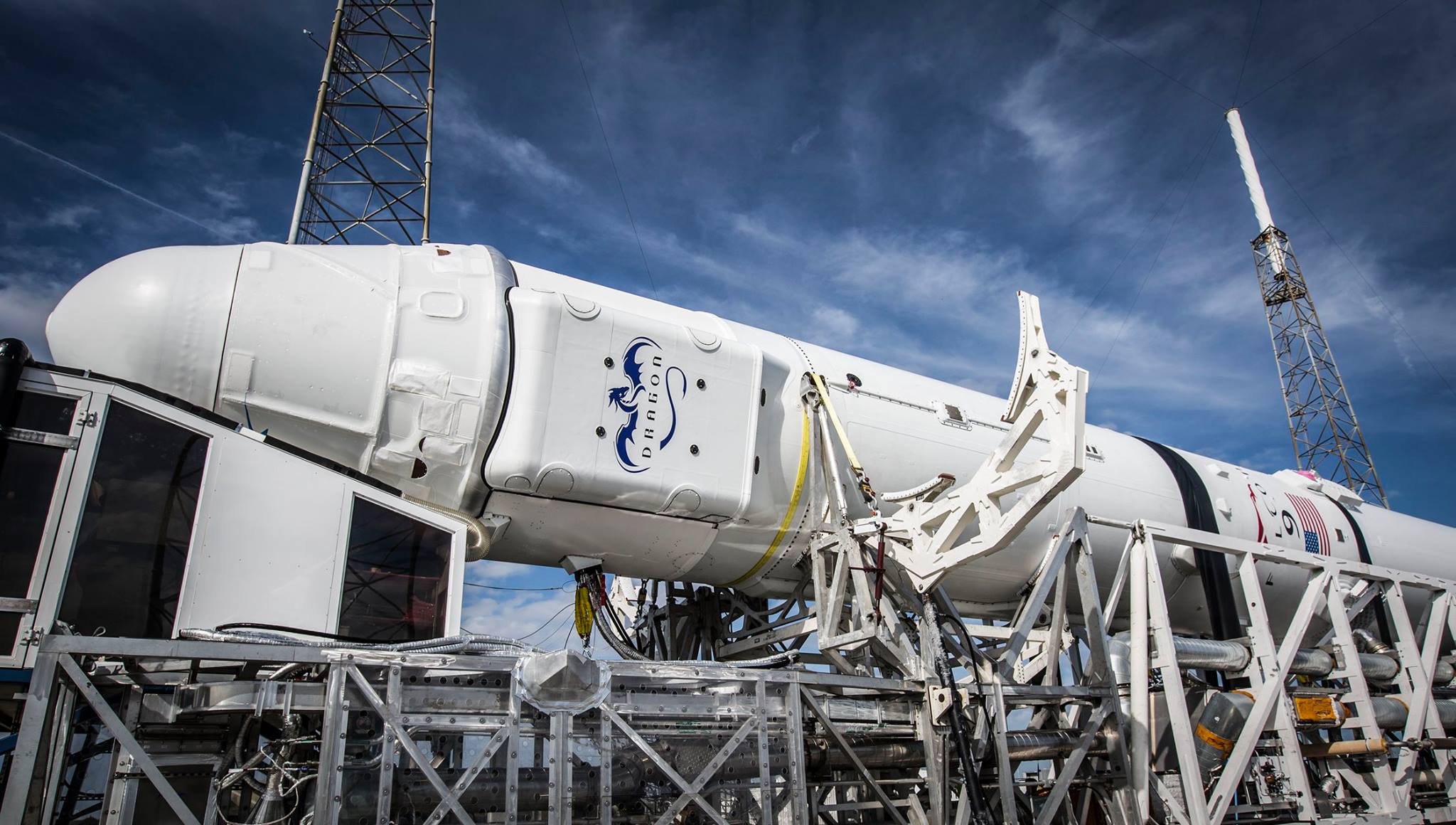 SpaceX will kick off a busy 2015 calendar playing catch-up, with liftoff of a Dragon supply ship for the International Space Station set for Tuesday after a delay from December.
At least a dozen — and perhaps as many as 16 — space missions are on SpaceX's manifest this year, launching cargo to the space station, commercial communications satellites, and scientific spacecraft for NASA.
Also in SpaceX's plans for 2015: The first launch of the company's Falcon Heavy mega-rocket, which will be powered by 27 engines when it blasts off from the Apollo- and shuttle-era launch pad 39A at Kennedy Space Center in Florida.
Critical abort tests of SpaceX's Crew Dragon spaceship are also on tap for this year, but they are not counted on the company's operational manifest.
SpaceX founder Elon Musk says the Hawthorne, Calif.-based company has about one launch per month over the next year. Other sources also said SpaceX has at least 12 launches scheduled for 2015, but company's customers appear to be expecting SpaceX to deliver even more.
SpaceX had a similar number of flights on its docket in 2014, including the Falcon Heavy's debut launch and the Dragon abort tests, which slipped to some time this year. Six Falcon 9 rockets ended up blasting off last year.
Most of the missions will take off from Cape Canaveral's Complex 40 launch facility. The Falcon Heavy test flight will launch from nearby pad 39A, and one or two flights are expected to launch from SpaceX's West Coast launch pad in California, according to a source not authorized to speak on the record.
"The manifest is busy," said Hans Koenigsmann, SpaceX's vice president of mission assurance, without specifying how many launches the company plans for 2015. "On the bright side, this will now include more launch sites. Vandenberg will be more active."
The last Falcon 9 launch from Vandenberg Air Force Base in California was in September 2013.
The company publishes its launch backlog on its website, but officials recently switched the mission manifest from chronological order to an alphabetical listing, removing the year each flight was scheduled for liftoff.
SpaceX does not signal its long-term target launch dates, but some of the company's customers have disclosed when they expect to launch their payloads.
The year of launches begins Tuesday with the 6:20:29 a.m. EST (1120:29 GMT) launch of SpaceX's fifth operational cargo resupply mission to the International Space Station.
There is a 70 percent chance of favorable weather for Tuesday's launch opportunity.
The flight was supposed to take off in December, but engineers wanted extra time to analyze a problem observed during a prelaunch static fire test, where the Falcon 9's rockets were ignited for a brief firing on the launch pad. The engines did not run as long as planned, Koenigsmann said, so SpaceX opted to stand down while they resolved the problem and tested the engines again.
SpaceX has programmed the Falcon 9 rocket's first stage — a cylindrical structure roughly 15 stories tall — to fly itself back to Earth and make a precision landing on an ocean-going vessel dubbed the autonomous spaceport drone ship.
Officials bill the flyback and landing as purely experimental, a secondary goal to the mission's prime objective of resupplying the space station. SpaceX founder and CEO Elon Musk also put the chances of achieving the landing on Tuesday's flight at about 50-50.
But SpaceX promises to keep trying when it has opportunities to conduct the daring flyback maneuver. Some missions with heavy satellites heading to high-altitude orbits, such as many communications satellites, need all of the Falcon 9 rocket's fuel capacity.
SpaceX's logistics missions to the space station require less of a boost from the Falcon 9 rocket, leaving extra fuel in its tanks to refire its engines and guide itself back to Earth.
After Tuesday's cargo launch, SpaceX's next mission will take off no earlier than Jan. 29 with the Deep Space Climate Observatory, a deep space sentinel that will give space weather forecasters advance notice of solar storms approaching Earth.
The Jan. 29 launch of DSCOVR from Cape Canaveral will mark SpaceX's first launch to send a spacecraft out of Earth orbit. The small satellite — a mission led by NOAA with participation from NASA and the U.S. Air Force — will be positioned at the L1 libration point, a gravitationally-stable position about a million miles toward the sun from Earth.
In mid-February, a Falcon 9 rocket will launch from Florida with two Boeing-built communications satellites — the first spacecraft to use all-electric propulsion to reach their operational posts 22,300 miles above Earth's equator.
The Eutelsat 115 West B and ABS 3A satellites — owned by Paris-based Eutelsat and Asia Broadcast Satellite of Hong Kong and Bermuda — will be dropped off in an elliptical transfer orbit by the Falcon 9 rocket's second stage.
Most communications satellites carry liquid hydrazine fuel to boost themselves the rest of the way to their final orbits. The propellant tanks take up mass and volume, forcing satellite owners to buy a bigger rocket and leaving less room for communications transponders, antennas and other revenue-generating equipment.
SpaceX's next launch from Vandenberg Air Force Base in California is set for March 31 with the Jason 3 ocean altimetry satellite for NASA, NOAA, the French space agency CNES, and Eumetsat, NOAA's counterpart in Europe.
Later in the year, SpaceX plans up to four more Dragon resupply missions launching aboard Falcon 9 rockets from Cape Canaveral. They are currently set for launch in April, June, September and December.
A package of 11 small data relay satellites for Orbcomm Inc. are due for liftoff from SpaceX's Florida launch pad in mid-2015.
SES of Luxembourg, one of the world's largest commercial satellite operators, expects to launch its SES 9 communications payload on a Falcon 9 rocket some time between beginning of April and the end of June, according to a senior SES executive.
Japan's SKY Perfect JSAT Corp., Israel's Spacecom Ltd. and the government of Turkmenistan also say they have satellites due for launch on Falcon 9 rockets this year.
Another set of all-electric propulsion communications satellites — Eutelsat 117 West B and ABS 2A — is being prepared for a launch slot on a Falcon 9 booster in late 2015, according to Boeing.
Iridium Communications plans to launch 10 of its next-generation mobile voice and data communications satellites by the end of 2015 aboard a SpaceX Falcon 9 rocket from Vandenberg. Iridium's chief executive said the mission was on track in a conference call with investment analysts in late 2014.
Six more Falcon 9 launches with Iridium satellites are scheduled from the California launch base in 2016 and 2017 to build out Iridium's new fleet in low Earth orbit.
Follow Stephen Clark on Twitter: @StephenClark1.