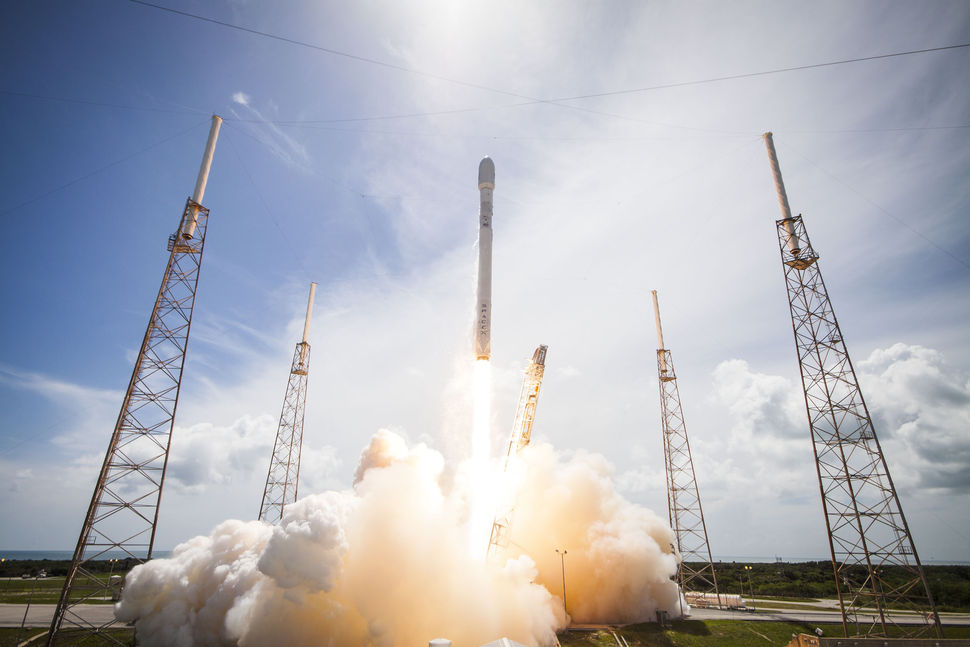 A communications satellite owned by the Qatari government will launch from Cape Canaveral on a SpaceX Falcon 9 rocket in late 2016, according to Qatar's state-owned satellite company.
The Es'hail 2 satellite — under construction at Japan's Mitsubishi Electric Corp. — will broadcast television programming across the Middle East and Africa for Es'hailSat, a company founded in 2010 by the government of Qatar.
Es'hail 2 will take off from SpaceX's Complex 40 launch pad at Cape Canaveral Air Force Station in the fourth quarter of 2016, Es'hailSat announced Sunday.
Based on Melco's DS2000 satellite platform, the spacecraft will weigh around three metric tons at launch and will carry Ku-band and Ka-band transponders to support government and commercial customers, according to an announcement released by the state-owned Qatar News Agency.
A Falcon 9 rocket will deploy the Es'hail 2 satellite into geostationary transfer orbit, and the spacecraft's on-board propulsion system will put it into a circular orbit 22,300 miles over the equator.
Es'hail 2 will operate in a geostationary slot at 26 degrees east longitude.
"We are delighted to have selected SpaceX to launch our second satellite," said Ali Al Kuwari, CEO of Es'hailSat. "Now a proven GTO launcher, SpaceX was able to meet our special technical requirements and most importantly to meet the time critical mission to launch Es'hail 2 at the end of 2016. Securing the launch of Es'hail 2 marks another key milestone in Qatar's satellite program and we look forward to working with SpaceX on this important mission."
Es'hail 2 will be the company's second communications satellite. The Es'hail 1 spacecraft, built in partnership with Paris-based Eutelsat, launched aboard an Ariane 5 rocket in August 2013 and entered service two months later.
"SpaceX is pleased to have been selected to provide launch services for Es'hailSat's growing fleet of satellites," said Gwynne Shotwell, president and chief operCating officer of SpaceX. "The two companies worked closely together to develop a launch solution that enhances the capabilities for the Es'hail 2 mission. SpaceX is proud to partner with Es'hailSat and we look forward to their successful launch."
Follow Stephen Clark on Twitter: @StephenClark1.