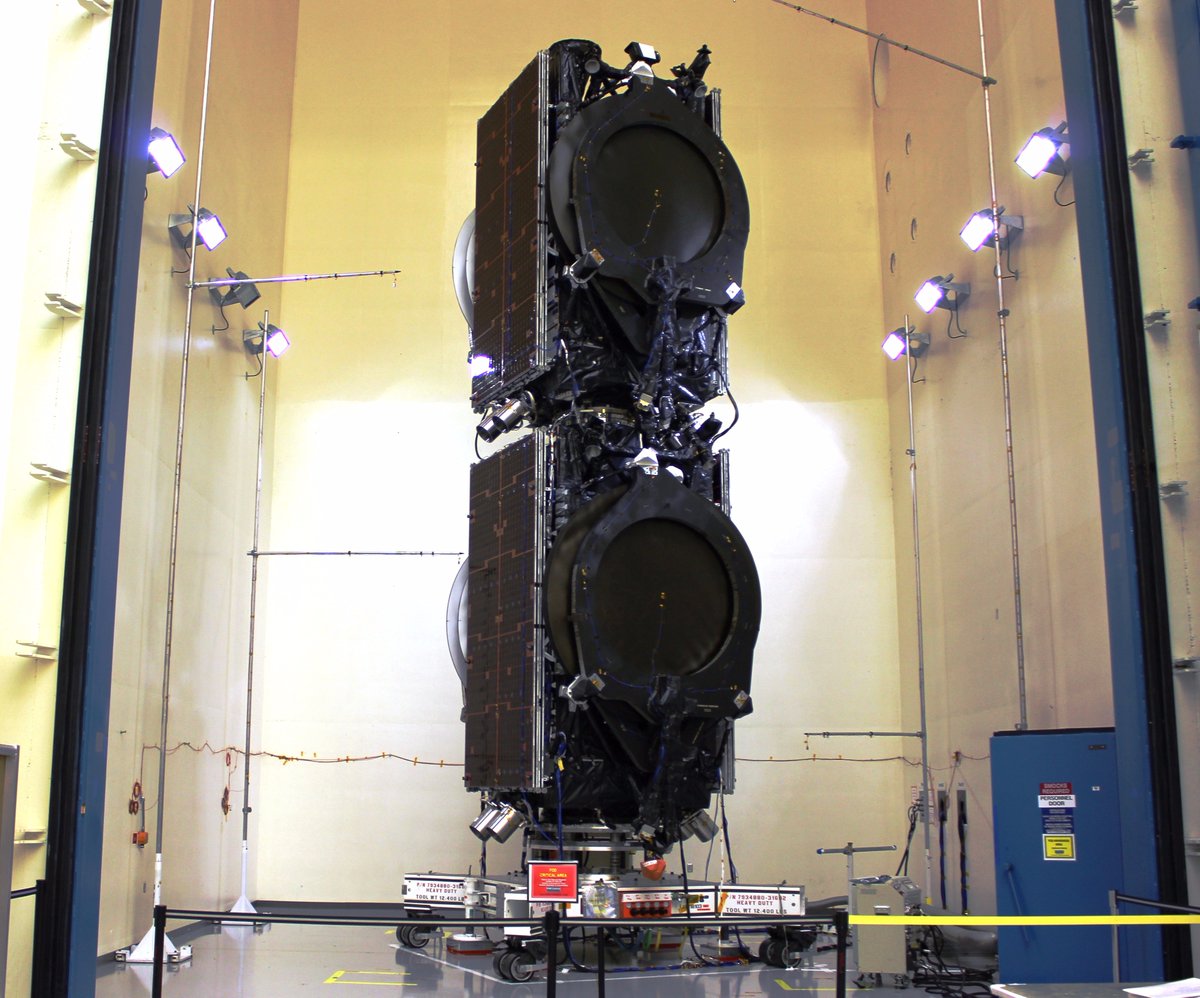 Technicians planned to attach two Boeing-built communications satellites to a SpaceX Falcon 9 rocket Monday, a day after launch controllers fueled the booster and fired its nine Merlin first stage engines in a key preflight test.
The two-stage Falcon 9 rocket completed the static fire test Sunday at Cape Canaveral's Complex 40 launch pad, throttling up its main engines to 1.5 million pounds of thrust for a few seconds to verify the vehicle's readiness for flight.
SpaceX conducted the static fire test without the mission's two satellite passengers on-board. Workers planned to return the rocket to its hangar and mate the two spacecraft, owned by Asia Broadcast Satellite of Hong Kong and Paris-based Eutelsat, to the rocket as soon as Monday.
The satellites were encapsulated inside the Falcon 9's clamshell-like nose cone earlier in the launch campaign.
After final integrated tests, the Falcon 9 rocket will be rolled out of the hangar on the southern perimeter of the Complex 40 launch pad to the liftoff position, then erect it vertical for Wednesday's countdown.
Liftoff on Wednesday is set for 10:29 a.m. EDT (1429 GMT) at the opening of a 44-minute launch window.
The official forecast issued by the U.S. Air Force's 45th Weather Squadron predicts an 80 percent chance of favorable weather, with partly cloudy skies and warm temperatures.
The only chance of a violation of the Falcon 9's launch criteria is with cumulus clouds, according to the forecast released Monday.
"On launch day, the sea breeze is expected to set up after the end of the morning launch window, triggering convection in the afternoon," Air Force meteorologists wrote. "During the launch window, light southwest winds will allow for cumulus development over the spaceport due to strong surface heating. Therefore, the primary weather threat will be cumulus clouds."
Like all Falcon 9 flights so far this year, SpaceX will attempt to recover the rocket's first stage booster on a barge positioned downrange from the launch site. For this mission, the drone ship will hold position about 420 miles (680 kilometers) east of Cape Canaveral in the Atlantic Ocean.
SpaceX has retrieved the first stage booster after the last three Falcon 9 launches on April 8, May 6 and May 27. Combined with a launcher recovered with a touchdown on land in December, SpaceX now has four previously-flown boosters in its inventory.
One of the rockets — the vehicle recovered in December — is destined to go on vertical display outside the company's headquarters in Hawthorne, California. SpaceX plans to launch the booster that landed on the drone ship in April on another flight in September or October, according to Elon Musk, the firm's founder and chief executive.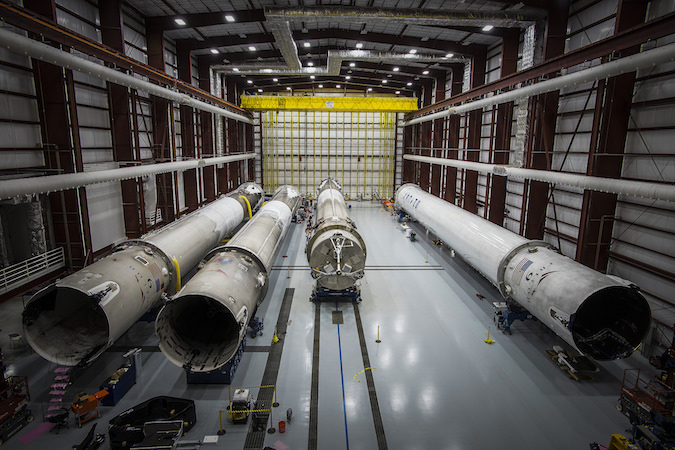 A rocket that descended back to a successful landing May 6 will go through a series of extensive ground tests to formally qualify other identical vehicles for multiple missions. The nine Merlin 1D main engines on each rocket, a subset of which re-ignite on descent to slow for landing, are already qualified for multiple flights, according to Gwynne Shotwell, SpaceX's president and chief operating officer.
Plans for the booster recovered after the last Falcon 9 launch May 27, which lofted the Thaicom 8 communications satellite, have not been announced.
Wednesday's mission will mark the 26th flight of a Falcon 9 rocket since it debuted in 2010, and sixth Falcon 9 launch this year.
After dropping its first stage for a propulsive landing attempt in the Atlantic, the Falcon 9's single-engine second stage will propel itself into orbit about nine minutes after liftoff. A second firing of the vacuum-rated Merlin upper stage engine will lob the two satellites aboard the rocket into a highly elliptical "supersynchronous" transfer orbit reaching tens of thousands of miles above Earth.
Separation of the two satellites, which are stacked atop one another inside the Falcon 9 fairing, is expected about a half-hour after liftoff Wednesday.
Based on the Boeing 702SP satellite bus, the payloads do not carry any chemical rocket propellant for maneuvers in space. Instead, the satellites will drive themselves to operating posts in geostationary orbit over the equator using plasma thrusters, a more efficient propulsion system than conventional rocket engines.
Using ionized xenon gas, the electric thrusters will fire almost continuously to reshape the satellites' orbits, but their low thrust means it will take at least six months to reach their final positions more than 22,000 miles (35,786 kilometers) over the equator. Communications platforms burning chemical liquid fuel can do the job in a few weeks.
But the tradeoff made sense for Eutelsat and Asia Broadcast Satellite.
Without heavy propellant tanks, each satellite weighs less than 5,000 pounds (between 2,000 and 2,200 kilograms), allowing the spacecraft to share a launch opportunity on a Falcon 9 rocket, which can normally only carry one large telecom payload into orbit at a time.
Accounting for the Falcon 9's relatively low prices, each customer paid about $30 million to launch each satellite.
Mexican satellite operator Satmex, which was acquired by Eutelsat in 2014, and Asia Broadcast Satellite ordered four "all-electric" satellites from Boeing in 2012. The first pair launched on a Falcon 9 rocket in March 2015, marking the first such all-electric communications spacecraft ever flown.
The second duo going up Wednesday — ABS 2A and Eutelsat 117 West B — will enter service around the end of the year or in early 2017.
ABS 2A hosts 48 Ku-band transponders to serve customers in South Asia, Southeast Asia, Russia, sub-Saharan Africa, and the Middle East and North Africa, according to ABS. Parked in geostationary orbit at 75 degrees east longitude, the craft will broadcast direct-to-home television services, and support mobile communications clients.
It will be located near the ABS 2 satellite launched aboard an Ariane 5 rocket in February 2014.
Eutelsat 117 West B will steer into an orbital slot at 116.8 degrees west longitude, beaming video programming across Latin America. Its coverage range will extend from the southern United States to Patagonia, with an emphasis on large markets in Mexico, South America and the Caribbean.
The commercial satellite also carries a navigation payload supplied by the U.S. Federal Aviation Administration to provide more accurate GPS position information to private and commercial aircraft transiting the United States.
The navigation data from the Wide Area Augmentation System, or WAAS, beacon supports precision landing approaches in inclement weather, allows air traffic controllers to assign more direct flight paths, and reduces separation distances required between aircraft in flight.
The FAA's existing GPS augmentation system is comprised of payloads aboard aging satellites.
Email the author.
Follow Stephen Clark on Twitter: @StephenClark1.