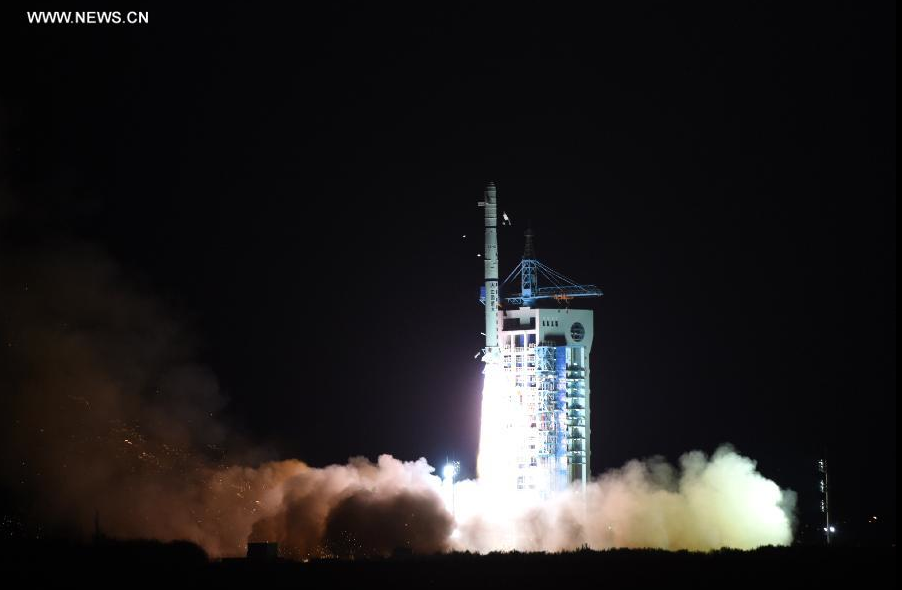 A package of small satellites that will likely track global naval activity lifted off aboard a Chinese Long March 4C rocket on Wednesday.
Chinese authorities made no announcement of the launch ahead of time except for warnings issued to pilots to steer clear of the rocket's flight path.
Liftoff of the three-stage, liquid-fueled Long March 4C launcher occurred at 1933 GMT (2:33 p.m. EST) Wednesday from the Jiuquan space base in northwest China's Inner Mongolia autonomous region.
The launcher took off at 3:33 a.m. Beijing time Thursday.
China's official Xinhua news agency described the Yaogan 25 payload as a single satellite, which state media reported was released into the planned orbit by the Long March 4C rocket.
Tracking data from the U.S. Air Force's Space Surveillance Network recorded multiple satellites from Wednesday's launch in an orbit nearly 1,100 kilometers, or about 680 miles, above Earth at an inclination of 63.4 degrees.
The use of the Long March 4C rocket, the Jiuquan launch site, and the detection of multiple spacecraft in orbit follows a pattern established on four previous launches in March 2010, November 2012, September 2013, and August 2014.
After each of the earlier launches, three satellites flew together in orbit in a triplet formation. Satellites operated by the U.S. National Reconnaissance Office flying in similar orbits are believed to monitor worldwide naval activity.
Western observers of Chinese space activity say the Yaogan name is a cover for China's military spy satellites.
Xinhua reported the satellites are "mainly used for scientific experiments, natural resource surveys, crop yield estimates and disaster relief."
Wednesday's launch marked the 80th space mission to reach Earth orbit or beyond this year, and the 14th space launch by China in 2014. All of China's satellite launches this year have been successful.
Follow Stephen Clark on Twitter: @StephenClark1.