Updated after crew's ingress of Tiangong 2.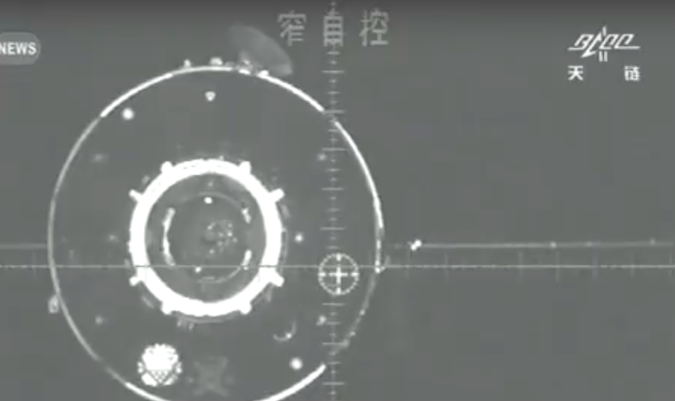 Two days after blasting off on a Long March rocket, a Shenzhou spaceship carrying two Chinese astronauts linked up with China's Tiangong 2 space lab nearly 250 miles above Earth Tuesday to begin a one-month stay inside the mini-station.
Astronauts Jing Haipeng and Chen Dong were strapped into their seats for the automated docking Tuesday, and the crew open hatches leading into the Tiangong 2 module within a few hours of arriving.
Following cues from a suite of rendezvous sensors mounted on the forward end of the craft, Shenzhou 11's guidance computer steered the capsule toward the docking port on Tiangong 2 and made contact around 1924 GMT (3:24 p.m. EDT) during a nighttime orbital pass.
Live video from Shenzhou 11 broadcast by China's state-run CCTV news channel showed the final approach to Tiangong 2, along with views inside the capsule, where Jing and Chen wore spacesuits for the link-up.
Once the spaceships made contact, a docking ring on Shenzhou 11 retracted to bring the two craft together. The astronauts and ground controllers ensured the pressure inside both modules is equalized before giving the "go" for Jing and Chen to ingress Tiangong 2.
After changing from his spacesuit into a blue jumpsuit, Jing entered the space lab's internal cabin first at 2232 GMT (6:32 p.m. EDT), waving to a camera fastened inside Tiangong 2.
The astronauts started their journey with a sunrise blastoff Monday from the Jiuquan satellite launch center in a remote part of the Inner Mongolia autonomous region of northwest China.
The upper stage of a Long March 2F launcher released Shenzhou 11 in orbit less than 10 minutes after liftoff, which occurred at 2330 GMT (7:30 p.m. EDT) Sunday, and the spaceship fine-tuned its orbit over the following day-and-a-half to meet up with Tiangong 2.
Unlike China's last few piloted missions, Shenzhou 11 only carries two astronauts, allowing Tiangong 2 to support a longer stay. Shenzhou 11 should more than double the record for the longest-duration Chinese crewed mission, extending the mark from 15 days to 33 days.
China's #Shenzhou11 manned spacecraft successfully completed an automated docking with Tiangong-2 space lab pic.twitter.com/C8kN1gC3Is

— China Xinhua News (@XHNews) October 18, 2016
The astronauts will conduct experiments and rehearse procedures for China's future space station, a facility that will include three 20-ton modules and docking ports for visiting crews and cargo vehicles. The first segment of the station is supposed to launch in 2018, and the orbital complex should be complete by 2022.
Jing and Chen are the first astronauts to visit Tiangong 2, which launched Sept. 15 and completed a checkout before Shenzhou 11's flight. Two Shenzhou crews flew to the precursor Tiangong 1 space lab — about the same size as Tiangong 2 but lacking new upgrades — in 2012 and 2013.
Shenzhou 11 is China's sixth human spaceflight mission since Chinese astronaut Yang Liwei made the country's first jaunt into orbit in October 2003.
Jing, a 49-year old Chinese fighter pilot, is on his third flight in orbit after serving on the Shenzhou 7 and Shenzhou 9 crews in 2008 and 2012. He has logged 15 days in orbit going into the Shenzhou 11 mission, and will become China's most experienced astronaut by the time he lands.
His crewmate is Chen Dong, a 37-year-old pilot in the Chinese Air Force making his first voyage into space. He told reporters before the launch that Jing was like a "big brother" who helped him prepare for the trip.
With Shenzhou 11 and Tiangong 2 docked, the two spacecraft form a mini-space station extending more than 60 feet (18 meters) long and 13 feet (4 meters) in diameter, bigger than a London double-decker bus.
Tiangong 2 controls the orientation of the docked complex with gyroscopes. The space lab has living quarters, medical gear, provisions and experiments for the two-person Shenzhou crew.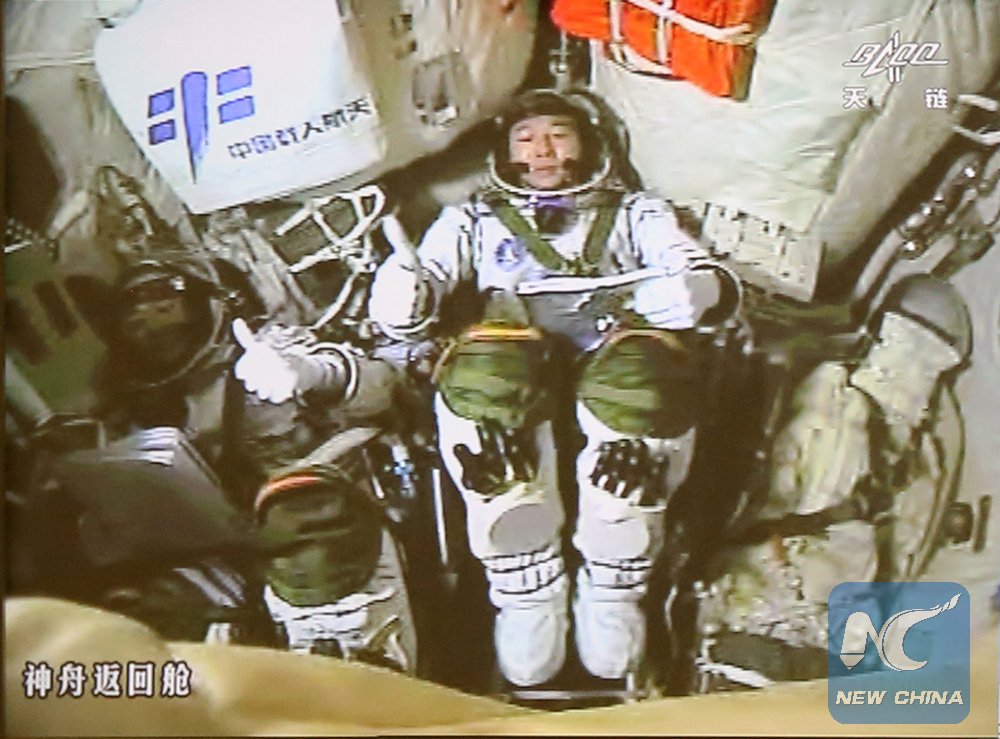 Wu Ping, a spokeswoman from the China Manned Space Engineering Office, told reporters on the eve of Shenzhou 11's launch that astronauts will carry out "man-tended medical experiments, space science experiments, orbital preparation experiments, and outreach activities."
Medical researchers plan to monitor how the crew's bodies respond to microgravity after a month in orbit.
"With the increase of the flight time, the adverse effects of the weightless environment in space on the human body will be significant, especially the decay of the cardiovascular function will be more prominent, and there will be a certain degree of muscle atrophy and bone loss," Wu said.
The technical parameters of the Shenzhou 11 spacecraft are nearly identical to previous Shenzhou missions, according to Wu, but ground teams improved techniques for loading cargo into the capsule to fit more supplies for the longer-duration flight.
Chinese engineers designed exercise equipment — a bicycle ergometer and treadmill — to put inside Tiangong 2 to help the astronauts counteract the effects of zero gravity, Wu said.
A new wide-band communications system will help the astronauts stay in touch with ground controllers and their families with voice connections, video links and data transmissions.
"For instance, on this flight the astronauts will conduct an ultrasound inspection, and the ground can inspect the astronauts' cardio-pulmonary function in real-time," Wu said. "They will also participate in many science experiments, such as the replacement of space material production samples, and carry out space plant cultivation experiments."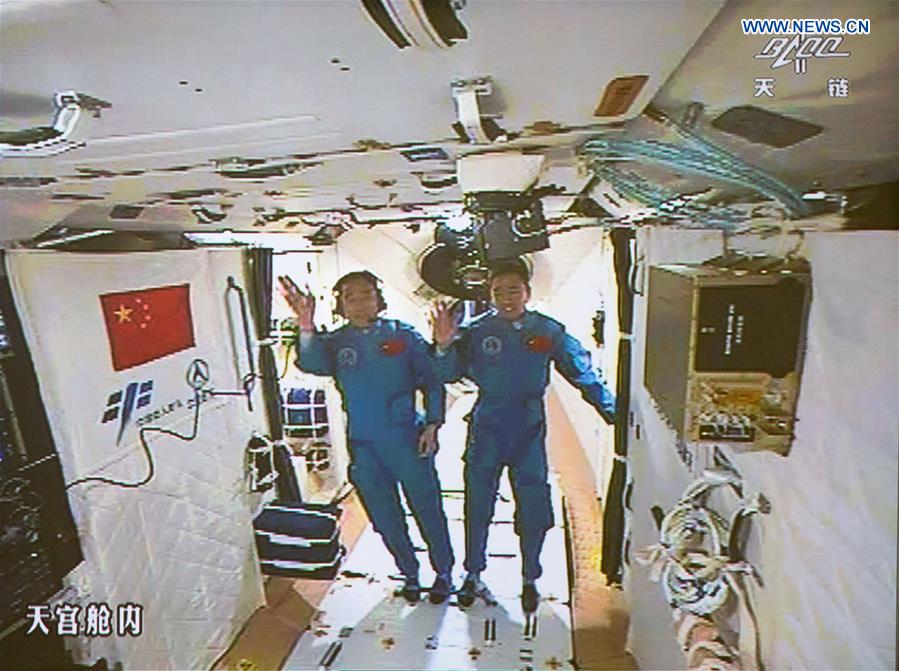 One experiment in plant biology involves the growth of lettuce in space.
"They are also going to carry out typical on-orbit repair experiments and verify the synergy of humans and machines," Wu said.
The Shenzhou 11 spacecraft will depart the space lab and return to Earth with a parachute-assisted landing in China in mid-November after 30 days attached to Tiangong 1. Adding time for the trip to and from the space lab, the Shenzhou 11 crew is scheduled to spend 33 days in orbit.
Once Shenzhou 11 returns home, Tiangong 2 will begin standalone operations with its own set of automated and ground-programmed experiments.
Tiangong means "heavenly palace" in English, while Shenzhou means "divine vessel."
Since building the earlier Tiangong 1 module, Chinese engineers have worked on improved dining and sleeping quarters, better lighting, upgraded air circulation, modernized medical equipment and a new wireless communications system installed on Tiangong 2.
The space lab, designed for a two-year mission, also has changes to accommodate refueling in orbit, a key demonstration China intends to accomplish with a robotic resupply freighter named Tianzhou 1 scheduled to launch and dock with Tiangong 2 in April 2017.
Email the author.
Follow Stephen Clark on Twitter: @StephenClark1.