Full video of meteor-like event @BadAstronomer pic.twitter.com/q37UzRZKpa

— Matt Holt (@mholt6) July 28, 2016
A flaming fragment of space junk from China's newest satellite launcher blazed through Earth's atmosphere over the Western United States late Wednesday.
Darting across the skies of California, Nevada, Utah, Idaho and Colorado, the object disintegrated into numerous chunks before disappearing. The relatively slow speed of the fireball — it took nearly a minute to cross the sky — ruled out a natural origin, experts said.
The video above was captured by Matt Holt in Utah County, Utah.
The source of the unexpected sky show around 9:40 p.m. PDT Wednesday (12:40 a.m. EDT; 0440 GMT Thursday) was the second stage from China's Long March 7 rocket, which took off June 25 on its maiden test flight, according to Jonathan McDowell, a scientist at the Harvard-Smithsonian Center for Astrophysics who tracks global satellite and launch activity.
A notice issued a few hours later by the Joint Space Operations Center, the U.S. military unit responsible for monitoring space traffic, confirmed the Long March 7's re-entry over the United States.
McDowell matched the time of the event with the Long March 7 rocket's orbit, which carried the object from west to east over the Western United States. He said the second stage of the Long March 7 booster initially launched into an orbit ranging between 126 miles (203 kilometers) and 234 miles (378 kilometers) above Earth, but natural drag from the rarefied outer layers of Earth's atmosphere pulled the uncontrolled rocket to an altitude of less than 90 miles (140 kilometers) by Wednesday.
The U.S. military's space traffic trackers issued re-entry predictions for the Long March 7 rocket body before Wednesday night's fall from orbit, but such events are impossible to predict with specificity. Re-entry forecasts usually predict an object will reach the atmosphere some time during multi-hour windows with geographic footprints spanning the globe.
While the exact dimensions for the Long March 7's second stage have not been published by China's government, McDowell estimates the rocket segment measures 36 feet (11 meters) long and 11 feet (3.35 meters) in diameter. After consuming its liquid oxygen and kerosene propellants during launch, the rocket fragment's mass was likely around 13,000 pounds, or 6 metric tons, he told Spaceflight Now via email early Thursday.
So far in 2016 there have been 25 reentries of objects massing 1 ton or more. But objects of 5 ton+ class like this are rare.

— Jonathan McDowell (@planet4589) July 28, 2016
That ranks among the largest objects to come back to Earth unguided over the last few years. Small debris rains down on Earth every day, vaporizing from the scorching temperatures of re-entry, but the re-entry of chunks space junk as large as the Long March 7 second stage are less common.
McDowell said the last time such a big piece of debris came down uncontrolled was in January, when a stage from a Ukrainian-built Zenit booster re-entered Earth's atmosphere over Vietnam, littering the countryside with small bits of rocket components.
The Long March 7 stage's size and mass were comparable to NASA's Upper Atmospheric Research Satellite, a defunct Earth science observatory that crashed back into the atmosphere in 2011, generating widespread public attention despite a quantifiably low risk of causing injury or death to someone on the ground.
Most of the Long March 7 rocket that fell Wednesday night burned up in the atmosphere, but a few parts could have survived and landed intact.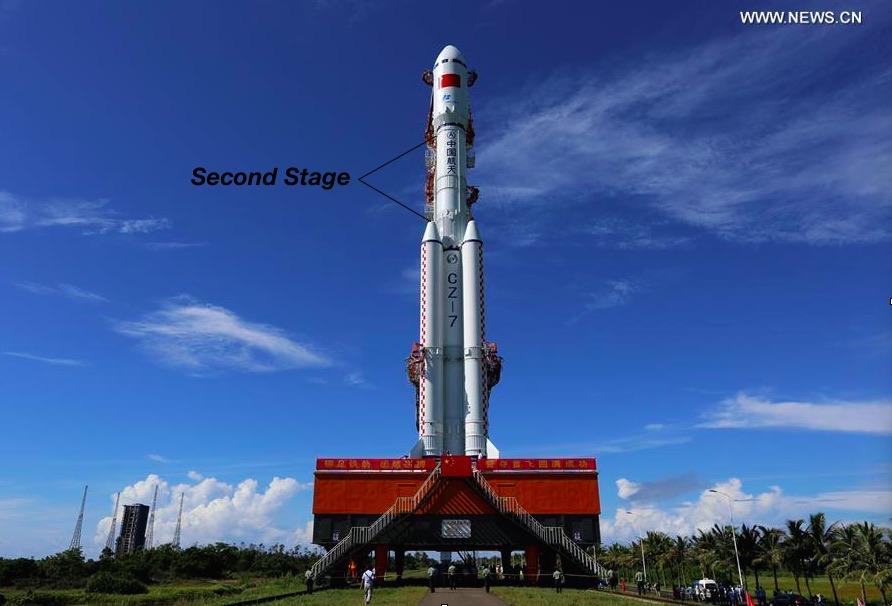 The Long March 7 rocket is the most powerful rocket ever launched by China. Its debut flight June 25 from a new spaceport on Hainan Island in the South China Sea deployed a payload of several small research satellites and a sub-scale unpiloted prototype capsule for a next-generation Chinese crew spaceship in the early stages of development.
The rocket's second stage was abandoned in orbit.
Future Long March 7 missions will launch supplies to China's planned space station, with test deliveries due to begin in 2017 to the Tiangong 2 space lab, a pathfinder to a larger research complex in the early 2020s. The Long March 7 will also be certified to launch astronauts in the future, Chinese officials said.
In development for eight years, the Long March 7 is one of several new rockets Chinese officials plan to replace the country's existing launcher fleet.
The Long March 2, 3 and 4 series of rockets are based on technology originally developed in the 1970s and 1980s. They also burn a toxic mix of hydrazine and nitrogen tetroxide propellants, chemicals that are harmful to humans and the environment.
The Long March 7, together with the smaller Long March 6 and bigger Long March 5, burns kerosene and liquid oxygen, a more environmentally-friendly propellant combination.
Email the author.
Follow Stephen Clark on Twitter: @StephenClark1.