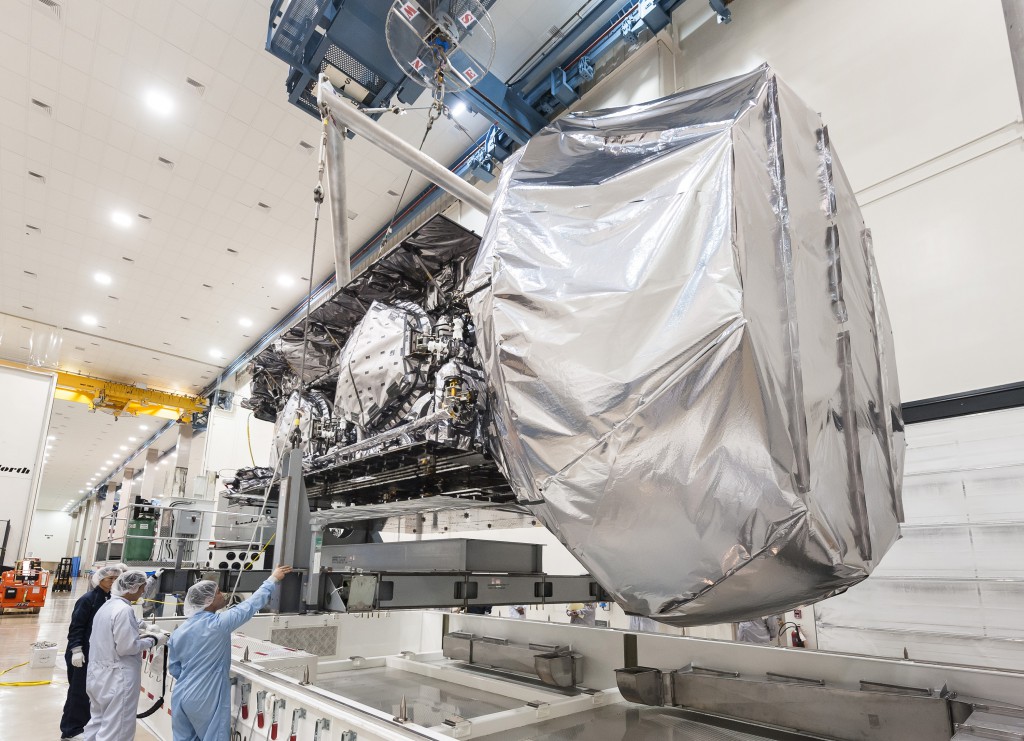 A massive U.S. Navy satellite to launch from Cape Canaveral in January arrived in Florida on Thursday, kicking off a campaign to ready the mobile communications craft for flight.
The Mobile User Objective System No. 3 satellite (MUOS 3) is slated for launch Jan. 20 at 7:42 p.m. EST by a United Launch Alliance Atlas 5 rocket.
"The delivery of MUOS 3 is an important step toward enabling our warfighters to be able to pick up the phone to seamlessly call or transfer data anywhere around the world," said Iris Bombelyn, vice president of Narrowband Communications at Lockheed Martin.
"With the launch of the third satellite in the constellation, to be followed later in 2015 by the fourth, MUOS will be in place to provide pole-to-pole and global, secure communications for the warfighter."
Each craft will be capable of covering nearly a third of the planet to provide mobile communications to U.S. warfighters on the move.
The satellite's antennas provide the same type of Ulta High Frequency communications like previous Navy spacecraft and the other offers modernized capabilities that the new MUOS system will create.
Coverage to legacy users will transmit through a 17.7-foot-diameter reflector on the bottom of the craft and the advanced, multi-beam features of MUOS to significantly increase the transmission capacity over the Navy's previous satellites will use a large 46-foot reflector atop MUOS.
All U.S. military forces rely upon Navy satellites for Ultra High Frequency narrowband communications. UHF offers small, portable units that forces can carry into battle and the frequency enables communications in urban canyons and mountainous terrain, penetrating foliage and transmitting through bad weather.
Each MUOS satellite has 16 times the capacity of the aging UHF satellite constellation.
What's more, MUOS also creates a new "rugged smartphone" network to provide 3G-like cellular telephone and data services across the globe when the constellation is fully launched in the next couple of years.