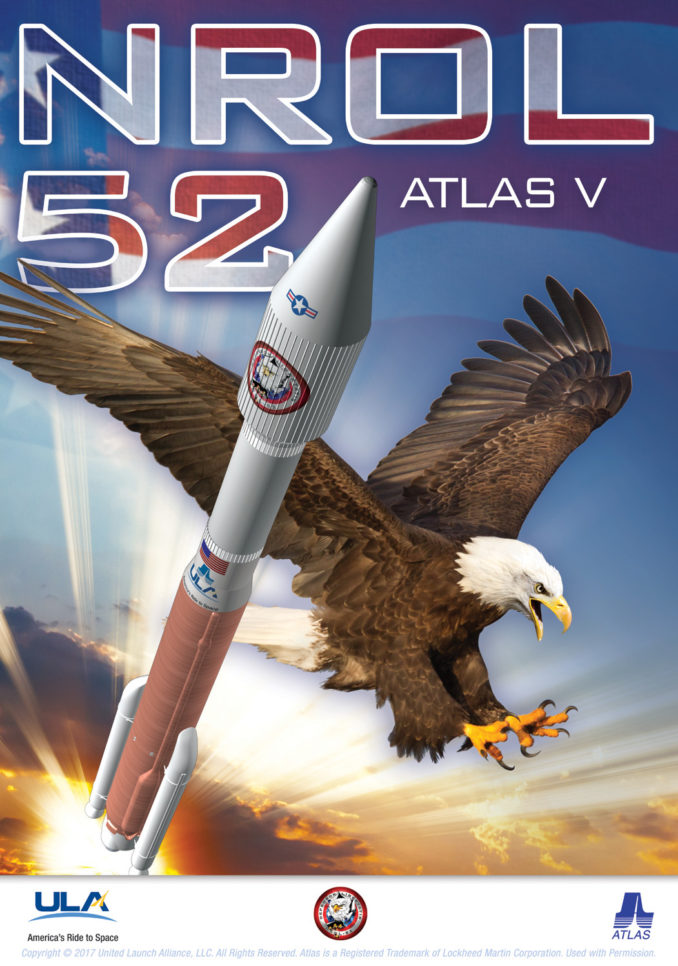 CAPE CANAVERAL — A payload critical to the nation was mounted atop its Atlas 5 rocket this morning in preparation for next week's launch into orbit.
The covert NROL-52 satellite for the National Reconnaissance Office is scheduled for liftoff Oct. 5 some time during an unclassified launch period of 3:30 to 5 a.m. EDT (0730-0900 GMT) from Cape Canaveral in Florida.
The actual launch window is hidden within that 90-minute period. A target launch time will be advertised closer to the liftoff date.
United Launch Alliance will boost the craft for the NRO, the secretive U.S. agency that operates the nation's fleet of spy satellites.
The launch follows another successful Atlas 5 mission over the weekend that deployed the NROL-42 payload from Vandenberg Air Force Base in California.
"Congratulations to the government and industry team who made this launch a success. It's always a good day when our nation launches an NRO payload that provides vital information to help keep our nation strong and protect us from enemies who wish to do us harm," said Air Force Col. Matthew Skeen, director of the NRO Office of Space Launch.
"With the anniversary of 9/11 over a week ago, we remember the horror of the terrorist attacks in 2001. NRO systems such as this one launched today help prevent that from happening again, and I am proud of the team that put this critical asset on orbit."
Hobbyist satellite observers immediately found and begin precise tracking of the new object in the sky. They confirmed it was placed into a highly elliptical, highly inclined Molniya-style orbit, lending credence that it is an eavesdropping signals intelligence platform to cover the northern latitudes.
It was the 25th mission that United Launch Alliance has successfully performed for the NRO. The flight required a powerful Atlas 5-541 version to heave the payload into space.
Next up, NROL-52 will use an Atlas 5-421 with two side-mounted solid rocket boosters.
The rocket was stacked at the Vertical Integration Facility adjacent to the Complex 41 pad at Cape Canaveral just before Hurricane Irma. The storm's landfall in Florida kept the base closed for nearly a week, but there was no damage to the launch vehicle.
This morning, the encapsulated payload was delivered to the VIF and hoisted atop the launcher.
A tip-to-tail electrical checkout of the combined rocket and payload will occur later this week, followed by final readiness reviews and then rollout to the past one week from today.
The countdown begins next Wednesday evening.
At liftoff, the 194-foot-tall rocket will weigh nearly one million pounds.