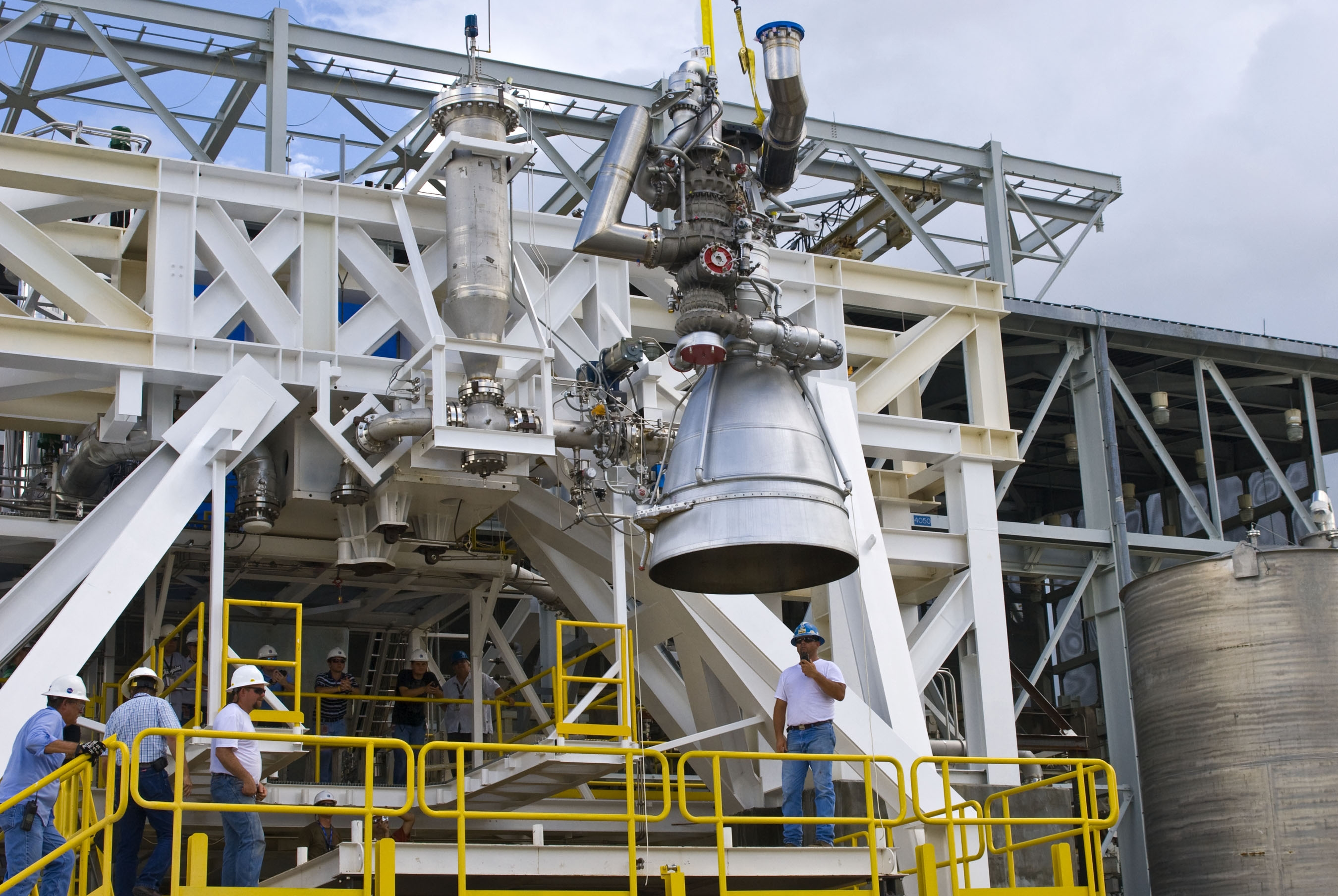 With investigators zeroing in on a decades-old rocket engine as the cause of a catastrophic launch mishap last week, Orbital Sciences officials said Wednesday the company plans to use other launchers to send cargo to the International Space Station while modifying its Antares rocket with a new propulsion system.
Investigators examining the Oct. 28 launch failure have narrowed their focus on one of the Antares rocket's two AJ26 main engines, said David Thompson, Orbital's chairman and CEO.
"While still preliminary and subject to change, current evidence strongly suggests that one of the two AJ26 main engines that powered the Antares first stage failed about 15 seconds after ignition," Thompson said in a conference call with financial analysts.
"At this time, we believe the failure likely originated in — or directly affected — the turbopump machinery of this engine, but I want to stress that more analysis will be required to confirm that this finding is correct," Thompson said.
The Antares rocket crashed back to the ground after the engine failure, disintegrating in a fireball near its launch pad at Wallops Island, Va., after a safety official activated the rocket's self-destruct system.
The launcher's two AJ26 engines were made in the early 1970s to power the Soviet Union's enormous N1 moon rocket, and the engines have proven intractable due to problems with aging, stress, corrosion and cracking.
An AJ26 engine assigned to fly on a future Antares launch exploded in May at NASA's Stennis Space Center in Mississippi, severely damaging the engine and its test stand.
"We will likely discontinue the use of AJ26 rocket engines that had been used on the first five Antares launch vehicles unless and until those engines can be conclusively shown to be flight worthy," Thompson said.
Supplied to Orbital by Aerojet Rocketdyne, the engines were built in Russia in the early 1970s by the Kuznetsov Design Bureau for the Soviet-era N1 moon rocket. Aerojet imported 43 of the NK-33 engines to the United States in the 1990s for use on American rockets.
The NK-33 engine was Americanized into an AJ26 engine by Aerojet Rocketdyne, which added a gimbal block to help steer rockets in flight, new wiring harnesses and electrical circuitry, electromechanical valve actuators and instrumentation.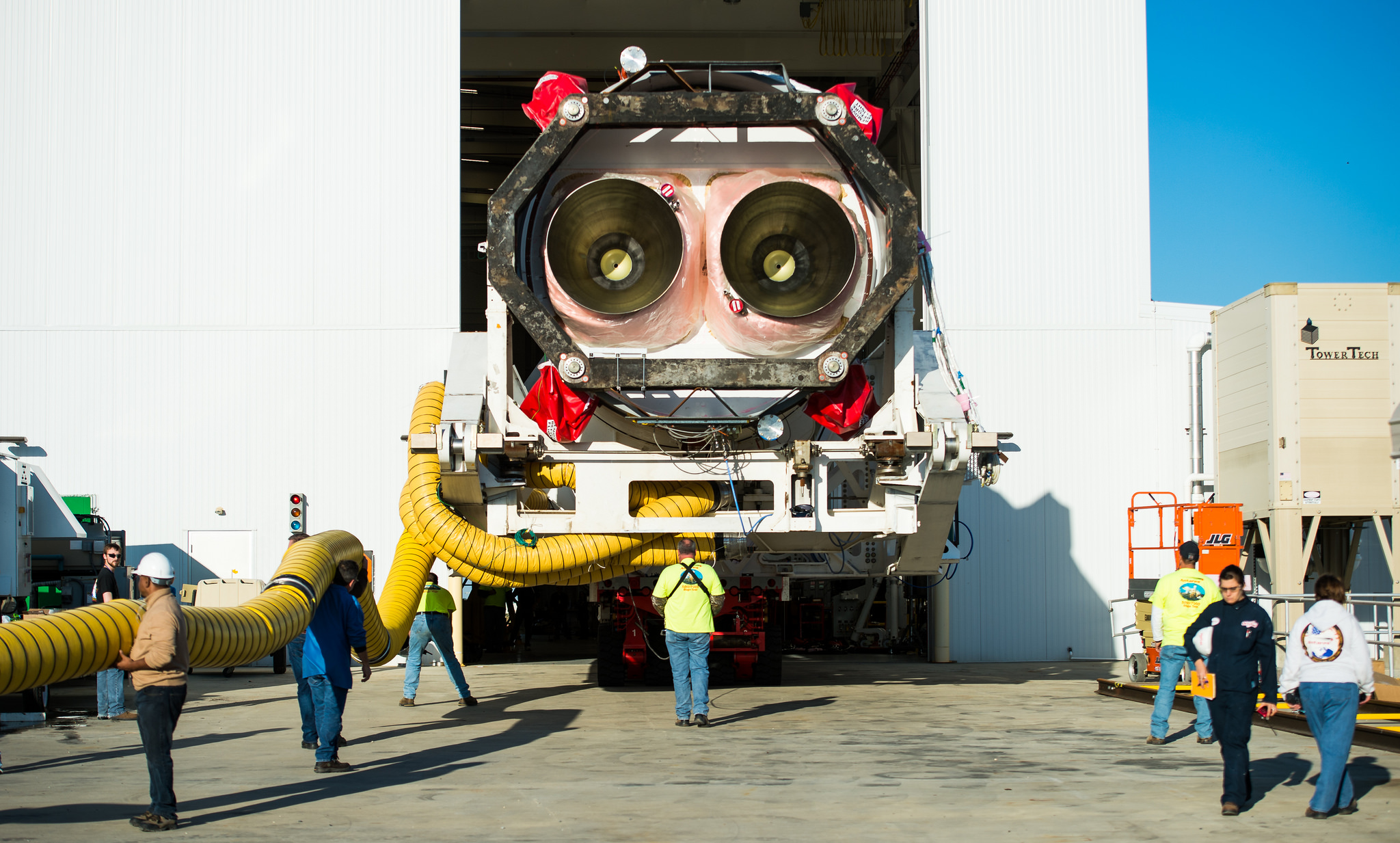 Responding to a questioner, Thompson said it was a "good assessment" that the AJ26 engine has fundamental reliability issues.
Orbital Sciences had selected a new engine for the Antares rocket before the Oct. 28 launch failure, eyeing a debut of the new first stage propulsion system in 2017. Thompson said Wednesday the company will move forward those plans to fly the new engine in 2016.
Orbital has not identified the engine, but industry sources confirmed it will consume the same mix of propellants — kerosene and liquid oxygen — as the Antares rocket's existing AJ26 engine to minimize modification costs to the launch vehicle and the launch pad on Virginia's Eastern Shore.
Russian news reports last week said the RD-193 engine — a single-nozzle engine made by NPO Energomash of Khimki, Russia — was Orbital's likely choice. Two RD-193 engines mounted on the bottom of the Antares rocket's first stage would give the launcher extra thrust to lift heavier payloads into orbit, officials said.
Thompson said the new engine would be ready for Antares launches in 2016, but he declined to name the engine, citing competitive concerns due to Orbital bids on several contracts, including a follow-on cargo resupply contract with NASA for the space station.
Orbital has a $1.9 billion Commercial Resupply Services agreement to haul at least 20 metric tons, or about 44,000 pounds, of supplies and experiments to the International Space Station through 2016.
The company planned to execute the cargo deliveries over eight missions, but Orbital Sciences announced Wednesday it plans to launch one or two of the company's Cygnus logistics vehicles on other rockets while the Antares booster is grounded for the engine switch.
"Orbital will employ the inherent flexilbity of our Cygnus cargo spacecraft that permits it to be launched on third-party launch vehicles and to accommodate heavier cargo loads as allowed by more capable launchers," Thompson said.
"Taking advantage of the spacecraft's flexibility, we will purchase one or two non-Antares launch vehicles for Cygnus flights in 2015, and possibly in early 2016, and combine them with several upgraded Antares rocket launches of additional Cygnus spacecraft in 2016 to deliver all remaining CRS (Commercial Resupply Services) cargo," Thompson said.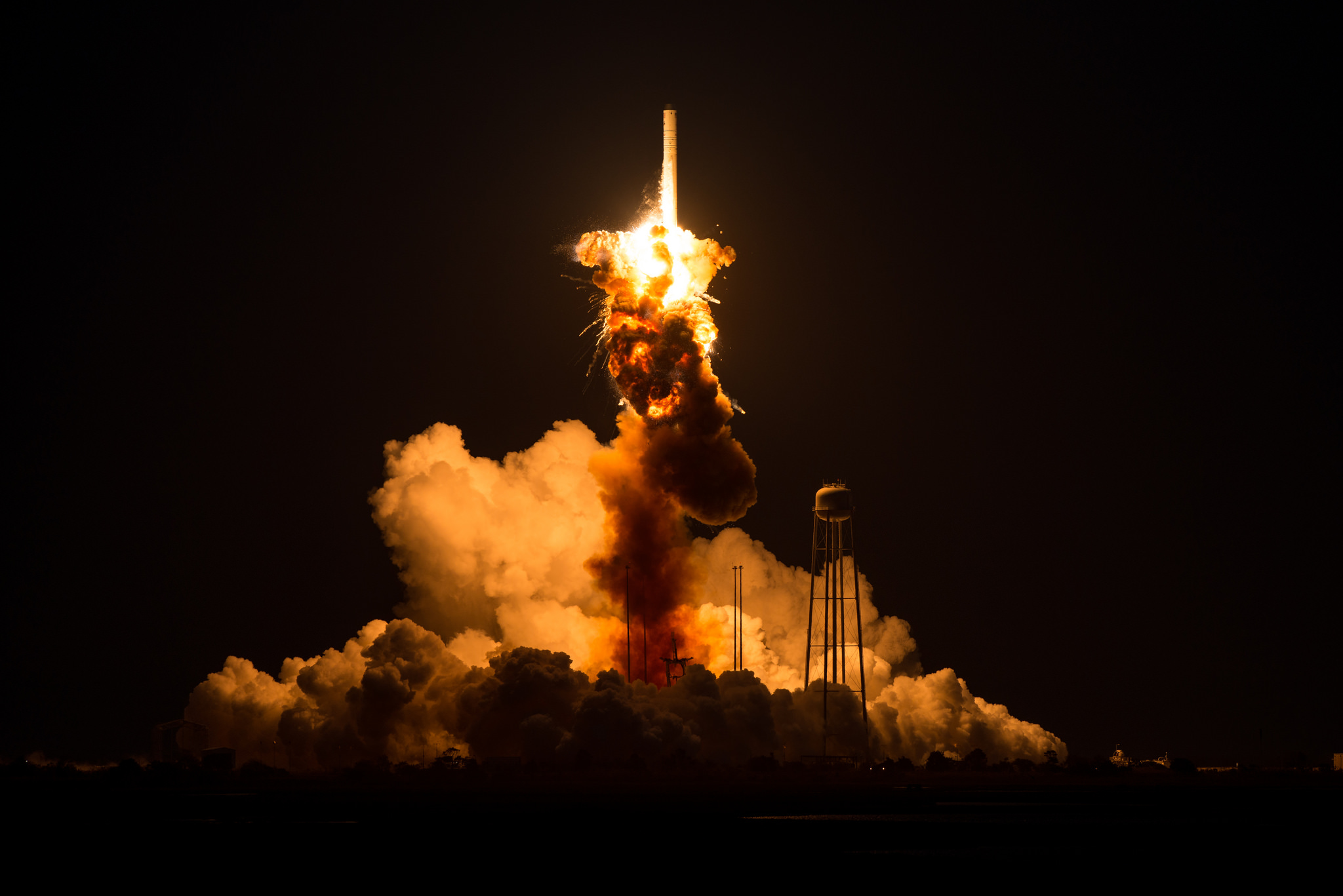 According to Thompson, Orbital is negotiating with three potential launch providers for at least one Cygnus cargo mission to the space station next year. Two of the launch companies are U.S.-based, he said, and one is based in Europe.
The launch providers have openings in their manifests to launch a Cygnus mission as early as the second quarter of 2015, Thompson said.
Before last week's Antares failure, Orbital planned to launch its next cargo flight to the space station on an Antares rocket in April. Thompson's comments Wednesday indicated there would be little delay to that mission.
Shifting one or two of the company's contracted allotment of resupply flights to different rockets will allow Orbital to take up more cargo to the space station in fewer missions.
Orbital's contract with NASA calls for eight Cygnus flights, but Thompson said launching one or two missions on larger boosters will enable the company to meet its contractual requirement to deliver 20 metric tons of cargo to the space station in seven launches. The Oct. 28 launch was carrying Orbital's third operational Cygnus supply ship, leaving five missions on the manifest over the next two years.
"By consolidating cargo of five previously planned CRS missions into four more capable ones, we believe we can maintain a similar or perhaps even a somewhat better delivery schedule than we were on before last week's launch failure, completing all current CRS program deliveries by the end of 2016," Thompson said.
Thompson said Orbital will work with NASA to make final decisions on the "gap-filler" cargo missions, including timing and launch vehicles, within the next month.
Follow Stephen Clark on Twitter: @StephenClark1.