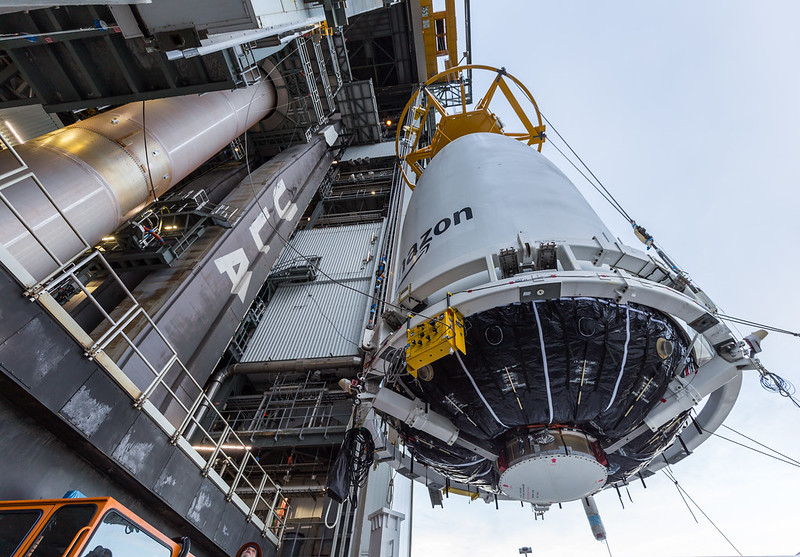 Update Oct. 6: The Atlas 5 rocket successfully lifted off on Friday afternoon at 2:06 p.m. EDT (1806 UTC). Shortly before 3 p.m. EDT (1900 UTC), ULA stated that they had "precisely" delivered the payload to orbit, marking the company's 158th launch.
ULA said that their next launch will be for their Vulcan rocket, launching the Astrobotic lunar lander, Peregrine.
Original story:
Amazon is getting its own delivery fulfilled this Friday, adding to an extensive portfolio that includes its online marketplace, streaming video, grocery and cloud services, with the launch of two prototype relay stations for a space-based internet service it calls Project Kuiper.
The satellites, dubbed KuiperSat-1 and KuiperSat-2, are set to launch on Friday, Oct. 6 during a two-hour launch window that opens at 2 p.m. EDT (1600 UTC). They are hitching a ride to low Earth orbit atop a United Launch Alliance (ULA) Atlas 5 rocket.
This will be the 20th ULA launch for a non-government, commercial customer. It's also the 99th launch of an Atlas 5 rocket to date and the 8th launch in the 501 configuration, which doesn't use side-mounted solid rocket boosters.
The rocket rollout out to the launch pad at Space Launch Complex 41 (SLC-41) at Cape Canaveral Space Force Station Thursday morning.
ULA said in a Sept. 29 blog post that about 18 minutes after liftoff, the pair of satellites will be deployed at an altitude of 311 miles, or 500 kilometers above the Earth's surface, at an inclination of 30 degrees. At the request of Amazon, ULA will not provide live coverage after the Centaur upper stage separates from the first stage.
The prototype duo will not become a long-term part of the constellation of more than 3,200 satellites Amazon plans to deployed over six years, starting in the first half of 2024. The company said the test satellites will be commanded to de-orbited "at the end of the mission," which is expected to last one year.
During that time, Amazon will work on producing its full-production satellites while it learns from the demonstration versions.
"We've done extensive testing here in our lab and have a high degree of confidence in our satellite design, but there's no substitute for on-orbit testing," said Rajeev Badyal, Project Kuiper's vice president of technology, in a statement. "This is Amazon's first time putting satellites into space, and we're going to learn an incredible amount regardless of how the mission unfolds."
Amazon stated that they made an initial investment of $10 billion for Project Kuiper. Recent investments include their $120 million satellite processing facility that's being constructed on property leased by Space Florida at NASA's Kennedy Space Center and a new, 172,000-square-foot manufacturing facility in Kirkland, Washington, which Amazon said will enable the production of five satellites per day.
Project Kuiper constellation
Amazon's foray into the satellite internet game puts it in direct competition with other large satellite constellations, like SpaceX's Starlink service and the newly combined forces of Eutelsat and OneWeb, now collectively known as "Eutelsat Group."
The Federal Communications Commission (FCC) granted approval for Amazon to deploy and operate its Ka-band, non-geostationary satellite orbit (NGSO) constellation (Kuiper-Ka System) which will consist of 3,232 satellites. Their initial request was for 3,236, but Amazon requested to reduce that number in a Feb. 28, 2023 filing.
According to a 2019 FCC filing, the satellites will operate in 98 orbital planes at altitudes of 590 km, 610 km and 630 km. The Kuiper System will use frequency bands from 17.7-19.3 GHz for customer links and 19.3-20.2 GHz along with 27.5-28.35 GHz for its gateway Earth stations.
The FCC limited operations in the 17.7-17.8 GHz band to outside the U.S.
With its initially proposed 3,236 satellites, Amazon intends to use the following altitudes and inclinations: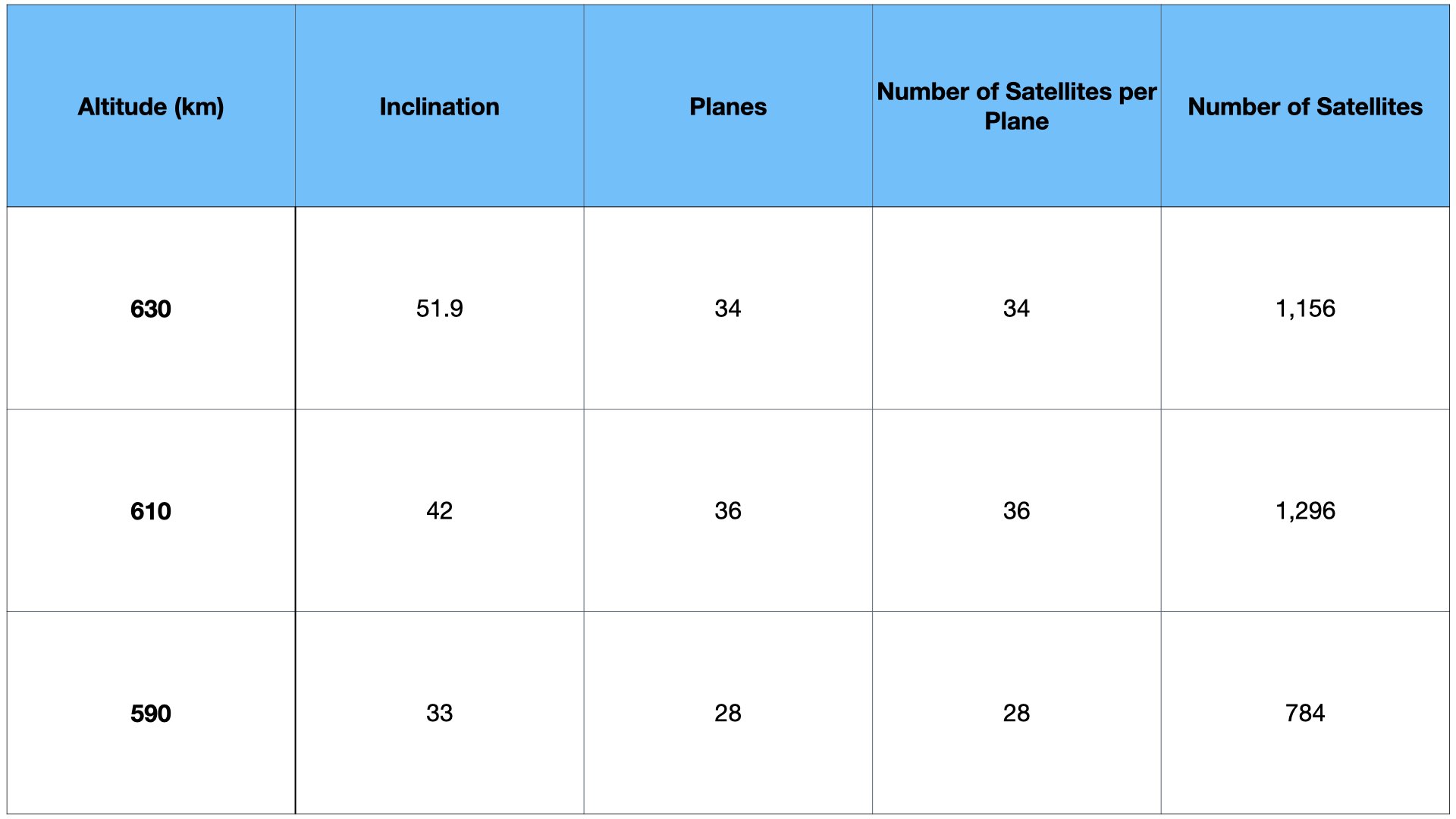 Amazon noted in that filing, that customer service would begin following the deployment of the first 578 operational satellites, dubbed "Phase 1," which will head to an altitude of 630 km with an inclination of 51.9 degrees.
"Coverage begins at 56 degrees North and 56 degrees South latitudes and quickly expands toward the equator as more satellites are launched," Amazon said in its filing. There are five planned phases in this initial collection of satellites.
The company said it expected to be in beta testing with early commercial customers by the end of 2024.
In an FCC filing approving of Kuiper Systems LLC's orbital debris mitigation plan, the agency stated that Kuiper has to provide semi-annual reports by January 1 and July 1 each year describing things like the number of conjunction events during each six-month period (how often a Kuiper satellite come close to another on-orbit object); how often and why satellites were removed from operation; and disposal failures.
Kuiper also needs to submit annual reports to the FCC regarding cooperation with the National Space Foundation (NSF) on its efforts to mitigate impacts to optical astronomy.
Amazon is also mandated to launch 50 percent of the proposed maximum satellites and have them in operation no later than July 30, 2026, with the remaining satellites launched and operational by July 20, 2029.
To do so, Amazon contracted 77 launches, with as many as 92 launches, between Arianespace, Blue Origin and ULA:
18 Ariane 6 launches (Arianespace)
12 New Glenn launches, with options for 15 more (Blue Origin)
9 Atlas 5 launches (ULA)
38 Vulcan launches (ULA)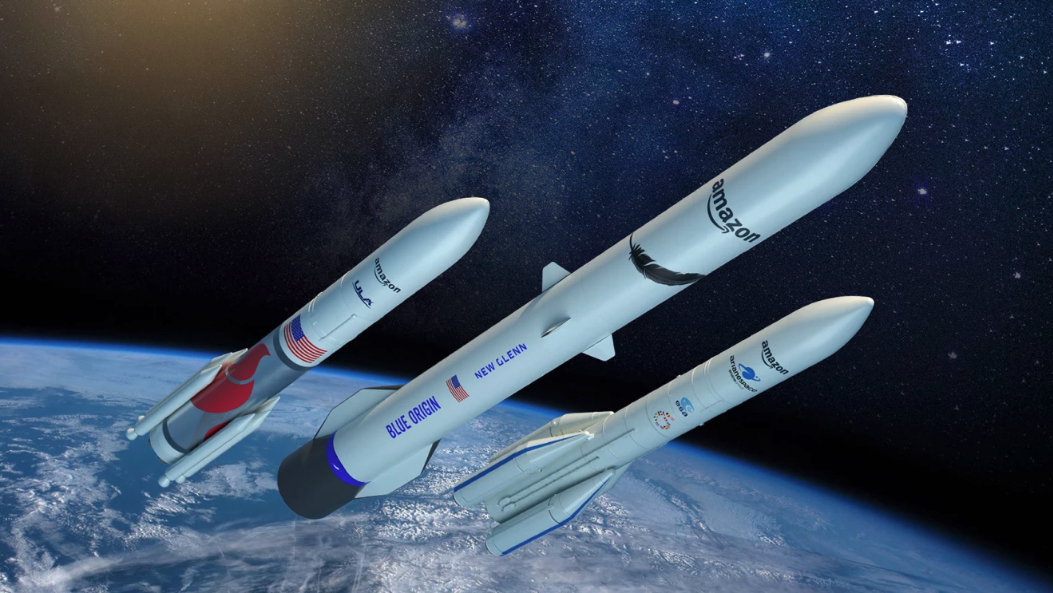 Much remains a mystery
Much surrounding the Project Kuiper satellites remains a mystery. The company has not disclosed basic specifications, like the satellites' dimensions, nor has it published photos or renderings of the spacecraft themselves.
It did confirm that the two prototype satellites launching on Friday were manufactured at Amazon's 219,000-square-foot facility in Redmond, Washington.
In the run-up to launch, Amazon shared a photo of the satellites' shipping containers featuring gag warning labels reading "Danger Velociraptor Containment: Carnivore handlers only within 50 feet." One of the crates also featured stickers of claw marks.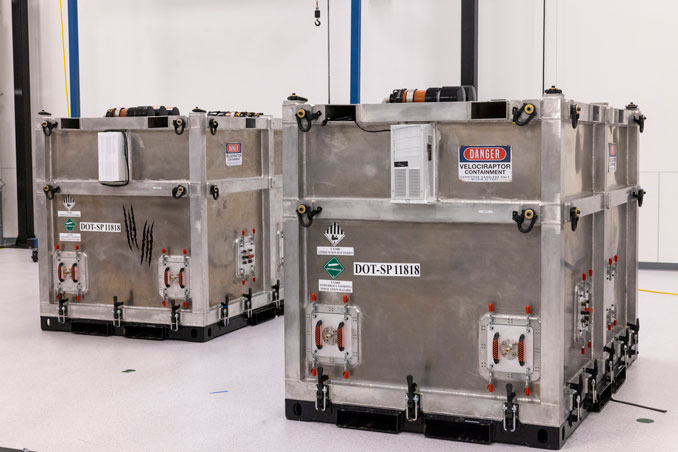 However, regulatory filings do help fill in some of the blanks.
Regarding propulsion, Amazon previously noted that each Project Kuiper satellite uses a Hall-effect thruster, a type of ion engine in which propellant is accelerated by an electrical field. A 2021 FCC filing from Amazon stated that the propellant is Krypton, one of the noble gasses.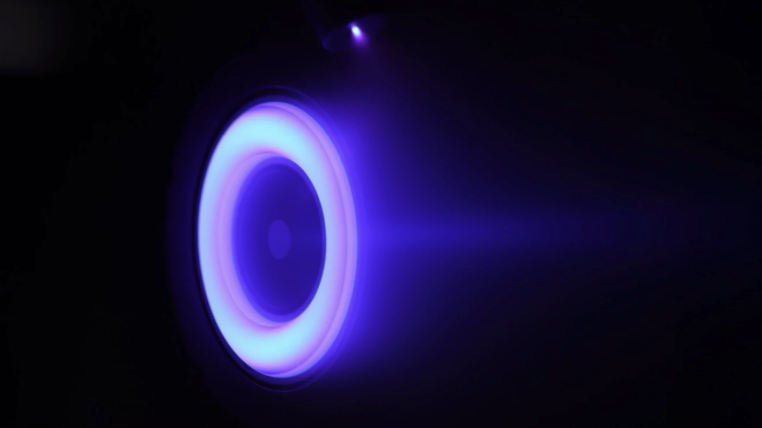 That same filing stated that the launch of KuiperSat-1 and KuiperSat-2 will be "directly injecting both satellites into the 590 km altitude at 33-degree inclination" with an orbital period of 96.5 minutes. This information differs from the 30-degree inclination ULA has stated.
The prototype satellites will communicate with a gateway Earth station antenna located in McCulloch County, Texas, which is about 150 miles northwest of San Antonio. Amazon published a visual representation of its planned testing sequence: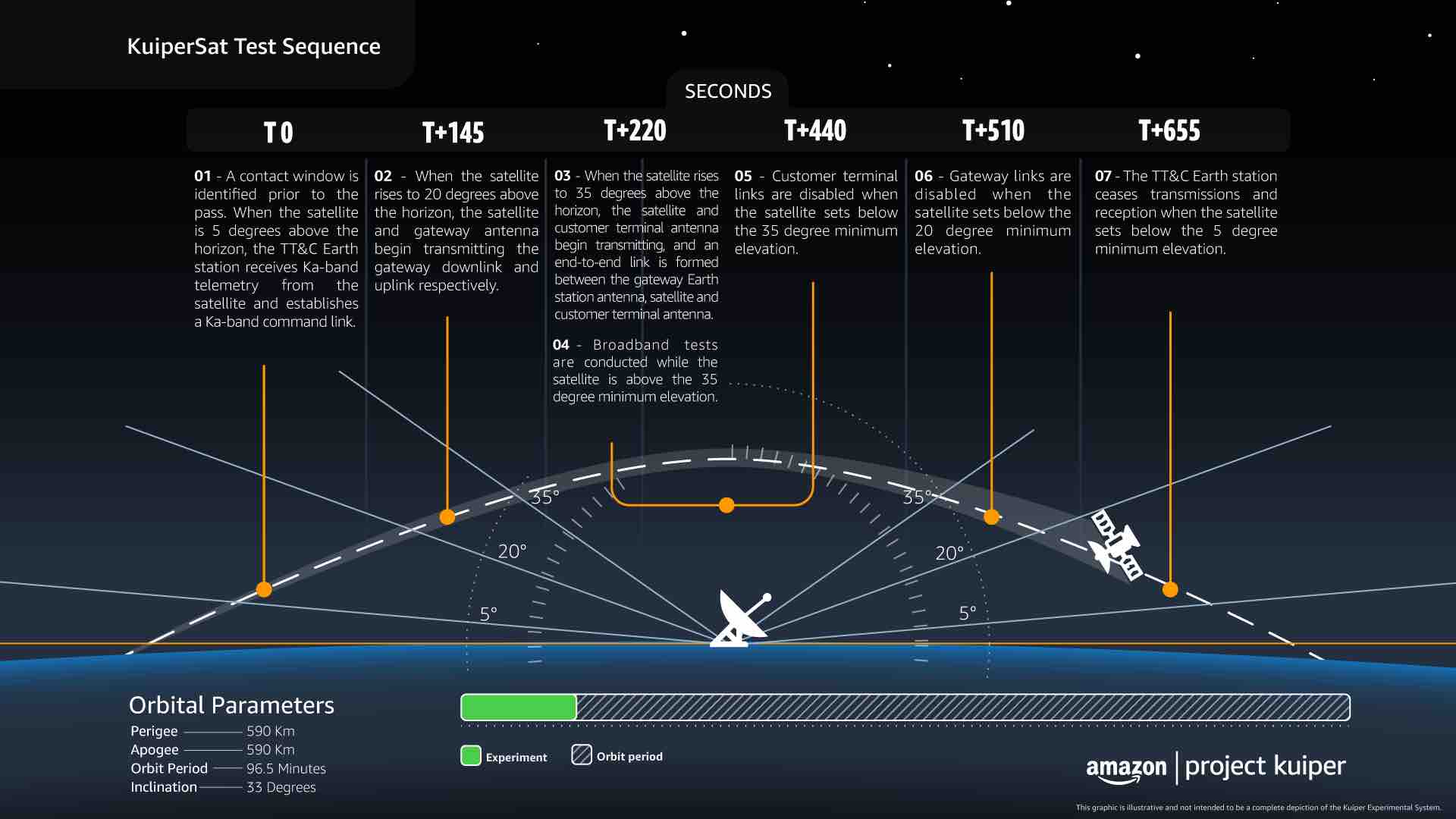 Each of the two prototype satellites include a series of antennas and receivers:
3 telemetry, tracking and control (TT&C)
2 Global Navigation Satellite System receivers (space-to-space navigation)
L-band transmitters (relaying position to satellites in Globalstar's NGSO Mobile-Satellite Services constellation)
3 phased array antennas for customer terminal links (2 for transmit, 1 for receiving communications)
3 parabolic antennas to communicate with the gateway Earth stations
Amazon will also be testing customer terminals as part of this mission. The tech giant said it would "perform a propulsive de-orbit at the end of the mission, resulting in expected demise within one year." If that proves unsuccessful, Amazon said a passive de-orbit would occur within roughly 3.5 years.
Amazon said once the service is available, it will allow delivery of "fast, affordable broadband from space," but so far has not disclosed the cost of the service.
Eying future expansion
As it prepares for its first on-orbit satellite demonstration, Amazon is already pushing for future, further expansion.
In a Nov. 2021 FCC filing, Amazon is requesting approval for its second-generation constellation using V- and Ku-band frequencies dubbed "the Kuiper-V System."
The proposal notes it would consist of "7,774 satellites in five altitude and inclination combinations between 590 and 650 km, including two polar shells." 
The company argues that expanding its satellite internet service pole-to-pole would help address the FCC's goal of closing the digital divide.
"Amazon's customer obsession and commitment to long-term initiatives make it uniquely well-positioned to help expand broadband access to tens of millions of global customers who do not currently have quality connectivity," Amazon said in the filing.
The first 3,236 satellites in the Kuiper-V System would supplement the Kuiper-Ka System satellites with V-band payloads.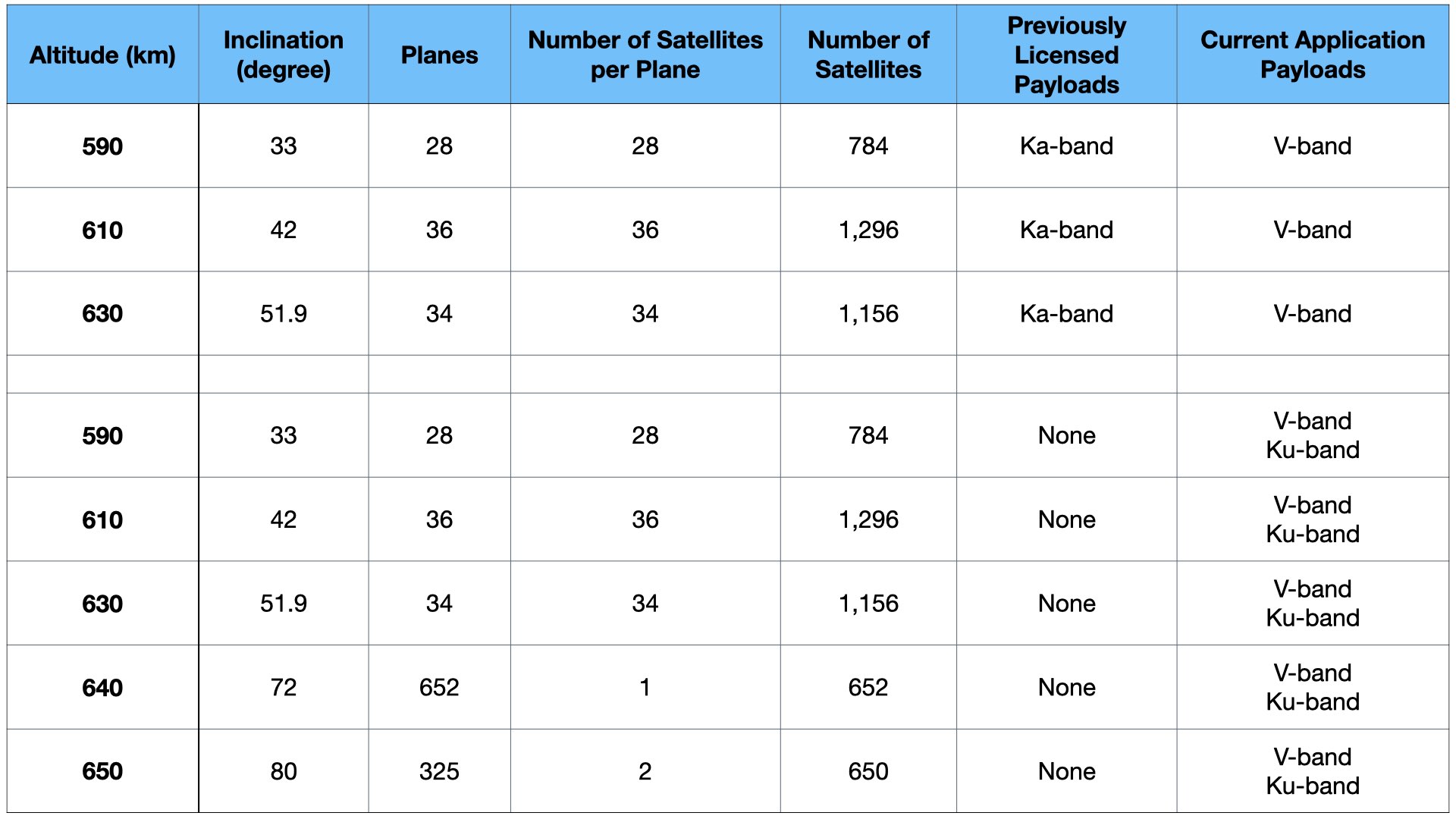 So far, the FCC has not made a determination regarding the Kuiper-V System expansion request.