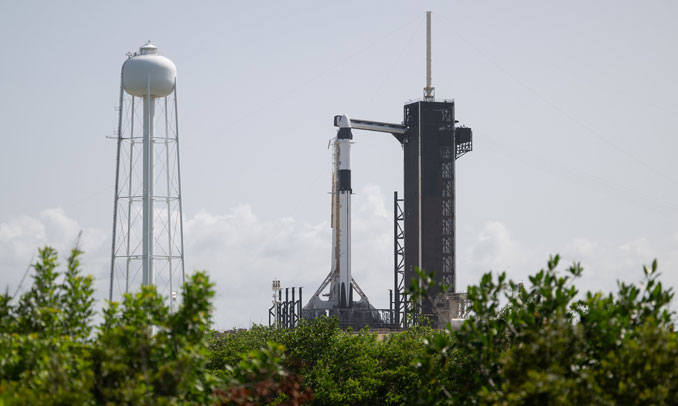 NASA, SpaceX and its international partners met at the Kennedy Space Center on Monday and gave the go ahead for the launch of the seventh operational Crew Dragon mission to the space station.
The three astronauts and one cosmonaut of the Crew 7 mission are set to launch aboard Crew Dragon Endurance on Friday, Aug. 25 at 3:49 a.m. EDT (0749 UTC) from Launch Complex 39A at NASA's Kennedy Space Center.
A launch Friday sets up a docking with the ISS at 2:02 a.m. EDT (0602 UTC) on Saturday, Aug. 26. Meanwhile, the four-member Crew 6 team, which has been aboard the orbiting outpost since March, are preparing to return to Earth following a multi-day handover to help get Crew 7 acclimated.
Late Sunday, SpaceX teams rolled the rocket out to the launch pad and brought it to its vertical position Monday afternoon ahead of what's called a dry dress rehearsal where the crew and launch teams will go through the motions of pre-flight operations. The astronauts will board Dragon early Tuesday morning as the countdown ticks down to a simulated T-0 at 3:49 a.m. EDT (0749 UTC).
Following that, Steve Stich, NASA's Commercial Crew Program manager, said teams will fully fuel the Falcon 9 rocket and conduct a six-second static fire test of the nine Merlin engines.
"We'll test the rocket one last time to make sure the engines perform well and then we'll step back and review that data jointly with SpaceX," Stich said.
Amid the FRR were a couple of specific topics that NASA and SpaceX wanted to address and come to an agreement that they're ready to move forward.
One of those concerned what Stich described as "low-flow propellant isolation valves" that saw some corrosion following SpaceX's 28th cargo mission to the space station, Commercial Resupply Services 28 (CRS-28).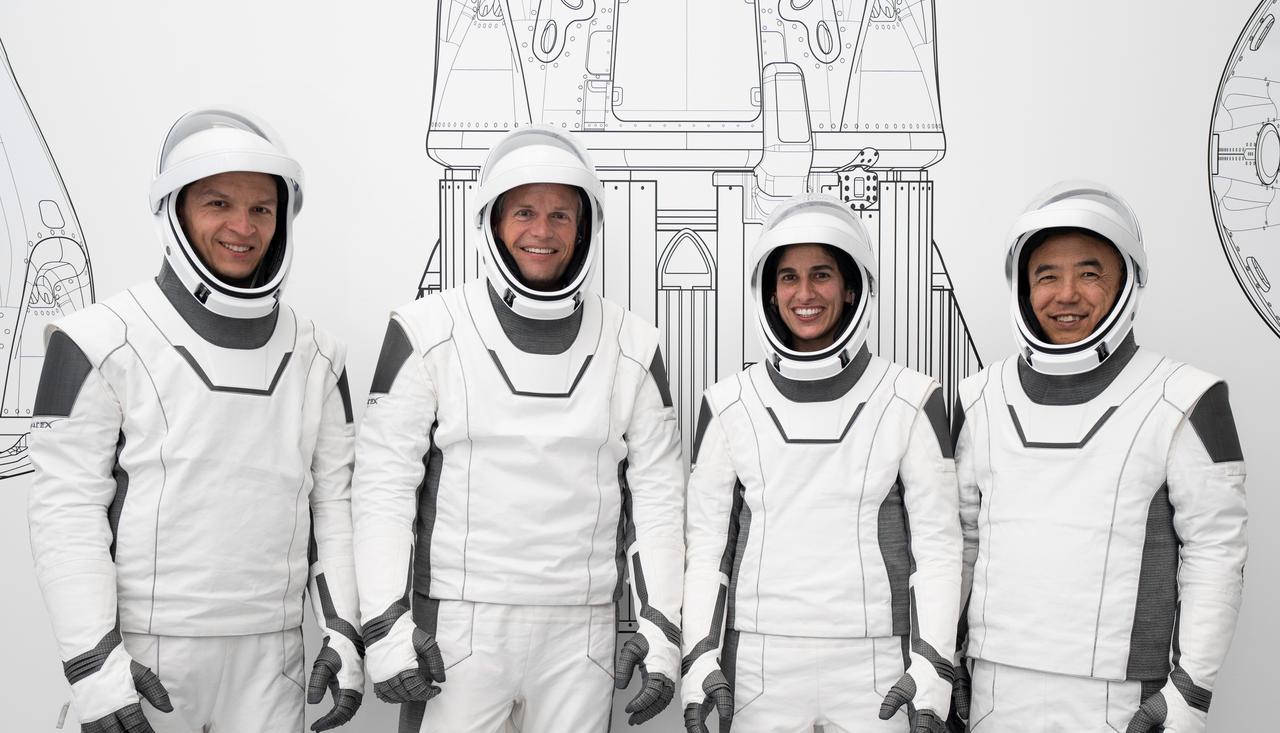 He said the teams pulled out the valves of concern from Cargo Dragon C208 to further inspect and better understand the root cause of the corrosion. They then swapped out some valves on the Crew Dragon Endurance that will fly the Crew-7 mission.
"The corrosion is caused by oxidizer vapors mixing with a little bit of moisture," Stich explained during a media teleconference on Monday. "The materials are corrosion resistant, but if you get enough vapor from the oxidizer along with water, you can form a little bit of acid and get some corrosion."
Stich said teams with NASA and SpaceX spent the last month looking at the issue. He said SpaceX did testing at multiple sites across the country and NASA did some work at Marshall Space Flight Center in Huntsville, Alabama.
The other issue of note that came up during the FRR concerned the drogue parachutes used during the return sequence of a Crew Dragon spacecraft.
Stich noted that during the return of the Crew-5 astronauts, the most recent Dragon splashdown procedure, one of the drogues "took almost five seconds to fully inflate after the first drogue parachute fully inflated."
When a Dragon spacecraft is returning to Earth in a normal procedure, two drogue parachutes will deploy prior to the deployment of the four main chutes.
The drogues were examined in modeling of both normal and abort scenarios and cleared the parachutes for use during launch of the Crew-7 mission. Stich said NASA and SpaceX periodically use Cargo Dragon missions to test new upgrades that can potentially benefit crewed missions.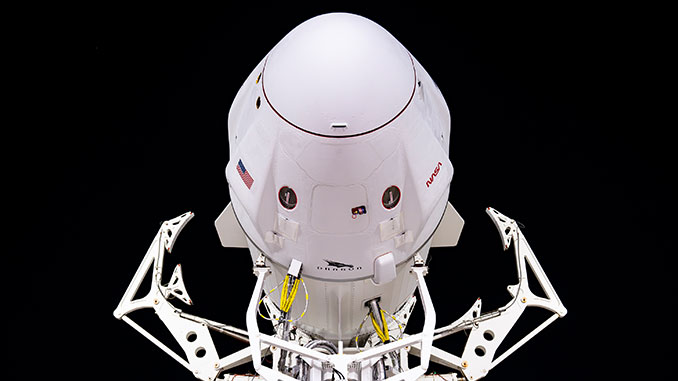 One such example is what's called an "energy modulator," which Stich described as a "shock absorbing strap."
"As we pull out the main bags from the drogue parachutes during that deployment sequence, we're flying some ties on that to keep the straps in tact and not contact other parts of the system during deployment," Stich said. "So, we flew those on a cargo flight first, well actually on several cargo flights. Now, we're flying it on the crew flight for the first time, on Crew-7."
"Stay hungry… Stay paranoid."
As SpaceX prepares to launch its 11th mission with humans on board, the company is once again pushing for another record year of spaceflight.
While teams at LC-39A were gearing up for the dry dress rehearsal for the Crew-7 mission, two Starlink missions were simultaneously in preparation as well.
The team in California is tracking a 12:45 a.m. PDT (3:45 a.m. EDT, 0745 UTC) launch of the Starlink Group 7-1 mission, sending up a batch of 21 Starlink satellites from Vandenberg Space Force Base (VSFB).
And as the Falcon 9 was preparing to be raised vertically for the crew mission, a ground transport carrying Starlink satellites inside payload fairings cruised by on its way to Space Launch Complex 40 at Cape Canaveral Space Force Station (CCSFS).
This is in support of the Starlink Group 6-11 mission set to launch as soon as Tuesday night.
A payload fairing containing a batch of Starlink satellites photobombs the horizontal Crew Dragon and Falcon 9 on pad 39A as it is transported to pad 40 for an upcoming launch. Watch live views from the Cape: https://t.co/FVz8ZF6Z63 pic.twitter.com/Qtkf5Nq4xY

— Spaceflight Now (@SpaceflightNow) August 21, 2023
Bill Gerstenmaier, the vice president of Build and Flight Reliability at SpaceX, said they have multiple support teams to work these missions so they they're not over-stressing or over-working their people.
So far in 2023, SpaceX launched 53 Falcon 9 rockets, three Falcon Heavy rockets and one test flight of the full Starship stack.
Gerstenmaier said flying 51 customer flights on Falcon 9 in 2023 help provide important context and data when it comes to sending people to space.
"When we fly Starlink missions, we will typically fly a higher thrust profile, actually run pumps at higher turbine speeds and that actually lets us see how the engines really perform. Then we go fly a crew mission," he said. "We fly that crew mission and reduce levels with more margin available for the hardware. So, I think that gives us another benefit of getting a chance to see this hardware operate in a more stressful environment."
He said finding that sweet spot allows them to know more about the abilities of the Falcon 9 rocket as their flight cadence continues to increase.
"My words are 'stay hungry.' The company's words are 'stay paranoid.' I like 'hungry' better than 'paranoid,' but the idea is that you just gotta keep looking and when you find some small problem, you gotta really understand what it's trying to tell you because later, when the big problem happens, you'll see the breadcrumbs that lead all the way back to that little problem," Gerstenmaier said.
"The secret is to find those little problems, expand on those and then help yourself to fly safer in the future."