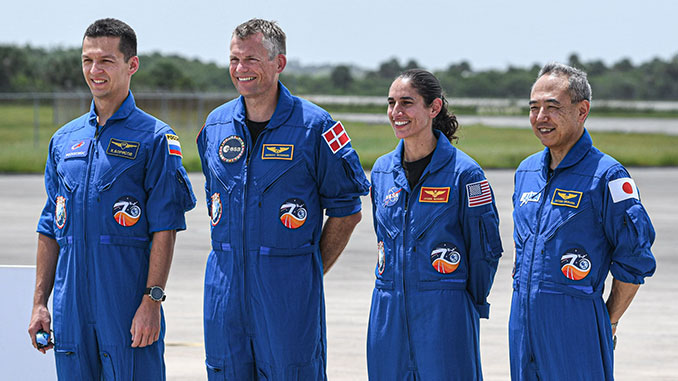 The next four crew members bound for a six-month stay aboard the International Space Station flew to the Kennedy Space Center Sunday to prepare for launch early Friday atop a SpaceX Falcon 9 rocket.
NASA's Jasmin Moghbeli, the Crew-7 commander, European Space Agency astronaut Andreas Mogensen, Japanese astronaut Satoshi Furukawa and Russian cosmonaut Konstantin Borisov landed at the old space shuttle runway around noon EDT after a flight from the Johnson Space Center in Houston.
"You can probably tell from the huge smiles on our faces that we're extremely excited to finally be here at Kennedy Space Center and for the journey we're about to embark on," said Moghbeli, a Marine Corps helicopter test pilot and mother of two-and-a-half-year-old twin girls.
Moghbeli and her crewmates plan to strap into their Crew Dragon capsule "Endurance" at historic pad 39A early Tuesday for a dress-rehearsal countdown. Once complete and the crew is out of the spacecraft, SpaceX plans to test fire the first stage's nine Merlin engines to verify the booster's readiness for its first flight.
Assuming no problems crop up and the weather cooperates, the crew will strap in for real Friday morning around 1:15 a.m. for a launch at 3:49 a.m. Moghbeli and Mogensen will monitor a series of automated rendezvous maneuvers leading to a docking at the space station just after 2 a.m. Saturday.
"This is our seventh operational mission to the International Space Station under the Commercial Crew Program," said Kennedy Space Center Director Janet Petro. "And even though we have a robust manifest here, we are always super excited when we're going to stick a human on the rocket. (It) always ups the level of excitement."
Borisov and Moghbeli, a Marine lieutenant colonel with more than 150 combat missions to her credit, are making their first spaceflight. Mogensen visited the space station for nine days in 2015 as part of a short-duration Russian Soyuz swap-out flight while Furukawa logged 167 days aboard the outpost in 2011.
Borisov is the third Russian to fly aboard a SpaceX Crew Dragon as part of an agreement between NASA and Roscosmos, the Russian federal space agency, to launch one NASA astronaut aboard each Soyuz flight to the station and one cosmonaut aboard each ISS-bound Crew Dragon.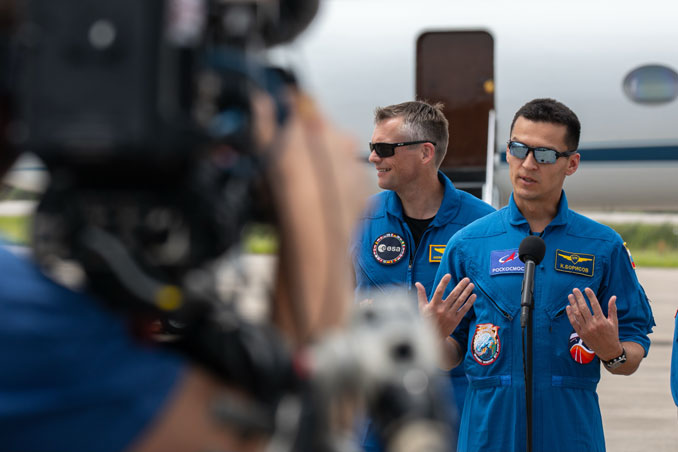 The agreement ensures at least one crew member from each country is always aboard the station even if an emergency of some sort forced a Soyuz or Crew Dragon to depart early.
"If ever you've seen the evidence of this being an international program, you're seeing it today with this crew," said NASA Administrator Bill Nelson, who welcomed the Crew-7 fliers to Florida. "Of all crews, this is the most international that we've had, and I think it shows the breadth of the cooperation around the globe."
Said Borisov: "I'm honored to be part of the … most international crew ever. Experienced astronauts and cosmonauts, they say that when you go to the ISS and you look at the planet, you see that there are no borders. And really, I want to continue and to convey that feeling and that emotion and also to support the cooperation which we have been having so far."