Watch a replay of our live coverage of the countdown and launch of a SpaceX Falcon 9 rocket from Space Launch Complex 40 at Cape Canaveral Space Force Station, Florida. The Falcon 9 rocket launched the Intelsat 40e communications satellite, which also hosts NASA's TEMPO air quality monitoring instrument. Follow us on Twitter.
A SpaceX Falcon 9 rocket lifted off from Cape Canaveral shortly after midnight Friday with Intelsat 40e, a communications satellite destined to beam broadband internet signals to airplane and cruise ship passengers across North America while hosting a NASA instrument package to monitor air pollution.
The 229-foot-tall (70-meter) Falcon 9 rocket fired away from pad 40 at Cape Canaveral Space Force Station at 12:30 a.m. EDT (0430 UTC) Friday.
The Intelsat 40e satellite will be positioned in geostationary orbit more than 22,000 miles (nearly 36,000 kilometers) above Earth to begin a 15-year mission providing Ku-band and Ka-band communications services. The spacecraft, built by Maxar, will orbit in lock-step with Earth's rotation over the equator at 91 degrees west longitude, giving it a view of North America 24 hours per day.
"Intelsat 40e is a high throughput satellite, so it brings a lot of capacity over North America," said Jean-Luc Froeliger, Intelsat's senior vice president of space systems. "Its primary mission is for mobility services. Mobility services means mainly in-flight connectivity for commercial airlines, but it also means inflight connectivity for regional business jets, as well as mobility for government customers and maritime customers on cruises, for example."
NASA's Tropospheric Emissions: Monitoring of Pollution, or TEMPO, instrument is attached to the Intelsat 40e communications satellite.
The TEMPO instrument, about the size of a washing machine, will scan North America to measure pollutants in the atmosphere, collecting data for scientists to study how concentrations of chemicals produced from human activity and natural processes change throughout the day. Forecasters will also use the measurements to predict air quality in cities, which can have significant impacts on human health.
"TEMPO will be measuring pollution and air quality across greater North America on an hourly basis during the daytime, all the way from Puerto Rico up to the tar sands of Canada," said Kevin Daugherty, TEMPO's project manager at NASA's Langley Research Center.
For the first time, scientists will receive air quality measurements multiple times per day once TEMPO begins observations after this year. There are similar instruments monitoring air pollution from satellites in low Earth orbit, but those missions provide just a single observation each day.
The Falcon 9 headed east from Cape Canaveral, with nine kerosene-fueled Merlin 1D engines pushing the launcher through the atmosphere before the booster stage shut down, separated from the rocket's upper stage, then began a controlled descent back to a SpaceX recovery vessel more than 400 miles (670 kilometers) downrange from the launch site.
The upper stage lit its engine for two burns to place the 13,582-pound (6,161-kilogram) Intelsat 40e spacecraft into a so-called sub-synchronous transfer orbit, an elliptical loop that ranges between a few hundred miles above Earth to a peak altitude just shy of geostationary altitude.
Intelsat 40e separated from the Falcon 9 rocket about 32 minutes into the mission. Maxar confirmed the spacecraft deployed solar panels and began transmitting telemetry to ground controllers soon after separation from the Falcon 9.
The satellite will use its own propulsion system to climb into a circular geostationary orbit. The orbit-raising will take about three weeks, followed by three weeks of testing to make sure Intelsat 40e's Ku-band and Ka-band communications payload is ready for operations, according to Froeliger.
"It's a very large payload with lots of connectivity and spot teams," Froeliger told Spaceflight Now in a pre-launch interview. "So the satellite will be ready for service in the second half of May."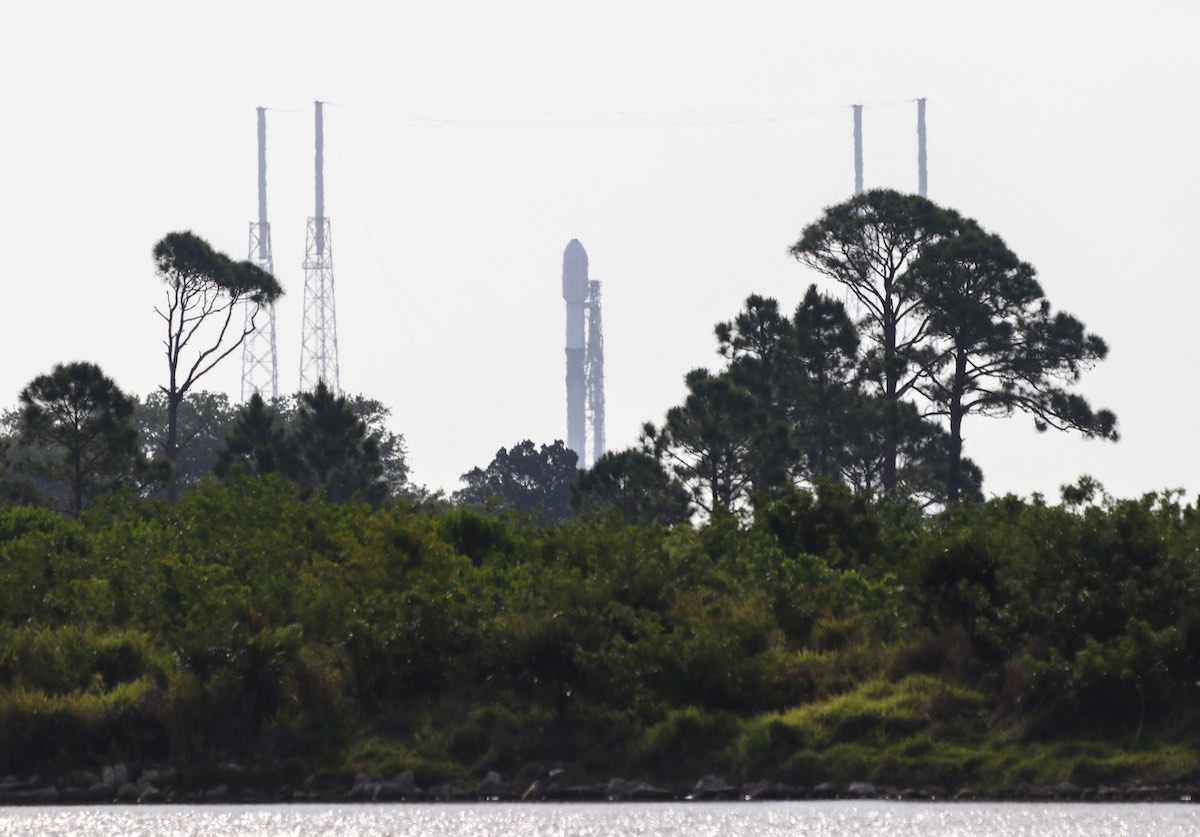 A protective cover over the TEMPO instrument's optics will open to allow the sensor to begin collecting atmospheric measurements in July. Scientists calibrate the instrument by comparing its measurements to those collected by airborne and ground-based air quality sensors.
Regular observations with TEMPO, which is fastened to an Earth-facing panel on Intelsat 40e, are scheduled to begin in October. The mission is approved for 20 months of air quality observations, but TEMPO could continue tracking pollutants for years if the instrument remains healthy. Intelsat 40e is expected to be on station in geostationary orbit for more than 15 years.
TEMPO works by measuring sunlight reflected off particles in Earth's atmosphere, then splitting the light into different parts of the visible and ultraviolet spectrum. That reveals the chemical fingerprints of atmospheric constituents like nitrogen dioxide, ozone, sulfur dioxide, aerosols, and formaldehyde. The resolution of TEMPO will also reveal emission sources for atmospheric pollutants, such as factories and industrial zones, power plants, large cargo ships, or heavily-trafficked roads during rush hour.
"When we're burning gasoline or diesel to move ourselves around, or electric generation plants burn coal or natural gas, a byproduct of that activity is nitrogen dioxide, and it's harmful to human health. it's a primary pollutant, it's emitted from a smoke stack," said Barry Lefer, NASA's tropospheric composition program manager. "In the atmosphere, it reacts to make ozone and formaldehyde, secondary pollutants which are also harmful to human health.
"So TEMPO is going to give us this ability to track chemical weather as it is emitted from sources, and then transported downwind to other receptor sites," Lefer said.
"Basically, we have a wide range of chemicals that we measure that let us figure where the pollution is coming from, how it's being transported and transformed," said Kelly Chance, TEMPO's principal investigator from the Smithsonian Astrophysical Observatory. "That data then informs air quality products, hopefully, in near real-time enough, so you can decide whether you can go out for a run today."
Scientists will also use TEMPO to track pollution caused by wildfires, volcanic eruptions, and industrial-scale farms.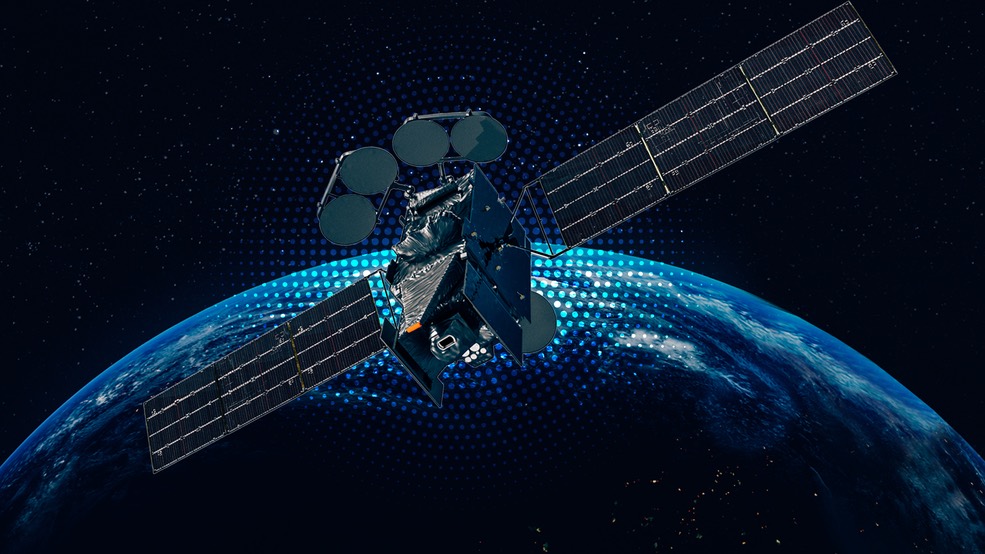 The increased frequency of observations will tell scientists about patterns of pollution emissions and transport in the atmosphere.
"Every day we can get measurements, say, over New York City at 1:30 in the afternoon, but that's just one data point over New York over a day, and a lot is happening in New York City over a day. So we have two rush hours that we're not able to capture," said Caroline Nowlan, an atmospheric physicist at the Harvard-Smithsonian Center for Astrophysics. "The great thing about TEMPO is that for the first time we'll be able to make hourly measurements over North America. We'll be able to see what's happening over a whole day as long as the sun is up."
The instrument will be able to measure atmospheric chemistry in pre-selected regional areas as often as every 5 to 10 minutes, scientists said. TEMPO also has improved spatial resolution compared to existing low Earth orbit sensors, with the ability to sample air quality in areas as small as 4 square miles.
"We're able to, for the first time really, see down to suburban scales or neighborhood scales at hourly resolution," Nowlan said.
Several hundred organizations, including NOAA and the Environmental Protection Agency, have signed up to use TEMPO data. State and local environmental and health agencies also plan to incorporate TEMPO data into their work.
The TEMPO instrument was built by Ball Aerospace, which developed a nearly identical instrument flying in geostationary orbit on a South Korean weather satellite. That sensor launched in 2020 and is tracking air pollution over the Asia-Pacific region, including China, India, and Japan.
The Sentinel 4 mission will launch in 2024 to provide air quality measurements over Europe, completing a worldwide network monitoring air pollution. The constellation will be able to see how prevailing winds transport pollutants around the globe.
A $210 million NASA mission to improve air pollution monitoring over North America is set to launch after midnight Friday with an Intelsat communications satellite blasting off on a SpaceX Falcon 9 rocket from Cape Canaveral.

Preview story: https://t.co/YuV3AfbTRD pic.twitter.com/yABEi4YAzE

— Spaceflight Now (@SpaceflightNow) April 6, 2023
The TEMPO mission won NASA funding in 2012 through the agency's Earth Venture program, a series of cost-capped satellite missions and instruments with focused scientific objectives.
At the time of its selection, TEMPO was supposed to launch in 2017 as a hosted payload on a commercial satellite. Engineers developing the instrument encountered technical problems that delayed the instrument's completion until 2018, then managers placed TEMPO into storage for more than a year to find a satellite to host it.
NASA selected Maxar in 2019 to integrate the TEMPO with a geostationary communications satellite it would build for a commercial customer. In 2020, Intelsat joined the mission when it selected Maxar to build the Intelsat 40e communications satellite, which would be positioned in geostationary orbit over the Americas.
Intelsat will relay data and commands between the satellite and TEMPO's science team at the Smithsonian Astrophysical Observatory in Massachusetts.
Daugherty, TEMPO's project manager, said the mission has a budget of about $210 million. About $90 million went toward developing the TEMPO instrument itself, and the rest of the budget goes toward paying Intelsat, Maxar, and engineering support contractors for integration and operations.
When NASA selected the TEMPO mission in 2012, hosted payloads had a bright future on commercial geostationary satellites with the promise of offering cost savings for scientific instruments, which would not need to launch on their own spacecraft.
Hosted payloads like TEMPO still have the benefit of lower costs, but the instrument had to wait almost five years from the time Ball Aerospace completed manufacturing until it moved to the launch pad at Cape Canaveral. Matching the schedule for the development of a space science instrument with the faster timelines of commercial satellite procurement proved to be a challenge.
Completing the TEMPO instrument ahead of time allowed NASA to remove uncertainties about the hosted payload's readiness.
"That process allowed us to come to the table with a fully-completed, fully-tested instrument, which has helped us to fit into the commercial timeline for spacecraft development that moves at a very rapid rate," Daugherty said.
A NASA laser communications demonstration payload faced similar delays after a commercial host satellite opportunity did not materialize as anticipated. That payload eventually launched in 2021 hosted on a U.S. military satellite. NASA is evaluating lessons learned from the TEMPO experience to improve the process for future hosted payloads on commercial satellites, according to Daugherty.
"The prime reason why there have not been more opportunities is the schedule risk," Froeliger said. "For a commercial operator, schedule is extremely important. The satellite has to be built quickly, it has to be launched, it has to be in service as fast as possible."
"In this case we had a rare case where the instrument, TEMPO, was already built when we did the contract with Maxar in early 2020," Froeliger said. "That risk was retired."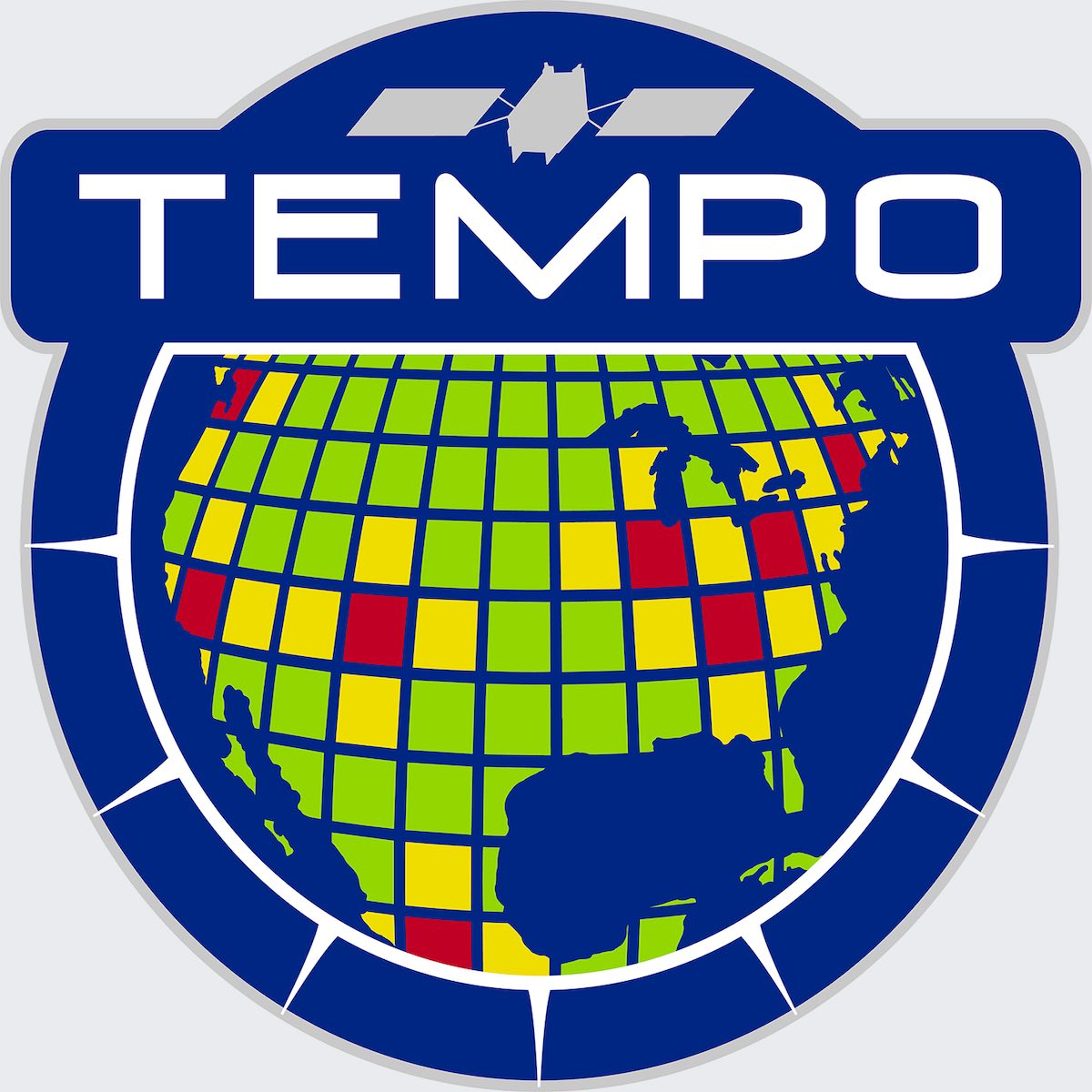 Working out of SpaceX's launch and landing control center just south of Cape Canaveral Space Force Station, engineers oversaw the late-night countdown leading up to the opening of the launch window early Friday. The Falcon 9 rocket was filled with a million pounds of kerosene and liquid oxygen propellants in the final 35 minutes before liftoff.
After teams verified technical and weather parameters were all "green" for launch, the nine Merlin 1D main engines on the first stage booster flashed to life with the help of an ignition fluid called triethylaluminum/triethylborane, or TEA-TEB. Once the engines ramped up to full throttle, hydraulic clamps opened to release the Falcon 9 for its climb into space.
The nine main engines produced 1.7 million pounds of thrust for more than two-and-a-half minutes, propelling the Falcon 9 and Intelsat 40e into the upper atmosphere. Then the booster stage shut down and separated from the Falcon 9's upper stage to begin a controlled descent toward SpaceX's drone ship "A Shortfall of Gravitas" parked in the Atlantic Ocean.
The booster, designated B1076, extended titanium hypersonic grid fins and used cold gas nitrogen thrusters to control its orientation, then reignited three of its nine main engines for a nearly 30-second braking maneuver during re-entry. A final landing burn with just the center engine slowed the rocket for touchdown on the drone ship about eight-and-a-half minutes into the mission.
A SpaceX recovery ship was also in position in the Atlantic to recover the Falcon 9 rocket's payload fairing after the nose cone's two clamshell halves parachuted into the sea. The payload fairing jettisoned from the rocket about three-and-a-half minutes into the flight, shortly after ignition of the Falcon 9's upper stage engine.
The Falcon 9 rocket fired its upper stage engine two times to inject the Intelsat 40e spacecraft into an elliptical sub-synchronous transfer orbit. Separation of Intelsat 40e from the Falcon 9's upper stage was confirmed at T+plus 32 minutes, 22 seconds.
ROCKET: Falcon 9 (B1076.4)
PAYLOAD: Intelsat 40e communications satellite; TEMPO air quality instrument
LAUNCH SITE: SLC-40, Cape Canaveral Space Force Station, Florida
LAUNCH DATE: April 7, 2023
LAUNCH WINDOW: 12:30-2:29 a.m. EDT (0430-0629 UTC)
WEATHER FORECAST: 90% probability of acceptable weather
BOOSTER RECOVERY: "A Shortfall of Gravitas" drone ship
LAUNCH AZIMUTH: East
TARGET ORBIT: Sub-synchronous transfer orbit
LAUNCH TIMELINE:
T+00:00: Liftoff
T+01:11: Maximum aerodynamic pressure (Max-Q)
T+02:30: First stage main engine cutoff (MECO)
T+02:34: Stage separation
T+02:41: Second stage engine ignition
T+03:16: Fairing jettison
T+06:31: First stage entry burn ignition (three engines)
T+06:54: First stage entry burn ends
T+08:11: Second stage engine cutoff (SECO 1)
T+08:21: First stage landing burn ignition (one engine)
T+08:47: First stage landing
T+26:35: Second stage engine restart
T+27:30: Second stage engine cutoff (SECO 2)
T+32:22: Intelsat 40e separation
MISSION STATS:
216th launch of a Falcon 9 rocket since 2010
226th launch of Falcon rocket family since 2006
4th launch of Falcon 9 booster B1076
184th Falcon 9 launch from Florida's Space Coast
120th Falcon 9 launch from pad 40
175th launch overall from pad 40
156th flight of a reused Falcon 9 booster
4th SpaceX launch for Intelsat
22nd Falcon 9 launch of 2023
23rd launch by SpaceX in 2023
18th orbital launch attempt based out of Cape Canaveral in 2023
Email the author.
Follow Stephen Clark on Twitter: @StephenClark1.