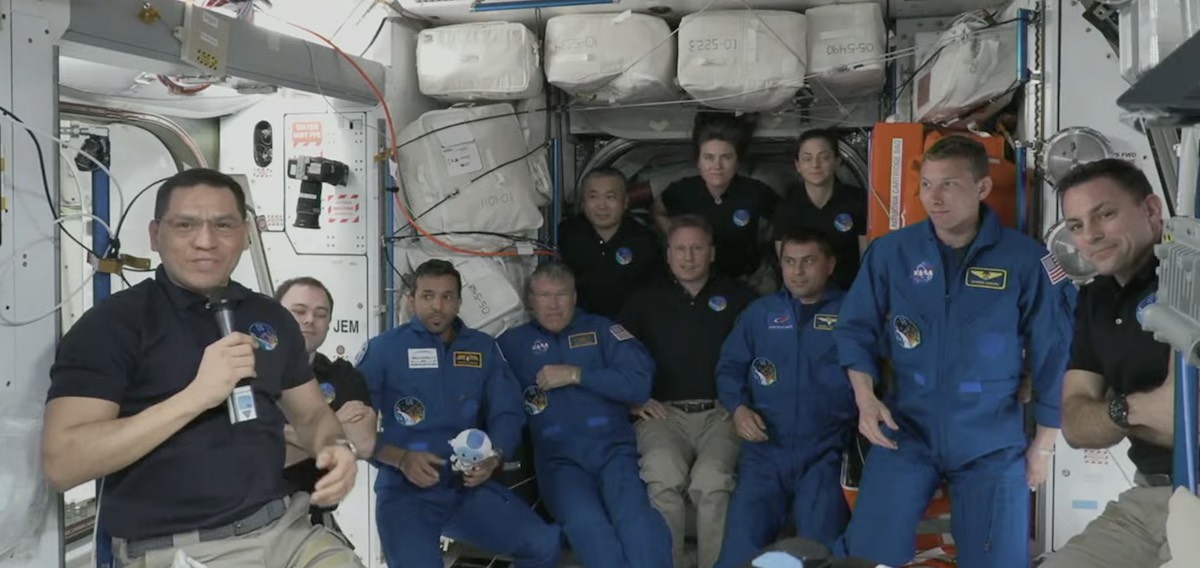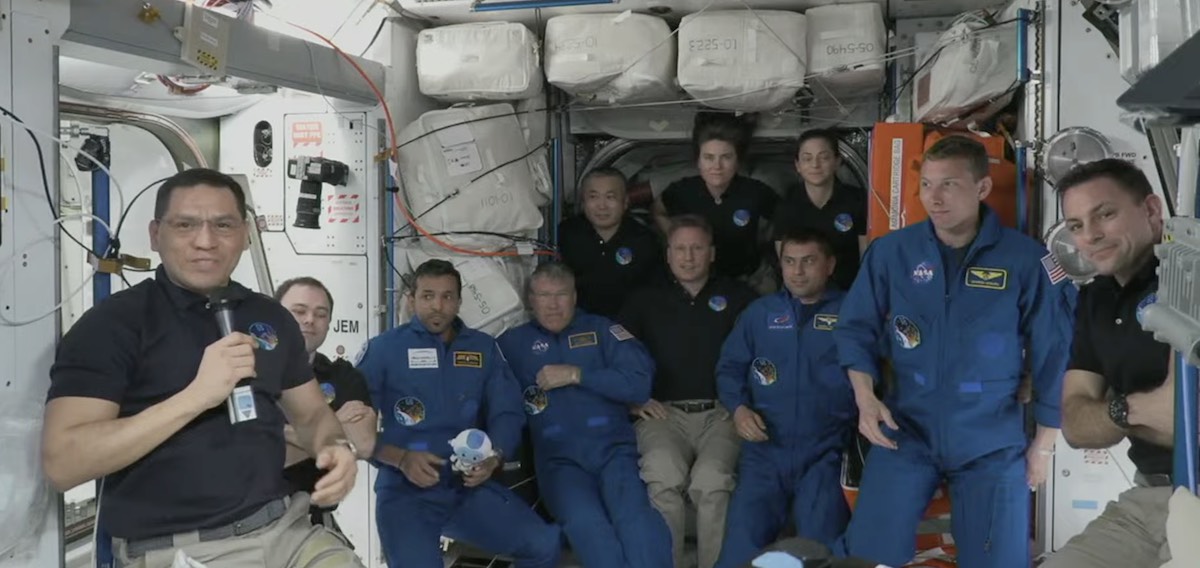 SpaceX's Dragon Endeavour spacecraft linked up with the International Space Station Friday, delivering two NASA astronauts, an Emirati astronaut, and a Russian cosmonaut to the complex after a short delay for ground teams to uplink a software fix to mask a bad sensor on the capsule's docking mechanism.
Flying on autopilot, the Dragon crew capsule docked with the space station's Harmony module at 1:40 a.m. EST (0640 GMT) Friday as the orbiting lab sailed more than 260 miles above Earth, just off the coast of Somalia. The spacecraft held position less than 100 feet from the space station for nearly an hour to wait for SpaceX engineers to uplink a software override to resolve a problem with a faulty sensor.
The erroneous sensor indicated one of 12 hooks on the Dragon spacecraft's docking system was not in the proper position for arrival at the station. The hooks are designed to drive closed after the capsule makes contact with the space station, creating a firm mechanical connection between the vehicles. SpaceX mission control verified all 12 hooks were fully open, and the software fix allowed the final approach to proceed toward docking.
After linking up with the station, all 12 hooks closed and power umbilicals were mated in the docking connection. Commander Stephen Bowen, pilot Warren "Woody" Hoburg, astronaut Sultan Alneyadi from the United Arab Emirates, and Russian cosmonaut Andrey Fedyaev floated into the space station a few hours after docking.
The arrival of the Crew-6 mission at the space station temporarily raised the size of the lab's crew to 11.
Bowen, 59, is a retired U.S. Navy captain who served on submarines before NASA selected him as an astronaut candidate in 2000. Born and raised in Massachusetts, Bowen has logged 40 days in space on his three space shuttle missions, most recently in 2011 on the final flight of the shuttle Discovery.
Hoburg sat to Bowen's right during the the Dragon spacecraft's launch Thursday. The 37-year-old is from the Pittsburgh area, and earned a Ph.D in computer science and electrical engineering from the University of California, Berkeley. Hoburg was a professor at MIT before he joined NASA's astronaut corps in 2017, and is making his first flight to space on the Crew-6 mission.
Mission specialists Sultan Alneyadi and Andrey Fedyaev, also both spaceflight rookies, round out the crew.
Alneyadi, 41, was selected as one of the United Arab Emirates' first two astronauts in 2018, and will become the first person from the Arab world to live and work on the International Space Station for a long-duration flight. Fedyaev, also 41, is a former Russian Air Force pilot who will serve in the Russian segment of the ISS, riding to and from the outpost on a NASA-funded mission as part of a seat exchange agreement between the U.S. space agency and Roscosmos, Russia's space agency.
The multicultural crew will live on the space station until late August.
"We have a Russian, we have an Emirati, but we also have Woody, who's basically 20 years younger than me, so he might as well be from a different culture as well," Bowen said in a pre-flight interview. "So it's just tremendous to have the opportunity to fly with these guys."
NASA and Russia's space agency have a no-funds-exchanged agreement to fly each other's crew members to the International Space Station, ensuring there is at least one American and one Russian on the complex at all times, even if one vehicle is grounded due to a failure, or if a crew craft has to leave the outpost early due to a medical emergency.
The U.S.-Russian space station partnership, forged in the 1990s, has persevered despite strained relations on Earth, particularly after Russia's invasion of Ukraine. Bowen said conversations among crew members about world events "just don't naturally come up" during training. "You're focused on the mission," he said.
"I'm more concerned about making sure his family feels supported during his mission, and making sure that he has his needs met so we can execute the mission on-board," Boens said. "Those are where our conversations tend to lead."
Bowen said he is looking forward to a slower pace of life on the space station during a half-year mission, compared to a busier schedule on his three space shuttle flights to assemble parts of the research lab.
"Most of what I did was essentially construction, so I'm really looking forward to being a part of the research and exploration aspect of a space station," he said. "And as far as my own personal time, I'll have more time to enjoy the environment on board."
Hoburg said he is taking a chess set to the space station to play games during off-duty time.
The Crew-6 mission is SpaceX's sixth operational crew rotation flight to the space station, and SpaceX's ninth human spaceflight mission overall, including the Demo-2 test flight in 2020 with NASA astronauts Doug Hurley and Bob Behnken, and two fully commercial astronaut missions.
The Dragon Endeavour spacecraft flying on the Crew-6 mission launched to space for the fourth time this week, more than any other SpaceX crew capsule to date. The same vehicle was used on the Demo-2 test flight with Hurley and Behnken in 2020.
Bowen's crew will replace the Crew-5 mission, which has been at the station since October.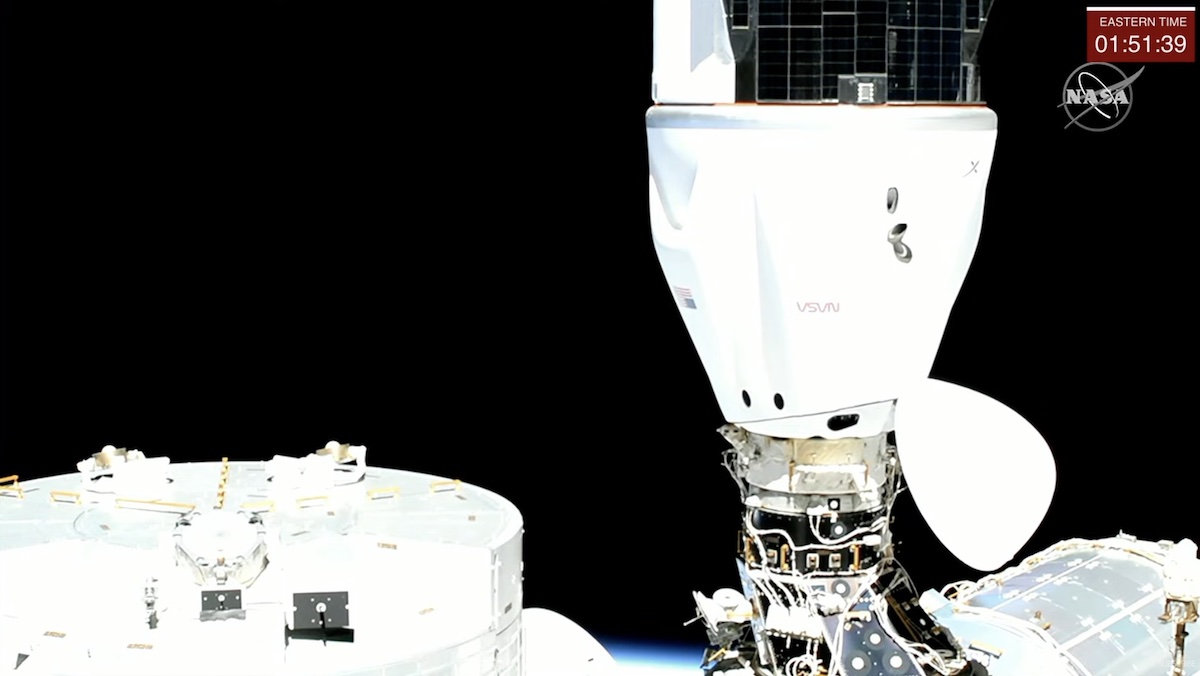 The Crew-5 mission — commanded by NASA astronaut Nicole Mann, with pilot Josh Cassada, Japanese astronaut Koichi Wakata, and Russian cosmonaut Anna Kikina — will depart the space station in their SpaceX-owned Dragon spacecraft around March 9, weather permitting. The Dragon spacecraft will target a splashdown off the coast of Florida.
After Mann's crew leaves the station, Bowen and his crewmates will share the outpost with Russian cosmonauts Sergey Prokopyev, Dmitri Petelin, and NASA astronaut Frank Rubio, who arrived at the complex in September and are now on an extended mission that will run through September. The Russian Soyuz spacecraft they rode to space on last year sprung a coolant leak in December, and Russia launched a replacement crew capsule last month without a crew aboard.
Prokopyev, Petelin, and Rubio were supposed to return to Earth in late March, but will stay in orbit an extra six months until after the launch of the next Soyuz mission with a fresh team of three replacements.
Bowen's crew will have a busy mission helping perform more than 200 scientific and tech demo investigations on the space station. Some of the Crew-6 astronauts will also go outside the space station for spacewalks to install a new set of upgraded solar arrays scheduled for delivery by a SpaceX cargo capsule in June.
Their six-month expedition is also slated to include the arrival of the first crew test flight on Boeing's Starliner spacecraft in April. That will be a short-duration mission lasting about one week, with NASA astronauts Barry "Butch" Wilmore and Sunita Williams flying on the first piloted mission of the new Boeing capsule.
NASA signed multibillion-dollar contracts with SpaceX and Boeing in 2014 to develop new human-rated rockets and spacecraft to ferry astronauts to and from the space station, ending U.S. reliance on Russia for the crew transportation job. SpaceX launched its first crew test flight in May 2020, and with Crew-6, the company has now launched the last of the original slate of six operational crew rotation missions under the original 2014 commercial crew contract.
"I think we're in a rhythm of getting into these flights," said Steve Stich, NASA's commercial crew program manager.
"But every single flight that we get into the countdown of, there's a little bit of a difference in the Dragon configuration, a difference in the pad, a little difference in the Falcon 9, something going on with the fleet that we have to monitor," Stich said. "So it never is easy, and it's never really routine. They're each different. They each have their challenges, and what's exciting to me is the way the team works through those challenges every single flight, whether its a structural problem or a pad problem, I think we do a great job of working through those together."
NASA has awarded SpaceX eight additional crew rotation flights to the International Space Station, beyond the original six-mission commercial crew contract. That will carry SpaceX through the Crew-14 mission in the late 2020s, near the space station's planned retirement date in 2030.
Boeing has not flown astronauts yet on its Starliner spacecraft, and won't start on its contract of six operational flights for NASA until early 2024. Once Boeing's Starliner is operational, NASA wants to alternate between Boeing and SpaceX missions every six months, with each company launching one NASA crew mission per year.
SpaceX has found commercial customers for Dragon astronaut flights beyond the NASA contract. Axiom Space, a Houston-based company, flew four commercial astronauts on a Dragon spacecraft for a two-week flight to the space station last year, and will fly another crew to the complex in May.
Billionaire businessman Jared Isaacman led a four-person team of private astronauts into low Earth orbit on a Dragon spacecraft on the charity-focused Inspiration4 mission in 2021, and plans to launch again on a Dragon capsule later this year on the all-private Polaris Dawn mission, which will include the first commercial spacewalk in orbit.
Email the author.
Follow Stephen Clark on Twitter: @StephenClark1.