EDITOR'S NOTE: Updated at 3 p.m. EST (2000 GMT) Monday.
STORY WRITTEN FOR CBS NEWS & USED WITH PERMISSION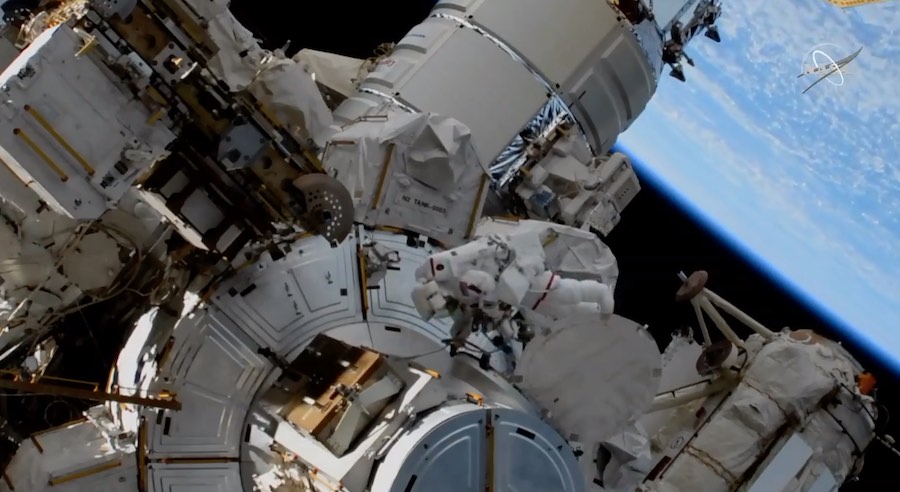 It took NASA more than 50 years to stage its first all-female spacewalk last October. It took three months before the second on Jan. 15 and just five days more for the third on Monday, a successful six-hour 58-minute excursion to finish installing a set of new solar array batteries aboard the International Space Station.
Floating in the station's Quest airlock compartment, Jessica Meir and Christina Koch switched their spacesuits to battery power at 6:35 a.m. EST to officially kick off their third spacewalk together, the 226th devoted to station assembly and maintenance.
Once outside, the astronauts quickly made their way to the outermost set of solar arrays on the left, or port, side of the station's power truss. Over the next five-and-a-half hours or so, they completed work started during spacewalks last year to install new lithium-ion batteries, replacing less powerful nickel-hydrogen units.
The astronauts had no problems completing the work. The only departure from the timeline came near the end of the spacewalk when the hand controller of Koch's emergency jet pack unexpectedly worked its way out of its housing.
Meir was able to restow the controller, but then ran into problems folding up a foot restraint. After a bit of troubleshooting, she managed to get it put away. Flight controllers then opted to forego a minor get-ahead task and the astronauts headed back to the airlock, repressurizing at 1:33 p.m. to close out the excursion.
After thanking flight controllers for their help preparing and executing the battery upgrade spacewalks, Meir took a moment to reflect on Martin Luther King Jr. Day from orbit.
"This has really been an amazing experience," she said from the airlock. "Today is also Martin Luther King Day, a personal hero to both me and Christina. (I offer his) wise words for this moment: 'We may have all come on different ships, but we're in the same boat now.' When one has the spectacular view that we had today, looking down on our one common home, planet Earth, his words resonate loudly."
Added Koch: "We often say how much we owe to those that paved the way, and that doesn't just mean in space flight. It also means those who work for civil rights and inclusion and who know how important it is. That's why it's so meaningful for us today to be out here on the day we honor Martin Luther King Jr., who paved the way not only for us, but for so many that have a dream."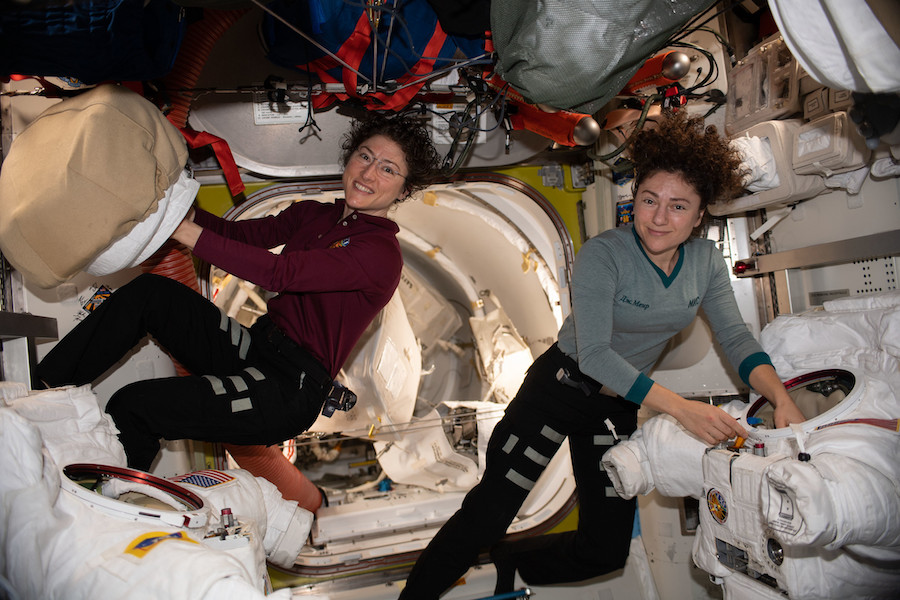 Koch, wrapping up a record 328-day stay aboard the station, has now walked in space six times, logging a total of 42 hours and 15 minutes outside the lab complex since arriving in orbit last March. Meir's mark stands at 21 hours and 44 minutes through three outings, all with Koch.
NASA is in the process of replacing 48 older-generation nickel-hydrogen batteries in the station's solar power system with 24 more powerful lithium-ion units, along with circuit-completing "adapter plates" to fill in for batteries that were removed but not replaced.
During spacewalks in 2017 and 2018, astronauts replaced half the NiH2 power packs with 12 Li-ion units. During two spacewalks last October, Koch and Drew Morgan installed three of the left outboard array's six lithium-ion batteries.
Shortly thereafter, however, engineers discovered one of three battery charge controllers in that circuit had failed, sidelining one of the new batteries. Koch and Meir then staged the first all-female spacewalk last Oct. 18, removing the failed controller and installing a replacement.
Cosmonaut Svetlana Savitskaya became the first woman to walk in space during an outing with a male cosmonaut in 1984, followed later that year by NASA astronaut Kathy Sullivan, who joined astronaut David Leestma for a spacewalk during a shuttle mission.
"I think we do recognize it is a historical achievement, it does carry a lot of weight to other people," Meir said of the first all-female spacewalk. "It really does mean a great deal to share this experience together and hopefully, it does inspire and educate those that will follow us."
With the battery charge controller in place, Koch and Meir pressed ahead with the battery replacement work Jan. 15, removing four older nickel-hydrogen batteries and installing two new lithium-ion units and one adapter plate.
During Monday's spacewalk, the women removed the two remaining nickel-hydrogen batteries and installed the final lithium-ion battery needed by the station's left-side outboard set of solar arrays.
When the completion of Monday's spacewalk, station astronauts have now replaced 36 of the lab's original 48 nickel-hydrogen power packs with 18 more powerful lithium-ion units. The batteries are housed in electronics assemblies at the base of the left and right inboard arrays and the left-side outboard array.
A final set of lithium-ion batteries will be installed in the right-side outboard set of arrays later this year.
NASA now plans to press ahead with yet another spacewalk Jan. 25, this one with Morgan and Italian astronaut Luca Parmitano, to complete cooling system repairs of a $2 billion cosmic ray detector. The repairs were carried out during three spacewalks last November and December, but a fourth outing is needed to verify the system is leak free and to re-install insulation.