EDITOR'S NOTE: Updated at 1:30 p.m. with confirmation of lift and mate inside the Vertical Integration Facility.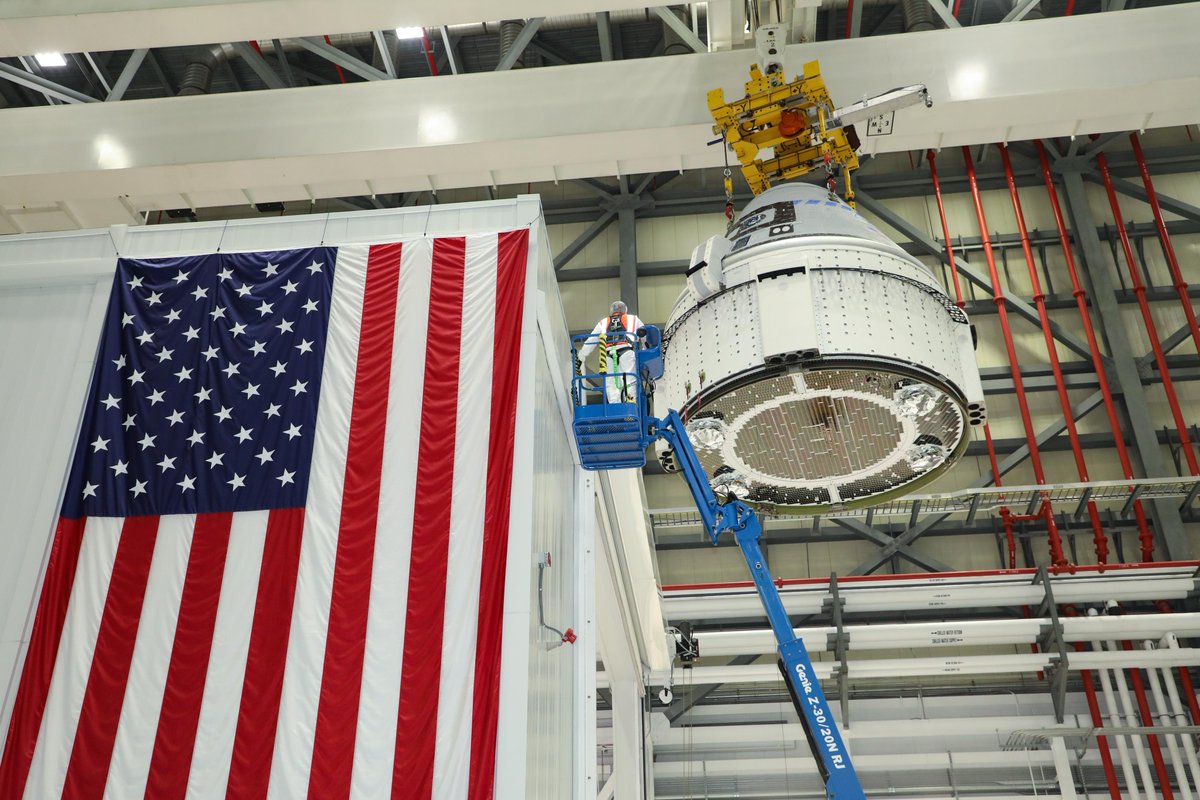 Boeing's first Starliner crew capsule to fly in space departed its factory Thursday at the Kennedy Space Center in Florida for a trip to a launch pad a few miles away, where teams raised the craft atop an Atlas 5 rocket for liftoff next month on an unpiloted test flight to the International Space Station.
The Starliner spacecraft is being readied for liftoff no earlier than Dec. 17 from Cape Canaveral on a week-long unpiloted demonstration flight to the International Space Station, a crucial precursor before the first crewed Starliner mission next year.
Fresh out of a fueling cell inside a former space shuttle hangar at Kennedy, the Starliner spacecraft rolled out of its manufacturing facility around 6 a.m. EST (1100 GMT) Thursday on a slow-speed transporter for a road trip to pad 41 at nearby Cape Canaveral Air Force Station.
The transporter paused outside the Starliner manufacturing building for a brief ceremony. Boeing and NASA officials, along with the astronauts assigned to fly the Boeing-built ship's second space mission next year, celebrated the occasion with employees gathered outside Kennedy's iconic Vehicle Assembly Building.
"This is critical to our future as a nation," said Bob Cabana, a former astronaut and current director of the Kennedy Space Center. "We've got to get astronauts flying on U.S. rockets out of here on U.S. soil and not have to rely on our Russian partners, and this is just a huge step forward.
"It is so cool to finally see the Starliner rolling out of that building," Cabana said. "It's been a long time since a spaceship rolled out of there on its way to the pad to get stacked up."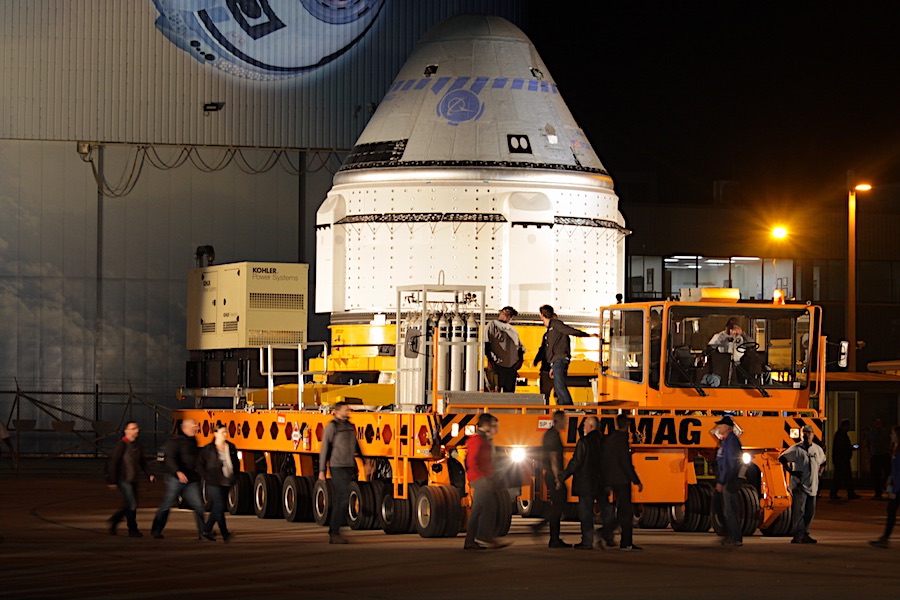 Boeing converted one of NASA's three space shuttle processing facilities into a Starliner factory. The Starliner's gumdrop-snapped crew module is reusable — good for up to 10 flights — and the ship's power and propulsion segment burns up during atmospheric re-entry on each mission, requiring a steady line of new service modules.
The Starliner's early morning departure from the Crew Crew and Cargo Processing Facility, or C3PF, was reminiscent of the days of the space shuttle.
"When the orbiter used to roll out, I always thought that was just a unique moment," Cabana said. "You came here (late) at night or early in the morning, dark, lights shining on it, and that's the beginning of a trip to space. Launching, it's really cool, but seeing it roll out on its way to the pad, this is the beginning of a trip to space."
The three astronauts training to fly on Starliner's crewed test flight spoke to Boeing employees during Thursday's rollout ceremony.
"It's not going to get a lot easier, but it's going to get a lot more fun," said Chris Ferguson, a Boeing astronaut and former space shuttle commander who will fly on the Starliner's first crewed mission.
"As graduates of military test pilot schools, we are really excited to see how Starliner is going to behave (in orbit)," said Mike Fincke, a veteran astronaut who will join Ferguson and first-time space flier Nicole Mann on the Starliner's Crew Flight Test next year. "We know it's going to be awesome, and we're going to get all kinds of really good test data from it."
"It's difficult work, it's relentless, and each day you're crushing it, so thank you for being amazing," Mann the Starliner team at Kennedy.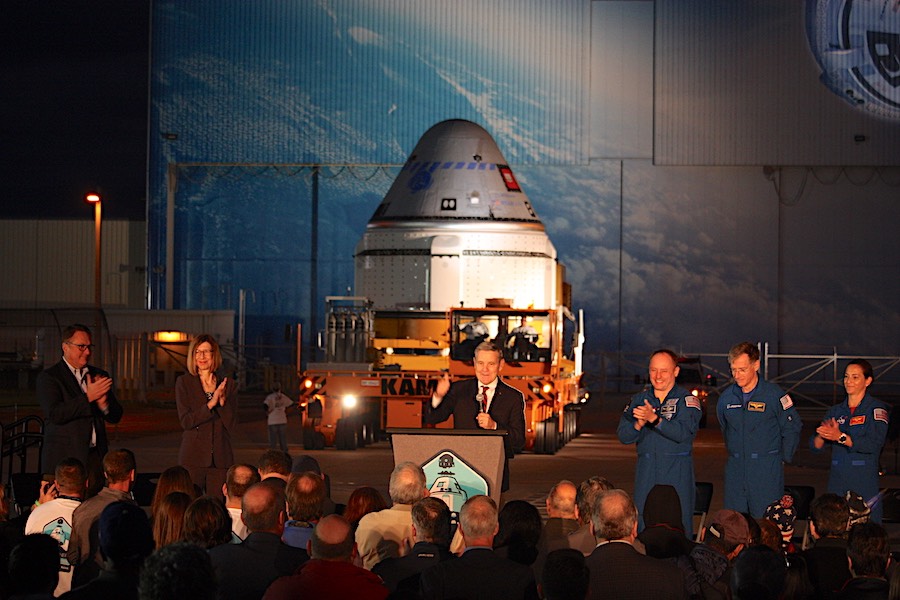 Although no astronauts will fly on the Starliner's first launch next month, an anthropometric test dummy is already strapped inside the capsule. Boeing has named the dummy "Rosie the Astronaut" in honor of "Rosie the Riveter," an icon of World War II honoring the contributions of women in aircraft and armament factories.
"Rosie embodies everything you would expect from her name: inspiration, strength, hope, determination and the future of human spaceflight," Boeing said. "Sitting in the Starliner commander's seat, she'll be equipped with hundreds of sensors that will return critical data to the Starliner team ahead of the first crewed flight. They'll be especially interested in the forces she experiences through launch, ascent, re-entry and landing."
A similar dummy flew on an unpiloted test flight of the SpaceX's Crew Dragon spacecraft to the space station in March. SpaceX named its dummy "Ripley" after Sigourney Weaver's character in the "Alien" film series.
After a road trip around the VAB and eastward along a road paralleling NASA's famed crawlerway, the transporter turned south to reach United Launch Alliance's Vertical Integration Facility at pad 41, where ground crews connected the capsule to the top of a United Launch Alliance Atlas 5 rocket.
ULA began assembling components of the Atlas 5 rocket inside the VIF on Nov. 4, when the Atlas 5's first stage was raised vertical on top of a mobile launch platform. Since then, technicians have installed two strap-on solid rocket boosters on each side of the Atlas 5's bronze first stage and lifted the rocket's Centaur upper stage on top.
The Centaur upper stage features two major changes from hardware that's flown on ULA's 80 previous Atlas 5 launches.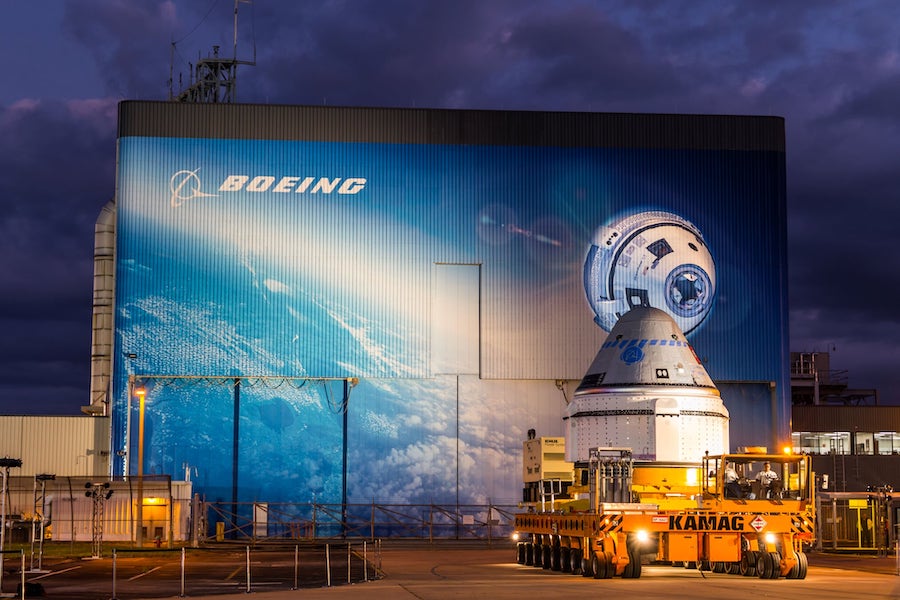 The Centaur designed for Starliner missions is powered by two Aerojet Rocketdyne RL10 engines, while the earlier Atlas 5 missions flew with a single-engine Centaur stage. ULA also designed a structural skirt on the top of the Centaur stage to reduce aerodynamic loads during the rocket's climb through the atmosphere, a change introduced because the Starliner will not fly inside a payload shroud during launch.
Since stacking the Atlas 5 rocket inside the VIF, ULA has powered up the launcher for a series of pre-flight checkouts. On Tuesday, ULA, Boeing and NASA teams conducted a mission dress rehearsal to practice countdown procedures ahead of the Starliner's scheduled launch Dec. 17.
With the Starliner spacecraft lifted atop the Atlas 5, ground crews will verify a series of mechanical and electrical connections between the launch vehicle and the crew capsule. The entire Atlas 5 rocket with the Starliner on top stands 172 feet (52 meters) tall.
The Atlas 5 will roll out to pad 41 in early December for a full countdown dress rehearsal, during which ULA will fill and drain the Atlas 5's propellant tanks. The rocket will return to the VIF for final checkouts before rolling to the pad again ahead of the planned Dec. 17 launch date.
"We're not done yet. We've got to step into the mission carefully," said Kathy Lueders, manager of NASA's commercial crew program. "We've got to finish it up, get the spacecraft on the rocket, and then get it to station and get this vehicle back safely, and that's going to be an important first step for us to make sure that we're working together to fly the NASA crews to the International Space Station."
The Starliner's Orbital Flight Test will last about one week, ending with a parachute-assisted, airbag-cushioned landing at one of three candidate sites in the Western United States. Boeing's preferred landing site, weather permitting, is at White Sands Missile Range in New Mexico.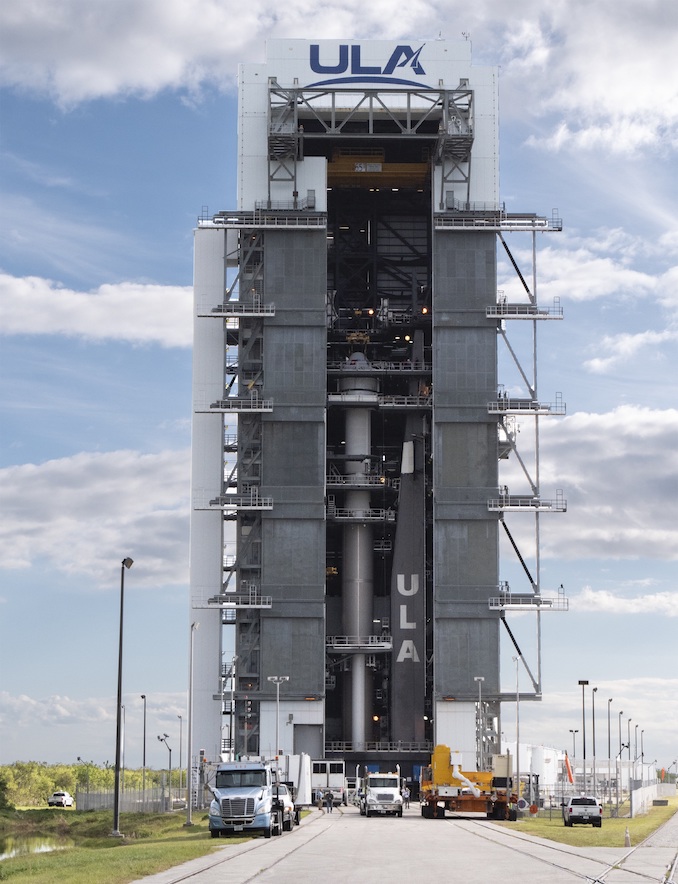 NASA is paying Boeing more than $5 billion to develop, build and fly Starliner missions to ferry astronauts to and from the space station. SpaceX has received a similar set of agreements valued at approximately $3.1 billion for the company's Crew Dragon spacecraft.
Both companies aim to fly NASA astronauts into low Earth orbit next year, ending nearly nine years of U.S. reliance on Russian Soyuz crew ferry ships since the retirement of the space shuttle. Boeing and SpaceX have encountered problems with their launch abort propulsion, parachutes and other systems, delaying their first crew launches by several years.
Boeing says the launch of the Starliner's first Crew Flight Test, with Ferguson, Fincke and Mann on-board, is scheduled for mid-2020. The company is building a second space-rated Starliner crew module for the Crew Flight Test, and Boeing plans to use both vehicles in rotation for a series of crew ferry flights to the station through at least 2024, and possibly longer if the space station's lifetime is extended.
"Here we are less than a month away from flight, and as soon as we get this one rolled out, the focus is going to be on getting Spacecraft 2 built, and we're going to give the folks to my left here an absolutely fantastic ride in the middle of next year," said John Mulholland, Boeing's vice president and program manager for commercial crew. "So first thing's first, let's go OFT, and then we'll go get these guys a ride in the middle of next year."
Email the author.
Follow Stephen Clark on Twitter: @StephenClark1.