STORY WRITTEN FOR CBS NEWS & USED WITH PERMISSION
EDITOR'S NOTE: The Soyuz MS-11 spacecraft docked with the space station's Poisk module at 12:33 p.m. EST (1733 GMT), delivering three new crew members to the orbiting research complex.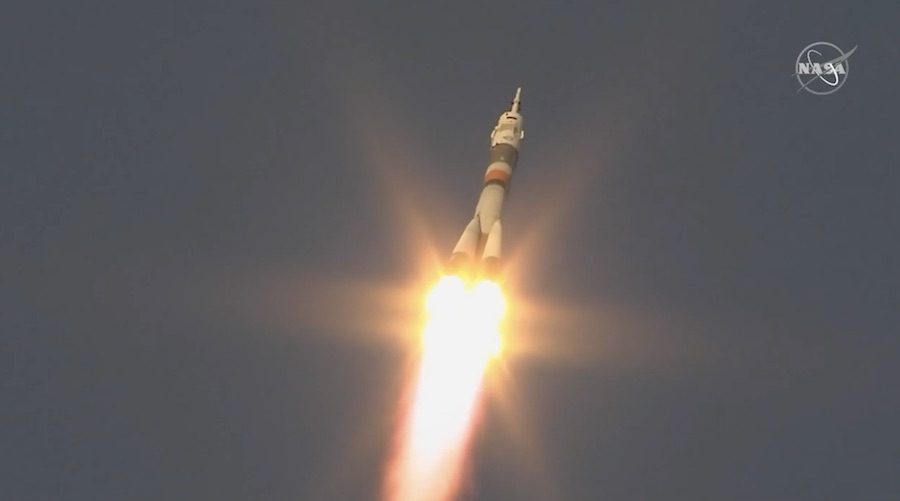 A Soyuz FG rocket thundered to life and shot into orbit smoothly Monday carrying three crew members on a six-hour flight to the International Space Station. The problem-free ascent came less than two months after an Oct. 11 launch abort that forced a different crew to carry out safe-but-scary emergency landing.
That mishap was triggered when one of four strap-on boosters failed to separate cleanly two minutes after liftoff. But this time around, all four rockets separated as expected from the second stage core booster and the Soyuz crew ship slipped into its planned preliminary orbit eight minutes and 45 seconds after liftoff.
Veteran commander Oleg Kononenko, Canadian flight engineer David Saint-Jacques and NASA astronaut Anne McClain then rigged the ship for a four-orbit rendezvous with the space station to boost the lab's crew back to six for the first time since early October.
The new crew will join NASA astronaut Serena Auñón-Chancellor, cosmonaut Sergey Prokopyev and Expedition 57 commander Alexander Gerst, a European Space Agency astronaut.
Gerst and company originally expected to be joined by Soyuz MS-10/56S commander Alexey Ovchinin and Nick Hague. But instead of reaching the space station, Ovchinin and Hague were forced to execute an emergency abort Oct. 11, landing about 250 miles downrange from the Baikonur Cosmodrome.
Senior managers with NASA and the Russian space agency Roscosmos said Ovchinin and Hague would be reassigned to another flight soon, but it's not yet known when they will be worked back into the crew rotation schedule.
In the meantime, Russian engineers quickly identified the cause of the abort: a bent component in the booster separation mechanism that apparently was caused by a mistake during the rocket's assembly. A fleet-wide inspection was carried out and four Soyuz boosters were successfully launched before Kononenko's crew was cleared for flight Monday.
McClain, an Army colonel and veteran military helicopter pilot, said she had no qualms about launching aboard a Soyuz booster. She said the workhorse Russian rocket was extremely reliable and that she trusted Russian engineers to find and fix the problem.
"Going to space is not easy," she told CBS News in a pre-launch interview. "The crew in October was lucky. But so is every crew that has flown in space over the last 50 years, 60 years. I'm very familiar with the rocket and with the redundancy of their systems and with their safety systems. And I'll be frank with you, I would have gotten on a rocket the day after that happened."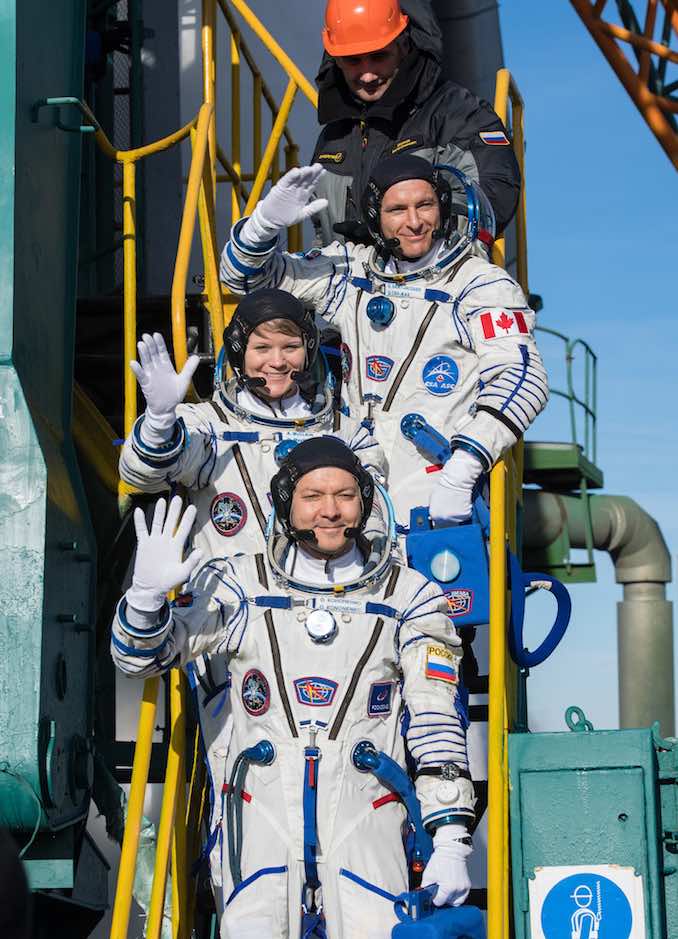 Gerst, Prokopyev and Auñón-Chancellor originally expected to return to Earth on Dec. 13, leaving the station in the hands of Ovchinin and Hague until Kononenko's crew arrived on Dec. 20.
But in the wake of the launch abort, Roscosmos moved up the Soyuz MS-11/57S launch to Dec. 3 and delayed the departure of Gerst's crew by one week to Dec. 20. That will give the two crews nearly three weeks to deal with the arrival of a SpaceX Dragon cargo ship Thursday and a spacewalk by Prokopyev and Kononenko on Dec. 11.
The Dragon is scheduled for launch Tuesday from the Cape Canaveral Air Force Station. If all goes well, the supply ship will reach the station Thursday, pulling up to within about 30 feet and then standing by while Gerst and Auñón-Chancellor, operating the station's robot arm, lock onto a grapple fixture.
Flight controllers at the Johnson Space Center in Houston then will take over, operating the arm remotely to pull the Dragon in for berthing at the Earth-facing port of the forward Harmony module.
That will clear the way for a spacewalk by Prokopyev and Kononenko five days later to inspect the Soyuz MS-09/55S ferry ship that carried Gerst, Prokopyev and Auñón-Chancellor into orbit on June 6 and will carry them back to Earth on Dec. 20.
In late August, sensors detected a pressure drop in the space station's atmosphere that was traced to the upper habitation module of the Soyuz MS-09 vehicle. An inspection revealed what looked like a small hole drilled into an interior panel.
Prokopyev sealed the hole with cloth soaked in epoxy, stopping the leak. Russian engineers ordered the spacewalk to inspect the exterior of the Soyuz to look for any signs of damage that might be related to the hole found inside the spacecraft.
While the hole appeared to be the result of deliberate action on someone's part, presumably before launch, the Russians have not yet revealed any conclusions.
In any case, Auñón-Chancellor said she had no concerns about coming home aboard the Soyuz.
"They're going to be inspecting just the integrity of our vehicle, make sure that everything looks OK," said told CBS News in a Nov. 29 interview. "Of course, everything on the ISS can get pummeled by what we call micrometeoroid debris all the time, and so they're just checking the integrity of that vehicle.
"We did have that small leak at the end of August, and so they want to make sure everything looks OK prior to us undocking."
With the departure of the Expedition 57 crew on Dec. 20, Kononenko, Saint-Jacques and McClain will have the station to themselves for an indefinite period. Roscosmos originally planned to launch a fresh crew to the lab in April, but the post-abort crew rotation schedule is under discussion and not yet finalized.