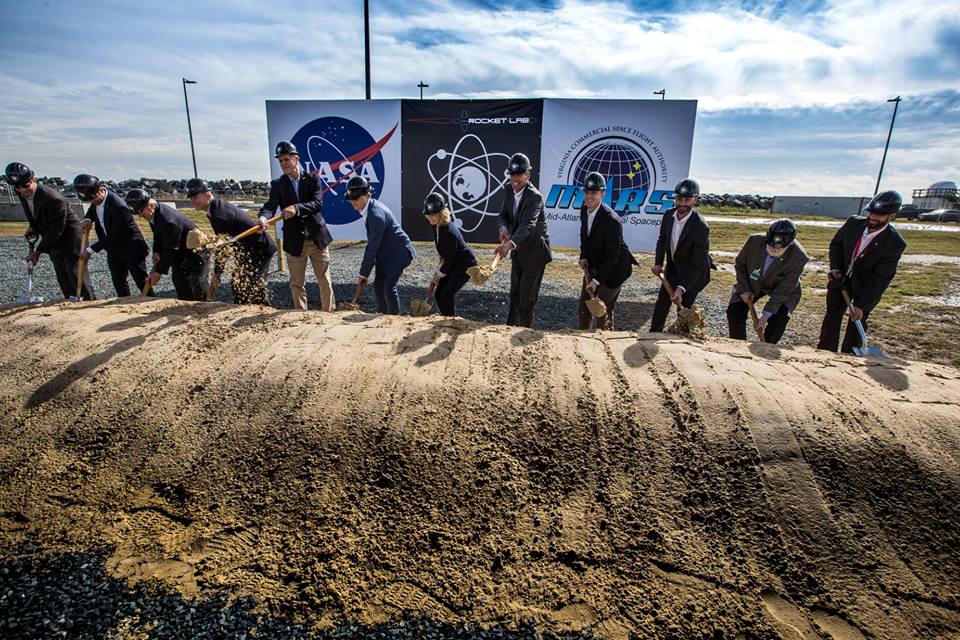 Rocket Lab broke ground on a new launch pad on Virginia's Eastern Shore last week after selecting the Wallops Island location for the company's first U.S.-based launch site over competing spaceports in Florida, California and Alaska.
The company's Electron rocket could begin launching small satellites into orbit from Wallops Island in the third quarter of next year, said Peter Beck, Rocket Lab's founder and chief executive. He told Spaceflight Now in an interview that placing Rocket Lab's new launch pad, named Launch Complex-2, near an existing pad at Wallops will allow the company to begin operations there sooner than possible at other locations around the United States.
"Part of the key criteria was being able to push stuff out of the ground very, very quickly, and also have a high flight rate," Beck told Spaceflight Now. "So those were the two prime drivers, and that's where Wallops was able to provide a very nice solution by leveraging some existing infrastructure already (there)."
Rocket Lab's new launch pad will be located inside the perimeter fence of pad 0A at the Mid-Atlantic Regional Spaceport, which operates two launch pads on property owned by NASA's Wallops Flight Facility, according to Dale Nash, CEO and executive director of the Virginia Commercial Space Flight Authority, also known as Virginia Space, a state agency charged with attracting space business to Virginia.
Construction crews will built a launch pedestal, ramp and mobile gantry at Launch Complex-2 just southeast of pad 0A, where Northrop Grumman's Antares rockets lift off on resupply missions to the International Space Station.
Nash said the Rocket Lab launch mount will be located near a vinyl-lined extension to pad 0A's water deluge basin, where thousands of gallons of water are dumped during engine test-firings and Antares launches.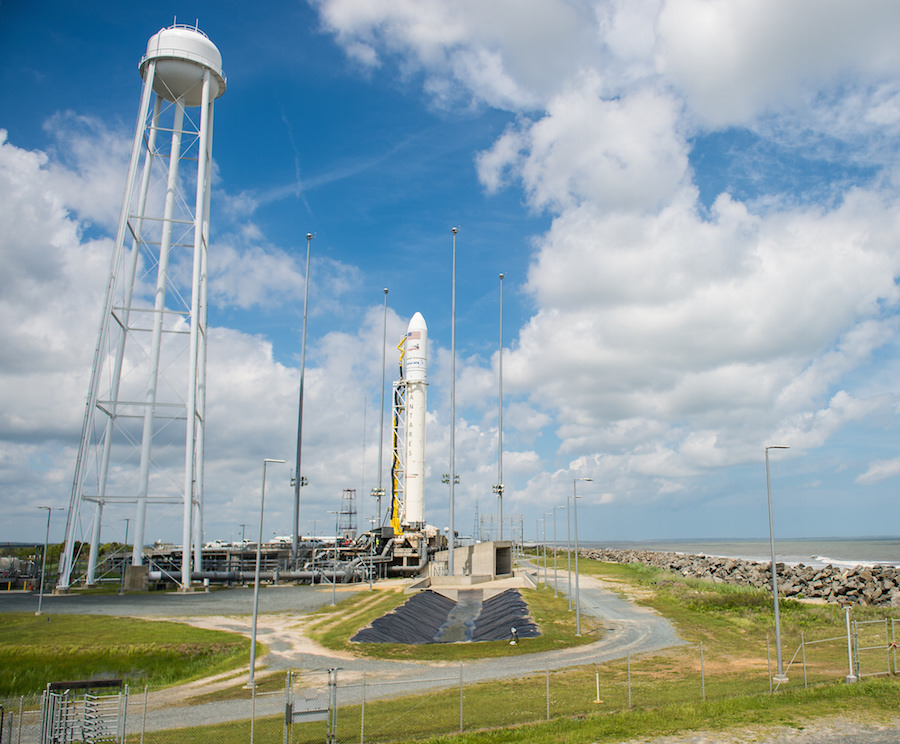 Pad 0A is one of two existing orbital-class launch pads on Wallops Island. A quarter-mile (400 meters) to the south lies pad 0B, a launch site used by solid-fueled satellite launchers such as the Minotaur family of rockets.
In an interview last week, Beck said Wallops and the Mid-Atlantic Regional Spaceport, which is managed by Virginia Space, "had a really strong proven track record, and team, of being able to build and rebuild, in some cases, infrastructure in a very expedient way."
Pad 0A was significantly damaged by an Antares rocket explosion seconds after a launch in October 2014, requiring major repairs before launch operations resumed in 2016.
Sean D'Mello, vice president of launch at Rocket Lab, said Electron rockets based from Wallops could place satellites into low Earth orbit with inclinations ranging between 38 and 60 degrees. After an initial launch in the third quarter of next year, Rocket Lab aims to fly once per month from the new U.S. launch site.
"The range is nice and quiet, so we're able to get those mid-inclinations, and quite easily achieve a once-a-month launch cadence, which is what we want to see out of this site," Beck said.
Rocket Lab says the Wallops location will offer U.S. military and other government payloads an opportunity to launch from U.S. soil, instead of having to ship their satellites to the company's current launch base, named Launch Complex-1, in New Zealand.
"We can achieve those mid-inclinations out of LC-1," Beck said. "LC-2, though, gives us the ability to service our government customers, and customers who don't necessarily want to launch out of New Zealand. It gives us the ability to serve those particular missions."
For those familiar with the appearance of Rocket Lab's launch site on Mahia Peninsula on the east coast of New Zealand's North Island, the Wallops pad will look much the same, officials said.
"The whole reason why LC-1 was named LC-1 was it was always our intention to replicate that pad all around the world, so you'll see more pads from us in the future," Beck said. It'll look substantially the same. We'll roll in some improvements, some lessons learned as we've launched from it, but basically it's the same pad."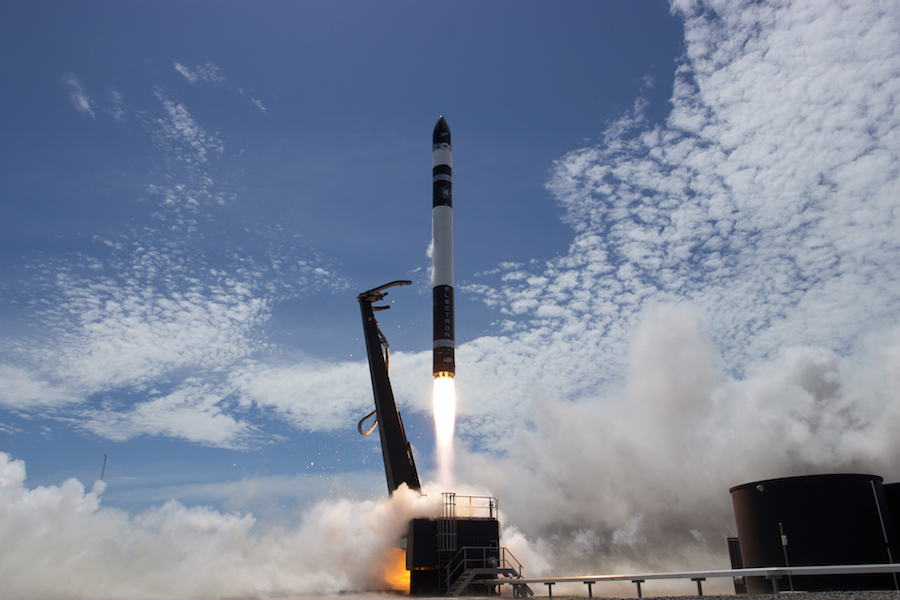 Rocket Lab's Electron rocket stands 55 feet (17 meters) tall and comes in two stages, with an optional kick stage to place satellites into certain orbits. Burning kerosene and liquid oxygen, its nine Rutherford first stage engines and single Rutherford second stage engine, developed in-house, are powered by battery-powered electric pumps.
The Electron booster can carry up to 330 pounds (150 kilograms) to a polar orbit around 310 miles (500 kilometers) above Earth. The rocket's capacity to a lower-altitude orbit is up to 500 pounds (225 kilograms), according to Rocket Lab.
The rocket company, founded in New Zealand and headquartered in Southern California, says it can launch an Electron rocket for less than $5 million per flight.
Rocket Lab is one of many entrepreneurial startups focused on launching small satellites into orbit, but it's the first in the current wave of rocket companies to successfully put a satellite into orbit. The second Electron launch in January put four small spacecraft in orbit, following a test flight in May 2017 that fell short of orbit.
Beck said the launch pad in New Zealand will remain the company's primary launch site.
"The pad down in New Zealand is curently locked to launch every 72 hours. That will remain a very high-frequency launch (pad)," Beck said. "LC-2, think of it more as a boutique pad for customers that want to remain in the United States, and if they have certain requirement around inclinations."
One way officials intend to shorten the time needed to build Rocket Lab's new launch pad at Wallops will be to use existing propellant supplies at pad 0A. The Antares rocket uses the same kerosene/liquid oxygen propellant mix as the Electron booster.
"We have facilities in place we can leverage off of," Nash said in an Oct. 17 press conference. "We know how to work with the commodities that are the same as the Electron, the liquid oxygen and the RP-1 refined kerosene, so it's within our experience base.
"We have a very experienced workforce that has built a launch pad, repaired a launch pad, we know we can go do it."
Rocket Lab selected Wallops Island after considering other locations for its first U.S. launch site, including Cape Canaveral, Vandenberg Air Force Base in California, and Kodiak Island, Alaska.
Beck said Cape Canaveral is "just very, very busy" and is "pretty much a single-user spaceport" when launching without an automated flight termination system, a destruct package used to end a rocket flight gone awry.
While Cape Canaveral and Wallops Island are good launch sites for satellites heading into low-to-mid inclination orbits, Vandenberg and Kodiak offer launch azimuths to the south for missions destined for polar, sun-synchronous orbits.
"I think the mid-inclination (orbits) are very useful for a number of missions," Beck said. "Obviously, sun-synchronous is great for Earth observation, but mid-inclination is really good for communications and a number of science missions. We saw the need for a mid-inclination launch site first, but we'll move into the high-inclination stuff as well."
He said Rocket Lab will continue discussions with other U.S. launch sites for a future polar orbit launch base. Rocket Lab may also develop a launch base in partnership with Lockheed Martin in Scotland.
In addition to the launch pad, Rocket Lab plans to build a rocket assembly building, control center and payload processing facility in the Wallops Research Park adjacent to NASA's Wallops Flight Facility. Beck said Rocket Lab plans to invest around $20 million to develop facilities at Wallops, and the company expects to generate around 30 jobs as launch operations get underway there.
Virginia Governor Ralph Northam signed a $5 million grant to go toward Rocket Lab's development at Wallops, according to Virginia Transportation Secretary Shannon Valentine. But officials did not elaborate on further economic incentives to lure Rocket Lab to the state.
Nash said the exact amount of economic incentives offered to Rocket Lab is part of a "proprietary agreement."
Meanwhile, preparations for the third Electron launch in New Zealand are advancing toward a planned liftoff in November, Beck said.
The mission was grounded in June to resolve a motor controller issue on the rocket, but engineers believe they have fixed that problem.
The second stage and kick stage for the third Electron mission, christened "It's Business Time," are currently at the Mahia Peninsula launch facility, and the first stage is expected to arrive before the end of the month.
"With the motor controller, we haven't rushed to get back to the pad," Beck said. "What we've, in fact, done is taken our time to really set the business up to succeed in a high volume kind of way."
Rocket Lab opened a new rocket factory in Auckland earlier this month for the assembly of composite structures, and a manufacturing plant in Huntington Beach, California, produces engines and avionics.
"Between the New Zealand factory and the U.S. factory, we're able to produce one launch vehicle every week," Beck said. "We're kind of not looking to the next launch. We're looking to the next 100 launches."
But Rocket Lab's next launch is sure to gain plenty of attention as the company transitions into an operational mode. Assuming the upcoming launch goes well, another Electron flight is scheduled from New Zealand in December carrying a load of NASA-sponsored CubeSats into orbit.
"We've got 16 flights scheduled next year," Beck said. "Our goal by the end of next year is to be launching once very two weeks, and as we move into 2020, launching once a week. We're tracking a pretty big pipeline of customers, and we've been very fortunate that people have put their trust in us. For us, it's making sure we do everything we can to deliver these customers' payloads to orbit."
Email the author.
Follow Stephen Clark on Twitter: @StephenClark1.