WATCH: SpaceX booster rocket arrives at Port Canaveral after launching Early Monday morning. This was a live recording as it passed by Jetty Park. Gotta love all this space stuff! pic.twitter.com/D67U7iH0y0

— Port Canaveral (@PortCanaveral) September 12, 2018
SpaceX brought another Falcon 9 booster into Port Canaveral on Wednesday, a little more than two days after landing the rocket on a platform in the Atlantic Ocean as the company enters an unusually quiescent period of launch activity in Florida — at least by recent standards.
The rocket arrived at Port Canaveral around 10 a.m. EDT (1400 GMT) Wednesday aboard SpaceX's drone ship "Of Course I Still Love You" after a two-day trek from the booster's landing point in the Atlantic Ocean around 400 miles (650 kilometers) east of Florida's Space Coast.
The Falcon 9 rocket lifted off at 12:45 a.m. EDT (0445 GMT) Monday from Cape Canaveral's Complex 40 launch pad, carrying the Telstar 18 VANTAGE communications satellite into orbit. The Telstar 18 VANTAGE spacecraft, also known as APSTAR 5C, was developed in a joint venture between Ottawa, Ontario-based Telesat and APT Satellite of Hong Kong.
The high-power satellite will raise its orbit to geostationary altitude in the coming weeks, parking itself along the equator at 138 degrees east longitude, where it will replace the aging Telstar 18/APSTAR 5 spacecraft to expand broadband, television broadcast and cellular connectivity across the Asia-Pacific.
The Falcon 9's first stage fired for the first two-and-a-half minutes of Monday's mission with Telstar 18 VANTAGE, then shut down and dropped away from the rocket's second stage, which continued the trip into orbit. The first stage descended to a propulsive, precision touchdown on SpaceX's rocket recovery barge about eight-and-a-half minutes after liftoff.
The landing marked the 29th time SpaceX has recovered a first stage booster, and the 18th successful landing at sea.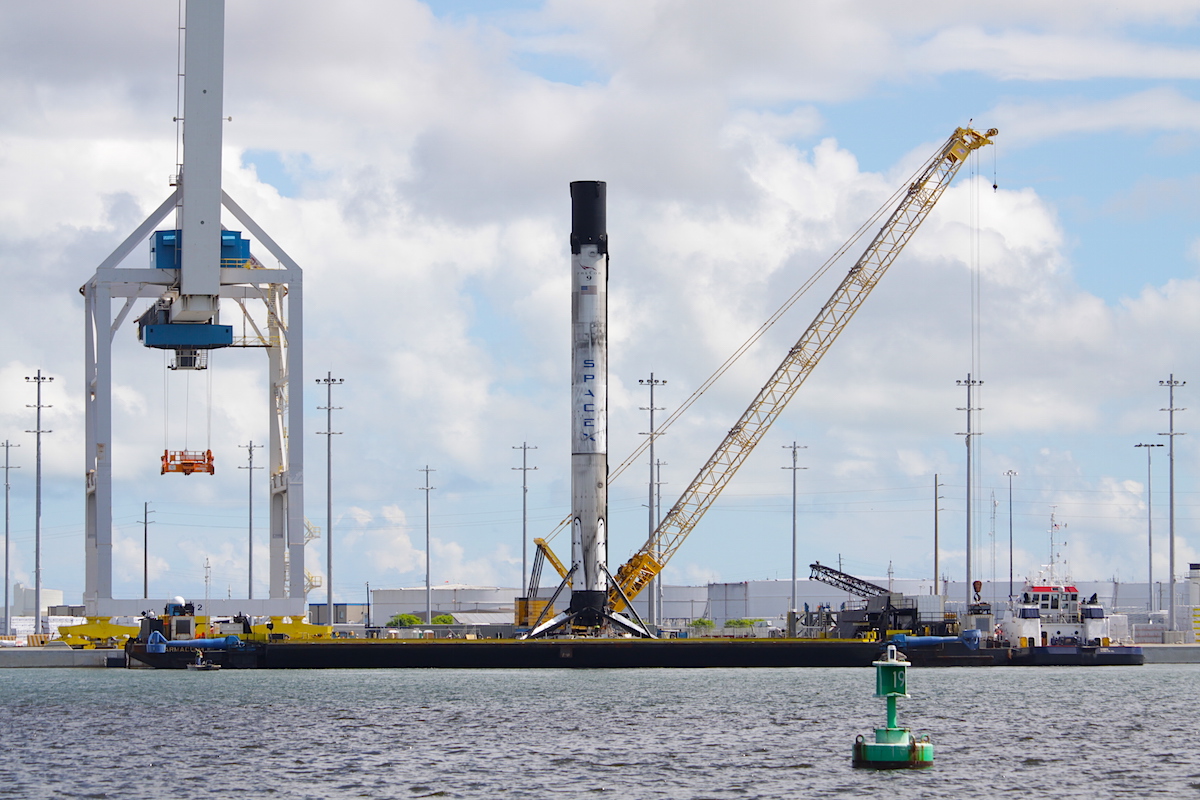 Crews at the port hoisted the 15-story rocket stage off the drone ship a few hours after it docked Wednesday, moving it to an onshore cradle where technicians will prepare it to be lowered horizontal for the trip to a nearby hangar for inspections and refurbishment.
The launch with Telstar 18 VANTAGE was the fifth time SpaceX has flown the latest generation of the Falcon 9 first stage, known as Block 5.
The Falcon 9 Block 5 debuted in May with the launch of a satellite for Bangladesh, and the first stage recovered from that mission launched again last month with the Merah Putih communications craft, then landed a second time for a possible third flight.
A previous Telesat satellite launched in July from Cape Canaveral aboard a newly-built Block 5 first stage, and the most recent batch of 10 Iridium voice and data relay satellites also flew on a new Falcon 9 Block 5 rocket from California the same month. Telstar 18 VANTAGE's launch Monday also used a Block 5 booster fresh from SpaceX's factory.
All of the Block 5 first stages launched to date have successfully landed.
SpaceX says the Block 5 first stage sports upgrades to reduce the time and money required to ready the boosters for re-flights. The latest version of the Falcon 9 booster carries a beefed up heat shield, improved landing legs, and titanium grid fins SpaceX says can be reused, replacing aluminum fins that had to be replaced before launching the same rocket again.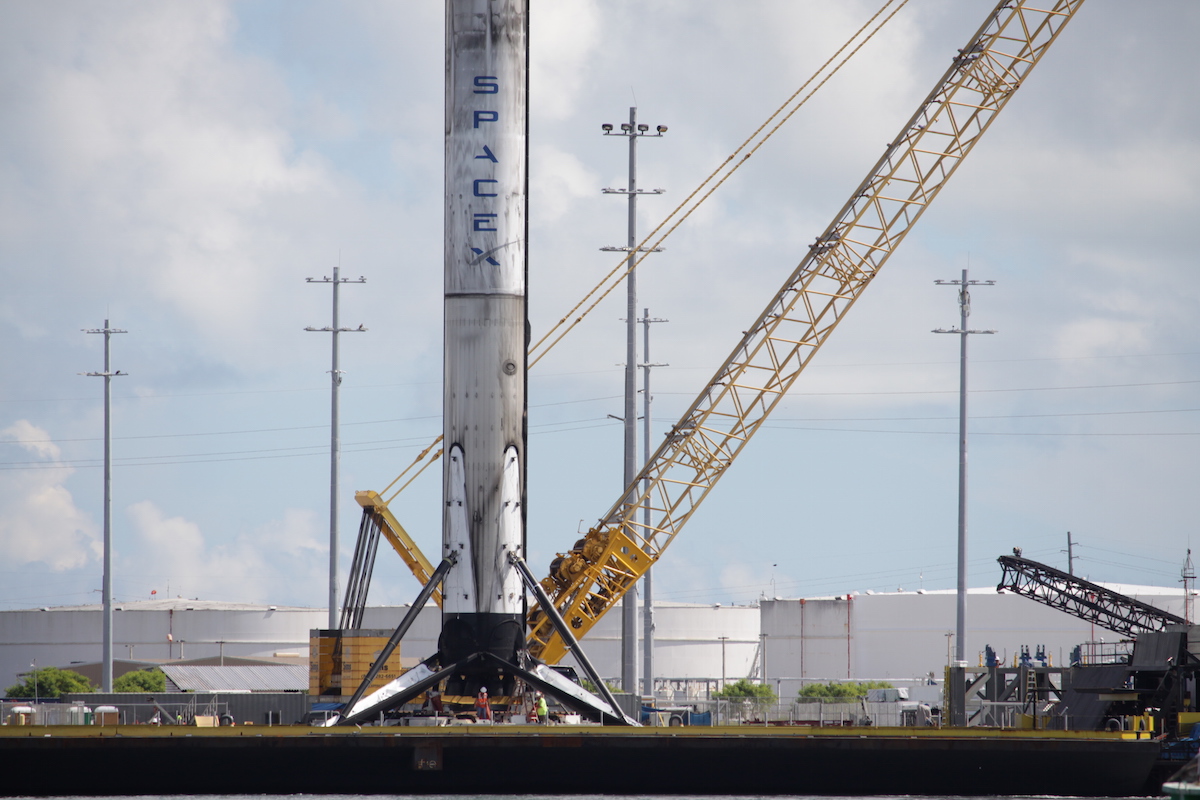 Elon Musk, SpaceX's founder and chief executive, told reporters in May that each Falcon 9 Block 5 first stage could be launched 10 times without significant refurbishment. With overhauls, reach rocket could launch up to 100 times before retirement, he said, adding that SpaceX would re-fly the same Block 5 booster in less than 24 hours as soon as next year.
That goal remains on track for 2019, according to Gwynne Shotwell, SpaceX's president and chief operating officer, who spoke on a panel at Euroconsult's World Satellite Business Week meeting Tuesday in Paris. She said the time needed to refurbish a Block 5 booster is now down to four weeks, according to an account of her remarks shared on social media.
Shotwell: Falcon 9 first stages come back in much better shape than anticipated. Have refurbishment time down to four weeks; goal is still a one-day turnaround next year. #WSBW

— Jeff Foust (@jeff_foust) September 11, 2018
SpaceX's first re-flight of a Falcon 9 first stage in March 2017, which used a previous iteration of the rocket, came nearly one year after the booster's first launch. The first reuse of a Block 5 booster Aug. 7 occurred less than three months after that vehicle's inaugural flight.
Musk also said in May that SpaceX's cut its price for a Falcon 9 rocket flight from around $60 million to $50 million for missions using a recycled first stage booster, with further price reductions planned as the company launches more reused rockets and recoups expenditures made during development of the Falcon 9's recovery and re-flight capability.
With the Telstar 18 VANTAGE mission in the books, SpaceX's next launch is scheduled no earlier than Oct. 7 from Vandenberg Air Force Base, California, with Argentina's SAOCOM 1A Earth observation satellite. That flight is expected to be the first to attempt a return of the booster to SpaceX's landing pad at the California military base.
Rocket landings on missions launched from California so far have occurred on a drone ship downrange in the Pacific Ocean.
SpaceX typically determines whether to return a booster to a touchdown on land or at sea based on the mass of the satellite and the type of orbit targeted on each mission.
The SAOCOM 1A mission will be followed by at least two additional Falcon 9 launches before the end of the year from the Vandenberg spaceport, which is suited for flights heading into orbits that fly around Earth pole-to-pole.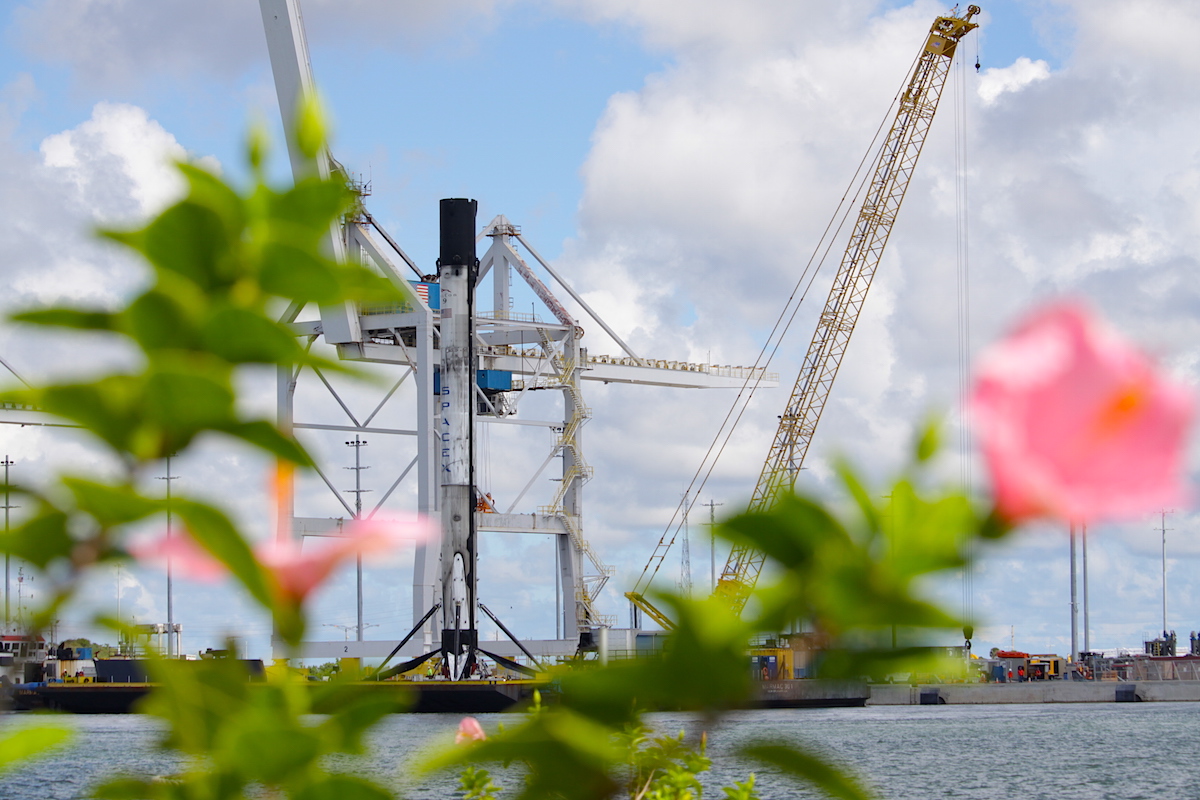 One of the launches from California will haul up to 71 microsatellites and CubeSats into a polar, sun-synchronous orbit for numerous satellites owners, including NASA, the U.S. military, and U.S. and international research institutions. Spaceflight, a Seattle-based rideshare launch broker, is arranging the launch after purchasing the full capacity of a Falcon 9 mission.
The final planned satellite deployment for Iridium's new-generation mobile telecom fleet is scheduled in November, again with a Falcon 9 launch from Vandenberg.
At SpaceX's launch base in Florida, there are no Falcon missions planned until at least November. The gap in launch activity is set to be the longest break in SpaceX missions from Cape Canaveral since the Falcon 9 rocket returned to service in early 2017 following an explosion on the launch pad the previous year.
But the lack of missions in the next couple of months does not mean SpaceX will be on the sidelines at the Florida launch site. One major project that will continue is the outfitting of launch pad 39A at the Kennedy Space Center to begin supporting launches of SpaceX's Crew Dragon spacecraft, a human-rated capsule in development to transport NASA astronauts to and from the International Space Station.
SpaceX says the first orbital test flight of the Crew Dragon — without any astronauts on-board — is scheduled for no sooner than November from pad 39A, setting the stage for a demo mission with a two-man crew next year. An unpiloted resupply launch to the International Space Station with SpaceX's Falcon 9 rocket and a cargo version of the Dragon capsule is scheduled for Nov. 27 from neighboring pad 40 at Cape Canaveral Air Force Station.
The U.S. Air Force says the first in a new series of GPS navigation satellites is set to ride a Falcon 9 rocket into orbit from Cape Canaveral on Dec. 15. Another commercial communications satellite launch may also fit into SpaceX's schedule from Florida before the end of the year.
The launch range at Cape Canaveral will not be entirely quiet next month. A United Launch Alliance Atlas 5 rocket is set for liftoff Oct. 17 with an Air Force communications payload, and an air-dropped Northrop Grumman Pegasus XL rocket will be deployed over the Atlantic Ocean east of Florida in October carrying a long-delayed NASA science satellite.
So far in 2018, SpaceX has launched 16 missions, including the maiden flight of its Falcon Heavy rocket. Twelve of those flights originated from Cape Canaveral, at an average pace of one SpaceX launch from Florida every three weeks.
SpaceX logged 18 Falcon 9 flights in 2017, setting a record for the busiest year of launches in the company's history that should be broken again before the end of December.
Additional photos of the Falcon 9 first stage at Port Canaveral on Monday are posted below.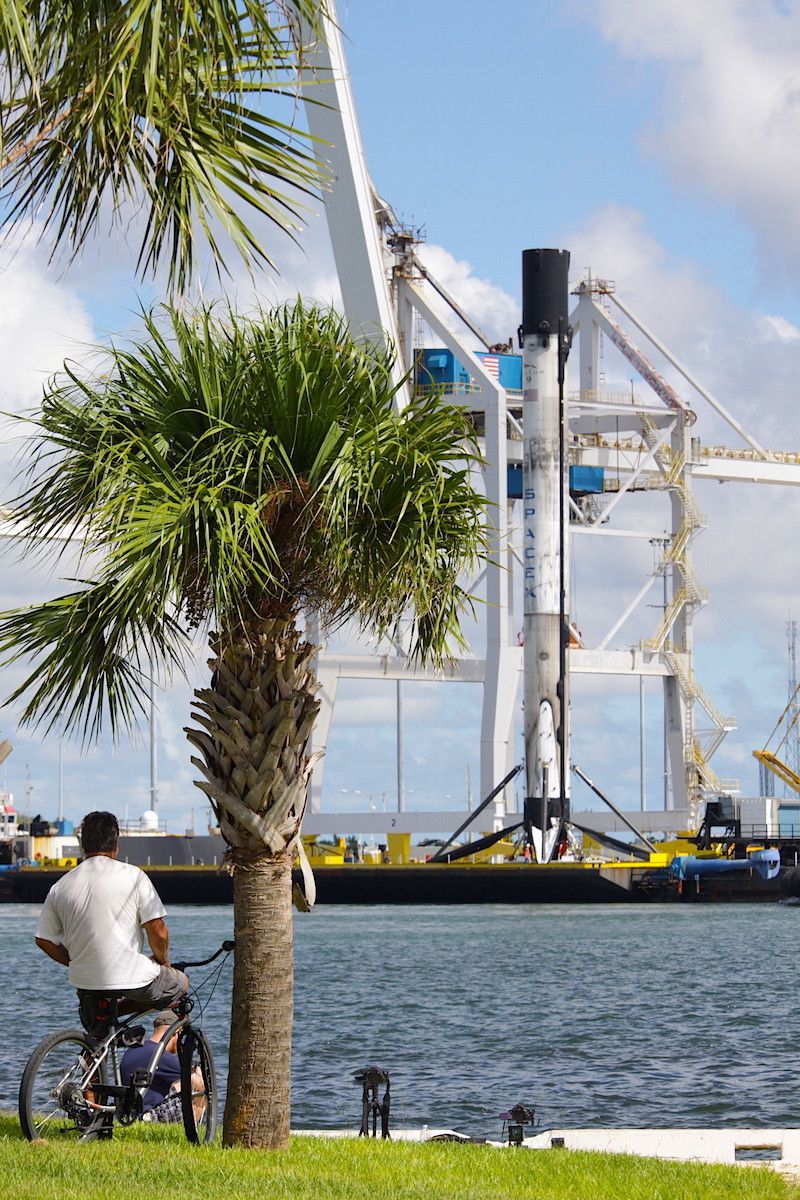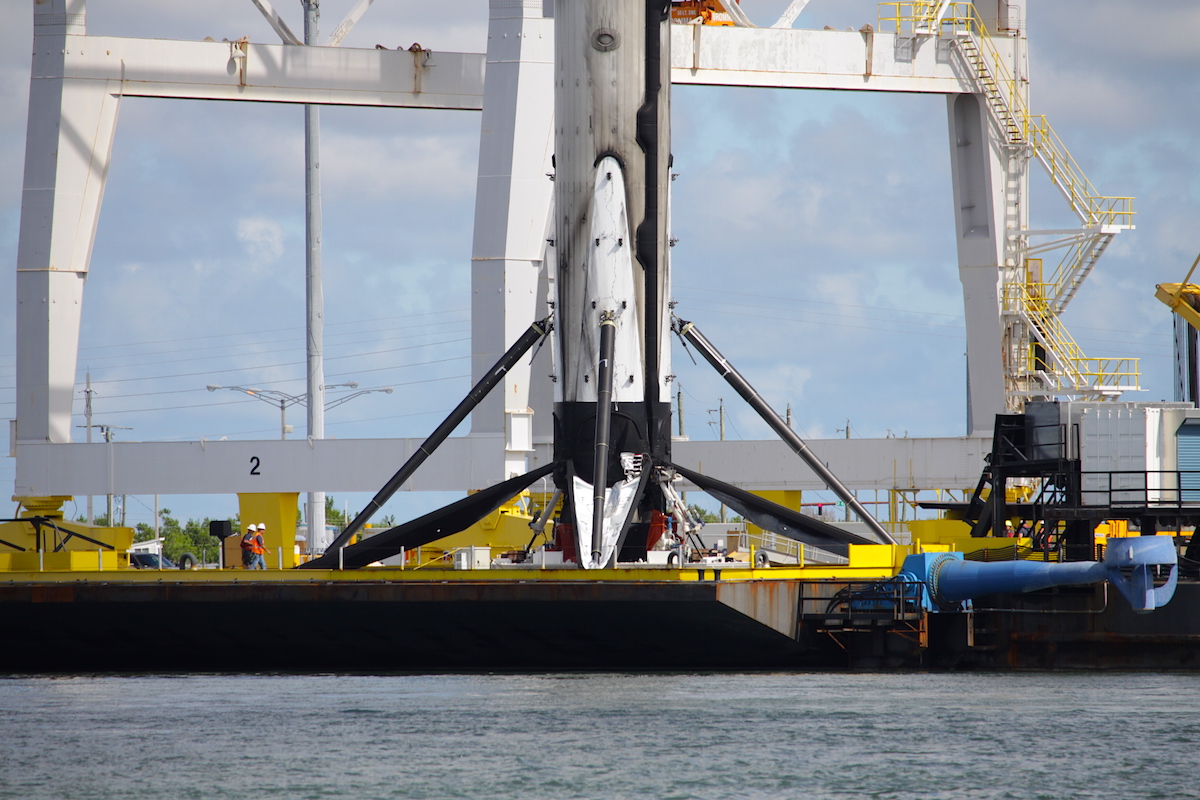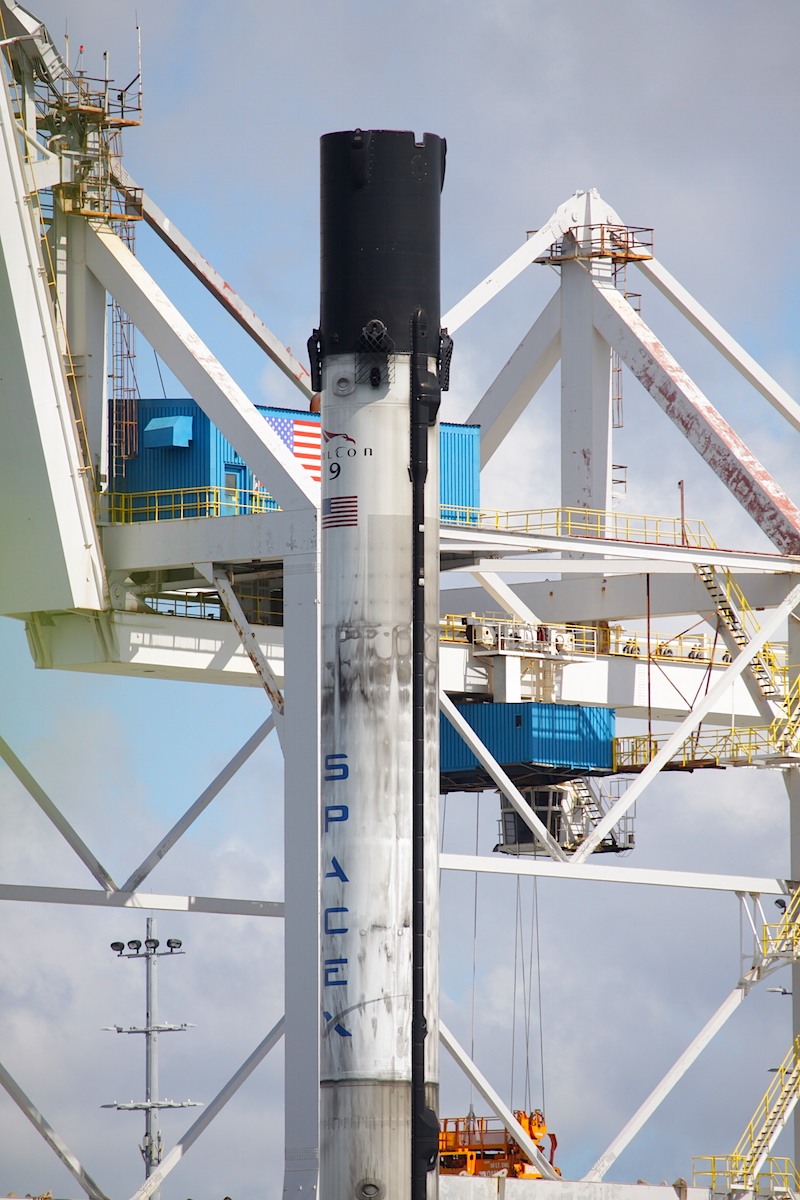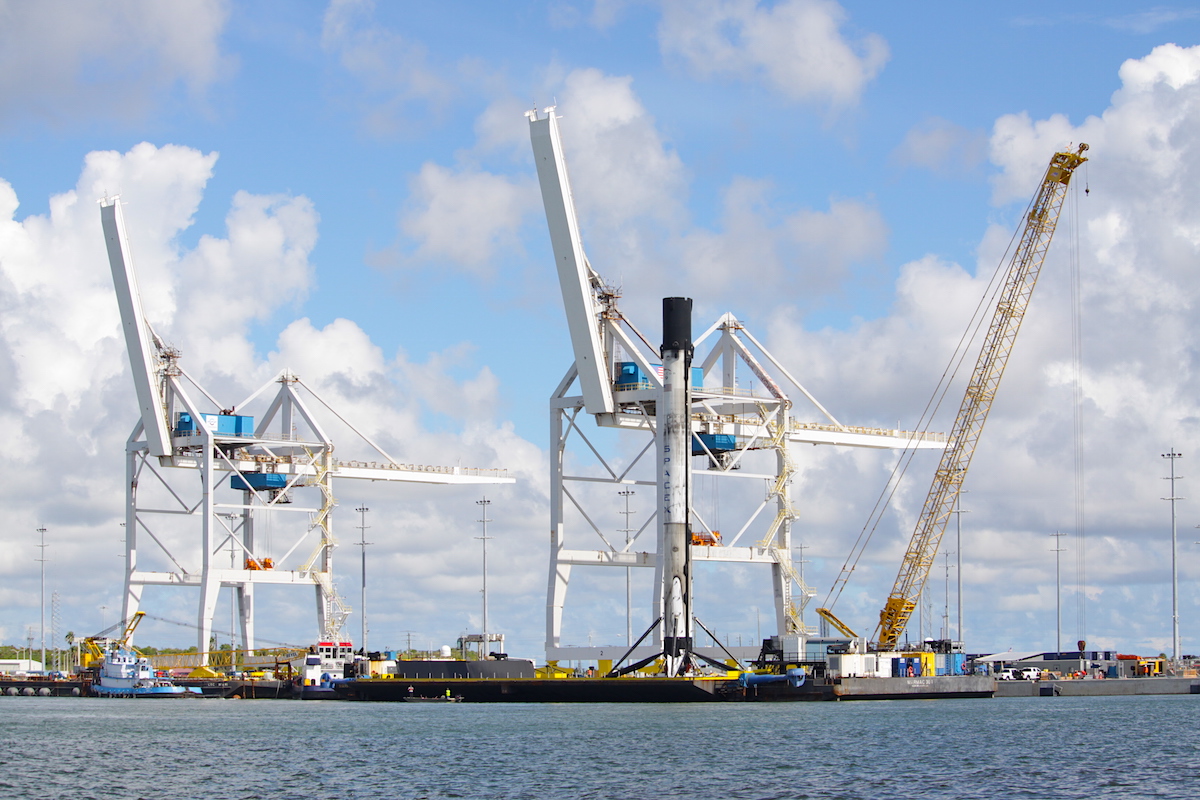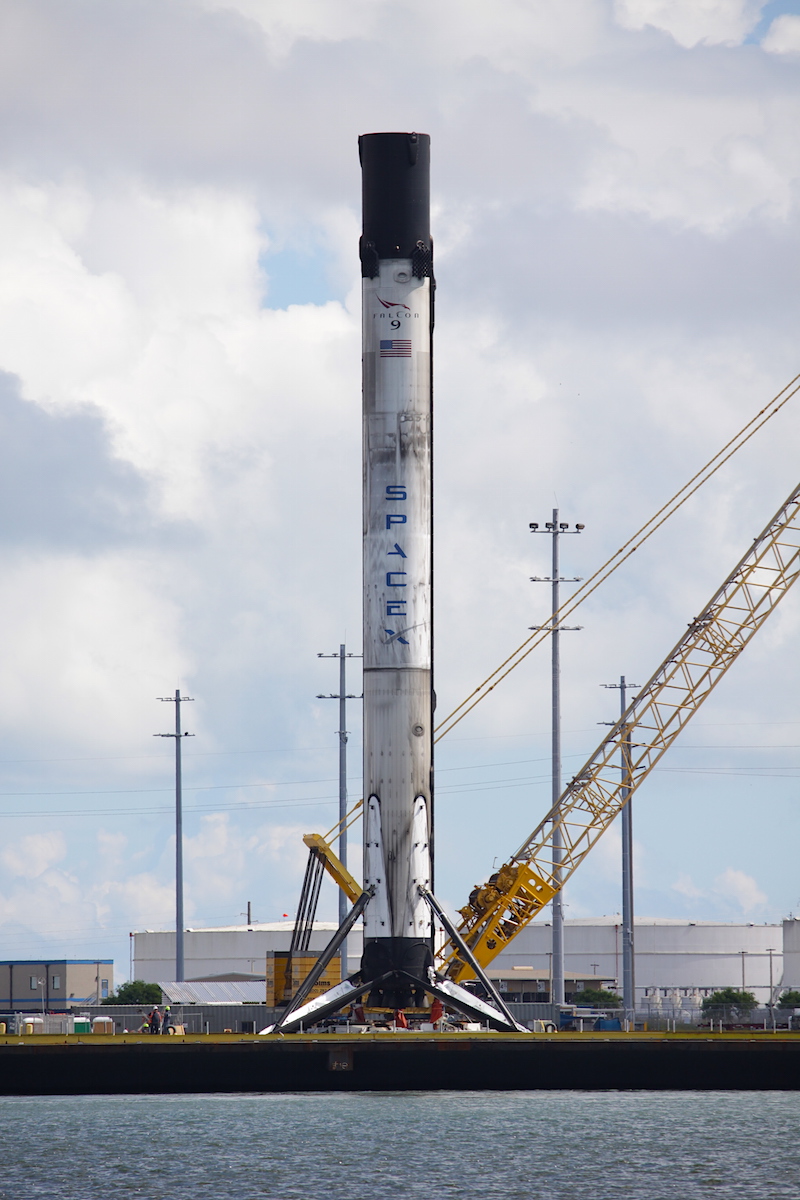 Email the author.
Follow Stephen Clark on Twitter: @StephenClark1.