EDITOR'S NOTE: Updated at 9 p.m. EDT (0100 GMT) with SpaceX's confirmation of the one-day delay.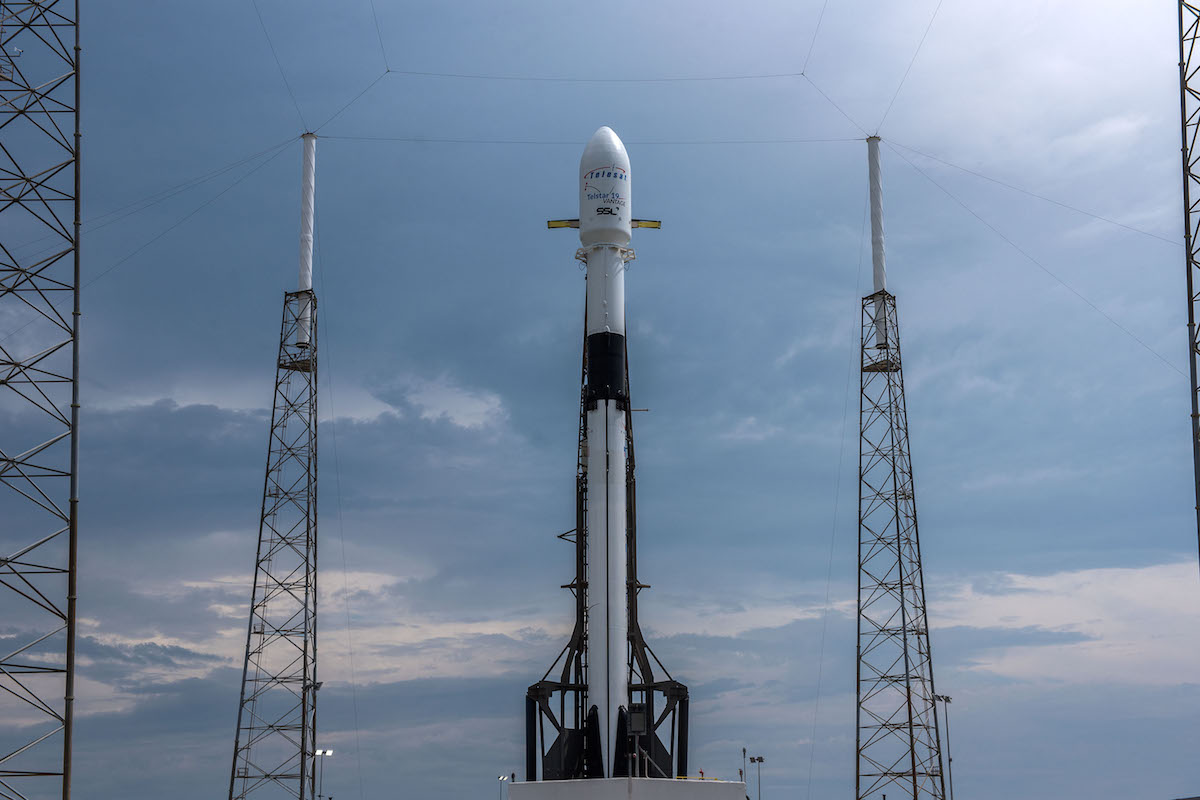 A commercial communications satellite set for launch from Florida's Space Coast on a SpaceX Falcon 9 rocket to beam broadband and television signals across the Asia-Pacific region will remain on Earth until at least Sunday night, 24 hours later than previously scheduled.
The Telstar 18 VANTAGE satellite, also known as APSTAR 5C, was supposed to launch atop a brand new Falcon 9 rocket Saturday night. The high-power telecom craft, built by SSL in Palo Alto, California, weighs around 15,564 pounds (7,060 kilograms) and is set to begin a 15-year mission for Telesat and APT Satellite, based in Canada and Hong Kong, respectively.
But officials decided to delay the launch, according to Gerald Nagler, a Telesat spokesperson. Nagler did not provide a new target launch date, but the website for Patrick Air Force Base, headquarters of the U.S. Air Force's 45th Space Wing, was updated late Thursday to show the mission is scheduled for liftoff Sunday, Sept. 9.
The four-hour launch window opens at 11:28 p.m. EDT Sunday (0328 GMT Monday).
SpaceX later tweeted to confirm the one-day delay.
Now targeting September 9 launch of Telstar 18 VANTAGE from Pad 40 in Florida. Rocket and payload are healthy; additional time will be used to complete pre-flight checkouts.

— SpaceX (@SpaceX) September 6, 2018
Marine tracking websites Thursday showed SpaceX's rocket landing platform continuing toward the recovery zone for the Falcon 9's first stage booster in the Atlantic Ocean east of Cape Canaveral. SpaceX plans to retrieve the first stage for reuse on a future mission.
The launch of the Telstar 18 VANTAGE/APSTAR 5C satellite will be SpaceX's 16th mission of the year — including launches from Florida and California — and the 16th launch from Cape Canaveral overall in 2018.
SpaceX test-fired the Falcon 9's first stage engines at Cape Canaveral's Complex 40 launch pad Wednesday, then lowered the rocket for rollback to a nearby hangar, where technicians planned to attach the Telstar 18 VANTAGE/APSTAR 5C spacecraft to the launcher.
The satellite will provide C-band and Ku-band communications services across the Asia-Pacific region from a perch in geostationary orbit nearly 22,300 miles (35,800 kilometers) over the equator.
The new satellite will launch into an elliptical transfer orbit aboard the Falcon 9, then use its on-board thruster to climb into a circular orbit, where its orbital velocity will match the rate of Earth's rotation at 138 degrees east longitude.
Once Telstar 18 VANTAGE arrives at its operating post, it will beam high-throughput signals to serve direct-to-home broadcast, video distribution, maritime, and other telecom markets. Carrying a combination of broad regional beams and high-bandwidth spot beams, the satellite's coverage area will span from India and Pakistan in the west, to Hawaii in the east.
APT Satellite of Hong Kong — also known as APSTAR — paid for 57.5 percent of the mission's cost in exchange for use of the same percentage of the satellite's communications capacity.
Email the author.
Follow Stephen Clark on Twitter: @StephenClark1.