STORY WRITTEN FOR CBS NEWS & USED WITH PERMISSION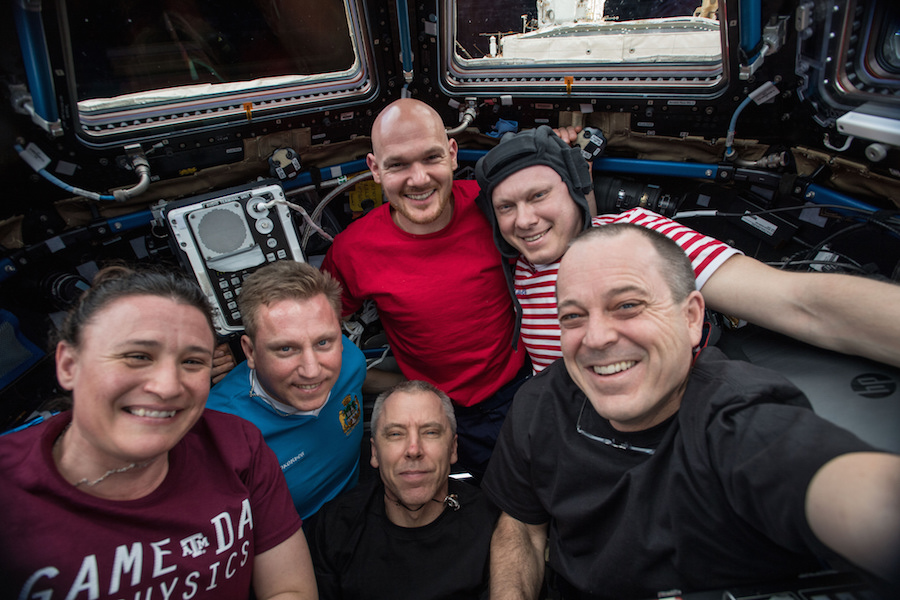 An impromptu repair job Thursday appears to have stopped a leak in a Russian Soyuz spacecraft docked to the International Space Station, and the crew was back on its normal schedule Friday carrying out research and making preparations for the arrival of a Japanese cargo ship next month.
The International Space Station schedule is unusually hectic in the coming months, with regularly scheduled Soyuz crew ferry flights, unpiloted cargo missions and upcoming test flights by Boeing and SpaceX to prove their commercial crew ships are finally ready for routine astronaut ferry flights as NASA's contract for seats aboard the Soyuz winds down.
Ever since the shuttle program ended in 2011, NASA has relied on Russia's Soyuz spacecraft to ferry U.S. and partner astronauts to and from the space station while developing the new commercial spacecraft.
NASA's latest contract with the Russian space agency, which puts the cost of a Soyuz seat at around $81 million, extends through the launch of Soyuz MS-13/59S next July 10, which will carry a cosmonaut, a NASA flight engineer and an Italian astronaut to the lab for a six-month stay.
That will ensure at least one U.S. astronaut is aboard the station through January 2020 whether the new U.S. ferry ships fly on time next year or not. Russian news reports Friday indicated the contract expires in April, but NASA officials said the July flight has been on the books for months and nothing has changed.
As it now stands, Boeing and SpaceX each plan to complete one unpiloted test flight and one mission with astronauts on board before the Russian contract expires. If all goes well, one or both U.S. spacecraft will begin operational crew ferry flights later in 2019.
But if the companies run into problems and subsequent delays, NASA could be forced to negotiate for additional Soyuz seats for U.S. astronauts or seek Russian concurrence to extend one or more missions to the station, thus stretching out the launch schedule.
Neither option will be easy to implement, and NASA managers are counting on SpaceX and Boeing to get the commercial crew ships off the ground as soon as safely possible. In the meantime, the Russians will be pressing ahead with normal crew rotation flights.
On Oct. 4, Soyuz MS-08/54S commander Oleg Artemyev, Drew Feustel and Ricky Arnold plan to return to Earth to close out a 196-day mission. Six days later, on Oct. 11, the Soyuz MS-10/56S spacecraft is scheduled for launch with Alexey Ovchinin and Tyler "Nick" Hague aboard.
Soyuz spacecraft are designed to crews of three, but in this case a cosmonaut, one of two specially trained to work with a new Russian laboratory module, was pulled from the MS-10 flight because the lab's launch has been delayed.
In late November, SpaceX hopes to launch its commercial crew Dragon ferry ship on an unpiloted test flight to the station. The capsule is expected to rendezvous with the laboratory and autonomously dock with the outpost before returning to Earth with a Pacific Ocean splashdown about a month later.
Then on Dec. 13, Sergey Prokopyev, European Space Agency astronaut Alexander Gerst and NASA flight engineer Serena Serena Auñón-Chancellor, launched June 6, will return to Earth aboard the Soyuz MS-09/55S spacecraft, landing on the steppe of Kazakhstan to wrap up a 189-day flight.
They will be replaced by the Soyuz MS-11/57S crew, made up of commander Oleg Kononenko, NASA astronaut Anne McClain and Canadian astronaut David Saint-Jacques. They are scheduled for launch on Dec. 20, a few days before the SpaceX ferry ship is expected to undock for landing.
Then, in late December or January, Boeing hopes to launch its Starliner crew capsule on an unpiloted demonstration flight that will mirror SpaceX's, complete with an autonomous rendezvous and docking. If all goes well with those flights, the companies will press ahead with preparations to launch the crew Dragon and Starliner on piloted test flights later in the spring.
On April 5, the Soyuz MS-12/58S spacecraft will deliver Oleg Skripochka and NASA astronaut Christina Koch to the station, temporarily boosting the lab's crew to seven. Again, a third crew member was pulled from the mission by the Russians because of delays launching the new laboratory module. The module is currently expected to fly in the November 2019 timeframe.
In any case, after the MS-12 launch, Ovchinin and Hague will return to Earth leaving five aboard the lab complex.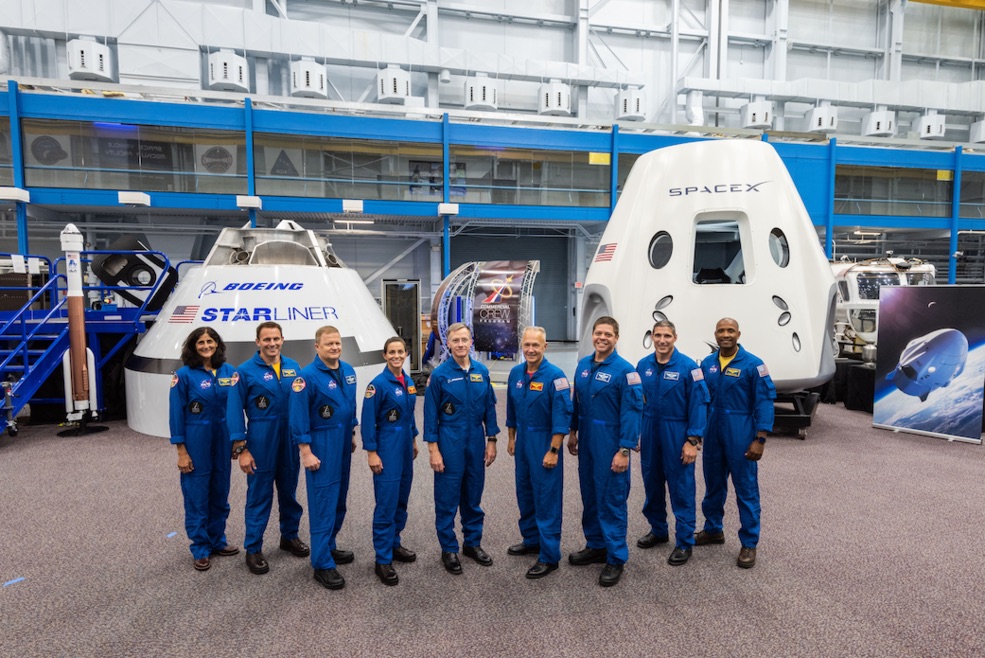 It is roughly around this time that SpaceX hopes to launch the crew Dragon on its first piloted test flight, carrying shuttle veterans Bob Behnken and Douglas Hurley to the space station. They plan to test a variety of manual and automated procedures to verify the spacecraft's readiness to begin routine crew ferry flights later in the year.
According to current schedules, Boeing may be ready to follow suit with the first piloted flight of its Starliner spacecraft in the early summer timeframe. On board will be Eric Boe, Nicole Mann and Boeing vice president Chris Ferguson, commander of the final shuttle mission in 2011.
NASA already has modified Boeing's contract to protect the option of extending the first crewed Starliner flight, making it a long-duration operational mission if significant delays are encountered in the commercial crew program. NASA may exercise a similar option with SpaceX.
However it plays out, the final currently contracted Soyuz flight with NASA-sponsored astronauts aboard is scheduled for launch July 10 when the Soyuz MS-13/59S spacecraft carries Alexander Skvortsov, European Space Agency astronaut Luca Parmitano and Drew Morgan into orbit. Parmitano, a station veteran, will command Expedition 61.
Two more Soyuz launches are planned before the end of 2019.
While the advent of U.S. commercial crew ships will end NASA's sole reliance on the Russians for crew transportation it will not end it.
The station requires at least one U.S. astronaut and one cosmonaut aboard at all times to operate their respective systems. Because of the possibility of an emergency that could force a Soyuz or U.S. commercial crew ship to depart early, two cosmonauts are expected to launch each year aboard American spacecraft while two astronauts fly aboard the Soyuz.
That strategy will ensure at least one American astronaut and at least one cosmonaut are on board the station at all times, even if a medical emergency or some other problem forces one ferry ship to depart ahead of schedule.