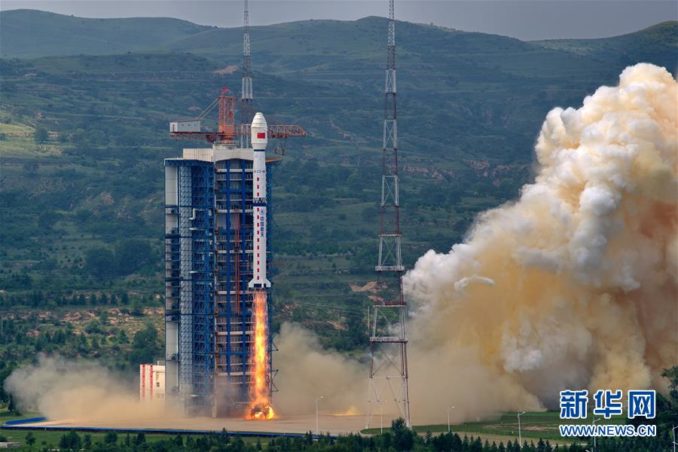 A sharp-eyed Chinese Earth-imaging satellite rode a Long March 4B booster into orbit Tuesday, tying the record for the highest number of space launches China has achieved in a single year.
The three-stage, liquid-fueled Long March 4B rocket lifted off at 0300 GMT Tuesday (11 p.m. EDT Monday) from the Taiyuan spaceport, a launch base located in northeastern China's Shanxi province, according to the state-run Xinhua news agency.
Launch occurred at 11 a.m. Beijing time Tuesday.
State media reported the launch was successful in delivering the Gaofen 11 spacecraft to orbit. The satellite, believed to be an optical imaging craft, is the latest in the Gaofen line of Chinese Earth observation missions.
"The satellite can be used for land survey, urban planning, road network design, agriculture, and disaster relief. Its data will also be used for the Belt and Road Initiative," Xinhua reported, referring to China's foreign investment and infrastructure development program.
No other details about the Gaofen 11 satellite have been released by China.
U.S. military tracking data indicated the Gaofen 11 satellite was placed in an elliptical orbit ranging between 152 miles (245 kilometers) to 429 miles (691 kilometers) above Earth, with a track inclined 97.4 degrees to the equator.
The egg-shaped orbit was apparently the targeted perch for Gaofen 11.
China's Gaofen satellites are part of the China High-Resolution Earth Observation System, or CHEOS. Chinese officials say the CHEOS satellite fleet is a civilian-operated program comprising optical and radar imaging spacecraft, and authorities have published high-resolution imagery taken by previous Gaofen satellites.
The launch of Gaofen 11 was China's 22nd space launch of the year, equaling a record number of launches set by China in 2016. In that year, Chinese rockets launched with satellites 22 times, but they suffered one failure and one partial failure.
All of China's launches this year have been successful.
Tuesday's launch was the 63rd space launch worldwide so far in 2018. Launches from Chinese and U.S. sites heading for Earth orbit — or beyond — have accounted for two-thirds of the global launch activity this year — 22 from China and 20 from the United States.
Chinese officials said at the beginning of the year that up to 40 space launches were planned this year from Chinese spaceports.
Chinese launch highlights expected later this year include the blastoff of the Chang'e 4 lunar lander and rover, which will attempt the first-ever soft landing on the far side of the moon, likely in December. China's Long March 5 rocket, the most powerful in the country's fleet, could return to flight by the end of 2018 after a launch failure last year, but that mission could be delayed into 2019.
Email the author.
Follow Stephen Clark on Twitter: @StephenClark1.