Virgin Galactic's SpaceShipTwo rocket plane, built to eventually carry commercial passengers to the edge of space, accomplished another powered test flight into the rarefied upper atmosphere Thursday with two pilots on-board.
The two-man team in the cockpit helmed the SpaceShipTwo vehicle, dubbed VSS Unity, as it dropped from the belly of a jet-powered carrier aircraft and ignited for a 42-second firing of its rear-mounted rocket motor, burning a mixture of rubber-based solid fuel — called HTPB — and nitrous oxide.
VSS Unity separated from its carrier jet — VMS Eve — at 9:44 a.m. PDT (12:44 p.m. EDT; 1644 GMT) Thursday from an altitude of 46,500 feet (14,200 meters) over California's Mojave Desert. Moments later, the craft lit its rocket motor as the pilots pulled the vehicle into a near-vertical climb.
After the rocket burned out, VSS Unity coasted to a peak altitude of 170,800 feet (32.3 miles; 52 kilometers), the highest any SpaceShipTwo test flight has reached, and around four times the cruising altitude of a commercial airliner.
Pilots Dave Mackay and Mike "Sooch" Masucci were at the controls of VSS Unity.
"That's a million-dollar view out the window, Dave," Masucci said as the vehicle soared at the edge of the atmosphere.
The pilots activated the rocket plane's feathering system, raising its twin tail booms to stabilize the craft's orientation for descent, then reconfigured VSS Unity to glide toward a landing at Mojave Air and Space Port in California at 9:58 a.m. PDT (12:58 p.m. EDT; 1658 GMT) to conclude the 14-minute test flight.
VSS Unity achieved a top speed of Mach 2.47 on Thursday's flight, according to Virgin Galactic.
"The view from 170,000 feet, dark sky, blue glow, it was just totally amazing," Masucci, a former U-2 pilot, said in remarks after Thursday's flight. "Can't wait to get passengers up there and show them that as well."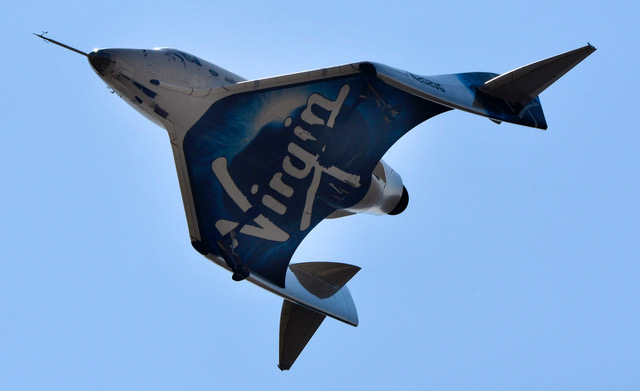 "It was a thrill from start to finish," Mackay said in a statement. "Unity's rocket motor performed magnificently again and Sooch pulled off a smooth landing. This was a new altitude record for both of us in the cockpit, not to mention our mannequin in the back, and the views of Earth from the black sky were magnificent."
SpaceShipTwo is designed to carry six passengers, along with two pilots, close to the boundary of space. Commercial flights of the vehicle are expected to fly to an altitude of at least 50 miles (80 kilometers). The U.S. Air Force and NASA awarded astronaut wings to pilots of the X-15 rocket plane who traveled to that altitude, but the Kármán line — the internationally-recognized boundary of space — lies at the 62-mile (100-kilometer) mark.
Future SpaceShipTwo test flights will feature longer rocket burns to climb to higher altitudes. A full-duration burn mirroring a commercial SpaceShipTwo flight is expected to last around 60 seconds.
Thursday's flight was the third powered mission by VSS Unity, which conducted two previous rocket-powered flights April 5 and May 29. The latest test flight included a rocket burn that lasted 11 seconds longer than the previous mission in May, which reached a maximum altitude of around 114,500 feet (34.9 kilometers).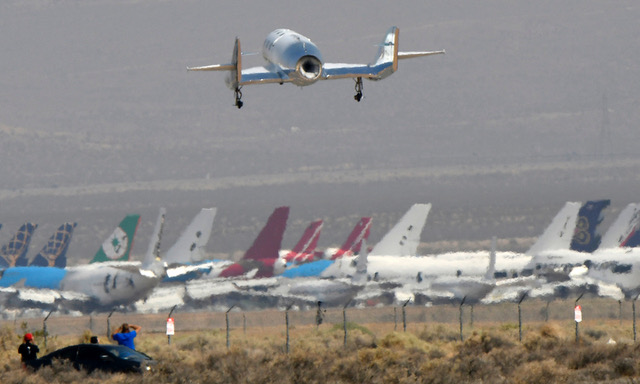 Here is a list of the VSS Unity test flights to date:
April 5: Apogee of 84,271 feet (25.7 kilometers); Top speed of Mach 1.87
May 29: Apogee of 114,500 feet (34.3 kilometers); Top speed of Mach 1.9
July 26: Apogee of 170,800 feet (52 kilometers); Top speed of Mach 2.47
Virgin Galactic said Thursday's test flight gathered data on SpaceShipTwo's supersonic aerodynamics and thermal dynamics. Sensors inside the passenger cabin also recorded information on the environment future commercial riders will experience, such as temperature, pressures, humidity, acoustics, thermal response, vibration, acceleration and radiation, the company said in a statement.
Founded by billionaire entrepreneur Richard Branson, the company did not provided an updated timeframe on when SpaceShipTwo can begin commercial service, but several more test flights are expected before Virgin Galactic achieves that milestone. Operational flights will be based at the Spaceport America facility in New Mexico.
A Virgin subsidiary named The SpaceShip company is building additional SpaceShipTwo vehicles to allow for a higher flight rate once commercial service begins.
Email the author.
Follow Stephen Clark on Twitter: @StephenClark1.