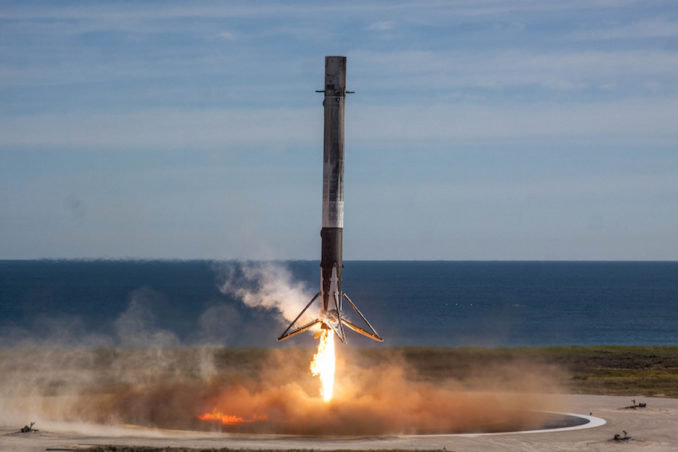 A recent federal regulatory filing by SpaceX suggests the company may attempt to return a Falcon 9 rocket booster to Vandenberg Air Force Base in California for the first time later this year.
Landing a Falcon 9 rocket stage at a new onshore recovery pad at Vandenberg would be a new step in SpaceX's plans to retrieve and reuse boosters.
SpaceX has submitted an application to the Federal Communications Commission, which must approve the company's plans to use radio frequencies to communicate with the rocket after landing. In the application, SpaceX requested permission from the FCC for the use of a ground antenna to send commands to a Falcon 9 booster after landing at Vandenberg.
The application does not list a specific mission for SpaceX's planned rocket landing at Vandenberg Air Force Base, but the document posted on the FCC's website covers a period from Sept. 5 through March 5.
The company has prepared a circular concrete landing zone near the Falcon 9's launch pad at the California military base, similar in appearance and function to rocket landing zones constructed at Cape Canaveral Air Force Station.
SpaceX has successfully landed one of its Falcon rocket stages 25 times. On 14 of those missions, the Falcon 9's first stage returned to a landing platform at sea downrange from launch pads in Florida and California, and SpaceX has recovered 11 rockets on land at Cape Canaveral, including two side boosters flown on the maiden Falcon Heavy test launch in February.
But SpaceX has not tried a rocket landing at Vandenberg yet. Environmental and safety reviews by the Air Force, the Federal Aviation Administration, NOAA, and state authorities have cleared SpaceX to proceed with landings after regulators examined how the returns might affect wildlife and natural resources, including seals that could be spooked by sonic booms.
The FAA is in charge of issuing launch and landing licenses to SpaceX and other commercial rocket companies.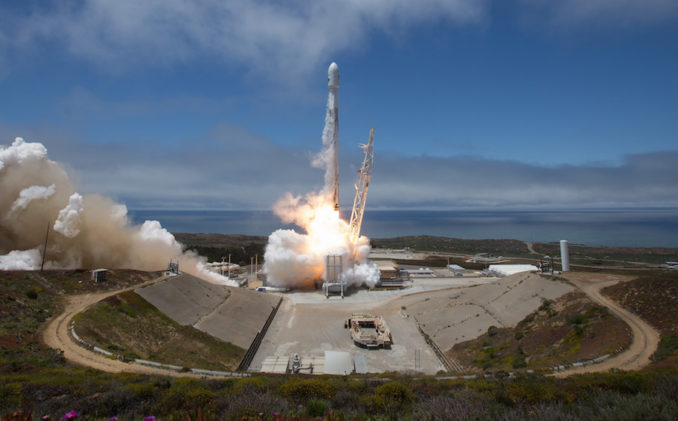 SpaceX's landing facility at Vandenberg is located at the former Space Launch Complex 4-West, which the Air Force used for Titan 3B and Titan 2 rocket launches through 2003. The Air Force toppled the Titan 2's launch towers in 2014, and SpaceX leased the site from the military in 2015 to reconfigure the property into a landing pad.
While SpaceX's landing zones at Cape Canaveral are several miles from the Falcon 9 rocket's launch pads, the landing zone at Vandenberg is just a quarter-mile — around 400 meters — from the Falcon 9's liftoff point at neighboring Space Launch Complex 4-East.
Onshore rocket landings are less expensive for SpaceX, and they save time for engineers inspecting and refurbishing the boosters for future missions. The deployment and return to port of a drone ship and its support vessels can take up to a week, assuming an on-time launch.
SpaceX's launch manifest at Vandenberg, which is typically used for launches of Earth observation and communications satellites into polar orbits, includes several missions later this year, all using the company's upgraded "Block 5" version of the Falcon 9 rocket.
The next Falcon 9 launch from the California military base, located northwest of Los Angeles, is set for July 20 with 10 Iridium voice and data relay satellites. SpaceX is expected to recover the first stage from that mission on a drone ship deployed from the Port of Los Angeles into the Pacific Ocean.
Several more Falcon 9 missions are planned from Vandenberg before the end of the 2018.
A possible candidate flight for the first booster landing at Vandenberg may be the launch of Argentina's SAOCOM 1A radar reconnaissance satellite, which is expected to lift off no earlier than September.
The last of eight SpaceX launches for Iridium's new-generation communications network is also expected from Vandenberg this fall, along with a rideshare mission sponsored by Seattle-based Spaceflight Industries carrying nearly 50 small satellites from numerous U.S. and international customers.
And Canada's Radarsat Constellation Mission, a collection of three radar imaging satellites, is scheduled for launch on a single Falcon 9 rocket from California no earlier than November.
SpaceX is expected to continue experiments to recover the Falcon 9's payload fairings on upcoming missions from Vandenberg, using a specially-outfitted vessel with a net designed to capture the two halves of the shroud as they descend under parachutes over the Pacific Ocean.
Email the author.
Follow Stephen Clark on Twitter: @StephenClark1.