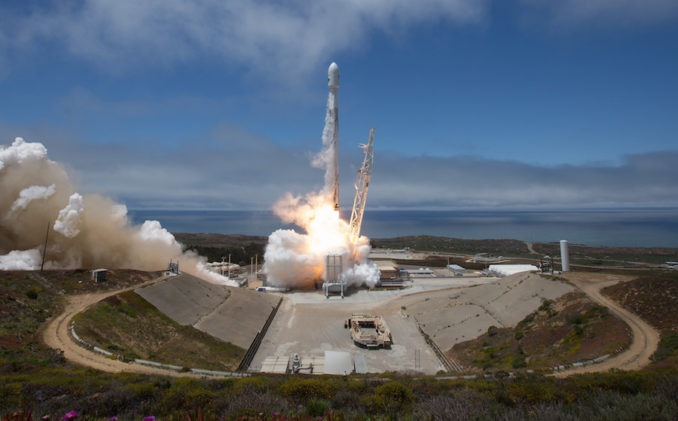 A SpaceX Falcon 9 rocket powered by a reused first stage climbed into orbit Tuesday from California's Central Coast, carrying five satellites to upgrade Iridium's global messaging service and two research craft to study Earth's water cycle.
The rideshare mission, arranged between SpaceX, Iridium, and the German research center in charge of launching the Earth science satellites, took off at 12:47:58 p.m. PDT (3:47:58 p.m. EDT; 1947:58 GMT) from Space Launch Complex 4-East at Vandenberg Air Force Base.
The 229-foot-tall (70-meter) rocket climbed through a mostly sunny midday sky, and a marine cloud layer that threatened to obscure viewing of the launch stayed offshore over the Pacific Ocean.
The five commercial communications satellites aboard the rocket will add to Iridium's growing new-generation voice and data relay network, bringing the company's upgraded fleet up to 55 spacecraft launched since January 2017. The other satellites launched Tuesday are follow-ups to the Gravity Recovery and Climate Experiment, or the GRACE mission, which used two similar spacecraft to measure the tug of gravity around the world from 2002 through 2017.
Riding 1.7 million pounds of thrust, the Falcon 9 soared south from Vandenberg before jettisoning its first stage booster, the same vehicle the launched for the first time Jan. 7 from Cape Canaveral with the U.S. government's mysterious Zuma payload.
Zuma was reportedly lost soon after reaching orbit, when it failed to deploy from the Falcon 9 rocket, a mishap investigators have blamed on spacecraft contractor Northrop Grumman.
A few seconds later, the rocket's second stage ignited its single Merlin engine to accelerate into orbit, then the Falcon 9's payload shroud opened from the nose of the launcher, revealing the Iridium and GRACE-Follow On satellites.
The upper stage engine completed its first firing around 10 minutes after liftoff, then released the two 1,323-pound (600-kilogram) GRACE-Follow On spacecraft in orbit. The rocket aimed for an orbit around 304 miles (490 kilometers) above Earth, with a track tilted 89 degrees to the equator, and SpaceX reported the Falcon 9 achieved an on-target trajectory.
Ground controllers in Oberpfaffenhofen, Germany, near Munich, received the first radio signals from the twin Earth science satellites via a tracking station at McMurdo, Antarctica, confirming both spacecraft were alive and healthy after their arrival in orbit.
Meanwhile, the Falcon 9's second stage also sailed over Antarctica, then flew north over the Indian Ocean before reigniting for a brief, eight-second maneuver to raise its altitude to peak at around 370 miles (600 kilometers) and adjust its inclination closer to the orbit used by the Iridium satellites.
The Iridium spacecraft deployed one-by-one from a dispenser on the forward end of the Falcon 9 second stage, and officials declared success with release of the final satellite at T+plus 1 hour, 12 minutes.
"That's a clean sweep again for deployments," said John Insprucker, Falcon 9 lead engineer at SpaceX, who hosted the company's live webcast of the mission from Hawthorne, California. "It's been a great Falcon 9 day here in Hawthorne and at Vandenberg Air Force Base."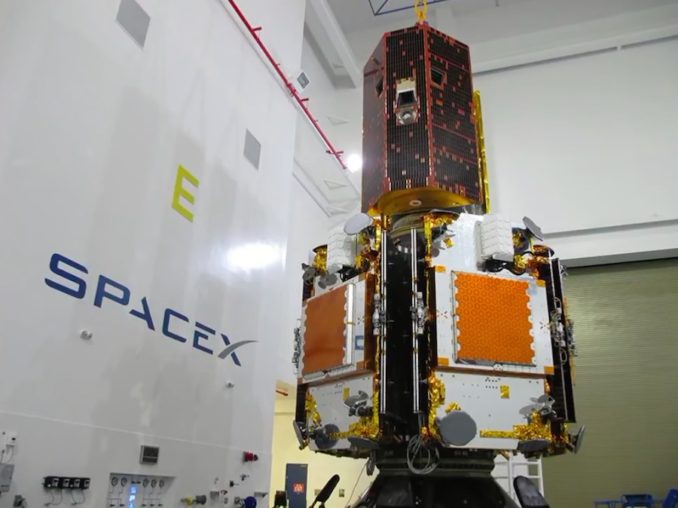 SpaceX did not attempt to land the first stage after Tuesday's launch, and opted to dispose of the vehicle in the Pacific Ocean. The recycled stage is based on an earlier design that has been discontinued by SpaceX, which debuted a modified "Block 5" version of the Falcon 9 rocket in a successful launch from Cape Canaveral on May 11.
But a recovery vessel was dispatched from the Port of Los Angeles into the Pacific Ocean to try to retrieve the fairing, which split off the rocket in two pieces like a clamshell.
After the launch, SpaceX said the payload fairing halves jettisoned from the Falcon 9 rocket deployed their parachutes and fell into the Pacific. The company's fairing recovery vessel, "Mr. Steven," was in position in the fairing drop zone, but narrowly missed catching the shroud with its net.
"The payload fairings both successfully deployed parachutes, but they landed in the Pacific Ocean," Insprucker said. "The fairing recovery ship 'Mr. Steven' came very close, but not quite. We're going to keep working on that, but meanwhile the second stage went into a great orbit."
SpaceX aims eventually recover the fairing halves with a boat, then reuse the structure on future launches, helping mitigate the cost of building a few fairing for every mission. The fairing costs around $6 million per flight, according to SpaceX.
But dropping the fairing in the ocean contaminates sensitive parts with sea water, making refurbishment more difficult.
Tuesday's launch was the sixth by SpaceX to build out Iridium's modernized commercial communications network, replacing aging satellites that have been in space since the late 1990s and early 2000s.
The Iridium network, comprised of 66 operational satellites spread among six orbital planes, provides uninterrupted global telephone, data relay and tracking services. Each spacecraft carries radio receivers and transmitters, allowing the network to route a signal from a ground user up to a satellite, then from satellite to satellite through space until beaming it back to another terminal at another spot on Earth.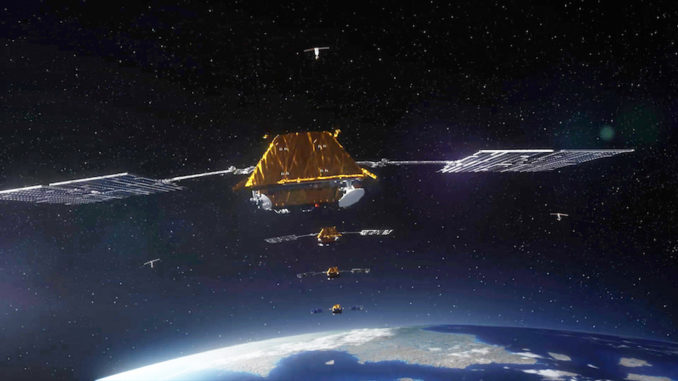 Iridium's $3 billion upgrade, or "tech refresh" as company chief executive Matt Desch calls it, will improve service available to more than one million subscribers on the satellite firm's roster. The refresh will also make new offerings available, including high-speed video and broadband relays, global aircraft and ship tracking, and the capability to monitor for emergency beacons from maritime vessels in distress.
The International Maritime Organization on Monday agreed that the Iridium network meets safety and performance criteria to provide Global Maritime Distress and Safety System, making Iridium the second company to receive such recognition from the international body after Inmarsat.
"Our strong presence in the world of safety services is a testament to the unique benefits our network can enable," Desch said in a statement after Tuesday's launch. "With every successful launch, we are one step closer to Iridium Next being fully operational, which officially starts a new age of satellite connectivity.
"When it comes to safety communications, especially for those operating in the skies or out at sea, having built-in network redundancy and resiliency enabled by our satellite's cross-links is paramount, especially during times of distress," Desch said.  "We recognize this and feel that as the only network covering the entire planet, we have an inherent responsibility to constantly innovate for this critical arena."
Going into Tuesday's mission, Iridium had 47 upgraded satellites in service, with 19 first-generation spacecraft still operational. Three other satellites from launches last year are still drifting to their planned orbital slots, and should be activated for commercial use by August, Desch said.
Three of the five spacecraft launched Tuesday will replace satellites in Plane 6 of the Iridium constellation in the next few weeks, and other two will begin their lifetimes as spares, according to Desch.
All five Iridium satellites sent to space Tuesday radioed their health status to engineers on the ground, Desch tweeted.
We have good telemetry from all 5 Iridium NEXT satellites – and got it on the first pass! Thank you @SpaceX! Thank you @Thales_Alenia_S! Complete success! pic.twitter.com/CSeNCpGLt9

— Matt Desch (@IridiumBoss) May 22, 2018
After the satellites launched Tuesday are in service, Desch said, Iridium customers will have their messages routed though the upgraded new-generation spacecraft "well over 80 percent of the time since we are biasing our Next satellite beams to carry more of the traffic, particularly in the Northern Hemisphere. The Next satellites are faster, voice calls sound better, and we want our customers to get service through them as soon as possible," he said in a conference call with reporters last week.
The new Iridium spacecraft will boost themselves into an orbit around 484 miles (780 kilometers) above Earth in the coming weeks to join the rest of the company's fleet.
A new broadband service powered by the Iridium Next satellites, known as Iridium Certus, will begin commercial operations in the next few months, Desch said. The L-band broadband service will reach users on the land, at sea and in the air, and testing of ground terminals is well underway.
Each Iridium Next satellite also hosts an aircraft tracking transceiver built by Harris Corp. The air traffic monitoring project, led by an Iridium affiliate named Aireon, will become operational once at least 66 Iridium Next spacecraft are in space.
Aireon announced last week that NATS, the main air navigation and air traffic control service in the United Kingdom, has invested $69 million in the satellite-based aviation tracking company. NATS plans to roll out Aireon services in the heavily-trafficked North Atlantic region next year for testing.
Air traffic services in Canada, Ireland, Denmark, Italy, Iceland, Singapore, South Africa and a block of 18 countries in West Africa had previously signed up to use Aireon services, which officials say will allow more aircraft to more safely travel through congested and remote airspace, while reducing fuel consumption and carbon emissions.
"What Aireon is doing in providing global real-time surveillance of air traffic for the first time in history, which includes the planet's oceans and most remote regions, from pole to pole, from desert to mountain, is truly transformational," said Martin Rolfe, CEO of NATS, in a press briefing announcing the new partnership with Aireon last week.
The Federal Aviation Administration is conducting trials with Aireon for possible introduction into U.S. airspace.
The Iridium Next satellites also carry ship tracking antennas for exactEarth, a Canadian company.
Iridium has two more missions reserved with SpaceX, with the next set for launch from Vandenberg in July. While Iridium's last three flights with SpaceX utilized reused first stage boosters, Desch said the final two launches will fly with new Falcon 9 Block 5 rockets.
The other satellites delivered into orbit Tuesday are part of a cooperative project managed by NASA and the German Research Centre for Geosciences.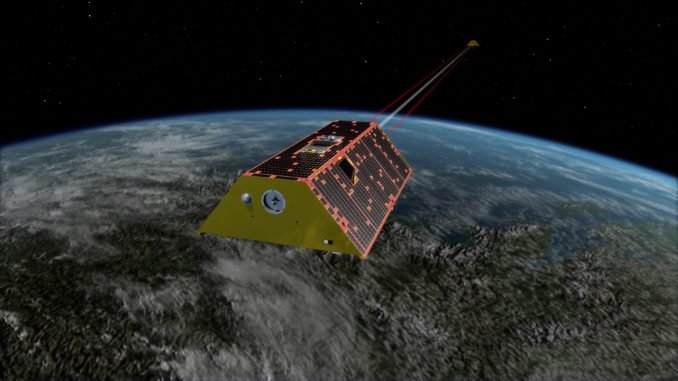 "GRACE and GRACE-Follow On are some of NASA's most unique missions," said Michael Watkins, GRACE-Follow On science lead and director of NASA's Jet Propulsion Laboratory. "What GRACE has done, and what GRACE-Follow On will do shortly after its launch, is map the Earth's water in motion.
"What's fascinating about GRACE is it does it not by looking the surface of Earth — not by looking at water or by bouncing a radar off the water — but by actually measuring the weight of the water," Watkins said. "So it actually is able to tell how much water is in a given location on the Earth and how that's changing over time."
Built by Airbus Defense and Space, the identical GRACE-Follow On satellites carry microwave ranging instruments to measure the separation between the craft as they fly around 137 miles (220 kilometers) apart in orbit.
"Think of the actual satellite size as about the size of a sports car, one in Los Angeles and one in San Diego," said Phil Morton, NASA's GRACE-Follow On project manager at JPL. "That's about how far apart they're flying typically."
The ranging sensors require exacting precision, with the capability of measuring distance changes between the formation-flying satellites as small as a few microns — about the width of a blood cell.
Changes in the range between the two GRACE-Follow On satellite will be caused by tiny variations in the pull of gravity from Earth below, telling scientists about the mass of water, rock and ice around the world.
The GRACE-Follow On satellites should be ready to start scientific observations around 90 days after launch.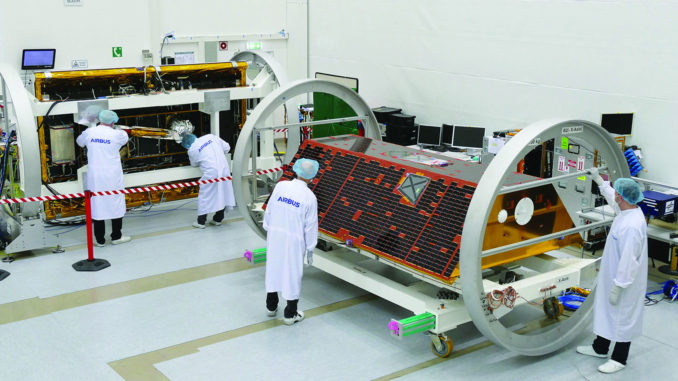 The 15-year GRACE mission ended last year, and both satellites have re-entered Earth's atmosphere and burned up after outliving their originally planned five-year lifetimes. They provided the most detailed measurements of how much ice is melting in Greenland and Antarctica, and they monitored how extreme events like floods and droughts — and normal seasonal changes — affected the water table and aquifers on Earth's land masses.
"Water takes many different forms," Watkins said. "Sometimes it's in the form of ground water deep underground, sometimes it's in the form of polar ice gaps, sometimes it can be in the form of ocean water moving around.
"GRACE observed all of that complete water cycle of the Earth, and how it changes over time … We have 15 years of GRACE data, and what GRACE has shown is there are significant changes in each part of the world, and how much water is stored in each part of the world."
Frank Webb, GRACE-Follow On project scientist at JPL, said the GRACE mission showed Greenland has been losing 281 gigatons of ice per year. A gigaton is roughly equivalent to a cubic kilometer of water, Webb said.
In Antarctica, ice is melting at an overall average rate of about 120 gigatons per year, with some parts of the continent losing more ice and other regions adding ice.
From the ice loss in Greenland and Antarctica alone, sea levels are rising by about a millimeter per year, Webb said. Other drivers cause the mean sea level to rise more.
"I think the rate at which the polar caps were losing mass was something that was a little surpring to folks," Watkins said. "When we launched GRACE (in 2002), it wasn't clear how fast the polar sheets were changing. I think GRACE gave the first clear picture of what's going on, and that's been followed up with other more precise measurements for local areas like with radar or the upcoming ICESat 2 mission."
The GRACE-Follow On satellites are sized and shaped the same as the original GRACE spacecraft, ensuring they collect the same types of data.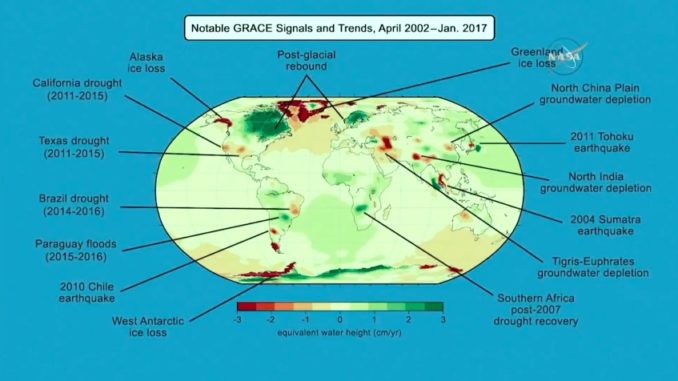 Engineers added upgrades to the new satellites, including laser ranging devices that the GRACE-Follow On mission will demonstrate in space. The lasers could be capable of measuring the distance between the satellites with a precision 10 times better than the baseline microwave instrument, according to Frank Flechtner, GRACE-Follow On project manager at GFZ in Potsdam, Germany.
The GRACE-Follow On satellites also carry instruments to signals from GPS navigation satellites that pass through the atmosphere on Earth's horizon — as seen from orbit. Scientists can analyze how atmospheric particles altered the GPS radio signal, and use that information to derive estimates of atmospheric temperature and humidity at high altitudes.
But the mission's prime research objective is focused on gravity measurements and Earth's water cycle.
"The satellites are sensitive to all mass change around the globe," Webb said. "We make measurements every 30 days, so we see atmospheric, ocean tides, solid earth changes, water ice moving around."
NASA's share of the GRACE-Follow On mission cost around $430 million, including development of the spacecraft, the microwave instrument, and parts of the laser ranging payload. GFZ spent around 77 million euros, or $90 million at today's exchange rates, to pay for the mission's launch services, mission operations and other parts of the laser system.
Like their predecessors, the new GRACE satellites are designed for five-year lifetimes, but they could last much longer. The additional data will help scientists "understand if these trends are just short-term variability, or longer trends related to our evolving climate," Webb said.
For example, the original GRACE satellites detected a depletion of water from an aquifer under California during a long-term drought.
"At the end of the GRACE time series, we had a large rainstorm, and there was some recovery in the amount of mass — the amount of water in the ground," Webb said Monday. "And it remains to be seen, since GRACE ended in 2017, how that recovery goes forward. Once GRACE (Follow-On) launches tomorrow, we'll start getting data, and we'll have about a one-year gap, and we'll be able to see how much of that water that fell in precipitation in California actually stayed in the ground and went into storage, and how much actually ran off and went into the ocean."
Information about the health and capacity of aquifers will help policymakers, farmers and environmental scientists work together to better manage resources, Webb said.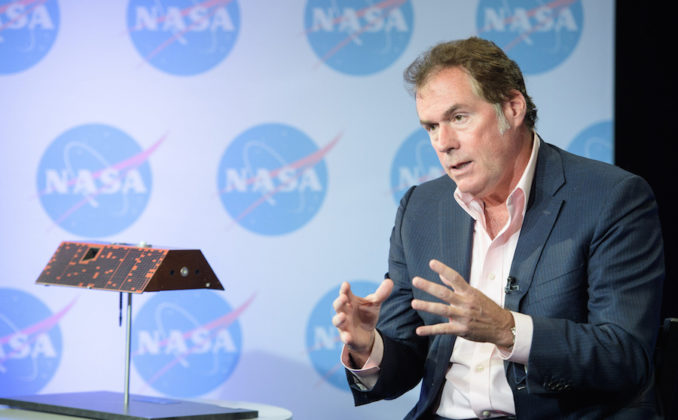 The GRACE-Follow On satellites were supposed to launch on a Dnepr rocket from Russia last year, but the Russian government decided to discontinue the Dnepr program — managed by a Russian-Ukrainian company called Kosmotras — after relations deteriorated with Ukraine, where the launcher was manufactured.
The selection of a rocket was the responsibility of GRACE-Follow On's German team, and GFZ arranged for another launch opportunity with Iridium and SpaceX when it was clear the original Dnepr launch contract would not be fulfilled.
Iridium already had a contract with SpaceX for seven Falcon 9 flights, each with 10 Iridium satellites on-board. Iridium agreed to reserve an eighth launch in a rideshare arrangement with GFZ, carrying just five Iridium satellites to account for the extra capacity needed by the two GRACE Foll0w-On spacecraft.
Iridium also had planned two launch its first two new-generation satellites on a Dnepr rocket, but like in GRACE Follow-On's case, that agreement was blocked by the cancellation of the Dnepr program.
"We were thinking we'd use the Dnepr rocket for two, and when that wasn't going to work out because the Russians weren't going to fly it, we still wanted to launch a few more satellites," said Desch, Iridium's CEO, in an interview with Spaceflight Now. "Talking to SpaceX and asking what they would recommend … they pointed us initially toward GRACE because GRACE also had been looking for a ride.
"So we took the lead on it," Desch said. "We thought that this would make a lot of sense. We reached out to GRACE directly, we started talking to people at JPL, GFZ, and started talking about the details of it. We contracted with SpaceX, and then we kind of subcontracted with GRACE to use half the payload capacity, and started working out the technical details well over a year ago."
Email the author.
Follow Stephen Clark on Twitter: @StephenClark1.