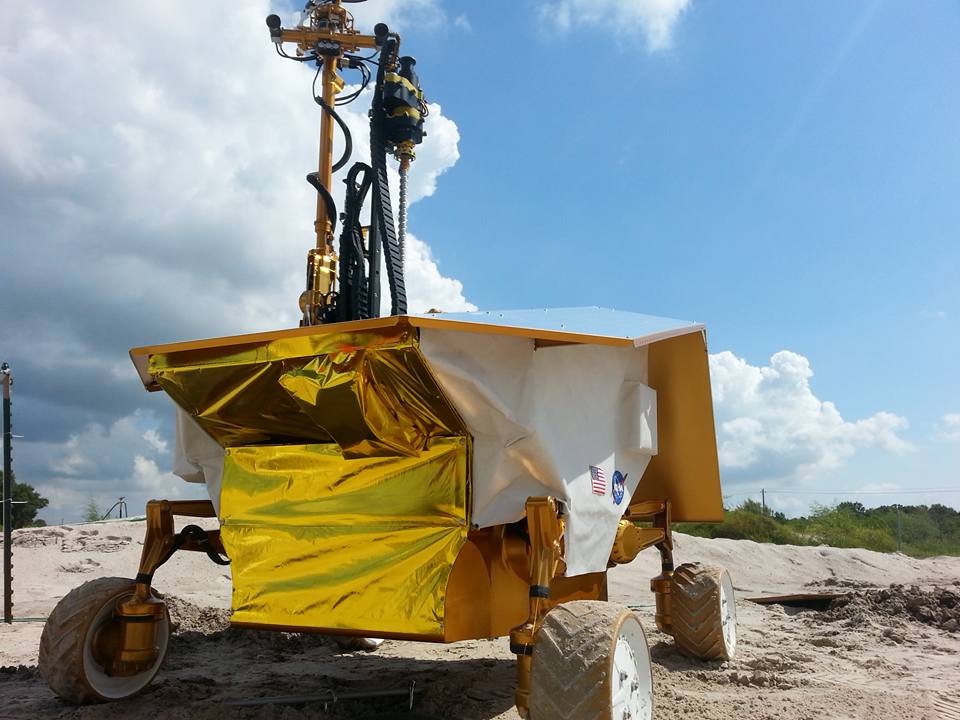 As NASA turns up support for future commercial lunar landers, the space agency last week canceled a mission that would have placed a rover on the moon to survey resources, such as water and helium, that could be used by future human explorers.
Officials at the space agency's headquarters in Washington on April 23 directed managers of the Resource Prospector mission end development of the lunar rover by the end of May.
NASA said in a statement Friday that "selected instruments" that were to fly to the moon on the Resource Prospector mission will continue their development for delivery to the lunar surface on commercial landers.
Resource Prospector would have carried instruments to search for subsurface hydrogen on the moon, an indicator of water or water-bearing minerals, and a drill to extract samples from a depth of 3 feet (1 meter). Sensors aboard the rover would have analyzed the underground material heated in an on-board oven in search of water and other potential resources, including helium, methane, ammonia, hydrogen sulfate, carbon monoxide, carbon dioxide, and sulfur dioxide.
The planned rover would have prospected the moon's polar regions for resources that future missions, such as a lunar base or commercial mining ventures, could refine into oxygen, drinking water and rocket propellant.
Jim Bridenstine, who took office as NASA administrator the same day as Resource Prospector's cancellation, tweeted that the agency is committed to lunar exploration.
"Resource Prospector instruments will go forward in an expanded lunar surface campaign," Bridenstine tweeted. "More landers. More science. More exploration. More prospectors. More commercial partners."
NASA canceled the Resource Prospector mission as the Trump administration redirects the space agency to return humans to the lunar surface. Some scientists saw the Resource Prospector mission as a forerunner to crewed lunar missions, but NASA plans to partner with commercial companies and international space agencies for robotic precursors.
In a brief statement, NASA said a draft request for proposals released to industry Friday will help officials formulate a lunar exploration strategy.
"Consistent with this strategy, NASA is planning a series of progressive robotic missions to the lunar surface," the agency said in a statement. "In addition, NASA has released a request for information on approaches to evolve progressively larger landers leading to an eventual human lander capability. As part of this expanded campaign, selected instruments from Resource Prospector will be landed and flown on the moon."
NASA said a policy statement signed by President Trump, known as Space Policy Directive 1, which kept the space agency's human exploration goals aimed at deep space — as during the Obama administration — but with new language directing NASA to return astronauts to the lunar surface.
"This exploration campaign reinforces Space Policy Directive 1, which calls for an innovative and sustainable program of exploration with commercial and international partners to enable human expansion across the solar system, including returning humans to the moon for long-term exploration," NASA said in a statement.
The Resource Prospector mission was planned for launch as soon as 2022, but the project never advanced beyond the early design and development stages. Engineers built a ground prototype for the rover to test remote operations concepts.
The updated robotic lunar exploration strategy would have NASA-owned instruments fly to the moon on privately-operated landers.
The draft request for proposals for NASA's Commercial Lunar Payload Services, or CLPS, program released Friday is the first step in the solicitation for rides to the moon.
"NASA requires transport services to the lunar surface for instruments and technology demonstration payloads," agency officials wrote in the solicitation document released to U.S. industry Friday. "This DRFP (draft request for proposals) is the latest step in a long-running effort by NASA to support the development of commercial lunar capabilities considering the moon as a destination for future human spaceflight."
Representatives from companies interested in bidding for a NASA lunar payload services contract will offer feedback to the space agency before the release of a final request for proposals.
Several U.S. companies are in various stages of designing, developing and testing robotic lunar landers, including Astrobotic, Blue Origin and Moon Express.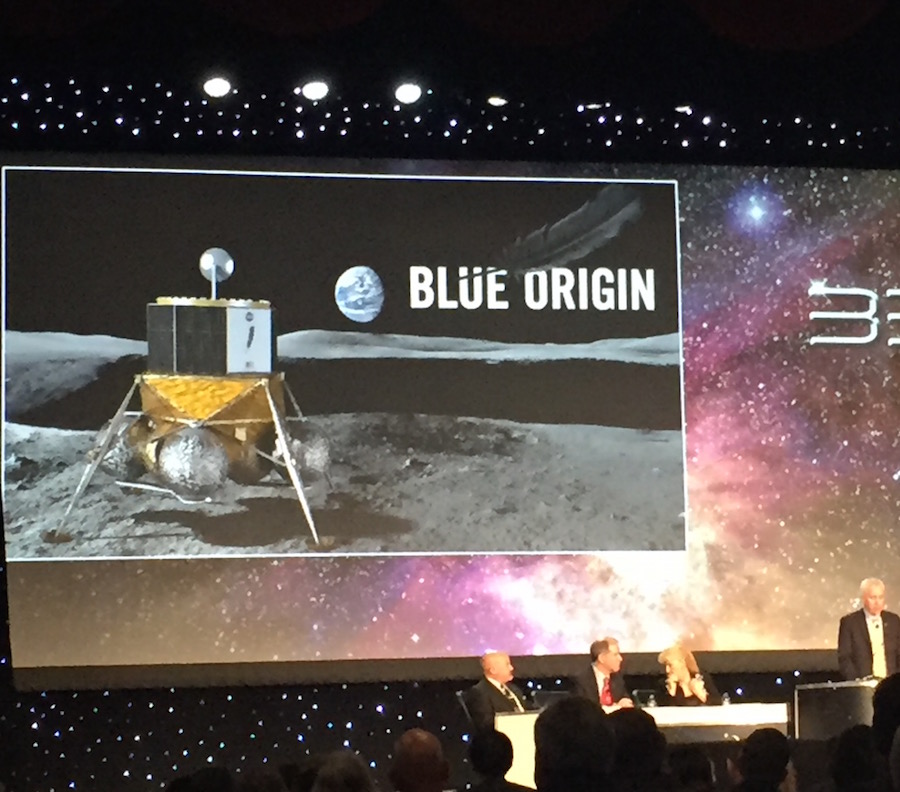 The current and former chairmen of the Lunar Exploration Analysis Group, a community of scientists who specialize in lunar research, wrote Bridenstine on Thursday to ask for the Resource Prospector mission's reinstatement.
Resource Prospector's cancellation was "viewed with both incredulity and dismay by our community," wrote Samuel Lawrence and Clive Neal, the chair and emeritus chair of the Lunar Exploration Analysis Group.
"We hope to get some insight into the decision that caused the cancellation of Resource Prospector and to get it reinstated as an exploration mission," Neal told Spaceflight Now. "Prospecting to see if lunar resources are actually reserves is critical for enabling a thriving space economy and for making human space exploration to Mars sustainable."
"Additionally, the deposits have unique scientific significance since they record the delivery of volatiles to the inner solar system, including the Earth," Lawrence and Neal wrote to Bridenstine.
Resuming the mission's development for a launch in 2022 would "demonstrate to Congress that NASA can react quickly to the new space policy," they wrote.
"It positions the USA to be an international leader in lunar development," they wrote. "There are six international robotic landed missions to the moon's polar regions planned between now and 2025 as other nations stake their claim to the resources we know are available on the moon from orbital mission data since the Apollo program was terminated."
Results from Resource Prospector "could be used to provide data for mining companies interested in producing life support consumables and rocket fuel, which would continue to stimulate the growing lunar commercial sector," the letter concluded.
A NASA official said in March that the space agency was sorting out where Resource Prospector fit into the new lunar exploration planning.
"You want to find out where it fits into the new strategy," said John Guidi, deputy director of NASA's advanced exploration systems division, during a March 19 briefing at the Lunar and Planetary Science Conference near Houston. "Where it fits in, you have a funding line, and that funding line has to compete with whatever else is there.
"It's still good science," Guidi said in March. "We still want to see it move forward. We're just waiting to see where it falls out, organizationally speaking."
Thomas Zurbuchen, head of NASA's science mission directorate, said the agency plans to fly payloads to the moon as soon as 2019 or 2020 aboard commercial spacecraft. The early payloads will likely be small and lightweight because of the limited capacity of the initial commercial landers.
"Note, lunar entrepeneurs and researchers alike: it has never been easier to send amazing payloads to the moon, and unlock the secrets of our celestial companion, and prepare for human exploration soon thereafter!" Zurbuchen tweeted Monday.
Email the author.
Follow Stephen Clark on Twitter: @StephenClark1.