EDITOR'S NOTE: Updated at 3 p.m. EDT (1900 GMT) with new apogee number.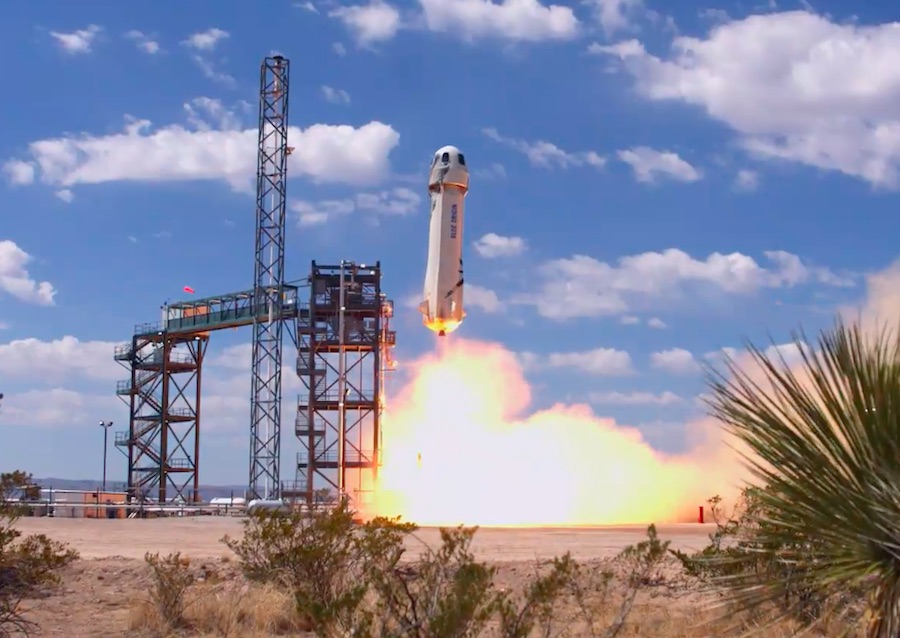 The privately-developed New Shepard booster, designed and built by Amazon billionaire Jeff Bezos's space company Blue Origin, took off from a launch pad in West Texas, briefly flew into space with an instrumented capsule, and returned to a rocket-assisted landing Sunday in another test before humans climb aboard the suborbital spaceship.
The hydrogen-fueled rocket lifted off from Blue Origin's test site near Van Horn, Texas, at 12:06 p.m. CDT (1:06 p.m. EDT; 1706 GMT), a few seconds after igniting its BE-3 main engine for a pre-launch health check.
The single-stage rocket, named for Mercury astronaut Alan Shepard, climbed through the stratosphere, then cut off its engine around 2 minutes, 16 seconds, after liftoff.
About 20 seconds later, an unpiloted crew capsule released from the top of the booster, and the vehicles soared to the edge of space.
A live webcast of the test flight provided by Blue Origin showed the vehicles coasting to an apogee of roughly 351,000 feet, or about 107 kilometers, around four minutes into the mission. The rocket achieved a top speed of around 2,200 mph (3,540 kilometers per hour), according to data released by Blue Origin.
Ariane Cornell, who hosted Blue Origin's launch webcast, said engineers intended to "push the envelope" of the New Shepard's capabilities, aiming to reach an altitude of 350,000 feet, around 20,000 feet higher than the rocket's typical target.
"That's the altitude we've been targeting for operations," Bezos tweeted after Sunday's flight.
The two vehicles then made their descents, and the New Shepard booster fell back through the atmosphere, deployed an airbrake and reignited its throttleable BE-3 engine to slow its velocity for touchdown. Four landing legs extended from the base of the New Shepard booster just before it settled gently on a landing pad around 2 miles (3 kilometers) from the rocket's launch site.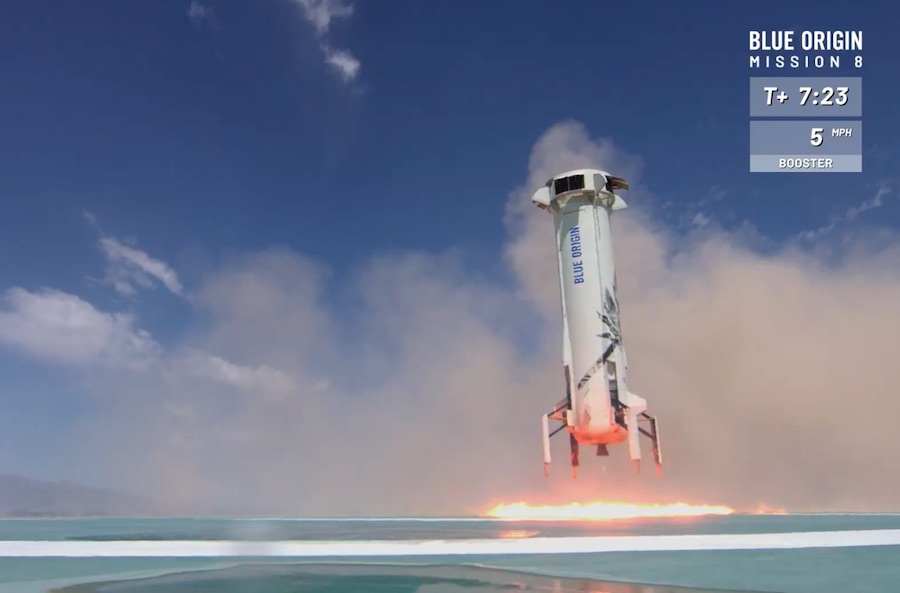 The rocket landed about seven minutes after liftoff, while the crew capsule deployed three parachutes and fired retro-rockets to cushion the craft's landing on the desert floor approximately 10 minutes after launch. A live view from a flying drone captured spectacular views of the capsule's final descent.
Sunday's flight was delayed several hours to due to thunderstorms near Blue Origin's sprawling West Texas launch base.
Sunday's test flight reused the same New Shepard booster and space capsule that made their first launch in December, and it was the eighth test flight overall for Blue Origin's suborbital space tourism vehicle.
The rocket flown Dec. 13 and on Sunday is Blue Origin's third New Shepard vehicle, featuring changes to make the rocket easier to refurbish and reuse between missions. The first New Shepard model was lost on a landing attempt in April 2015, and Blue Origin retired the second unit after it made five successful suborbital hops.
The December test flight also debuted Blue Origin's upgraded crew capsule, which features large windows to offer passengers spectacular views on their trips to space and back. The "Crew Capsule 2.0" vehicle was re-flown Sunday.
Like the December test flight, a dummy dubbed "Mannequin Skywalker" was strapped into the crew capsule to simulate the conditions passengers riding the rocket will one day experience.
Blue Origin did not provide a live video stream of the Dec. 13 test flight, after conducting live webcasts of the previous two New Shepard demo missions in 2016.
The company hopes to be ready to fly people on New Shepard test flights by the end of the year, followed by the start of commercial space tourism service in 2019. Officials have not said how many more uncrewed test flights are planned before people ride the New Shepard rocket.
But Blue Origin is already offering rides for government and commercial research payloads, and more experiments were aboard the unpiloted crew capsule Sunday. It was the second time customer payloads were launched by Blue Origin.
"These payloads represent a range of users, from NASA's Johnson Space Center to a small commercial communications firm, as well as our first European customers, funded by the German national space agency, DLR," Blue Origin said. "Each of the payloads has been outfitted with a custom Blue Origin Payload Locker to provide structural, power, and data interfaces throughout the flight."
The NASA payload included sensors to measure the environment — carbon dioxide levels, pressure, acceleration and acoustics — inside the crew capsule's cabin, and test components for the space agency's Orion spacecraft. A commercial New Mexico-based communications company named Solstar flew a tech demo to test the concept of providing Wi-Fi access to in-space users, according to Blue Origin.
Three experiments in biology and physics from German universities and research institutes also flew Sunday, Blue Origin said.
The New Shepard suborbital vehicle is a stepping stone to Blue Origin's larger orbital-class New Glenn rocket, which the company says could make its first test flight from Cape Canaveral by the end of 2020.
Blue Origin engineers are testing a more powerful rocket engine, the BE-4 fed by liquified natural gas, for the New Glenn launcher. The company also hopes to sell BE-4 engines to United Launch Alliance for the next-generation Vulcan rocket.
Cornell said Sunday that passengers who fly on the New Shepard rocket will get "first dibs" on riding the New Glenn rocket, which will eventually carry people into Earth orbit.
Email the author.
Follow Stephen Clark on Twitter: @StephenClark1.