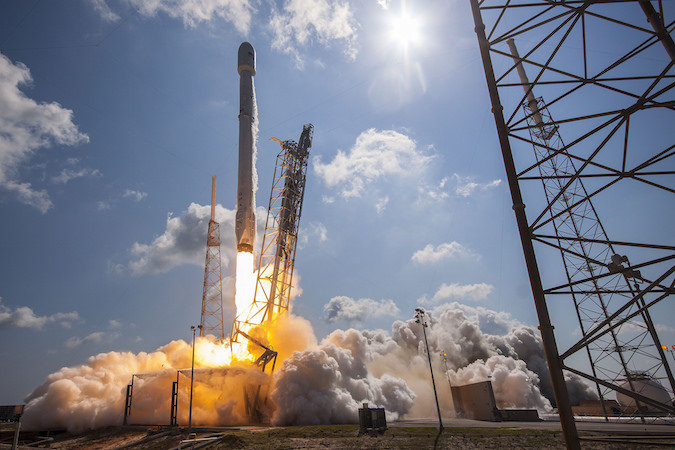 SpaceX and SES, an international communications satellite operator based in Luxembourg, have agreed to place the SES 10 television relay craft aboard the first launch of a reused "flight-proven" Falcon 9 rocket from Cape Canaveral as soon as October, the companies announced Tuesday.
The agreement ends SpaceX's search for a customer to put a satellite aboard a previously-flown booster, and a successful demonstration of the launcher's ability to fly multiple missions could persuade other companies to sign up for a flight on a reused rocket.
"Thanks for the longstanding faith in SpaceX," SpaceX founder and chief executive Elon Musk tweeted. "We very much look forward to doing this milestone flight with you."
SES officials earlier this year said the company was willing to be first to put a payload aboard a used Falcon 9 first stage, even without a test flight. The global operator also signed up as the customer for the Falcon 9 rocket's first launch to geostationary transfer orbit — the favored destination by most large telecom satellites — in December 2013.
"Having been the first commercial satellite operator to launch with SpaceX back in 2013, we are excited to once again be the first customer to launch on SpaceX's first ever mission using a flight-proven rocket. We believe reusable rockets will open up a new era of spaceflight, and make access to space more efficient in terms of cost and manifest management," said Martin Halliwell, chief technology officer at SES.
SES did not disclose whether it received a discount by agreeing to the launch. Gwynne Shotwell, SpaceX's president and chief operating officer, said in March that the launch provider hopes to offer price reductions of as much as 30 percent to customers willing to launch their satellites on a reused rocket.
"Re-launching a rocket that has already delivered spacecraft to orbit is an important milestone on the path to complete and rapid reusability," Shotwell said in a statement. "SES has been a strong supporter of SpaceX's approach to reusability over the years and we're delighted that the first launch of a flight-proven rocket will carry SES 10."
On its website, SpaceX lists the price of a Falcon 9 rocket launch at $61.2 million, but industry sources say the California-based launch firm submits bids higher and lower than that figure, depending on the specific mission.
A 30 percent discount would put Falcon 9 prices near $43 million, at least compared to SpaceX's online list price. Shotwell said further cuts could come as SpaceX improves on the time and cost of turning around flown rocket stages for another launch.
SpaceX and SES have not announced a target launch date for SES 10, but an official familiar with the launch manifest said in early August the contractual window for the launch opens in mid-October and runs through mid-November.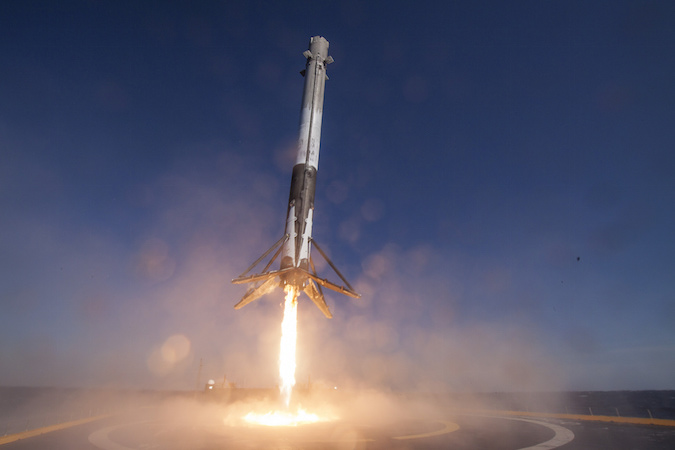 The launch of SES 10 is one of at least nine Falcon 9 rocket flights on SpaceX's manifest before the end of the year. That rapid-fire launch schedule begins Saturday with the launch of the Amos 6 communications satellite for the Israeli telecom operator Spacecom Ltd.
"This new agreement reached with SpaceX once again illustrates the faith we have in their technical and operational expertise," Halliwell said in a statement. "The due diligence the SpaceX team has demonstrated throughout the design and testing of the SES 10 mission launch vehicle gives us full confidence that SpaceX is capable of launching our first SES satellite dedicated to Latin America into space."
SpaceX has recovered six Falcon 9 first stages since December 2015. Two of the 15-story rocket boosters have returned to land at Cape Canaveral, while the other four touched down on a landing platform positioned hundreds of miles offshore in the Atlantic Ocean.
The first stage booster assigned to SES 10's launch first flew April 8 with a Dragon supply ship heading for the International Space Station. The stage made a propulsive landing on SpaceX's barge a few minutes after liftoff.
Engineers transported another Falcon 9 first stage, retrieved after the May 6 launch of the Japanese JCSAT 14 communications satellite, to SpaceX's development facility in McGregor, Texas, for a series of tests.
The checkouts included three full-duration hotfire tests in late July of the first stage's nine Merlin 1D engines conducted on three consecutive days. The tests were designed to verify the rocket can withstand the rigors of another launch.
SpaceX engineers already put the Merlin 1D engine through qualification tests aimed at proving the powerplant can launch multiple times. The recent testing focused on the suitability of the entire booster for another launch.
The Falcon 9's second stage and nose fairing will be new for SES 10's launch.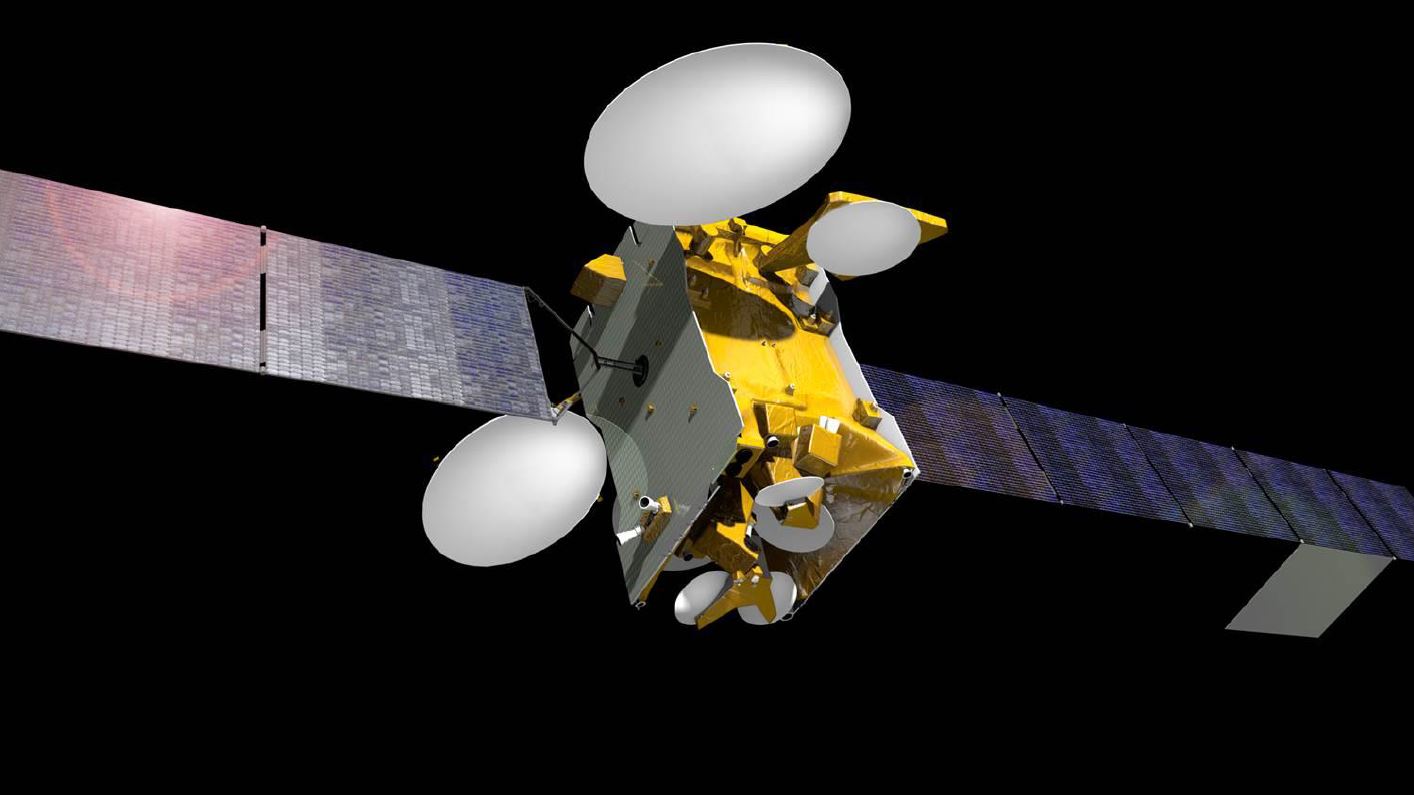 No SpaceX customer has been as bullish about reusability as SES.
SpaceX's largest commercial customer, Iridium, said in June it ordered all-new Falcon 9 rockets for its 10 launches to deploy 70 low-altitude voice and message delay satellites beginning next month.
Intelsat, one of the world's largest geostationary satellite operators alongside SES, has one launch reserved on a newly-built Falcon 9 rocket in the first quarter of 2017, when the Intelsat 35e satellite will launch from Cape Canaveral.
Ken Lee, Intelsat's senior vice president of space systems, said in an interview with Spaceflight Now last week his company is taking a wait-and-see approach on reusability.
"We'll see how that product evolves, and then we'll make a decision at a later time," Lee said. "We have to go through our full due diligence to satisfy ourselves that the risk is the same or lower than what they offer today."
If the SES 10 launch is successful, and if SpaceX can meet its goal of an initial 30 percent price cut, more companies could be lured to place their costly payloads on a used Falcon 9 rocket.
Built by Airbus Defense and Space, the SES 10 satellite will provide direct-to-home television, enterprise and mobile communications services over Latin America. It will be the first SES satellite dedicated to the Latin America market, with 55 Ku-band transponders and a hybrid propulsion system consisting of electric plasma thrusters and a chemical system for initial orbit-raising after separation from the Falcon 9 in a preliminary egg-shaped geostationary transfer orbit.
SES plans to park the SES 10 satellite in geostationary orbit nearly 22,300 miles (35,800 kilometers) over the equator at 67 degrees west longitude.
The high-altitude destination needed for SES 10's launch likely means the Falcon 9 first stage will have to land at sea again. SpaceX's rockets can only return to the launch base at Cape Canaveral on low Earth orbit missions with light payloads.
Email the author.
Follow Stephen Clark on Twitter: @StephenClark1.