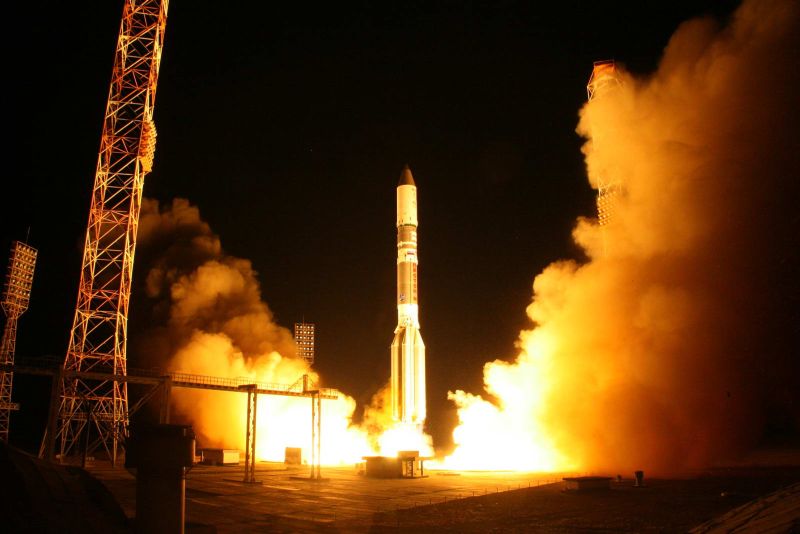 Russia launched a military communications satellite Wednesday, sending a data relay and broadcasting station to an orbit more than 22,000 miles above the equator aboard a Proton rocket and a Breeze M upper stage.
The three-stage Proton booster lifted off from the Baikonur Cosmodrome in Kazakhstan at 2212 GMT (6:12 p.m. EDT) Wednesday with the Blagovest No. 12L communications satellite for the Russian Ministry of Defense.
The launch occurred at 4:12 a.m. local time Thursday at the Baikonur Cosmodrome.
The Proton booster delivered the Blagovest No. 12L spacecraft and a Breeze M upper stage on a preliminary suborbital trajectory. Four engine burns by the Breeze M's main engine were expected to place the Blagovest satellite into a circular geostationary orbit more than 22,000 miles (nearly 36,000 kilometers) over the equator.
ISS Reshetnev, the company which built the Blagovest No. 12L spacecraft, said the Breeze M upper stage released its payload into the planned geostationary orbit at 0714 GMT (3:14 a.m. EDT) Thursday, more than nine hours after liftoff.
Statements issued by the Russian Defense Ministry and Khrunichev, the prime contractor for the Proton/Breeze M launcher, confirmed the mission was successful.
ISS Reshetnev and the Russian Defense Ministry said the satellite was operating normally after arriving in orbit.
The Blagovest No. 12L satellite will be parked in geostationary orbit at 128 degrees east longitude for a 15-year mission, where it will hover over a fixed geographic position, matching its orbital velocity to the rate of Earth's rotation.
Built at ISS Reshetnev's satellite factory in Zheleznogorsk, Russia, the Blagovest No. 12L spacecraft is the second of four dual-purpose relay platforms ordered by the Russian Defense Ministry. The first Blagovest satellite, named Blagovest No. 11L, successfully launched on a Proton/Breeze M mission in August.
"Blagovest No. 12L is intended to provide high-speed internet, data communications, television and radio broadcasting, telephony and videoconferencing services," ISS Reshetnev said in a statement.
The Russian Defense Ministry officially named the satellite Kosmos 2526, the next number in the Russian government's naming scheme for military spacecraft.
But the Blagovest program reportedly also has a civilian mission, and some details about the satellites have been revealed by the Russian military, which typically does not disclose information about top secret space missions.
Wednesday's launch was the first Proton rocket flight of the year, and the 417th launch by a Proton booster since 1965. Up to five more Proton flights could occur by the end of 2018, but none of the missions are expected to be ready for launch until late in the year.
Email the author.
Follow Stephen Clark on Twitter: @StephenClark1.