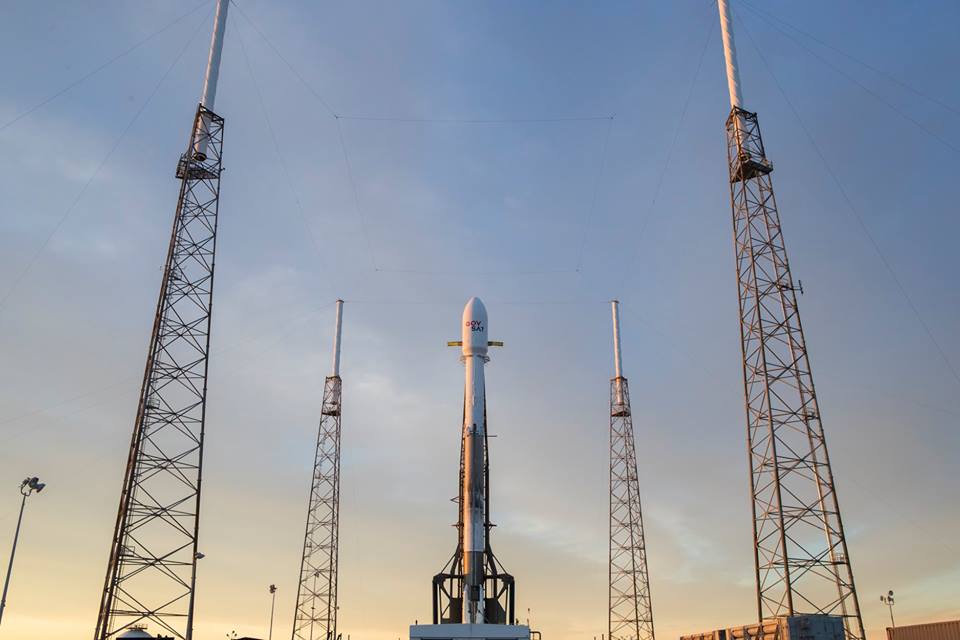 SpaceX officials have postponed the launch of a Spanish-owned telecommunications satellite from Cape Canaveral planned for this weekend to conduct additional testing on the Falcon 9's payload fairing pressurization system, the company announced Saturday.
SpaceX did not set a new launch date, but the mission was expected to be pushed back multiple days from its previous Sunday launch target.
"Standing down from this weekend's launch attempt to conduct additional testing on the fairing's pressurization system," SpaceX said in a statement posted on Twitter. "Once complete, and pending range availability, we will confirm a new targeted launch date."
The Falcon 9 rocket was scheduled to lift off during a two-hour window opening at 12:35 a.m. EST (0535 GMT) Sunday from Cape Canaveral's Complex 40 launch pad.
The launch time is not expected to significantly change with a delay of a few days.
The mission will be the fifth for SpaceX this year, and the fourth with a Falcon 9 rocket. SpaceX's most recent launch was Thursday, a mission that delivered a Spanish Earth observation satellite and two broadband test craft to orbit from Vandenberg Air Force Base, California.
The payload aboard the next Falcon 9 launch from Cape Canaveral is Hispasat 30W-6, a communications satellite heading for a perch in geostationary orbit nearly 22,300 miles (35,800 kilometers) over the equator.
Owned by Hispasat, a Madrid-based satellite operator, Hispasat 30W-6 will begin a 15-year mission. The satellite was manufactured by SSL in Palo Alto, California.
The Falcon 9 rocket will place Hispasat 30W-6 into an elliptical transfer orbit around a half-hour after launching from Cape Canaveral. The satellite's own propulsion system will boost it into a circular geostationary orbit a few weeks later, when the satellite is expected to enter commercial service later this spring at 30 degrees west longitude.
Hispasat 30W-6 will provide C-band, Ku-band and Ka-band telecom services to customers in Europe, North Africa and Latin America, including video, data and broadband connectivity to rural communities, ships and rail travelers.
SpaceX is expected to attempt a recovery of the Falcon 9 rocket's first stage booster on a ship positioned in the Atlantic Ocean for inspections and potential reuse. The first stage slated to launch Hispasat 30W-6 is a new vehicle.
Email the author.
Follow Stephen Clark on Twitter: @StephenClark1.