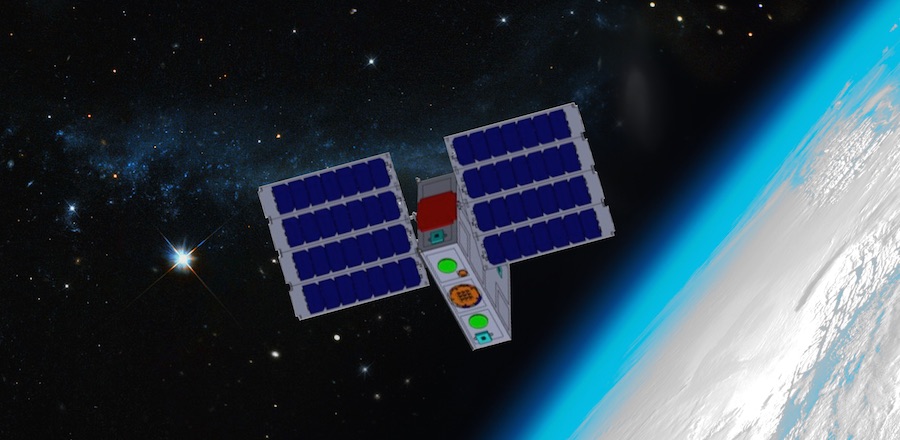 Joining other established commercial geostationary satellite operators looking at fleets of communications platforms in low Earth orbit, Eutelsat announced Thursday it will launch a small testbed next year as a precursor to a potential network of data relay craft flying a few hundred miles above the planet.
The decision could signal a shift in outlook for the Paris-based operator, which flies a fleet of 38 satellites in geostationary orbit more than 22,000 miles (nearly 36,000 kilometers) over the equator. Eutelsat's flirtation with a potential satellite fleet in low Earth orbit — a constellation that could greatly outnumber its geostationary presence — follows moves by competitors like Intelsat and Telesat, which lead or partner on planned low-altitude communications networks.
And SES, the world's largest commercial geostationary satellite operator, is building out the O3b satellite network in medium Earth orbit around 5,000 miles (8,000 kilometers) above Earth. Four new O3b satellites launched Friday atop a Soyuz rocket.
Eutelsat said in a press release Thursday that the test satellite will be built by Tyvak International, a subsidiary of Terrain Orbital Corp. based in Turin, Italy. Tyvak specializes in the design and construction of high-performance CubeSats.
Named Eutelsat LEO for Objects, or ELO, the testbed will help the company assess the functionality of low-altitude satellites in supplying narrowband connectivity for vehicles, packages, and other remote platforms. The concept is focused on the Internet of Things, a type of network that relays data, measurements and other signals between numerous objects around the world.
Eutelsat will partner on the project with Sigfox, a global data relay provider, to investigate the satellite's compatibility with objects currently linked through a ground-based network. Officials will also test the prototype craft's performance in areas not served by terrestrial networks, Eutelsat said.
"With the expansion of the Internet of Things, new services are being developed in a wide range of sectors including smart cities, the mining industry, agriculture and logistics," said Jean-Hubert Lenotte, Eutelsat's chief strategy officer. "We are delighted to be exploring new avenues through the development of this nano-satellite, which once again demonstrates the intrinsic complementarity between terrestrial networks and satellite technology. By analyzing the compatibility of LEO and connected objects, and working with recognised partners in the field, Eutelsat aims to provide an innovative solution which will meet the needs of future clients."
Marie-Sophie Ecuer, a Eutelsat spokesperson, told Spaceflight Now that the ELO testbed will be based on a "6U" CubeSat design, which typically are around six liters in volume and measure about the size of a briefcase. The CubeSat will extend power-generating solar panels once in orbit.
"ELO has the purpose of assessing the technical feasibility of a LEO (Low Earth Orbit) satellite for narrowband connectivity for objects," Ecuer said in an email to Spaceflight Now. "It is a small but concrete step forward towards a potential constellation. It is however too early to tell whether we will move forward with one or not."
The CubeSat will launch into a polar, sun-synchronous orbit between 310 and 372 miles (500-600 kilometers) above Earth.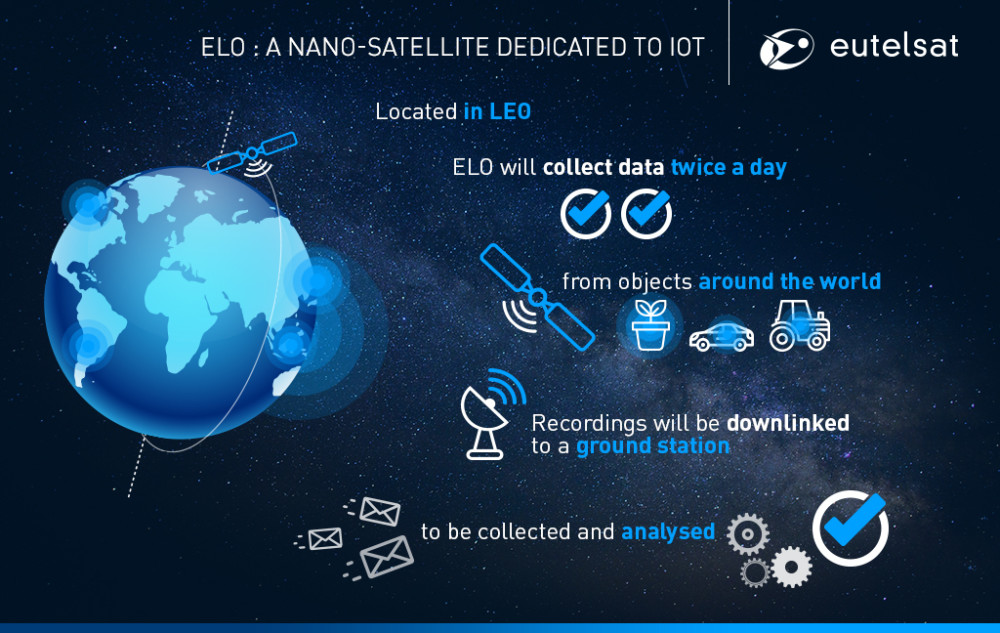 The testbed "will collect data from connected objects across the globe equipped with the same omni-directional antennas already used by terrestrial IoT (Internet of Things) networks," Eutelsat said in a press release. "Data will then be transmitted daily to a ground station located on Svalbard, a Norwegian archipelago in the Arctic Ocean."
Eutelsat and Sigfox will analyze the section of radio spectrum used by the satellite — radio bands known as Industrial, Scientific and Medical frequencies, officials said. The satellite will also test connectivity in other frequency bands, Eutelsat said, but Ecuer did not provide details on the exact frequencies to be utilized by ELO.
Eutelsat is the latest large space company to look into deploying a large fleet of low Earth orbit communications satellites.
OneWeb, which counts Intelsat among its partners, plans to launch a constellation of 900 satellites into a 745-mile-high (1,200-kilometer) orbit for global Internet services. SpaceX is also working on a "mega-constellation" concept that could include thousands of small broadband satellites, and Telesat plans its own high-speed Internet service with a network of more than 100 spacecraft in low Earth orbit.
Communications satellite owners are looking to lower orbits to offer Internet services with lower latency, or lag time, than achievable from spacecraft stationed in geostationary orbit more than 22,000 miles from Earth. At that distance, signals must travel from a user on the ground up to the satellite and back, a round-trip that usually includes stops at routers, gateways and processors that add to the latency.
While geostationary satellites offer significantly more data throughout than any single satellite that could fly in a low Earth orbit network, the latency problem can reduce the quality of live video streams and other Internet content.
SES has doubled down on a medium-altitude orbital regime to balance the benefits of geostationary and low Earth orbit communications services, with plans to launch four additional O3b broadband satellites next year after a successful delivery of four craft to orbit Friday.
Seven higher-power new-generation O3b mPower broadband satellites should begin launching in 2021 to expand SES's broadband services.
Email the author.
Follow Stephen Clark on Twitter: @StephenClark1.