EDITOR'S NOTE: Updated at 9 a.m. EST (1400 GMT), 2 p.m. EST (1900 GMT), 5 p.m. EST (2200 GMT) and 8:30 p.m. EST Tuesday (0130 GMT Wednesday).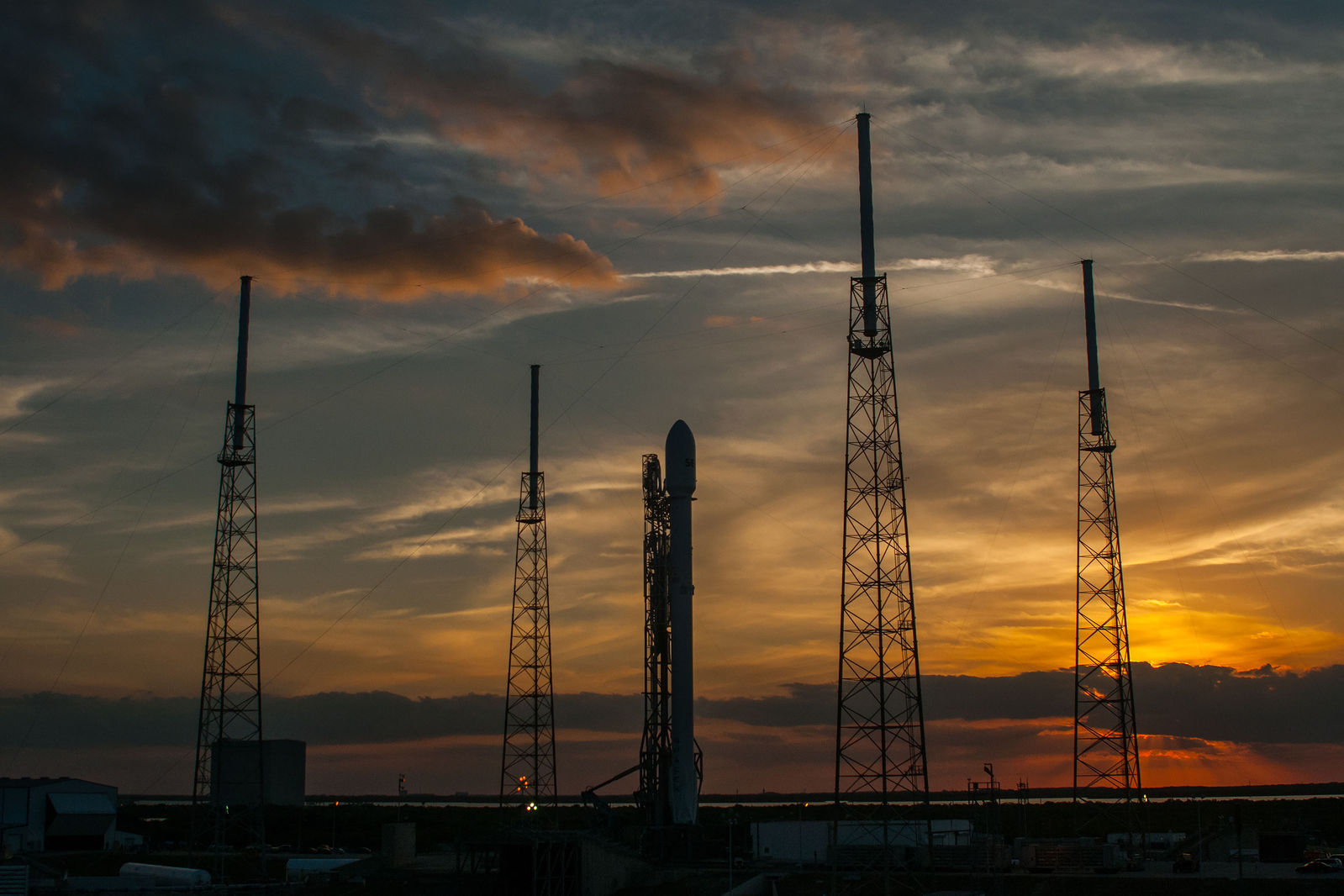 A United Launch Alliance Atlas 5 rocket is set to roll to its launch pad Wednesday at Cape Canaveral, a day before liftoff with a new-generation NOAA weather satellite. The launch of a SpaceX Falcon 9 rocket with a Spanish communications satellite is expected to be shuffled after the Atlas 5 flight in a rapid-fire launch sequence at the Florida spaceport this week.
SpaceX hoped to deliver the Spanish-owned Hispasat 30W-6 communications satellite to orbit from Cape Canaveral's Complex 40 launch pad just after midnight Thursday, Florida time, around 16-and-a-half hours before liftoff of a United Launch Alliance Atlas 5 rocket from the nearby Complex 41 launch pad.
The back-to-back missions appeared to be on track Monday, but Air Force officials have not approved SpaceX's request to the 45th Space Wing, the military unit that oversees the Eastern Range, a network of communications, tracking and safety installations used by every launch from Florida's Space Coast.
Air Force managers have heralded in recent months a new capability to support rapid turnarounds between launches, thanks to an automated range safety mechanism and other upgrades to the cut the time between missions at the Florida spaceport.
But the Atlas 5 mission with NOAA's GOES-S weather satellite, which has held to its March 1 target launch date for nearly a year, is expected to take priority on the Cape Canaveral launch schedule this week, officials said.
The 197-foot-tall (60-meter) Atlas 5 rocket is set to roll out of ULA's Vertical Integration Facility around 10 a.m. EST (1500 GMT) Wednesday for a quarter-mile trip to the nearby Complex 41 launch pad. Once at the pad, the rocket will be connected to ground propellant and electrical supplies, and its first stage will be loaded with RP-1 kerosene fuel.
The "clean pad" layout at Complex 41 does not offer shelter to the Atlas 5 rocket once its in position on the launch mount, and officials were concerned about exposing the launcher and sensitive optics on its weather satellite payload to exhaust plumes from the Falcon 9 rocket as it blasts off from the nearby Complex 40 launch pad.
Managers also studied whether the Atlas 5 rocket and the GOES-S satellite would be at risk of damage on the pad if the Falcon 9 rocket had a mishap during launch.
SpaceX intended to launch with the Hispasat 30W-6 communications satellite early Sunday, but the company postponed the mission to complete additional inspections on a pressurization system on the Falcon 9 rocket's payload fairing.
"Due to the fact that they didn't launch, they had requested  the early morning of March 1 (on the Eastern Range)," said Tim Dunn, NASA's launch director for the GOES-S mission. "We understand that has not been approved by the range, so we're clear for our opportunity on the 1st."
ULA also has a backup launch opportunity on Friday afternoon, if necessary.
"We were doing initial assessments of being in an exposed condition," Dunn said. "Obviously, we need some time to take a look at that to assess all the risks that would be incurred on GOES-S as well as the Atlas 5 rocket. We're not in that condition right now, and we look forward to launch on Thursday afternoon."
The Atlas 5's two-hour launch window opens at 5:02 p.m. EST (2202 GMT) Thursday.
A new target launch date for the Falcon 9 flight has not been confirmed. The Hispasat mission has a daily launch window that opens at approximately 12:34 a.m. EST (0534 GMT).
Falcon 9 and Atlas 5 rocket launches from Cape Canaveral blast off from two former Titan rocket launch facilities built in the 1960s a mile-and-a-half (2.4 kilometers) apart a few thousand feet from the Atlantic coastline.
In a written statement released to Spaceflight Now on Tuesday, a spokesperson for the 45th Space Wing said the Eastern Range is proceeding with the Atlas 5/GOES-S launch Thursday evening.
"Range officials are still working with SpaceX to secure a launch date for the SpaceX/Hispasat mission," the statement said. "Range safety is the top priority, thus every launch requires the appropriate amount analysis along with deliberate and disciplined discussions with the 45 SW team and key stakeholders. We look forward to supporting a successful Atlas 5 GOES-S launch on Thursday with our mission partners."
SpaceX said late Tuesday that the fairing pressurization issue on the Falcon 9 rocket has been resolved.
The Hispasat 30W-6 communications satellite awaiting launch on the Falcon 9 rocket is a Spanish-owned commercial video, data and broadband relay craft heading for a perch in geostationary orbit more than 22,000 miles (nearly 36,000 kilometers) over the equator.
Built by SSL in Palo Alto, California, Hispasat 30W-6 will replace an aging telecom satellite launched from Cape Canaveral in September 2002 aboard an Atlas 2AS booster.
The Atlas 5 mission is set to deploy NOAA's GOES-S weather satellite, an advanced, new-generation observatory destined to help forecasters track storms and wildfires across the western United States and the Pacific Ocean.
The range typically operates on a first-come, first-served basis.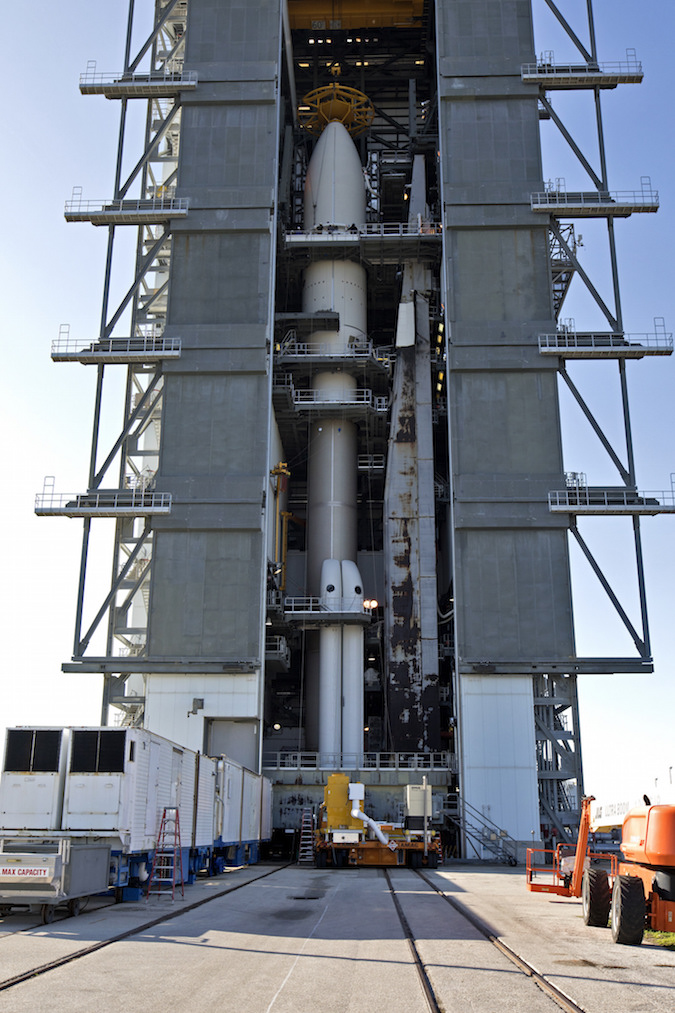 The Falcon 9 slated to launch with Hispasat 30W-6 completed a hold-down test-firing of its nine Merlin main engines last week. Technicians returned the rocket to its hangar to install the Hispasat telecom satellite and payload fairing. The next step before launch is to return the booster to the launch pad for final countdown preps.
The Air Force says quicker turnarounds between launches from Cape Canaveral will be primarily enabled by the introduction of an autonomous self-destruct mechanism to SpaceX's Falcon rockets, an addition that cuts the workload and manpower for each launch from the Air Force and its contractors.
The on-board safety system relies on Global Positioning System satellite navigation data, replacing decades-old radars and tracking equipment that required military officers to manually send commands to destroy errant boosters, and their human and robot passengers, before they could threaten people and property.
The switch is expected to save millions of dollars in infrastructure costs and allow for more launches from Air Force-run ranges at Cape Canaveral and Vandenberg Air Force Base, officials said.
The Autonomous Flight Safety System became operational on SpaceX's Falcon rocket family last year, after several flights in a backup "shadow" mode to allow engineers to check its performance and reliability.
"Implementing AFSS on future launch operations allows us to increase our flexibility, adaptability and efficiency while providing more launch opportunities and greater public safety without having to add additional people," said Brig. Gen. Wayne Monteith, commander of the Air Force's 45th Space Wing, in a statement last year. "These changes will not only simplify ground support requirements thereby increasing launch on-time probability, but substantially reduce launch costs."
Like the manual flight termination system used since the dawn of the Space Age, the on-board safety computer tracks the trajectory of the rocket, ensuring it remains within a predefined corridor and meets other parameters.
With the previous safety system, a Mission Flight Control Officer on the ground in Florida or California would issue the command activate pyrotechnic charges on the rocket if it strayed off course. In the case of the automated safety system, the command comes from a computer aboard the rocket.
The military is still responsible for other support functions for launches from Florida and California, such as weather monitoring, maritime and airspace patrols, and base security.
Air Force and industry officials last year heralded the new automated destruct system, saying that the technology would permit launches from different pads at Cape Canaveral on the same day, an improvement over the minimum 48-hour resets practiced in recent decades.
Launches on the same day from Florida were somewhat common in the 1960s, and the last time two orbital flights lifted off from Cape Canaveral within a 24-hour span was in April 1978, when an Atlas-Agena D rocket launched with the Aquacade 4 military signals intelligence satellite, followed around 21 hours later by the takeoff of a Delta 2914 booster with the Japanese BSE, or Yuri 1, communications craft, according to a mission log maintained by Jonathan McDowell, an astronomer at the Harvard-Smithsonian Center for Astrophysics who tracks global space activity.
Rockets lifted off from Cape Canaveral less than two hours apart on four occasions in 1966.
Unpiloted Agena vehicles launched by Atlas rockets were used as docking targets for NASA's two-man Gemini capsules. The Agena targets launched approximately 100 minutes before the Gemini spacecraft took off on top of Titan 2 rockets with two astronauts on-board.
Email the author.
Follow Stephen Clark on Twitter: @StephenClark1.