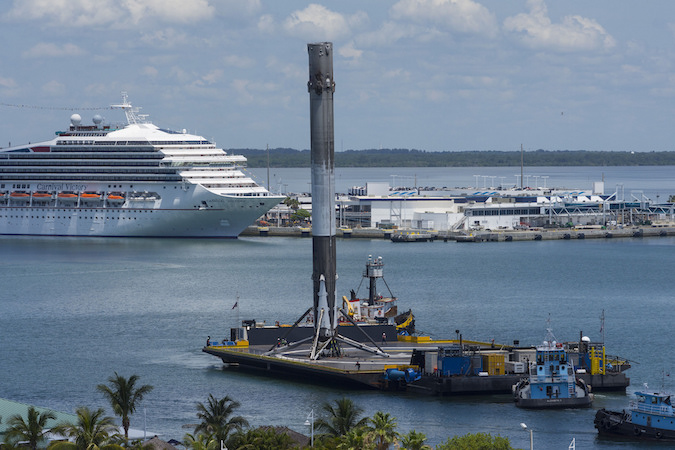 A Falcon 9 rocket core recovered after last week's launch of a Thai communications satellite returned to port in Florida on Thursday as SpaceX preps a separate rocket structure for tests to prove it can withstand multiple missions and mulls pricing of a previously-flown rocket, targeting a re-flight of a used booster by the end of the summer.
Standing with a slight tilt after a hard landing at sea, the 15-story booster arrived at Port Canaveral for inspection and potential reuse.
It will join three other recovered Falcon 9 first stages in SpaceX's inventory.
The first Falcon 9 booster landed by SpaceX in December at Cape Canaveral will go on vertical display later this year outside the company's headquarters in Hawthorne, California. A rocket core that achieved the first landing at sea in April is tagged to be the first previously-flown booster to launch a second time.
Speaking at Code Conference 2016, a tech industry meeting held this week near Los Angeles, SpaceX chief executive Elon Musk the company plans to re-fly the used rocket again in two or three months.
"Something like that," Musk said. "It will be an important milestone. So far, the stages are looking quite good, even though they are coming through a really difficult re-entry situation, but they're looking in good shape. We now have four of them, so we want to start re-flying them towards the end of the summer."
A rocket that touched down on SpaceX's landing barge shortly after a launch with the Japanese JCSAT 14 communications satellite May 6 survived extreme conditions on re-entry, withstanding high speeds and scorching temperatures at the outer edge of the rocket's operating envelope. While SpaceX founder Elon Musk says that rocket could conceivably fly again, SpaceX engineers intend to transport it to the company's facility in McGregor, Texas, to use it as a ground test article.
The fate of the first stage that launched the Thaicom 8 communications satellite Friday has not been announced by SpaceX.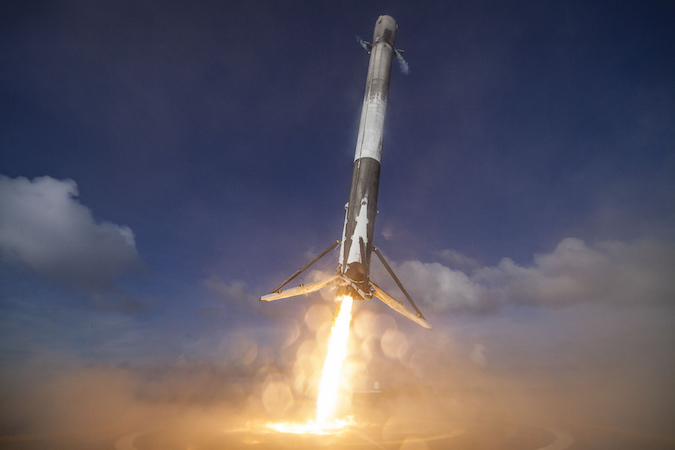 The latest booster touched down on SpaceX's drone ship, dubbed "Of Course I Still Love You" after a sentient starship in author Iain Banks' sci-fi universe, about 420 miles (680 kilometers) east of Cape Canaveral less than 9 minutes after liftoff Friday.
The purpose of the the reusability program is to reduce the cost of SpaceX's launches, which are already less expensive than any of its major competitors.
The last two Falcon 9 missions deployed telecom spacecraft into geostationary transfer orbit, a type of orbit where a satellite takes an oval-shaped path around Earth, with a low point just above the atmosphere and a high point tens of thousands of miles above Earth.
The Falcon 9 placed the Thaicom 8 satellite, which weighed less than 6,700 pounds (about 3,025 kilograms) at launch, into an exceptionally high "supersynchronous" orbit with its most distant point more than 56,000 miles (90,000 kilometers) above Earth.
Lofting satellites to such high altitudes requires more speed than putting a payload into low Earth orbit — with the first stage reaching speeds as high as 5,000 mph (8,000 kilometers per hour — meaning the Falcon 9's booster comes back to Earth with more velocity, subjecting the vehicle to higher aerodynamic and thermal stresses.
The extra velocity needed by such missions eliminates any possibility of the rocket reversing course and returning to a landing at the launch base, as a Falcon 9 carrying 11 small Orbcomm satellites to a low-altitude orbit did in December.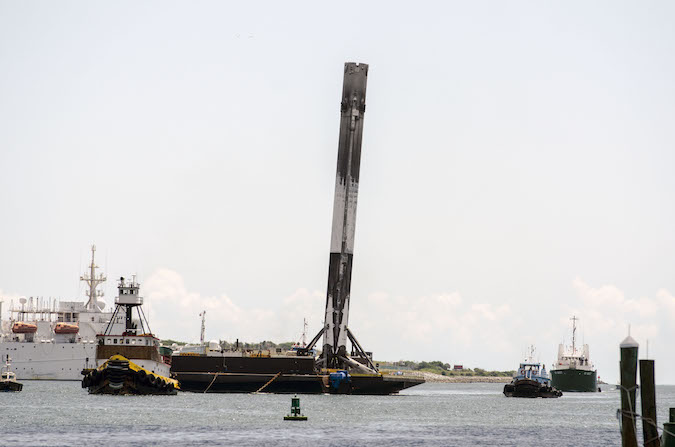 After detaching from the Falcon 9's upper stage about two-and-a-half minutes after liftoff, the descending rocket stage that sent Thaicom 8 toward space last week sailed hundreds of thousands of feet over cloud tops in a dramatic time lapse video released by SpaceX. Three of the rocket's nine Merlin engines ignited to slow down for re-entry, then aerodynamic grid fins maneuvered the rocket over the drone ship, when the booster conducted a propulsive landing burn for a vertical on-target touchdown.
The landing speed was close to the Falcon 9's design limit, but a crushable aluminum honeycomb core embedded inside the booster's four carbon-fiber landing legs absorbed the impact, causing the rocket to settle on to the barge with a noticeable lean.
Musk said the "crush core" is inside the landing legs to take the force of rough landings. It will be replaced if first stage ends up flying again.
"The crush core in the Falcon legs is reusable after soft landings, but needs to be replaced after hard (landings)," Musk wrote on Twitter.
In the meantime, SpaceX engineers in Texas will put the rocket stage recovered after the May 6 launch of JCSAT 14, which went through the Falcon 9's most stressing descent yet, through a stringent series of tests to confirm other vehicles can reliably fly again.
Called delta qualification tests, the checks on the ground will help SpaceX prove to itself, customers and the insurance community that a rocket flying for the second time is as reliable as a vehicle just out of the factory.
"That's probably more the long pole in getting to flight than doing anything to the vehicle itself," said Gwynne Shotwell, SpaceX's president and chief operating officer, in an April interview with Spaceflight Now.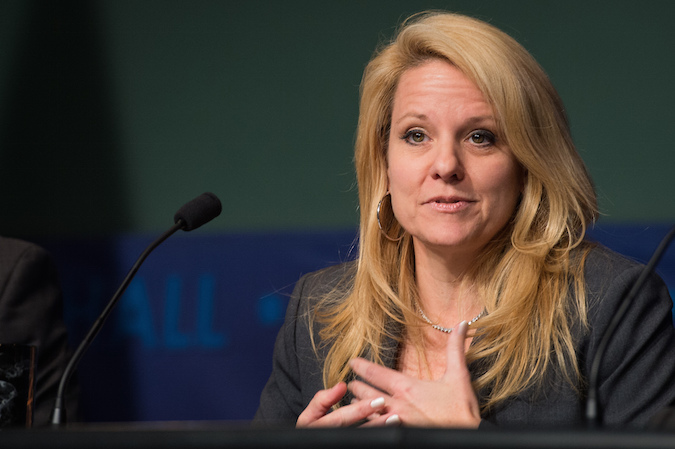 She said SpaceX does not want to tinker much with the rocket slated to fly again, so officials selected a separate booster to put through ground testing. Musk initially suggested the Falcon 9 rocket slated for the first reuse mission would be fired on the ground at Kennedy Space Center's launch pad 39A, a facility SpaceX is readying for flights later this year, but it is now unclear if that is still the plan.
"What we would like to do is demonstrate life margin as well as amplitude margin," Shotwell said in April. "I don't think we're going to pull components off and vibrate them — shake them and bake them — although we may. If we feel like we have to do that, we will go do that."
Burning a mixture of super-chilled RP-1 kerosene and liquid oxygen, the Falcon 9's Merlin 1D engines are already qualified to fly more than once. The entire first stage structure, including tanks and avionics systems, may still need extra testing.
"I think there's enough margin built into our qualification program that we could at least fly another time on the boxes and such, and our engines have already been qualified for more than one flight," Shotwell said.
In parallel with the engineering tests, SpaceX's management and sales team is working behind the scenes to assuage insurance underwriters on the risks of reusing Falcon 9 boosters.
Jonathan Hofeller, SpaceX's vice president of commercial sales, said earlier this week that the launch company is meeting with insurance firms in the next couple of weeks, according to a report in Space News.
Hofeller made his remarks at the CASBAA Satellite Industry Forum in Singapore. The meetings with insurance providers will help "make sure they understand our process for certifying these (previously-flown boosters) and getting them ready for flight," Hofeller said in the Space News report.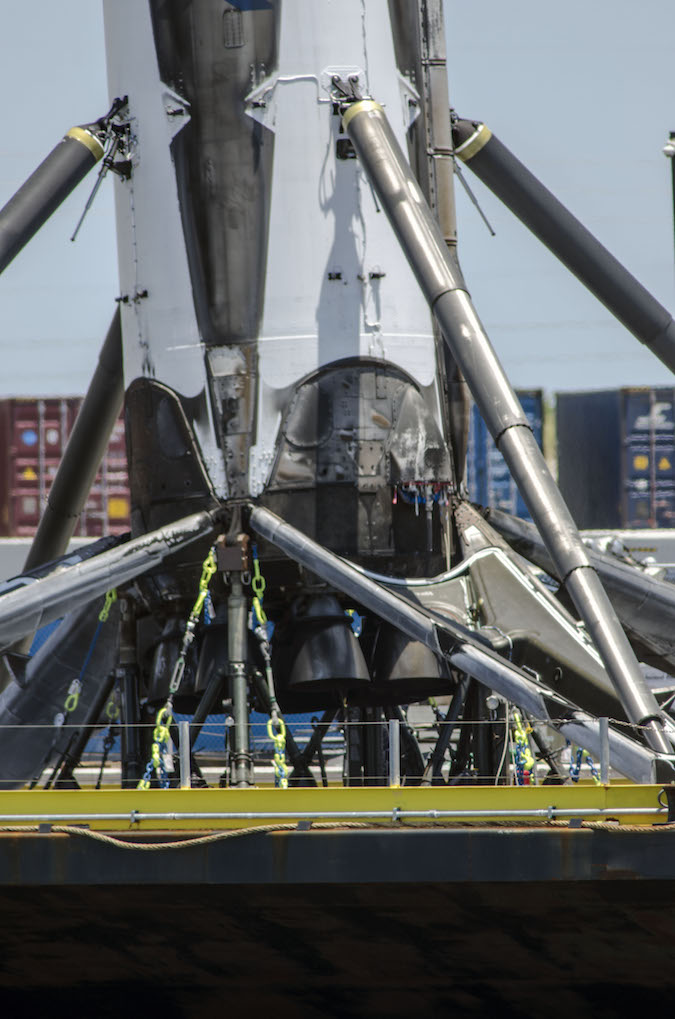 Shotwell told Spaceflight Now in April that it will take some time to satisfy concerns in the insurance community. In the Space News report, an unnamed insurer said the risk management community is more than willing to underwrite Falcon 9 launches, presumably with used components, but wants more information.
"But we would like to know exactly what we are insuring," the official said, according to Space News. "They have move rather quickly through design modifications for the rocket and it's not always clear what new elements have been introduced."
Shotwell outlined SpaceX's relationship with the insurance industry in April.
"They've already gotten the qualification of the Merlin engine (for multiple missions), which tends to drive the insurance community," Shotwell told Spaceflight Now. "Structures is a little more definitive analytically. You can kind of get through that. I think it's the engines, and they already know that they've been qualified for more than one flight. I don't think it's going to be a big lift with the insurance community, but it's certainly going to take work."
SpaceX has not identified a mission for the first flight of a reused rocket, but Hofeller said it will probably be a commercial mission. Shotwell said in April the top two candidates will likely be missions with enough excess capacity to allow the rocket to return to a landing on land, implying they might be destined for relatively low orbits.
The company has also not confirmed whether the launch will originate from Cape Canaveral or Vandenberg Air Force Base, California.
The price of a launch with a reused booster, at least initially, is also an open question, SpaceX officials said.
Shotwell said she hopes SpaceX can realize a 30 percent cost reduction when flying Falcon 9 missions with a first stage out of the company's inventory, and not fresh off the assembly line. SpaceX currently offers Falcon 9 missions for about $62 million on the commercial market.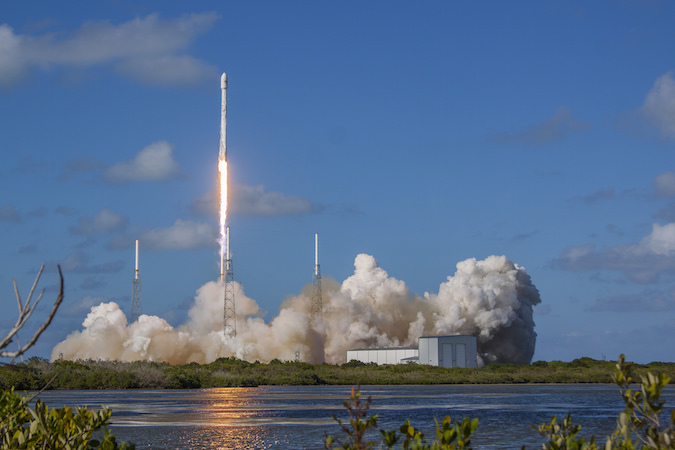 "The ultimate goal is just the cost of re-fueling and re-launching, which is way more than 30 percent," Shotwell told Spaceflight Now in April when asked to clarify the pricing strategy. "Near-term, I hope I don't have refurbishment, but I certainly have inspection, and I have to recover the investment that I made in that rocket, so we won't see the 30 percent (reduction) right away.
"Over time, I think we will probably get there, and then ultimately I'd like to be substantially less, but we'll have to see," she said earlier this year.
The second stage of the Falcon 9, powered by a single Merlin engine, will continue to be expendable on each mission. SpaceX is working on a scheme to recover the clamshell-like payload fairing mounted on the nose of the rocket in a bid to reuse that part along with the first stage.
And what about a discount for the first customer to fly on a used Falcon 9 booster?
"My guess is we'll have to do something for them, but I don't know," Shotwell said.
Email the author.
Follow Stephen Clark on Twitter: @StephenClark1.