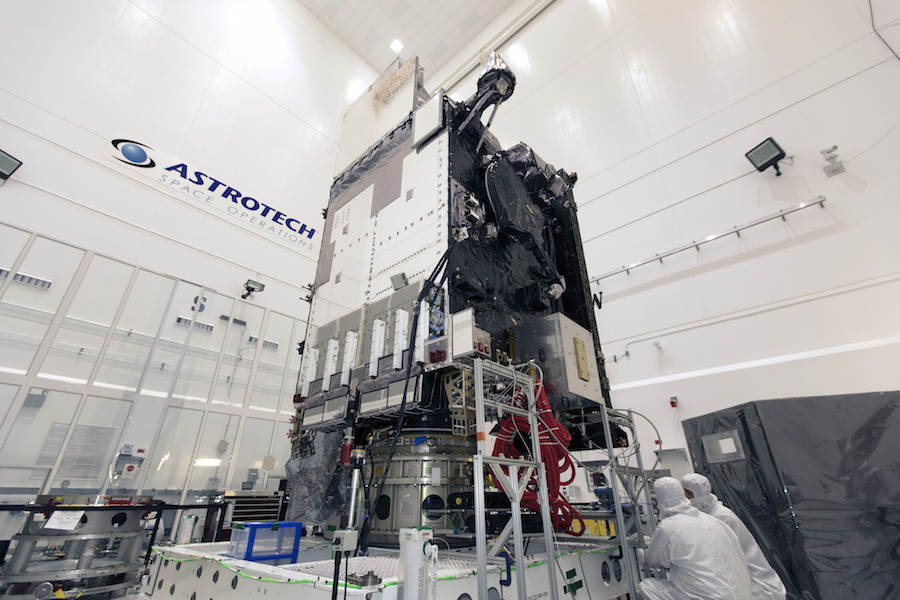 NOAA's next geostationary weather satellite, GOES-S, was raised on top of an Atlas 5 launcher Friday at Cape Canaveral in preparation for liftoff March 1 to keep watch over the Pacific Ocean and the Western United States.
Fully fueled for a planned 15-year mission in space, the roughly 11,500-pound (5,200-kilogram) GOES-S spacecraft arrived at the base of the Vertical Integration Facility at Cape Canaveral's Complex 41 launch pad early Friday after a road trip from the nearby Astrotech satellite processing facility in Titusville, Florida.
Cranes hoisted the satellite, already encapsulated inside the United Launch Alliance Atlas 5's Swiss-built nose cone, atop the two-stage rocket inside the vertical hangar, a NASA spokesperson said.
The addition of the GOES-S satellite completes assembly of the Atlas 5 rocket. Ground crews began stacking the rocket Jan. 31 with the mounting of the Atlas 5's first stage on a mobile platform inside the VIF, then added four solid rocket boosters and a Centaur upper stage cocooned inside the payload fairing's lower section.
ULA technicians accomplished a combined systems test after assembling the major components of the rocket, and further testing of electrical interfaces between the Atlas 5 and the GOES-S satellite are planned next week.
A launch readiness review Feb. 27 will give approval to roll the Atlas 5 rocket from the VIF to the launch pad, assuming all launcher, spacecraft, range and ground systems are ready. The rollout is scheduled for the morning of Feb. 28, followed by filling of the Atlas 5's first stage with RP-1 kerosene fuel.
The ULA launch team will load super-cold liquid oxygen into the first stage, and a liquid hydrogen and liquid oxygen mixture into the Centaur upper stage, during the March 1 countdown. The two-hour launch window opens at 5:02 p.m. EST (2202 GMT).
The Atlas 5 rocket will deploy the GOES-S satellite into an elliptical transfer orbit more than three hours after liftoff. The Lockheed Martin-built spacecraft will maneuver into a circular geostationary orbit a few weeks later, taking position nearly 22,300 miles (35,800 kilometers) over the equator, where its velocity will match Earth's rotation, giving its weather instruments an uninterrupted view of same segment of the planet.
GOES-S will be renamed GOES-17 after launch, joining a sister satellite named GOES-16 that launched in November 2016, also aboard an Atlas 5 rocket.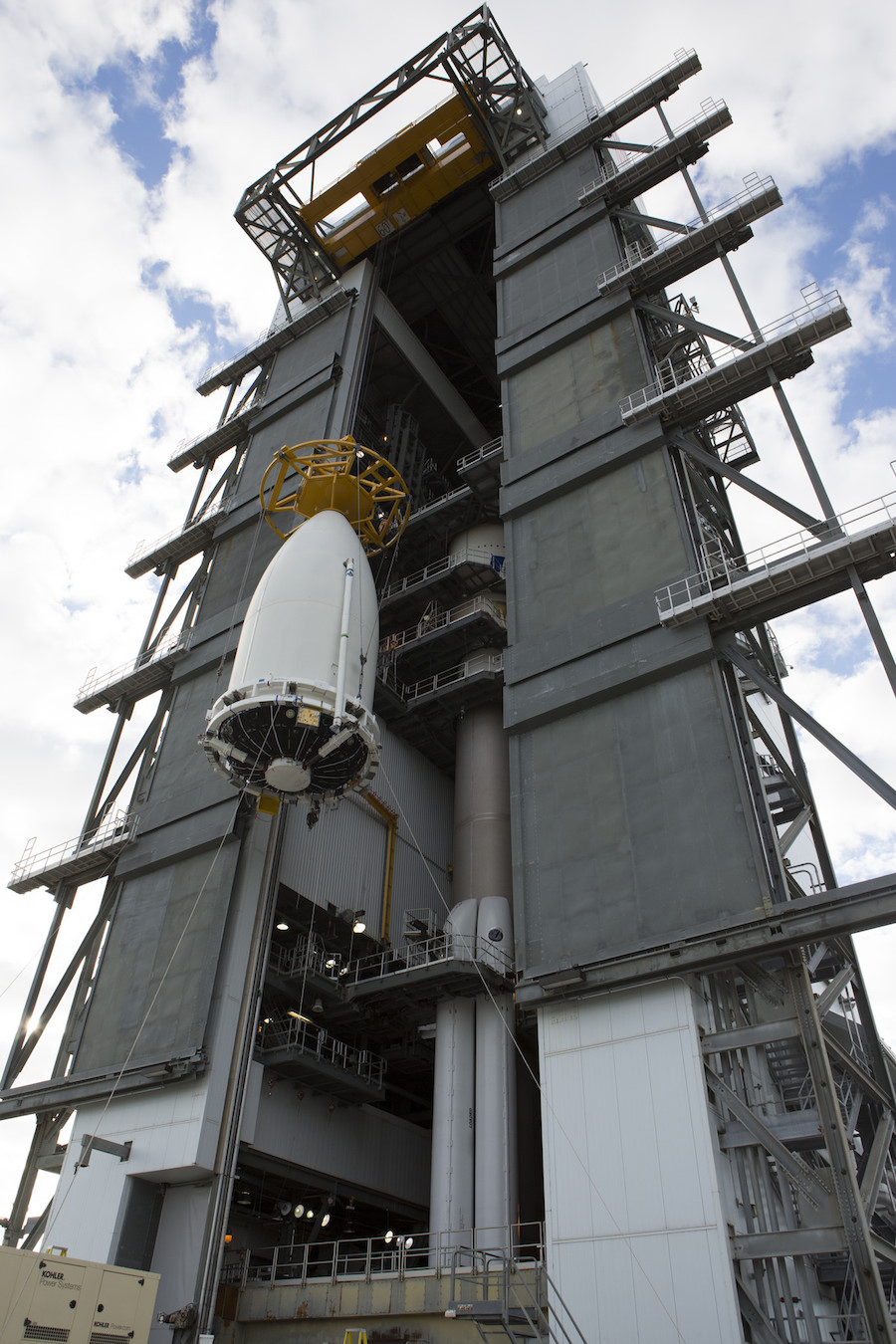 After several months of in-orbit testing, NOAA will take control of the satellite and press it into service at 137 degrees west longitude to cover the Pacific Ocean and the Western United States, including Alaska and Hawaii.
The GOES-16 satellite began regular weather observations in December after a year-long test campaign, watching the Eastern United States and hurricane zones in the Atlantic Ocean, the Caribbean Sea and the Gulf of Mexico.
The new GOES-R satellite series, which includes two more spacecraft set for launch in 2020 and 2024, replace NOAA's aging weather sentinels in geostationary orbit.
"When it launches March 1 and becomes operational later this year, GOES-S will see the west in true high-definition, and along with the remaining satellites in our GOES-R series, will extend the life of NOAA's geostationary satellite constellation through 2036," said Tim Walsh, acting director of NOAA's GOES-R program.
Once both operational, GOES-16 and GOES-17 — known as GOES-R and GOES-S before their launch — will give weather forecasters an enhanced view of weather patterns across the Western Hemisphere, from New Zealand, across the Americas to West Africa, and almost from pole to pole.
The upgraded GOES satellites provide higher-resolution imagery with an advanced imaging camera that can help forecasters distinguish between clouds, snow cover, fog, smoke and volcanic ash in the atmosphere. The new GOES satellites will return imagery up to five times more often than NOAA's previous meteorological observers in geostationary orbit.
"These satellites are giving us the ability to look at storms as often as every 30 seconds, allowing forecasters to see storms as they're developing instead of as they've already happened," Walsh said.
Forecasters will use the new satellites to help track hurricanes, severe storms, lightning strikes, wildfires, volcanic eruptions and ground fog.
The GOES-16 satellite covering the U.S. East Coast and Atlantic Ocean is already proving its value, NOAA officials said.
"For many decades, NOAA satellites have been the backbone of our weather and climate forecasts, but as we've already seen with GOES-16, the GOES-R series is a quantum leap above any of its predecessors," said Ajay Mehta, acting deputy assistant administrator for systems at NOAA's National Environmental Satellite, Data and Information Service.
"GOES-16, even beyond its spectacular imagery, is already proving to be a game-changer with much more refined, higher quality data for faster and more accurate weather forecasts and warnings," Mehta said in a conference call with reporters earlier this month. "This means more lives are saved and better environmental intelligence for state and local officials, who, for example, may need to make decisions about when to call for evacuations ahead of life-threatening wildfires."
Email the author.
Follow Stephen Clark on Twitter: @StephenClark1.