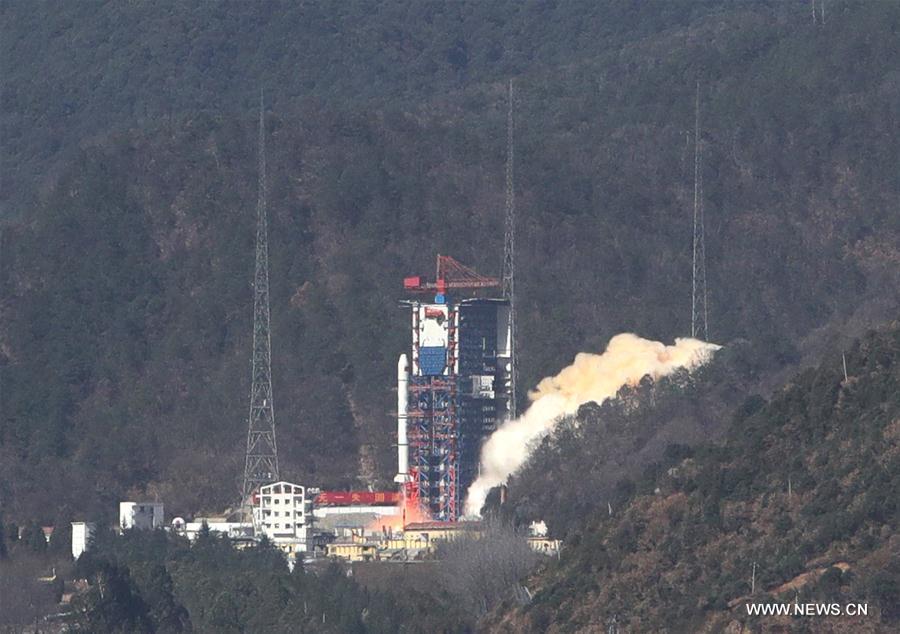 A fourth trio of Chinese Yaogan military satellites with secret missions launched Thursday aboard a Long March 2C rocket from the Xichang space base in China's Sichuan province.
The spacecraft join nine others launched into similar 370-mile-high (600-kilometer) orbits on three previous Long March 2C flights from the Xichang spaceport Sept. 29, Nov. 24 and Dec. 25.
The latest triplet of Yaogan 30 satellites lifted off at 0539 GMT (12:39 a.m. EST; 1:39 p.m. Beijing time) Thursday, Jan. 25, from the mountainous Xichang launch site in southwestern China.
A two-stage Long March 2C rocket, fueled by liquid hydrazine and nitrogen tetroxide propellants, boosted the Yaogan 30-04 satellite group into orbit approximately 370 miles above Earth on a track inclined at an angle of 35 degrees to the equator, according to data published by the U.S. military.
China's state-run Xinhua news agency reported the satellites will conduct "remote sensing" missions, and officials proclaimed the launch a success.
The Yaogan series of satellites are believed to be operated by the Chinese military for intelligence-gathering purposes.
Some analysts suggested the nine Yaogan 30-01, 30-02 and 30-03 satellites launched over the last three months could be testing new electronic eavesdropping equipment or helping the Chinese military track U.S. and other foreign naval deployments.
But details about the spacecraft and their missions have not been disclosed by the Chinese government.
China's military has another satellite named Yaogan 30, but it is in polar orbit and believed to be a high-resolution imaging spacecraft.
A Chinese nanosatellite named Weina 1A hitched a ride on Thursday's Long March 2C flight. Past launches Yaogan 30 satellites carried no secondary payloads.
The launch Thursday was the fifth Chinese space mission to blast off since the start of 2018.
Email the author.
Follow Stephen Clark on Twitter: @StephenClark1.