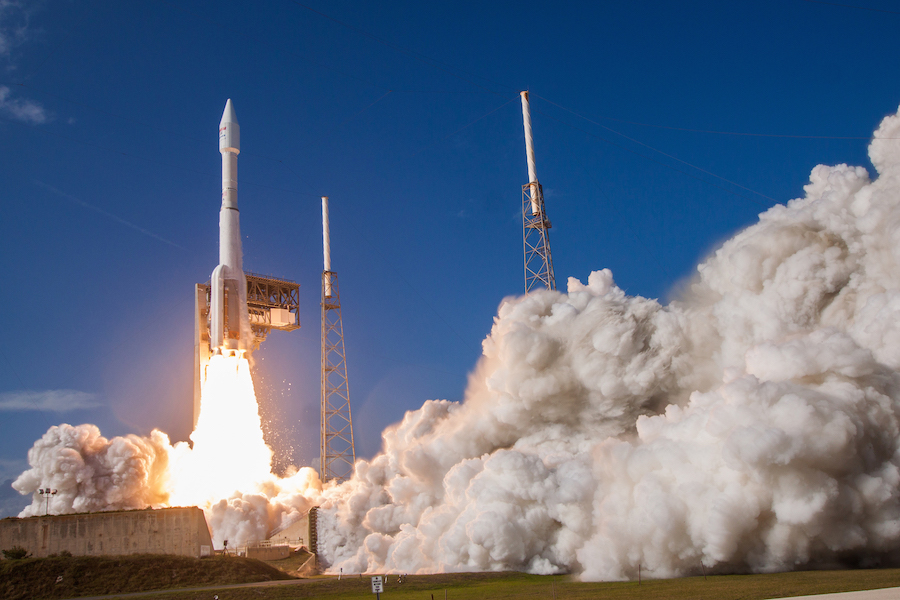 United Launch Alliance announced Monday that the company will assume responsibility for commercial marketing and sales for Atlas 5 rocket missions, taking over for a Lockheed Martin division that previously sold Atlas 5 launch services on the commercial market.
The change will mean ULA will directly negotiate commercial launch contracts with customers, a move that could result in reduced launch prices and other business efficiencies.
"ULA has undergone a tremendous transformation over the last two years, and with our innovative techniques, coupled with world-class reliability and schedule certainty, we are well positioned to offer Atlas 5 launch services to our current and potential commercial customers," said Tory Bruno, ULA's president and CEO. "ULA will serve as a business partner committed to building a launch strategy that maximizes the commercial provider's profits and positions them above their competition."
With 75 successful flights in a row, a record dating back to the rocket's maiden flight in August 2002, the two-stage Atlas 5 has launched costly, one-of-a-kind payloads for the U.S. military, NASA and the National Reconnaissance Office, the agency which manages the U.S. government's spy satellite fleet.
Lockheed Martin Commercial Launch Services acted as the booking agent and service provider for six commercial Atlas 5 flights since ULA's formation in December 2006. ULA combined Atlas and Delta rocket operations previously owned and managed by Lockheed Martin and Boeing.
But Lockheed Martin retained rights for commercial Atlas 5 launch sales, taking over for International Launch Services, which previously had that responsibility. After winning a commercial contract, Lockheed Martin would subcontract the mission to ULA to provide the launch vehicle and launch services.
ILS now exclusively sells Russian Proton launch services commercially.
George Sowers, ULA's former vice president of advanced programs who helped design the Atlas 5, wrote on Twitter that the commercial sales shake-up rectified a "decade-old mistake" dating to ULA's founding.
Recent commercial wins by Lockheed Martin Commercial Launch Services included contracts to deliver the EchoStar 19 broadband satellite to orbit in December 2016, the Morelos 3 communications relay spacecraft for the Mexican government (which was considered a commercial launch), and two WorldView Earth-imaging satellites.
The Atlas 5 has been a niche player in the commercial launch market since ULA's formation. The price of a dedicated Atlas 5 mission — higher than companies like SpaceX, Arianespace and ILS — and ULA's priority given to U.S. government payloads have kept the Atlas 5 shut out of much of the market.
But Bruno has renewed ULA's focus on commercial contracts, and he said the company's next-generation Vulcan rocket will need commercial launch business to be viable.
Bruno was a late addition to a commercial launch panel at Euroconsult's World Satellite Business Week in September, joining SpaceX, Arianespace, ILS, Japan's Mitsubishi Heavy Industries, and China's Great Wall Industry Corp. at one of the commercial satellite industry's biggest annual meetings.
"The value of a launch is a lot more than its price tag," Bruno said in a statement. "ULA Atlas 5 launch services help customers capture savings and added value by delivering spacecraft to orbit earlier, extending mission life, and providing unsurpassed schedule certainty.
"Lockheed Martin's Commercial Launch Services organization served its customers well with a flawless record of mission success and strong customer partnerships for more than a decade," Bruno said. "We look forward to continuing that legacy of performance, service and precision."
Tom Tshudy, ULA's vice president and general council, will lead the new commercial launch services division, the company said in a statement. He previously was general counsel at ILS and Lockheed Martin while both companies were active in the commercial launch market.
Email the author.
Follow Stephen Clark on Twitter: @StephenClark1.