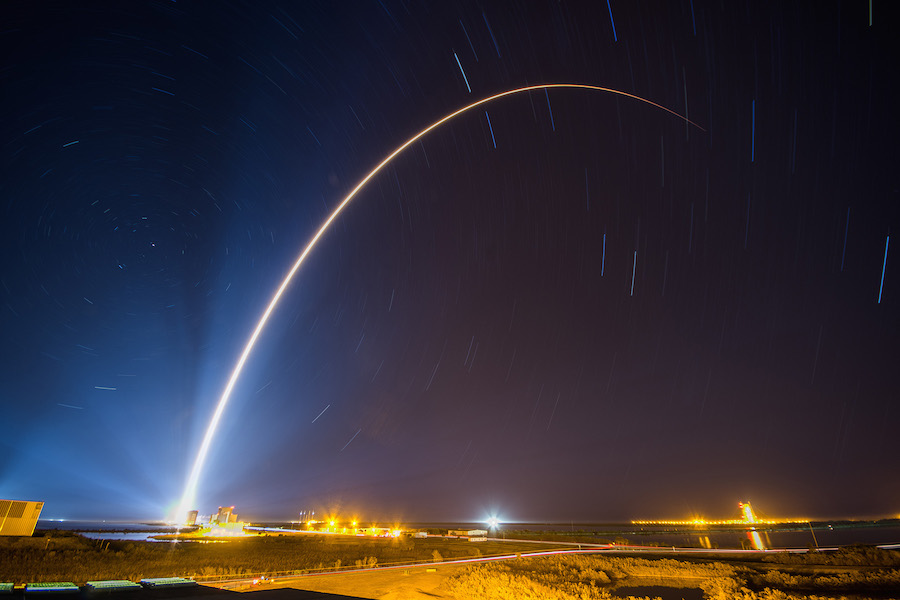 A billion-dollar U.S. military satellite rode a United Launch Alliance Atlas 5 rocket into orbit Friday night from Cape Canaveral, joining a network of space sentinels warning of threatening missile launches from North Korea, or any other place on the globe.
The 189-foot-tall Atlas 5 rocket ignited its RD-180 main engine and a single Aerojet Rocketdyne strap-on solid rocket booster at 7:48 p.m. EST Friday (0048 GMT Saturday). The launcher soared eastward from Cape Canaveral's Complex 41 launch pad to kick off the 75th flight of ULA's workhorse Atlas 5.
Combining to generate more than 1.2 million pounds of thrust, the RD-180 engine and strap-on booster steered the Atlas 5 through a starry sky on a crisp winter evening on Florida's Space Coast.
The solid-fueled booster burned out and dropped away from the Atlas 5 about two-and-a-half minutes after liftoff, leaving the Russian-made RD-180 engine to continue firing until around T+plus 4 minutes, guzzling a mixture of refined kerosene and liquid oxygen.
The Atlas 5's Centaur upper stage next took over, with its single hydrogen-burning RL10C engine performing two firings, first to enter a preliminary parking orbit, then to drive the U.S. Air Force's fourth dedicated Space Based Infrared System satellite into an egg-shaped transfer orbit stretching nearly 22,300 miles from Earth at its farthest point.
A ULA engineer monitoring telemetry from the Atlas 5 rocket transmitted through a ground tracking station on an island in the Indian Ocean announced a signal confirming deployment of the SBIRS GEO Flight 4 satellite on time about 42-and-a-half minutes after liftoff.
Lockheed Martin, builder of the SBIRS GEO Flight 4 spacecraft, said ground controllers with the Air Force's 460th Space Wing established contact with the newly-launched satellite soon after its release from the Atlas 5's Centaur upper stage.
The on-target launch Friday extended the Atlas rocket program's streak of successful flights to 146, a record dating back to 1993. It was also the second ULA launch in a week, coming seven days after a Delta 4 rocket placed a top secret spy payload in orbit after blasting off from Vandenberg Air Force Base, California.
"Meeting the challenge of launching two critical national security missions from opposite coasts within a week, the entire ULA team once again demonstrated its unwavering dedication to 100 percent mission success," said Laura Maginnis, ULA vice president of government satellite launch. "Thank you to our U.S. Air Force and industry teammates for their outstanding partnership in successfully delivering SBIRS to orbit today."
The $1.2 billion SBIRS GEO Flight 4 satellite launched aboard the Atlas 5 rocket will finish the initial deployment of the Air Force's new-generation missile-warning network. When complete, the constellation that will include a minimum of four SBIRS craft stationed in geosynchronous orbit and at least two infrared payloads in elliptical orbits aboard top secret National Reconnaissance Office spy satellites, providing polar coverage.
The SBIRS fleet is the "bell ringer to a launch anywhere on the face of the planet," said Col. Dennis Bythewood, director of the remote sensing systems directorate at the Air Force's Space and Missile Systems Center.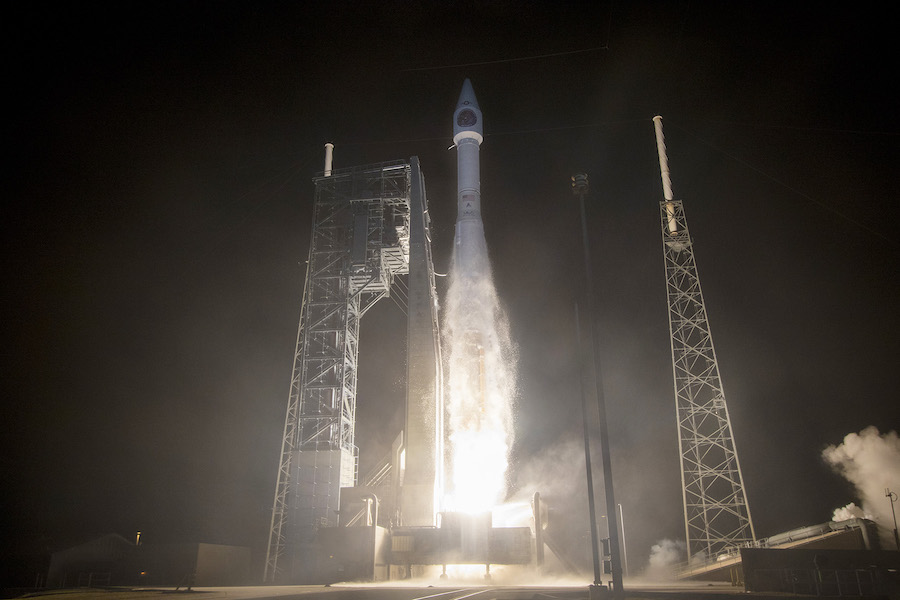 The SBIRS satellites carry sharp-eyed infrared sensors to detect heat plumes from rocket launches, feeding data to the military about the origin and trajectory of missiles that could be heading for U.S. territories, deployed troops, or allies.
The information gathered by the SBIRS fleet could help defense units intercept an incoming missile before it strikes its target.
The SBIRS infrared payloads are provided by Northrop Grumman, and each package on the geosynchronous satellites includes staring and scanning sensors designed to provide visibility over an entire hemisphere, while allowing ground operators to focus the craft's gaze on hotspots like North Korea.
"SBIRS is the nation's 24-7 global watchman, with infrared eyes ready to detect and deliver early warning and tracking of ballistic missiles," said Tom McCormick, vice president of Lockheed Martin's overhead persistent infrared systems mission area. "A cornerstone of the nation's missile defense system, SBIRS is proving even more precise and powerful than expected,"
Three previous SBIRS satellites launched on Atlas 5 rockets in 2011, 2013 and 2017. The fourth will give the SBIRS fleet global coverage, replacing missile detection capabilities currently provided by older, previous-generation Defense Support Program satellites.
Four "SBIRS HEO" piggyback sensor packages have launched on classified NRO spy satellites. Two are needed operational at any time.
The Air Force has ordered two more SBIRS satellites for launch in 2021 and 2022 to improve coverage, and eventually replace the first two SBIRS geosynchronous spacecraft.
"The succesful launch and operation of this fourth SBIRS GEO satellite will mark the completion of the SBIRS baseline constellation," Bythewood said. "SBIRS is intended to replace the legacy Defense Support Program satellites that have been providing missile warning for worldwide missile launches since 1970.
"The SBIRS constellation delivers timely, reliable and accurate missile warning and surveillance information to the president, the secretary of defense, combatant commanders, the intelligence community and other key decision-makers across our nation," Bythewood said in a pre-launch briefing with reporters.
The SBIRS GEO satellites are based on a militarized version of Lockheed Martin's A2100 satellite bus, and each spacecraft weighs about 10,000 pounds fully fueled for launch.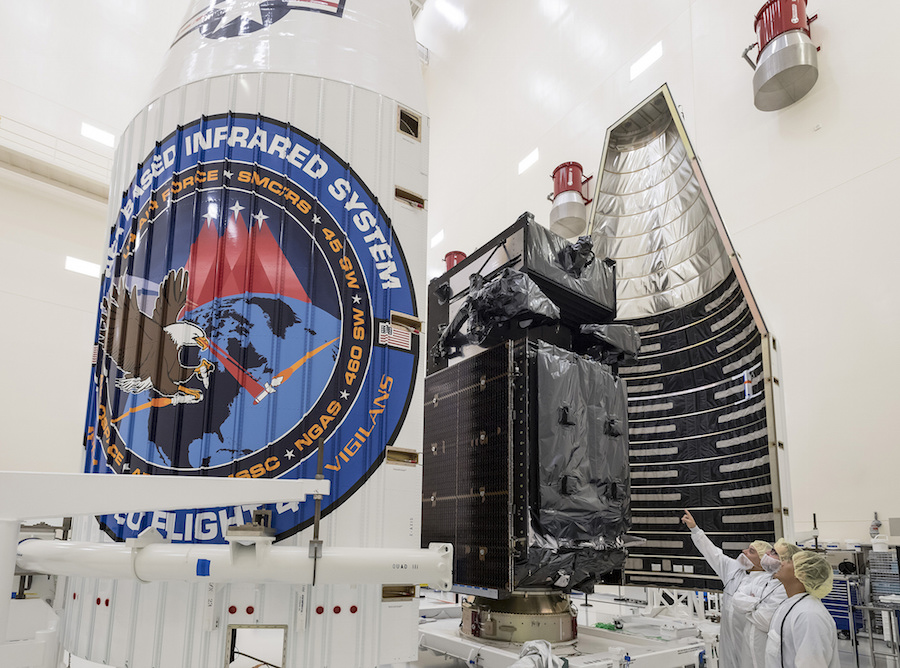 While the Air Force does not publicize the coverage zones for each SBIRS satellite, amateur trackers believe the three craft previously launched are positioned to detect missile launch activity in Europe, the Middle East and Central Asia, and the Asia-Pacific. That makes it likely that SBIRS GEO Flight 4 will be parked 22,000 miles over the Americas to round out the SBIRS network.
"Adding the fourth satellite to the constellation allows us to provide worldwide geosynchronous coverage," Bythewood said.
Like other military and commercial satellites in geosynchronous orbit, SBIRS GEO Flight 4 will move around Earth at the same rate of the planet's rotation, allowing it to hover over a fixed geographic location.
In the coming weeks, SBIRS GEO Flight 4 will fire its on-board engine multiple times to circularize its orbit at geosynchronous altitude. The maneuvers will also shift the tilt of the satellite's orbit to the equator from roughly 17 degrees — the drop-off orbit targeted by the Atlas 5 — to 0 degrees.
The spacecraft will unfurl its power-generating solar panels, antennas and a light shade to protect its infrared sensors from sunlight.
Bythewood said information collected by the the Air Force's missile-warning satellites could not only be used to warn of an impending attack, but could also help thwart false alarms, such as the accidental emergency missile alert activated by Hawaiian authorities Jan. 13.
"The missile warning constellation, comprised of both the Defense Support Program and the SBIRS satellites, provides that initial warning to our nation's leaders," Bythewood said. "So whether there be an actual launch or a false indication of a launch, the missile warning architecture is there to provide the true data that allows us to understand what actually happened."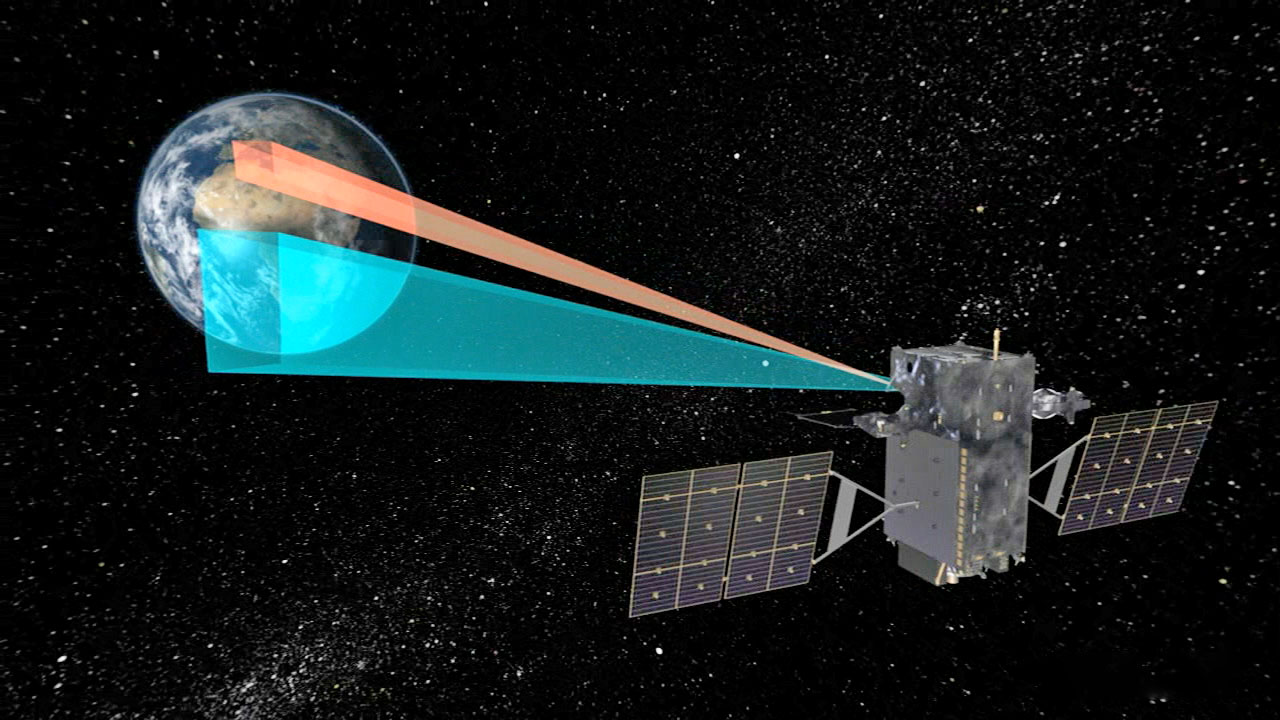 The two additional SBIRS satellites are under construction by Lockheed Martin have not been assigned launchers. ULA's Atlas 5 and SpaceX's Falcon 9 will compete for the job.
Friday night's mission was the first of up to seven Atlas 5 launches planned for 2018, a manifest that includes the deployment of a new NOAA weather satellite, a secretive military payload, NASA's InSight Mars lander, an Air Force communications satellite, and up to two test flights of Boeing's CST-100 Starliner commercial crew capsule — one on an unpiloted mission, followed by a crewed two-person demo flight that could blast off by the end of the year.
Six of the seven Atlas 5 flights planned this year will depart from Cape Canaveral, while the robotic InSight lander will be dispatched to Mars from Vandenberg Air Force Base, California, in early May.
The launch of the SBIRS GEO Flight 4 satellite Friday differed from past Atlas 5 flights with SBIRS payloads, which used the basic "401" Atlas 5 configuration with no solid rocket boosters. Friday night's flight employed the Atlas 5-411 version with a single strap-on booster.
The Air Force and ULA ordered the change to give the Atlas 5 enough power to place the SBIRS GEO Flight 4 satellite into its intended elliptical geostationary transfer orbit, while leaving the Centaur upper stage with enough leftover propellants to conduct a de-orbit burn to plunge back into the atmosphere over the Pacific Ocean.
The de-orbit maneuver was designed to ensure the launch did not add to the space debris problem in Earth orbit.
Air Force officials said future Atlas 5 launches for the military could carry extra boosters to make controlled re-entry maneuvers feasible.
The next Atlas 5 launch on ULA's schedule is set for March 1 from Cape Canaveral with NOAA's GOES-S weather observatory.
Email the author.
Follow Stephen Clark on Twitter: @StephenClark1.