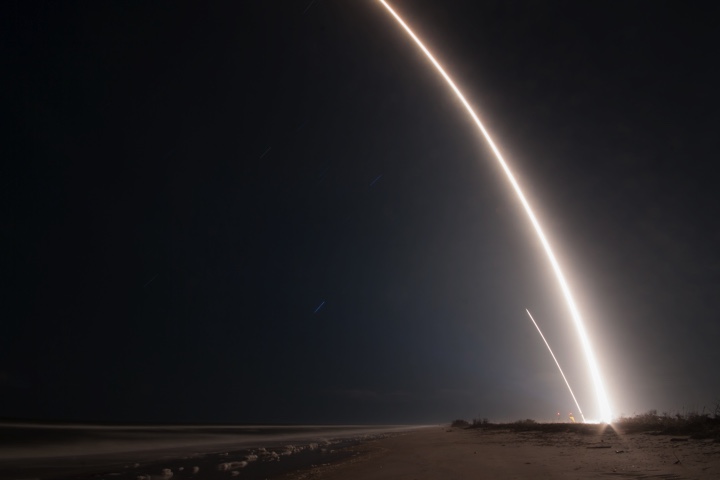 Running nearly two months late after technical concerns prevented liftoff last year, a SpaceX Falcon 9 rocket fired into the sky Sunday night from Cape Canaveral with a top secret payload for the U.S. government, the first of some 30 launches on the company's docket in 2018.
The nighttime blastoff at 8 p.m. EST Sunday (0100 GMT Monday) put on a light show for observers on Florida's Space Coast.
The 229-foot-tall (70-meter) Falcon 9 rocket soared to the northeast from Cape Canaveral's Complex 40 launch pad, arcing over the Atlantic Ocean as nine Merlin engines on its first stage booster powered the launcher skyward on 1.7 million pounds of thrust.
The U.S. government's top secret Zuma payload was fastened on top of the Falcon 9 rocket, heading to orbit on a mission shrouded in a cloak of secrecy.
The purpose and orbital target of the Zuma mission were not disclosed in advance of Sunday night's launch, and the final stages of Zuma's climb into orbit and deployment from the Falcon 9's upper stage occurred in a news blackout at the request of the craft's government owner.
Meanwhile, SpaceX's live webcast of the flight focused on the descent and landing of the Falcon 9's 15-story-tall first stage booster back at Cape Canaveral around eight minutes after liftoff.
The first stage rose to a peak altitude of around 77 miles (125 kilometers) before falling back to Earth. Three engine burns guided the rocket toward Landing Zone 1, a target on the Atlantic coastline around 6 miles (9 kilometers) south of the Complex 40 launch pad.
Grid fins helped stabilize the rocket's descent, and four landing legs unfurled from the base of the booster as it settled to a pinpoint touchdown, marking the 21st time SpaceX has recovered one of its first stage boosters intact.
Crackling sonic booms heralded the rocket's return to Earth.
Sunday night's launch was the first of a jam-packed 2018 campaign planned by SpaceX. Two of the company's leaders — chief executive Elon Musk and president Gwynne Shotwell — have said SpaceX aims for around 30 missions this year from launch pads in Florida and California.
That would best last year's mark of 18 launches, all of which were successful.
Sunday's launch extended SpaceX's streak of successful missions to 19 in a row, dating back to a rocket explosion at Cape Canaveral in 2016 that destroyed an Israeli-owned commercial communications satellite.
SpaceX originally intended to launch the Zuma mission in mid-November, but officials grounded the rocket to review the readiness of the nose fairing that covered the payload during the first few minutes of the mission.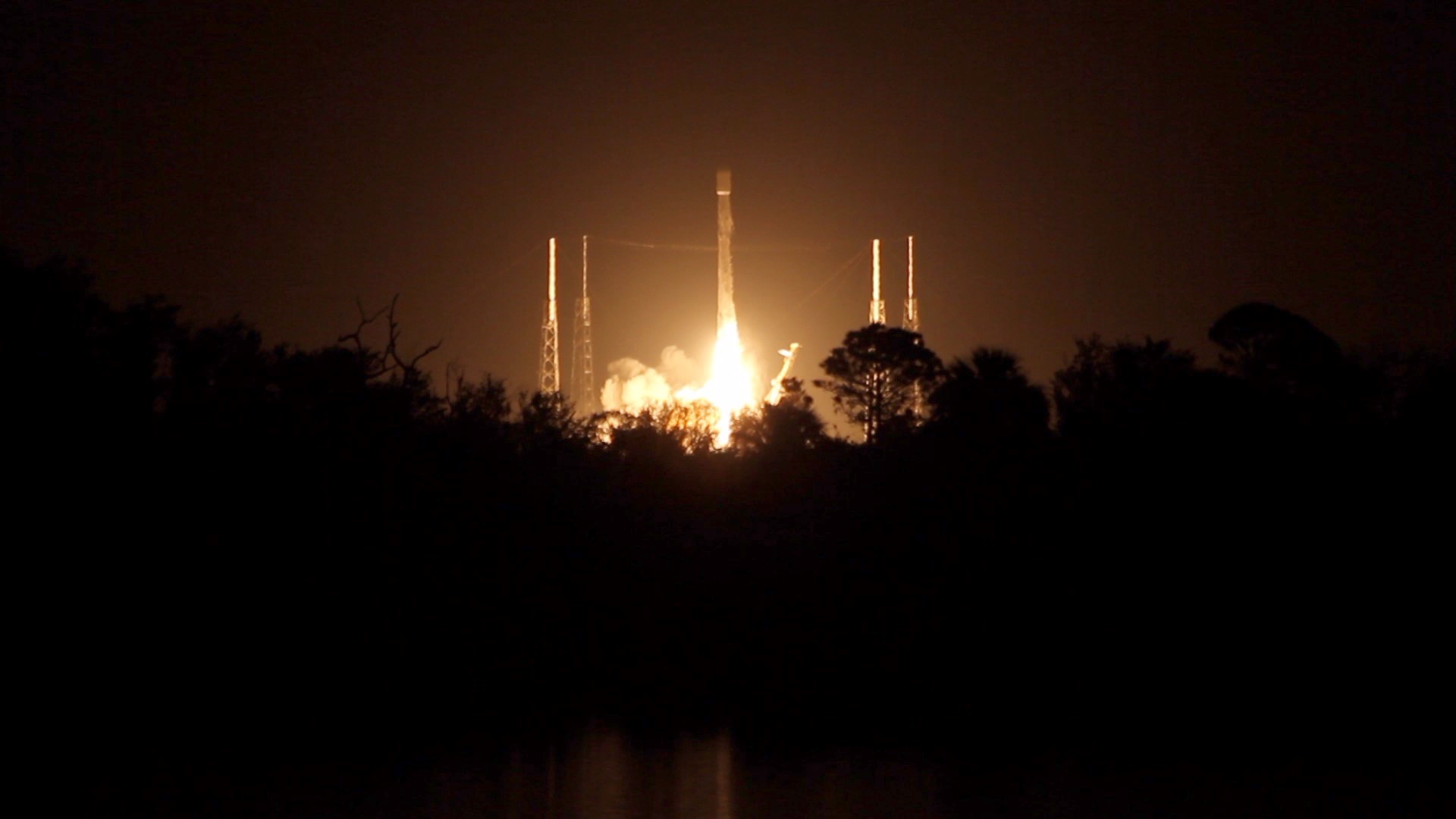 Managers swapped the order of Falcon 9 launches at Cape Canaveral, and a space station resupply flight — which did not use a fairing — jumped ahead of Zuma in SpaceX's queue in December.
The delay also meant Zuma's launch was relocated to pad 40 at Cape Canaveral Air Force Station from nearby pad 39A at NASA's Kennedy Space Center. Launch pad 39A is now being readied for SpaceX's maiden Falcon Heavy test flight, a much-anticipated launch now expected in late January.
The fate of the Zuma payload launched Sunday was not immediately clear.
Officials with Northrop Grumman, the spacecraft's manufacturer, did not confirm the status of the mission after it flew into a government-imposed news blackout shortly after liftoff.
No U.S. government agency has claimed ownership of the payload.
A spokesperson for the National Reconnaissance Office, which owns the government's classified spy satellite fleet, confirmed to Spaceflight Now that Zuma does not belong to that agency.
While details of its spacecraft are top secret, the NRO typically acknowledges its role in satellite missions.
Analysts who regularly track space activity believe Zuma was headed for an orbit a few hundred miles above Earth, with an inclination to the equator of around 50 degrees. The prediction was based on information about the rocket's ground track released to ensure aircraft and ships stayed safely away during launch.
The Falcon 9's second stage was expected to reignite its engine after releasing Zuma in orbit for a final braking maneuver to fall back into the atmosphere over the Indian Ocean southwest of Australia a few hours into the mission.
Satellite trackers suspected last year that Zuma might be related to a mysterious NRO satellite launched by SpaceX in May 2017. A previous target launch date and time Nov. 16 would have coincided with the orbital path of the NRO craft, named USA-276, as it flew over Cape Canaveral, according to Marco Langbroek, an experienced amateur satellite tracker who lives in the Netherlands.
But the USA-276 satellite was well away from Zuma's expected trajectory based on Sunday's launch time, putting that theory to rest.
"So basically, I have no clue what #Zuma is up to…," Langbroek tweeted Sunday night.
This is what I think is the approximate #Zuma trajectory for the coming 1.5 revolutions: pic.twitter.com/4bXta3ARl1

— Dr Marco Langbroek (@Marco_Langbroek) January 8, 2018
"Northrop Grumman is proud to be a part of the Zuma launch," the aerospace contractor said in a statement before the flight. "This event represents a cost effective approach to space access for government missions. The U.S. government assigned Northrop Grumman the responsibility of acquiring launch services for this mission. We have procured the Falcon 9 launch service from SpaceX.
"As a company, Northrop Grumman realizes that this is monumental responsibility and have taken great care to ensure the most affordable and lowest risk scenario for Zuma."
Northrop Grumman called Zuma a "restricted payload" and confirmed it was heading for low Earth orbit, a region in space several hundred miles above the planet.
Two more Falcon 9 missions are scheduled for this month, in addition to the Falcon Heavy test flight from the Kennedy Space Center.
A Falcon 9 rocket is set to launch a dual-purpose U.S.-built communications satellite from Cape Canaveral's pad 40 no earlier than Jan. 30 for SES and the government of Luxembourg.
Another Falcon 9 flight is being readied at Vandenberg Air Force Base in California to launch the Spanish Paz Earth observation satellite in late January.
Email the author.
Follow Stephen Clark on Twitter: @StephenClark1.