EDITOR'S NOTE: Updated at 10:30 a.m. EST (1530 GMT) Friday after Falcon Heavy was lowered back horizontal at pad 39A.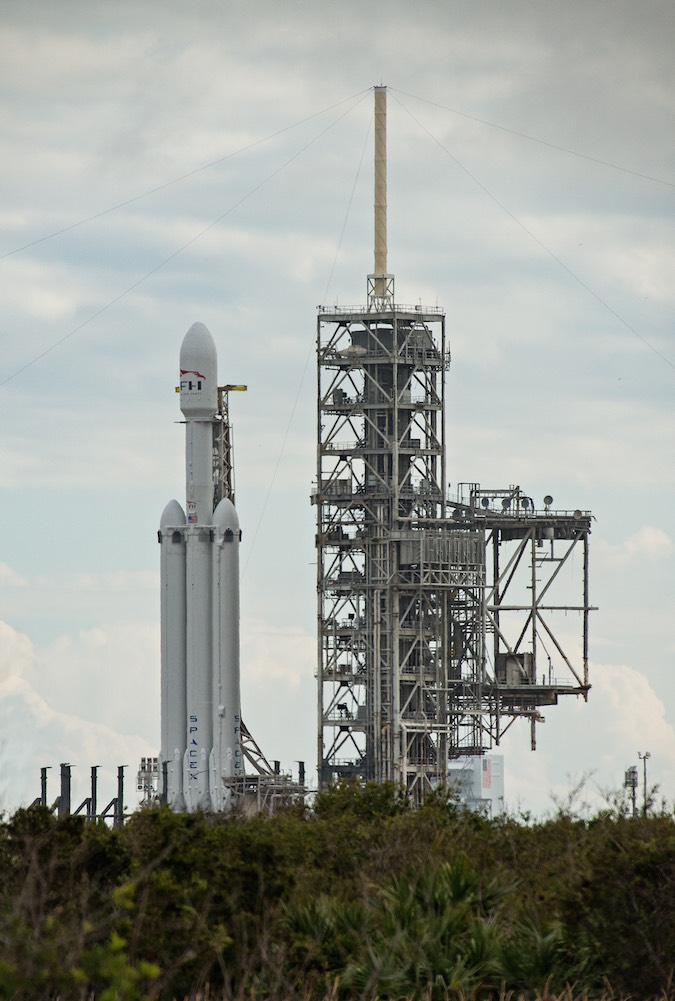 SpaceX's first Falcon Heavy rocket, made up of two previously-flown Falcon 9 boosters and a beefed up central core stage, made the trip to launch pad 39A at NASA's Kennedy Space Center in Florida and was raised vertical Thursday for testing ahead of its first liftoff next month.
The fully-assembled 229-foot-tall (70-meter) rocket will be the most powerful in the world when it blasts off, and Thursday's arrival atop pad 39A marks a major step toward readying the Falcon Heavy for flight.
SpaceX engineers conducted a fit check and completed other tests at pad 39A this week, to followed by a hold-down firing of all 27 first stage engines some time after New Year's Day. The company has not set a target date for the Falcon Heavy's first liftoff, but officials say the launch is targeted in January, some time after the hold-down hotfire test.
The rocket was lowered back to a horizontal position before dawn Friday.
The Falcon Heavy's inaugural test launch will have a dummy payload on-board, but SpaceX has readied a flashier, more colorful passenger than the boilerplates and water ballast carried on previous test flights of new heavy-lift launchers.
SpaceX founder and chief executive Elon Musk decided to place one of his Tesla Roadsters on-board the Falcon Heavy, a cherry red creation from Musk's electric car company.
The Falcon Heavy will attempt to give the automobile enough speed to escape the grasp of Earth's gravity, sending it into a heliocentric solar orbit that will take it to the approximate distance of Mars from the sun.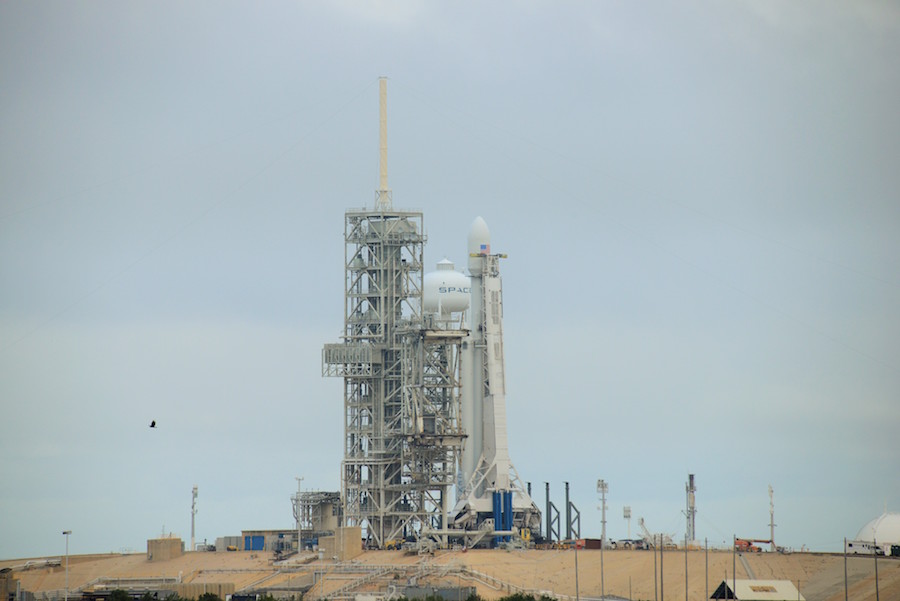 When it blasts off next month, the heavy-lifter will generate about 4.7 million pounds of thrust at launch. Musk said the first Falcon Heavy's engines will be throttled to 92 percent of full power.
That will make the Falcon Heavy the most powerful rocket flying today, exceeding the European Ariane 5 launcher, the world's leader in liftoff power at 2.9 million pound of thrust from two segmented solid rocket boosters and a core engine. SpaceX's new rocket will produce more thrust than any launch vehicle since the space shuttle.
The Falcon Heavy will also be able to carry more payload into orbit than any other rocket in the world, a more important measure of the rocket's lifting capacity.
The Delta 4-Heavy rocket, operated by SpaceX rival United Launch Alliance, can haul up to 63,471 pounds (28,790 kilograms) to a low-altitude orbit approximately 120 miles (200 kilometers) above Earth when launched to the east from Cape Canaveral, according to a launch vehicle data sheet published by ULA.
When its first stage boosters are not recovered, SpaceX's Falcon Heavy will be capable of delivering up to 140,660 pounds (63,800 kilograms) to low Earth orbit when launched to the east from Florida's Space Coast, where rockets get a velocity boost from Earth's rotation.
But SpaceX intends to land all three first stage boosters on the Falcon Heavy, eating into the rocket's propellant reserves and reducing the weight it can loft into orbit.
For the maiden flight next month, the Falcon Heavy's two side boosters, recovered and modified from Falcon 9 flights in 2016, will cut off and return to Cape Canaveral Air Force Station for near-simultaneous landings. The center core, a newly-built booster, will head for landing on SpaceX's floating platform in the Atlantic Ocean.
Email the author.
Follow Stephen Clark on Twitter: @StephenClark1.