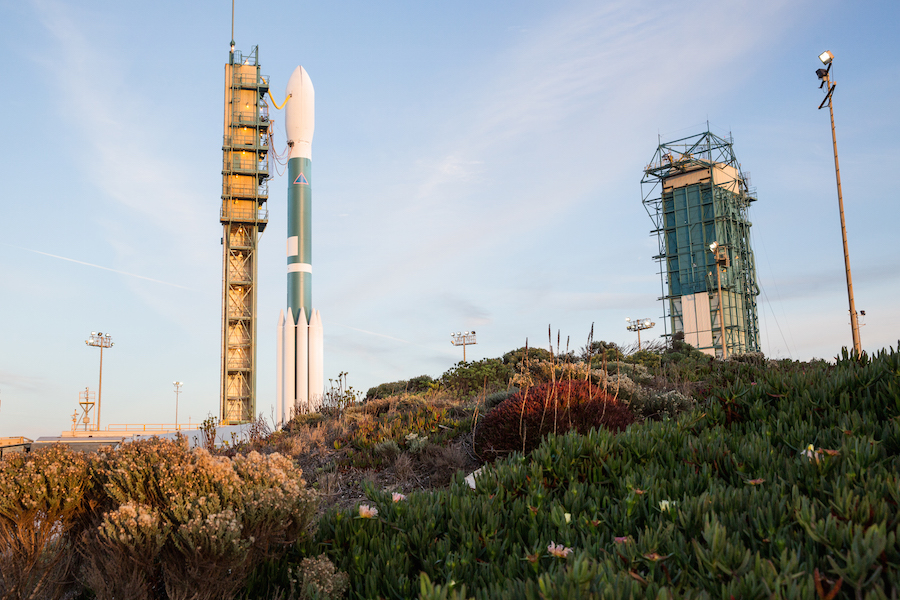 Brisk upper level winds blowing from the west thwarted a second try to launch a new NOAA weather satellite aboard a United Launch Alliance Delta 2 rocket Wednesday, likely postponing the liftoff from Vandenberg Air Force Base in California until at least Saturday.
High-altitude were measured at more than 110 knots (126 mph) by a weather balloon sent aloft from Vandenberg during Wednesday's early morning countdown. Safety officials from the U.S. Air Force's Western Range were concerned the winds might blow debris from the rocket, such as nozzle covers on the Delta 2's air-lit solid rocket boosters, back over populated areas on land as it climbs south over the Pacific Ocean.
Six of the Delta 2's nine strap-on solid-fueled motors will ignite on the launch pad to boost the 128-foot-tall (39-meter) rocket skyward, along with the first stage's liquid-fueled RS-27A main engine. Once the six ground-lit boosters burn out, three air-lit boosters will fire about a minute into the flight, ejecting plugs from their nozzles when they ignite.
Similar strong upper level winds are predicted Thursday and Friday. ULA is expected to target the Delta 2's next launch attempt Saturday at 1:47 a.m. PST (4:47 a.m. EST; 0947 GMT).
The scrubbed launch attempt Wednesday came 24 hours after ULA aborted a countdown when boats ventured into an offshore safety exclusion zone near the Delta 2's flight path, and a technical problem cropped up a few minutes before liftoff.
The launch of the JPSS 1 weather satellite will mark the 154th flight of a Delta 2 rocket since 1989, and the 378th mission by the Delta family of launch vehicles since 1960. One more Delta 2 mission is on the books for late 2018 with NASA's ICESat 2 mission to measure the shrinkage of Earth's ice caps.
Built by Ball Aerospace and Technologies Corp., the 5,025-pound (2,280-kilogram) JPSS 1 satellite is the first of new NOAA polar-orbiting weather observatories. The Joint Polar Satellite System, succeeding from a precursor series of weather satellites, will ensure data on atmospheric chemistry, clouds, fog, smoke, temperature, humidity, and Earth's ozone layer reach scientists and weather forecasters through at least 2038.
Email the author.
Follow Stephen Clark on Twitter: @StephenClark1.