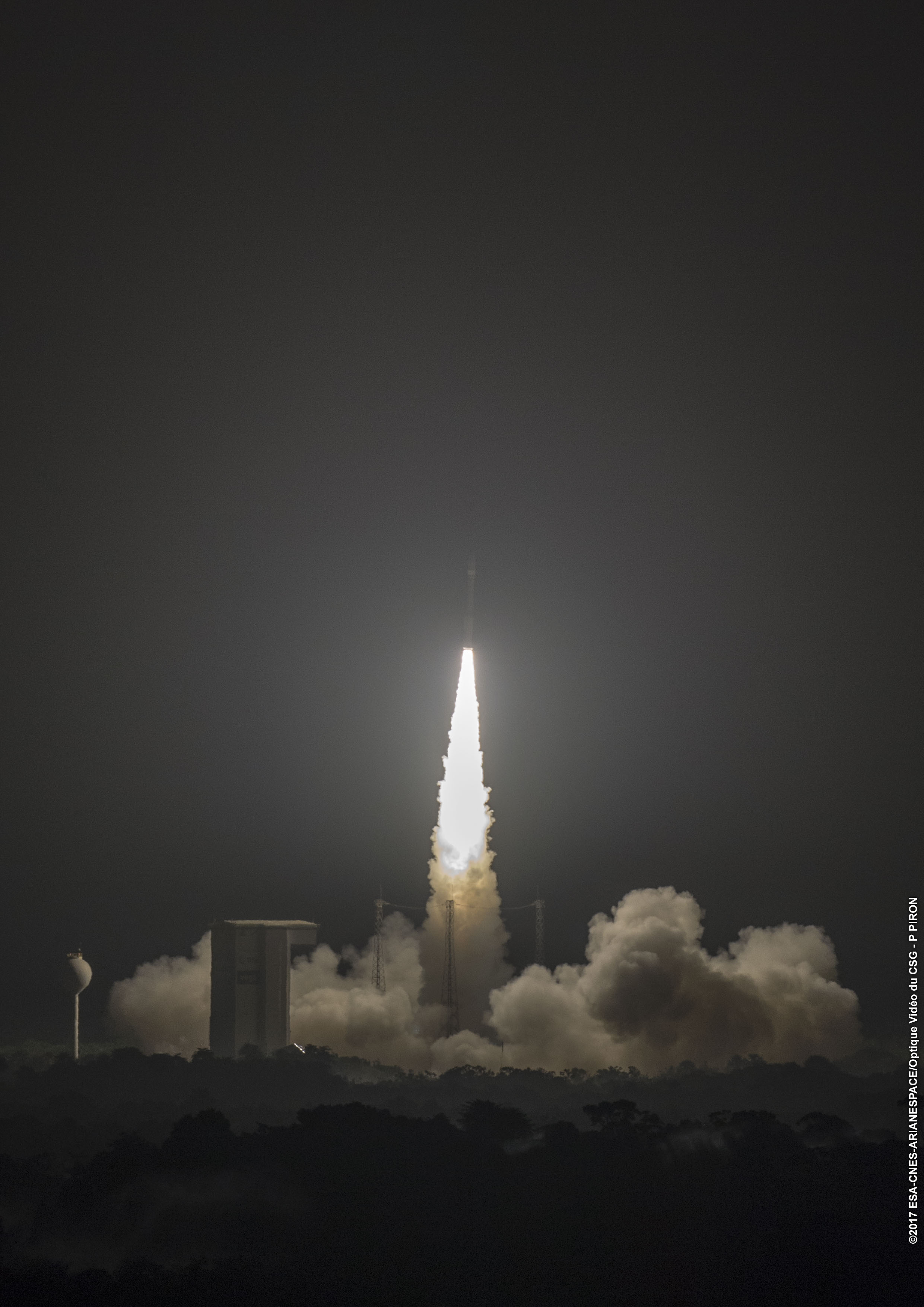 A reconnaissance satellite built in secrecy in France for the Moroccan government launched Tuesday on top of a Vega rocket from the Guiana Space Center in South America.
The Mohammed VI-A optical imaging craft, named for the Moroccan king, lifted off at 8:42:31 p.m. EST Tuesday (0142:31 GMT Wednesday) from the European-run spaceport in Kourou, French Guiana.
The high-resolution surveillance satellite rode a 98-foot-tall (30-meter) Vega rocket into a roughly 385-mile-high (620-kilometer) polar orbit following the late night liftoff at 10:42 p.m. local time in French Guiana.
The Vega's solid-fueled first stage powered the launcher skyward with nearly 700,000 pounds of thrust, steering the rocket north over the Atlantic Ocean. Two more solid rocket stages fired as Vega soared east of the Lesser Antilles, then near Bermuda before flying over Canada as its liquid-fueled fourth stage burned to accelerate into orbit.
The upper stage's Ukrainian-made engine ignited twice, separated by a nearly 40-minute coast phase, to place the Mohammed VI-A reconnaissance satellite in a near-circular orbit tilted 98 degrees to the equator.
The spacecraft deployed from the Vega fourth stage at 9:38 p.m. EST (0238 GMT), and officials declared the launch a success.
"Arianespace is delighted to confirm that the Mohammed VI-A satellite successfully separated in its targeted sun-synchronous orbit," said Luce Fabreguettes, executive vice president for missions, operations and purchasing at Arianespace, the French company that oversees Vega missions. "This is the third successful launch for Vega this year, and its 11th success for clients and partners since the launch vehicle began its career at the Guiana Space Center."
All 11 of the light-class launcher's missions have been successful since debuting in 2012, placing 26 spacecraft into orbit for commercial customers, international governments, the European Space Agency and the European Commission.
"Vega has kept up its track record of consecutive successes," staid Giulio Ranzo, CEO of Avio, the Italian lead contractor on the Vega rocket program. "We are proud to have helped to open up access to space for a new country: the Kingdom of Morocco. This achievement underlines the effectiveness of our partnership with Arianespace and our European industrial partners."
The Mohammed VI-A satellite is designed for civilian and military uses, but little information about the spacecraft's capabilities has been released. It was only know by the codename MN35-13, and the satellite's end user was undisclosed until an official announcement of the impending launch last week.
The satellite weighed around 2,450 pounds (1,110 kilograms) at launch, according to Arianespace.
The Moroccan government ordered two high-resolution Earth observation satellites from Thales Alenia Space and Airbus Defense and Space in 2013 after an intergovernmental agreement between Morocco and France.
The two European aerospace contractors, normally competitors, teamed up on the program, with Thales taking lead as prime contractor and supplier of the satellites' optical imaging equipment, and Airbus responsible for constructing the spacecraft platforms in Toulouse, France.
"Four years ago, when we eventually signed this contract after almost three years of intensive negotiations, (Morocco) asked us to launch the first satellite before the end of 2017," said Jean-Loic Galle, chairman and CEO of Thales Alenia Space. "We had answered that would be a tough challenge for such an ambitious program. Today, we're proud to say mission accomplished."
Developed in secrecy, Mohammed VI-A is the first of the two satellites to launch. A second spacecraft, presumably named Mohammed VI-B, will launch on a Vega rocket from French Guiana next year.
Karim Tajmouati, head of the Moroccan government's delegation to attend the launch in French Guiana, said he felt "intense joy and relief" following the satellite's deployment in orbit.
"This satellite, Mohammed VI-A, which is now on orbit, is the pride of all Moroccans and the Kingdom of Morocco," Tajmouati said. "This project, which was wanted by His Majesty, the King of Morocco, is a technological adventure, an advanced technological adventure, which will allow high value-added applications and developments in such diverse areas as land surveying, mapping, environmental management, the prevention of natural disasters and climatic disasters, land development, and also the following of agricultural activities."
Moroccan security forces will use the satellites to help combat insurgent militants in the Sahel, such as al-Qaeda in the Islamic Maghreb, piracy in the Gulf of Guinea, and for border enforcement, according to a report in El Pais, a Spanish newspaper. The entire program, including two satellites, launch services and ground support, reportedly cost around 500 million euros ($580 million).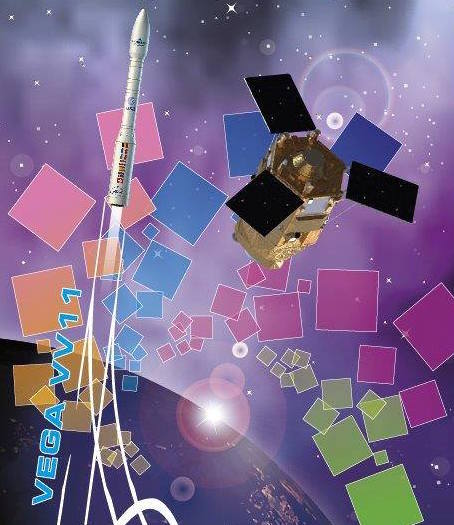 Observers believe the Mohammed VI satellites are based on Airbus' AstroSat-1000 design. An artist's concept of Mohammed VI-A shows the spacecraft has three extendable solar array wings and an outward appearance similar to France's two Pleiades Earth observation satellites and two Falcon Eye satellites ordered from Airbus by the United Arab Emirates.
The Pleiades satellites, which provide imagery for government and commercial customers, were launched in 2011 and 2012 into orbits around 435 miles (700 kilometers) high. Each Pleiades satellite can take pictures with a resolution as sharp as 2.3 feet (70 centimeters), and post-processing can improve the image quality to 1.6 feet (50 centimeters).
The Falcon Eye and Mohammed VI satellites are believed to have comparable capabilities.
Arianespace's next launch is set for Dec. 12, when an Ariane 5 rocket will loft four navigation satellites to join Europe's Galileo constellation.
Email the author.
Follow Stephen Clark on Twitter: @StephenClark1.