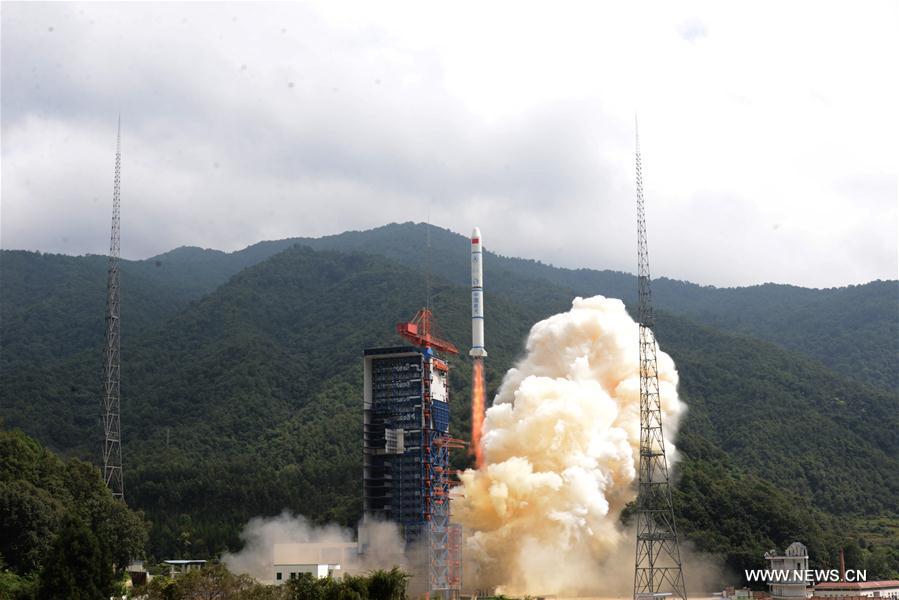 The launch of three experimental remote sensing satellites last week signaled the resumption of Chinese space launches following multiple rocket failures since late last year, but a senior Chinese space official has confirmed the Chang'e 5 mission to return samples from the moon remains grounded.
China last week conducted its first satellite launch attempt since July 2, successfully deploying three satellites into orbit around 370 miles (600 kilometers) above Earth.
Launch crews are preparing another Long March rocket for liftoff Oct. 9 with a Chinese-built Earth-imaging satellite for the government of Venezuela, but China's medium-class Long March 3-series boosters and the heavy-lift Long March 5 rocket have not resumed launches in the wake of mishaps in June and July.
The investigation into a Long March 5 failure July 2 will keep China's Chang'e 5 lunar sample return mission from launching next month as intended, according to Tian Yulong, secretary general of the China National Space Administration.
A Long March 2C rocket lifted off from the Xichang space center in southwestern China's Sichuan province at 0421 GMT (12:21 a.m. EDT; 12:21 p.m. Beijing time) Sept. 29, according to Chinese state media.
China's state-run Xinhua news agency reported the Yaogan 30-01 satellites launched aboard the two-stage Long March 2C will mainly be used for electromagnetic experiments. No other details about the spacecraft were released, but U.S. military tracking data indicated the Yaogan 30-01 satellites were orbiting at an inclination of 35 degrees to the equator.
The Yaogan series of satellites are believed to be operated by the Chinese military for intelligence-gathering purposes.
Some analysts suggested the Yaogan 30-01 satellites could be testing new electronic eavesdropping equipment or helping the Chinese military track U.S. and other foreign naval deployments.
Last week's launch was the first by a Long March 2-series rocket from Xichang since 2004. The mountainous spaceport is typically used by the larger Long March 3 family.
Another Long March 2 launcher is set to take off next week as China ramps up its launch cadence.
A Long March 2D rocket is scheduled to lift off from the Taiyuan space base in northeast China shortly after 0400 GMT (12 a.m. EDT; 12 p.m. Beijing time) Monday with the second Venezuela Remote Sensing Satellite. The VRSS 2 spacecraft was manufactured in China with the participation of Venezuelan engineers, and the mission marks the third collaborative satellite project between the two countries.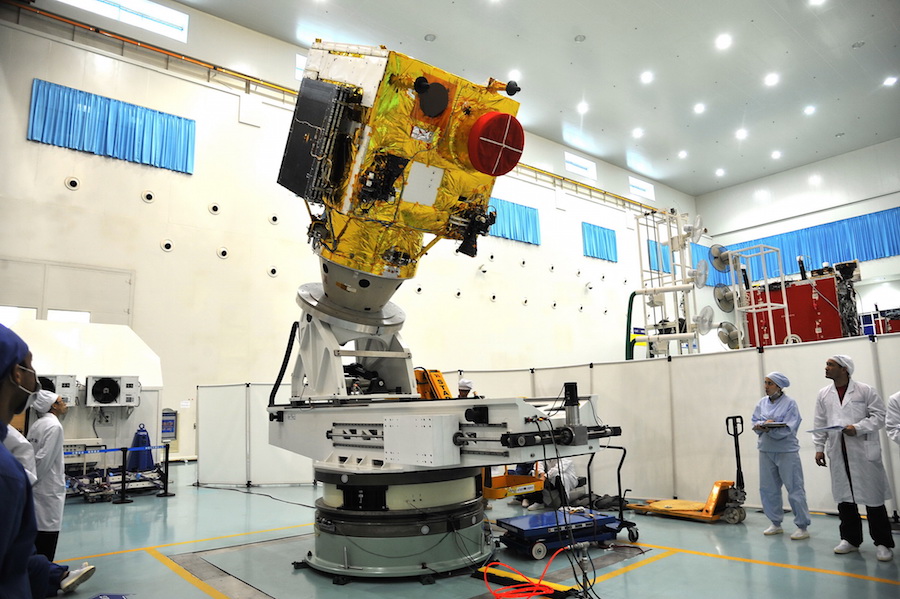 The Long March 2D is powered by the same basic engine type as the Long March 2C, but carries larger first stage propellant tanks and an upgraded second stage engine.
Gao Ruofei, executive vice president of China Great Wall Industry Corp., said last month that launch campaigns had resumed for China's "conventional" launchers, such as the Long March 2-series.
China Great Wall Industry Corp. is a government-owned company chartered to manage commercial satellite agreements and Long March launch contracts.
Gao said four rocket failures between August 2016 and July 2 prompted Chinese officials to ground the Long March family.
"After all those events, we suspended all our launch programs," Gao said last month during Euroconsult's annual World Satellite Business Week meeting in Paris. "Of course, the investigations are going on, and today we have resumed the launch campaigns and the launch operations. Hopefully, we will carry out the remaining launches of the year and put them back on track."
With last week's flight, China has conducted nine space launches this year, and seven successfully. In 2016, China conducted 22 launches with payloads bound for Earth orbit, with 20 successes.
A problem with the third stage of a Long March 4C rocket prevented China's Gaofen 10 Earth observation satellite from entering orbit during a launch attempt Aug. 31, 2016. Four months later, a Long March 2D rocket placed two commercial SuperView Earth-imaging spacecraft into a lower-than-planned orbit, but the satellites maneuvered into their intended orbit using on-board thrusters.
Chinese officials have not publicly reported the cause of either failure last year, which were the first major anomalies on a Chinese space launch since 2013.
A roll control error on third stage of a Long March 3B rocket led to an off-target launch June 19 with the Chinasat 9A communications satellite, which recovered from the altitude shortfall at the expense of its own fuel reserves, reducing the craft's operational life expectancy.
The Long March 3B's third stage is powered by a dual-nozzle YF-75 engine, consuming a mix of liquid hydrogen and liquid oxygen propellants. The Long March 3B's third stage propulsion system is not used on the smaller Long March 2 and Long March 4 rocket families.
According to Gao, the investigation into the Long March 3B failure has been completed. At least two Long March 3B rockets could be launched before the end of year — likely in November and December — with two pairs of navigation satellites for China's Beidou global positioning network, according to a report by Xinhua.
But future flights of China's Long March 5 rocket, the country's powerful launcher, are still on hold.
"Right now, we have some uncertainty as we haven't completed the investigation on the Long March 5 Flight 2," Gao said.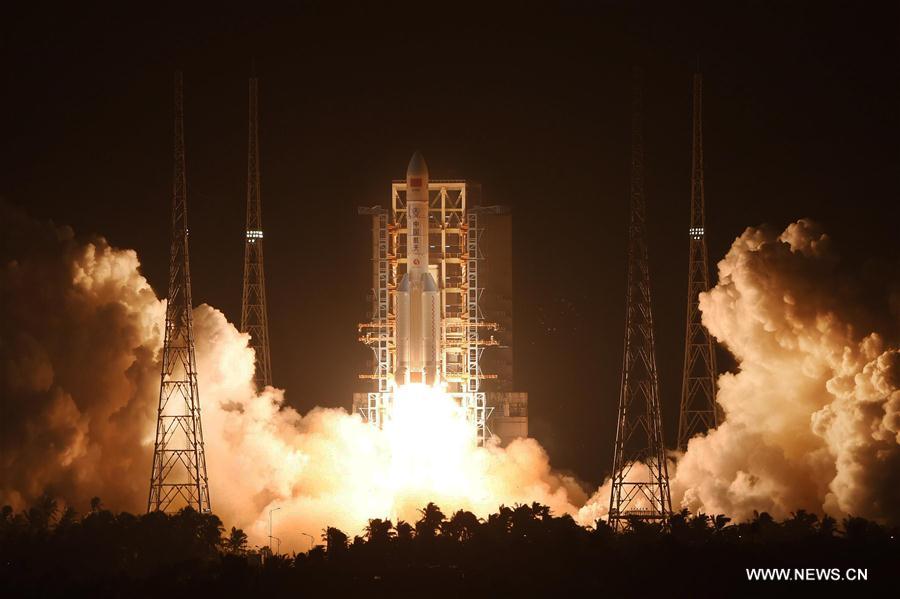 The Long March 5 rocket succeeded on its inaugural test flight in November 2016, but the second Long March 5 mission July 2 ended in failure.
Chinese officials have not disclosed any initial conclusions from their investigation, but observers noticed the first sign of trouble when the Long March 5's hydrogen-fueled first stage shut down and jettisoned more than a minute later than predicted. An unexpected discharge was also seen near the first stage engines a few minutes after liftoff.
Two YF-75D engines, featuring a new restartable design, ignited to continue the Long March 5's climb into orbit, but Chinese authorities abruptly ended live video coverage of the flight a few minutes later, before officials confirmed the failure.
China developed the Long March 5 to loft massive modules for the country's planned space station and hurl heavier probes on deep space missions to the moon, Mars and other planets. The Long March 5 also has military applications in space, and it could attract commercial customers.
The Long March 5 can carry payloads that are twice as heavy as satellites that can fit on earlier Long March rockets. The heavy-duty rocket can haul about the same amount of weight into space as United Launch Alliance's Delta 4-Heavy, the world's other leader in space lift capability. The Long March 5 bests the capacity of the European Ariane 5 and Russian Proton launchers.
Gao said the resumption of Long March 3B flights may hinge on the outcome of the Long March 5 inquiry.
"As we move forward in the investigation and are more clear about what happened, we can isolate or separate what the issue was, be it design or workmanship," Gao said. "Then we'll see what will be the plan for our cryogenic launch vehicles like Long March 3B."
The next mission on the Long March 5 manifest at the time of the July 2 failure was Chang'e 5, a robotic mission to land on the moon and bring back rock and soil specimens.
The 8.2-metric ton (8-ton) Chang'e 5 spacecraft aims to return the first samples from the moon since the Soviet Union's unpiloted Luna 24 mission in August 1976.
The head of China's space agency said Sept. 25 that officials will "adjust" the schedule for the Chang'e 5 mission as the Long March 5 failure investigation continues. The launch of another robotic lunar mission, Chang'e 4, to attempt the first-ever landing on the far side of the moon may also be delayed from its current launch date in late 2018.
Chinese media have recently reported the launch of Tianhe 1, the command section of China's planned space station, will launch on a Long March 5 rocket in 2019. Earlier announcements claimed the launch would occur in 2018.
Email the author.
Follow Stephen Clark on Twitter: @StephenClark1.