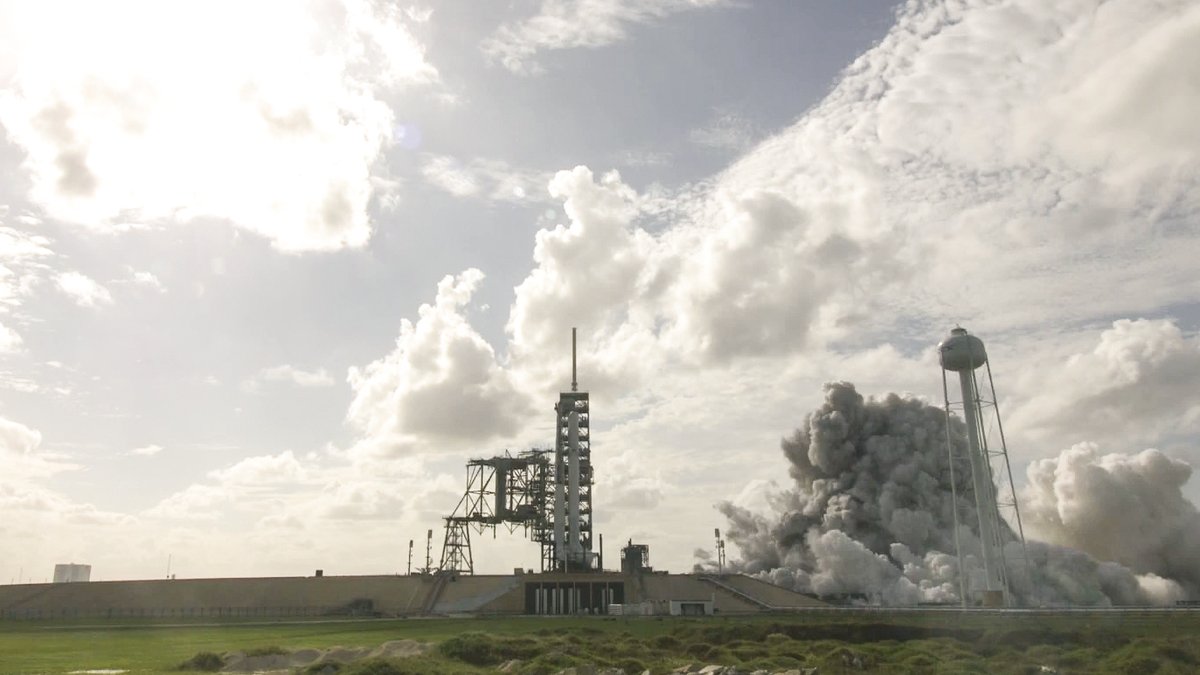 SpaceX test-fired a reused Falcon 9 booster Monday at NASA's Kennedy Space Center in Florida, checking the rocket's readiness for a planned liftoff Saturday with an Airbus-built commercial communications satellite.
The two-stage rocket, featuring a previously-flown first stage booster, fired its nine Merlin 1D main engines for several seconds at 4:30 p.m. EDT (2030 GMT). The engines throttled up to full power, generating around 1.7 million pounds of thrust, while the rocket remained firmly on the ground.
SpaceX's launch team loaded super-chilled RP-1 kerosene and liquid oxygen propellant into the Falcon 9 launcher in the final hour of the mock countdown. The Falcon 9's tanks were pressurized just before ignition of the rocket's nine Merlin 1D first stage main engines.
The engines fired for several seconds while hold-down restraints keep the Falcon 9 rocket firmly grounded at pad 39A.
SpaceX tweeted shortly after the hotfire that the test was completed.
SpaceX uses the customary prelaunch test-firings to check out the readiness of the Falcon 9 rocket, ground systems and launch team. Once the static fire is completed, ground crews will return the Falcon 9 rocket to its nearby assembly hangar at the southern perimeter of pad 39A for attachment of its satellite payload.
The commercial SES 11/EchoStar 105 communications satellite, made by Airbus Defense and Space, has been fueled and readied for launch at Cape Canaveral since arriving from its factory in Toulouse, France, last month.
The satellite is heading toward an operating perch in geostationary orbit more than 22,000 miles (nearly 36,000 kilometers) over the equator at 105 degrees west longitude. SES 11/EchoStar 105 will support video distribution and TV broadcasts over the North America during its mission.
The Falcon 9 rocket is set for launch at 6:53 p.m. EDT (2253 GMT) Saturday, Oct. 7, at the opening of a two-hour launch window.
It will be the 14th Falcon 9 flight of the year, a record pace of launch activity for SpaceX, and the 42nd launch of a Falcon 9 rocket overall.
Saturday's launch will fly with a reused Falcon 9 first stage booster, the third time SpaceX has used a previously-flown stage on an orbital launch. The first stage made its first flight Feb. 19 during the launch of a space station cargo ship, then landed at Cape Canaveral a few minutes later.
The first stage on Saturday's launch will descend to a touchdown on SpaceX's floating rocket landing platform in the Atlantic Ocean.
Email the author.
Follow Stephen Clark on Twitter: @StephenClark1.