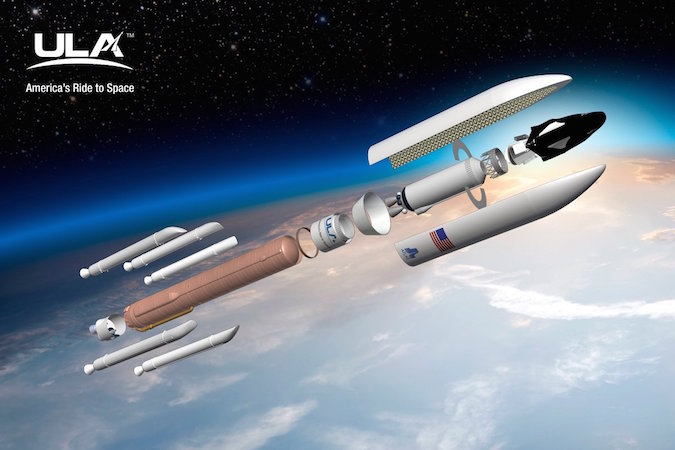 Sierra Nevada and United Launch Alliance have announced the most powerful version of the Atlas 5 rocket, with five strap-on boosters and a twin-engine upper stage, will send the first two Dream Chaser cargo missions to the International Space Station from Cape Canaveral in 2020 and 2021, a schedule that still must be confirmed by NASA.
The lifting body spaceship, designed to lift off on top of a conventional rocket and land in a runway like the space shuttle, can deliver around 12,000 pounds (5,500 kilograms) of scientific experiments, hardware and crew supplies to the space station on each unpiloted mission.
The Dream Chaser will will max out at approximately 20 tons when fully fueled at launch, requiring the lift capability of ULA's biggest Atlas 5 version. The Atlas 5's modified Centaur upper stage will have two RL10 engines instead of one, a configuration flown on previous Atlas rockets that will debut on the Atlas 5 next year on crewed flights of Boeing's CST-100 capsule.
NASA awarded Sierra Nevada a commercial cargo contract, alongside incumbent providers SpaceX and Orbital ATK, in January 2016 to meet the space station's logistics needs from 2019 through 2024.
"ULA is pleased to partner with Sierra Nevada Corporation to launch its Dream Chaser cargo system to the International Space Station in less than three years," said Gary Wentz, ULA vice president of human and commercial systems, in a statement Wednesday. "We recognize the importance of on time and reliable transportation of crew and cargo to Station and are honored the Atlas 5 was selected to continue to launch cargo resupply missions for NASA."
The Atlas 5 has dispatched three commercial Cygnus supply ships to the space station for Orbital ATK as the company worked through problems with its own Antares booster.
Financial terms of the ULA-Sierra Nevada agreement were not disclosed. Sierra Nevada has long been a ULA partner, and Wednesday's announcement was expected.
Sierra Nevada officials earlier this year hoped to launch the first Dream Chaser into orbit by the end of 2019, but the companies said Thursday that the first two orbital flights would occur in 2020 and 2021.
"SNC recognizes the proven reliability of the Atlas 5 rocket and its availability and schedule performance makes it the right choice for the first two flights of the Dream Chaser," said Mark Sirangelo, corporate vice president of SNC's space systems business area. "ULA is an important player in the market and we appreciate their history and continued contributions to space flights and are pleased to support the aerospace community in Colorado and Alabama."
Sierra Nevada's space division is headquartered in Louisville, Colorado, a suburb of Denver. ULA is based in another Denver-area suburb, and Atlas 5 rocket production is centered in Decatur, Alabama.
Sierra Nevada, SpaceX and Orbital ATK were guaranteed six cargo missions to the space station under the Commercial Resupply Services-2 deals inked last year, but NASA has used the new contracts to order only one mission to date, an Orbital ATK Cygnus resupply flight to launch on an Antares rocket from Virginia in 2019.
"It can take several years of lead time to build, prepare and test the vehicles for each mission," said Dan Huot, a NASA spokesperson, in an emailed statement Friday. "At this time, NASA has granted only Orbital ATK the authority to proceed with its first mission under CRS-2. This does not necessarily mean that Orbital ATK will fly first. NASA will order additional missions from all three companies based on the projected needs to resupply the space station."
The authority to proceed milestone comes with a target launch date from NASA.
Kimberly Schwandt, a Sierra Nevada spokesperson, said the company is in "active negotiations with NASA regarding the first mission launch date and authority to proceed."
Meanwhile, engineers at NASA's Armstrong Flight Research Center in California are preparing a full-scale test model of the Dream Chaser — measuring about one-quarter the length of a space shuttle orbiter — for an approach and landing test on a runway this fall, according to Steve Lindsey, senior director and co-program manager of Sierra Nevada's space exploration division.
Lindsey, a former space shuttle commander, said the Dream Chaser currently in California is "basically ready to fly."
Engineers are conducting tow tests of the ship on a runway at Edwards Air Force Base, co-located with NASA's Armstrong center, to check out its braking, steering and guidance systems.
Lindsey said the timing of the landing test later this year hinges on the availability of a heavy-duty helicopter, from which the Dream Chaser will be dropped from an altitude of 10,200 feet (about 3,100 meters) above the ground for an autonomous landing at Runway 22L at Edwards.
The atmospheric test craft is the same vehicle that flew on an approach and landing flight in October 2013. Sierra Nevada said it was pleased with the ship's aerodynamic and guidance performance during the automated flight, but the Dream Chaser's left-side landing gear did not deploy as it made a pinpoint approach down the runway's centerline.
The vehicle skidded out of control as it touched down, but technicians repaired the test craft and installed an upgraded landing gear, new computers and software and other items to make the upcoming test more similar to the way a Dream Chaser will return from orbit.
"On the first flight, we were zero failure tolerant, kind of a one-off system to just test the aerodynamics of the vehicle," Lindsey said Thursday at the International Space Station Research and Development Conference in Washington. "This time, besides testing the aerodynamics, we're going to get a good look at all of our integrated avionics and integrated flight software on this vehicle."
Originally developed to ferry crews into Earth orbit and back, the Dream Chaser was redesigned for robotic cargo missions after NASA selected Boeing and SpaceX over Sierra Nevada for commercial crew contracts in 2014.
Engineers removed the ship's cockpit windows, added a deployable solar array and a disposable cargo module mounted on the Dream Chaser's tail. The external cargo section will jettisoned after the ship departs the space station for a destructive re-entry, while the Dream Chaser itself will glide through the atmosphere for touchdown on a runway.
Space station cargo missions will end at the Shuttle Landing Facility runway at NASA's Kennedy Space Center in Florida, a few miles from the Atlas 5 launch pad. Sierra Nevada says the Dream Chaser can be refurbished at Kennedy's Armstrong Operations and Checkout Building, in partnership with Lockheed Martin, for multiple flights.
Email the author.
Follow Stephen Clark on Twitter: @StephenClark1.