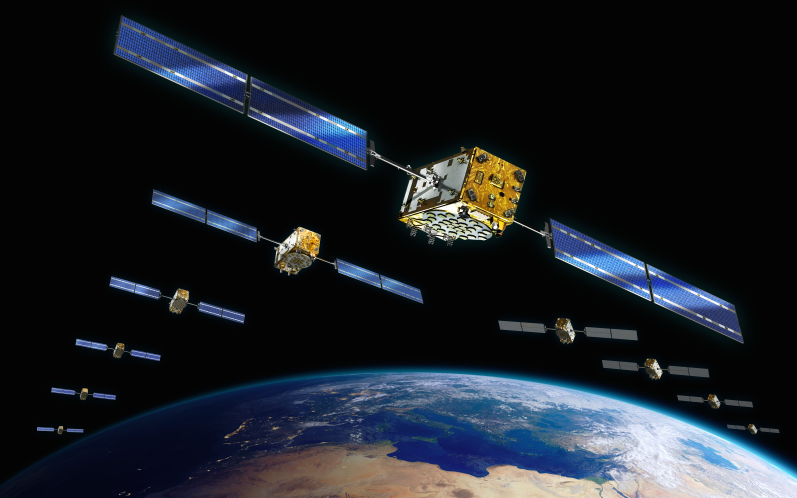 Eight more satellites for Europe's Galileo navigation fleet will be built by Germany's OHB System AG and Britain's Surrey Satellite Technology Ltd. under a contract worth more than $350 million.
The European Space Agency and the European Commission selected the same German-British industrial team that is manufacturing the first 22 fully operational Galileo satellites.
Final assembly of the eight new Galileo spacecraft will be based at OHB's satellite factory in Bremen, Germany. The satellites' navigation payloads will be provided by SSTL in Guildford, England.
The order of eight more satellites will bring the total number of Galileo spacecraft to 34, including four In-Orbit Validation, or IOV, platforms built by Airbus Defense and Space launched in 2011 and 2012. The test satellites were designed to be incorporated into the operational Galileo fleet.
Managed by the European Commission, the executive branch of the European Union, the Galileo network is an analog to the U.S. military's Global Positioning System. European officials say the Galileo program will offer more accurate navigation services than current GPS satellites, and it is civilian-managed, eliminating worries by some users that the GPS services could be switched off in wartime.
Galileo's open navigation signals are designed to be interchangeable with GPS signals, and many new receivers can derive position estimates with satellites from both networks.
ESA acts as technical contractor and procurement agency for the Galileo program on behalf of the European Commission.
Before the latest Galileo satellite order, announced June 22, the OHB/SSTL team was under contract to provide 22 operational navigation spacecraft. Fourteen of those satellites have been launched, and another four spacecraft are due for launch on an Ariane 5 rocket later this year.
"This procurement from OHB will enable to complete the Galileo constellation and have reserves both in-orbit and on-ground," said Paul Verhoef, ESA's director of satellite navigation, in a press release. "The 30 satellites added to the 4 IOV satellites now bring the necessary infrastructure robustness that is essential for the provision of Galileo services worldwide. We are looking forward to work once more with OHB in the next phase."
OHB said the contract for eight more satellites is worth 324 million euros, or $368 million at current exchange rates.
The network needs 24 active satellites to provide global positioning and timing services. Once fully deployed, officials plan to keep 30 Galileo spacecraft in orbit at a time, including spares, spread in three orbital planes around 14,429 miles (23,222 kilometers) above Earth.
"I am very pleased that after delivering 22 satellites under the first two contracts OHB has now also retained the confidence of ESA and the European Commission in the third bid," said Marco Fuchs, CEO of OHB System AG. "We are proud of being able to make such a crucial contribution to this major European project that will be providing so many people around the world with valuable services."
OHB said the new satellites would have no major design changes from the company's first batch of 22 Galileo craft, which each weigh around 1,575 pounds (715 kilograms) fully fueled at launch.
The satellites can launch two at a time on Russian Soyuz rockets, or in groups of four on the European Ariane 5 launcher.
The first launch of the new set of satellites is expected in 2020, according to Wolfgang Paetsch, director of navigation programs at OHB.
"SSTL is delighted to have been selected to build the third batch of navigation payloads needed to complete the initial Galileo constellation," said Gary Lay, SSTL's director of navigation. "I am confident that the OHB-SSTL solution offered the lowest risk and best value for money, and I believe that our selection as payload providers for the third time in succession demonstrates a high regard for our work."
SSTL said the navigation payload on the new Galileo satellites, which includes European-sourced atomic clocks, L-band navigation signal generators, high-power traveling wave tube amplifiers and antennas, is largely a "recurrent build" of the payload on the current series of spacecraft.
One exception is the atomic clocks, which will incorporate several upgrades and advances, according to SSTL, which said its share of the follow-on Galileo contract for navigation payloads is valued at 140 million euros, or $159 million.
Email the author.
Follow Stephen Clark on Twitter: @StephenClark1.