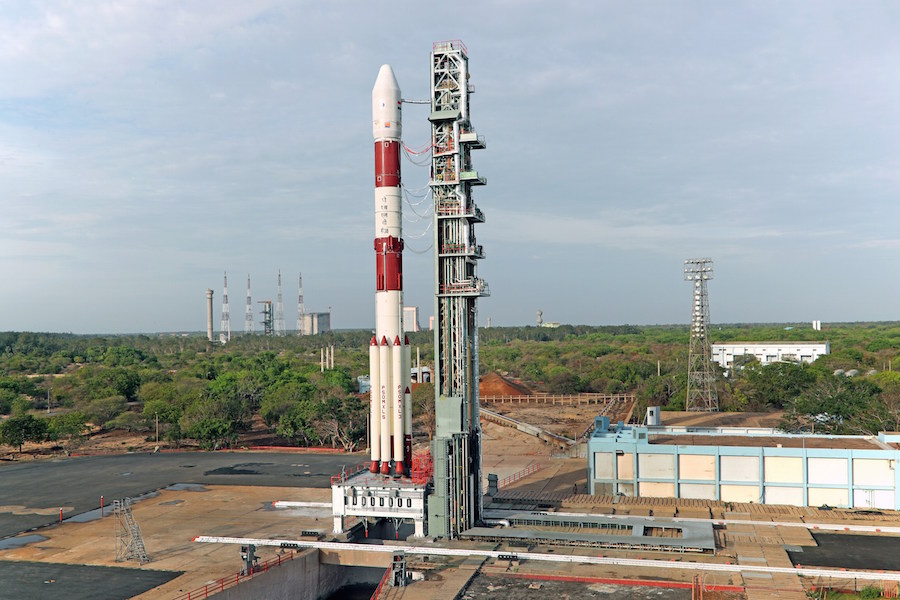 An Indian Polar Satellite Launch Vehicle, crowned with 31 satellites from 15 countries, is counting down to liftoff early Friday from an island spaceport on the country's east coast.
Carrying an Indian mapping satellite, an agricultural research craft built by Indian university students, and 29 secondary payloads, the 144-foot-tall (44-meter) PSLV will blast off from the First Launch Pad at the Satish Dhawan Space Center at 0359 GMT Friday (11:59 p.m. EDT Thursday).
Friday's liftoff will come 18 days after India sent its largest-ever rocket into orbit, the third-generation version of the Geosynchronous Satellite Launch Vehicle, matching a record for the shortest turnaround between Indian satellite launches.
Launch is set for 9:29 a.m. local time Friday, and the PSLV will take off on 1.7 million pounds of thrust from its core solid-fueled rocket stage and strap-on motors. Four of the PSLV's six solid rocket boosters, which measure 39 feet (12 meters) long, will ignite with the first stage when the countdown clock hits zero, and two more strap-on boosters will fire 25 seconds after liftoff.
The four ground-lit boosters will burn out and jettison at T+plus 1 minute, 10 seconds, and the twin air-lit motors will separate from the PSLV at T+plus 1 minute, 32 seconds. The PSLV's core stage, burning pre-packed composite solid propellant, will consume its fuel and fall away at T+plus 1 minute, 50 seconds, giving way to the rocket's hydrazine-fueled second stage.
The second stage's Vikas engine will fire for two-and-a-half minutes, propelling the PSLV to an altitude of 140 miles (225 kilometers) and a speed of 9,000 mph (14,500 kilometers per hour). The rocket's clamshell-like payload shroud will peel away during the second stage burn at T+plus 2 minutes, 39 seconds, once the launcher has climbed above the dense lower layers of the atmosphere.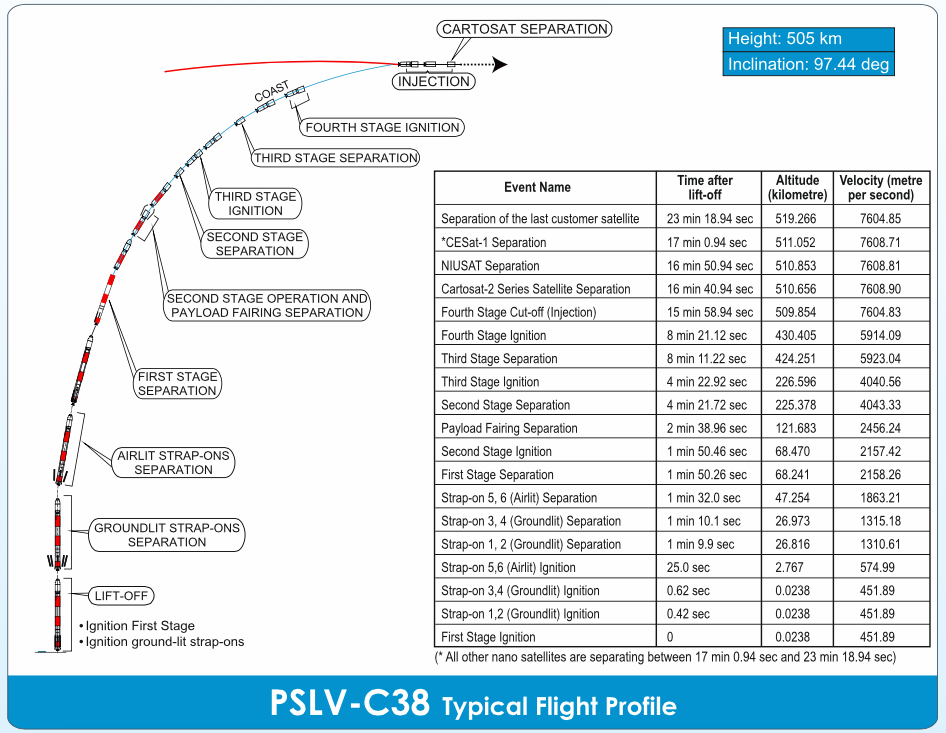 The PSLV's third stage motor, also packed with solid propellant, will ignite at T+plus 4 minutes, 23 seconds, and burn nearly four minutes. The fourth stage, powered by two hydrazine-fueled thrusters producing around 3,400 pounds of thrust, will then take over for a seven-and-a-half minute firing to inject the mission's 31 satellite payloads into orbit.
The rocket's on-board computer will aim for a nearly circular 313-mile-high (505-kilometer) sun-synchronous orbit inclined 97.4 degrees to the equator, a type of orbit favored by Earth-imaging satellites.
The main passenger on Friday's launch, the Cartosat 2E Earth-imaging platform, will deploy first from the PSLV's upper stage.
Weighing around 1,570 pounds (712 kilograms) at launch, Cartosat 2E carries black-and-white and color cameras to take images of Earth during a five-year mission.
"The imagery sent by the satellite will be useful for cartographic applications, urban and rural applications, coastal land use and regulation, utility management like road network monitoring, water distribution, creation of land use maps, precision study, change detection to bring out geographical and manmade features, and various other Land Information System (LIS) and Geographical Information System (GIS) applications," ISRO officials wrote in an official brochure for Friday's launch.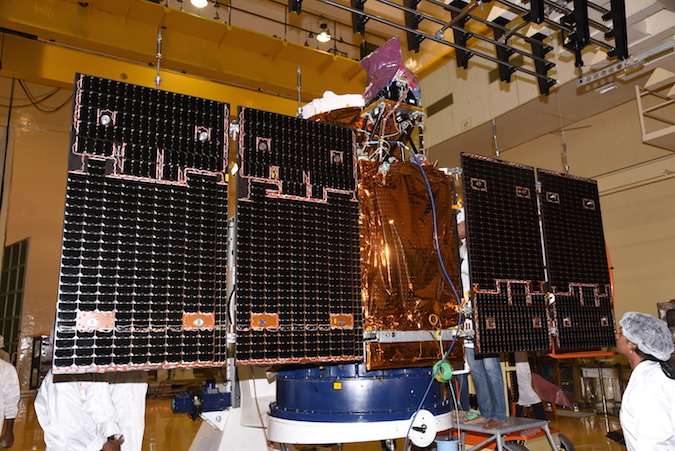 Next to separate from the rocket will be NIUSAT, a suitcase-sized satellite weighing about 33 pounds (15 kilograms) developed by students at Noorul Islam University in India's Tamil Nadu state.
Twenty-nine more satellites will deploy from the PSLV over a six-minute period. A timeline of the launch provided by the Indian Space Research Organization indicated all of the satellites will be off the rocket by T+plus 23 minutes, 19 seconds.
The secondary payloads include eight Lemur CubeSats from Spire Global, a San Francisco-based company. Each Lemur satellite, about the size of a shoebox, carries a GPS radio occultation antenna, using satellite navigation signals passed through Earth's atmosphere to derive temperature and humidity profiles that can be fed into numerical forecast models.
Spire's satellites also track ships out of range of terrestrial receivers.
With Friday's launch, the company will have placed a total of 41 CubeSats into orbit, some of which have ended their missions.
The Dutch company Innovative Solutions in Space, which specializes in arranging rideshare launches for small spacecraft, arranged for most of the payloads flying on Friday's multi-satellite launch. Engineers stowed the CubeSats in QuadPacks before shipping them to the Indian launch site.
Seattle-headquartered Spaceflight Services purchased space in the QuadPacks for Spire's eight Lemur satellites.
Another commercial weather data company, Pasadena, California-Based GeoOptics, will launch its first satellite on Friday's PSLV flight. The CICERO 6 satellite, based on an expanded CubeSat design, is the first of a planned constellation of satellites that will collect GPS radio occultation data, competing with Spire's fleet.
Other satellites awaiting launch Friday include a spacecraft named CESat 1 from Japan designed to demonstrate Earth observations using Canon imaging technology. The Max Valier Satellite, with an X-ray astronomy telescope and an amateur radio beacon, was developed in partnership by Italian high school students, Germany's OHB System AG satellite contractor, and the Max Planck Institute for Extraterrestrial Physics.
Latvia's first satellite, named Venta 1, hosts digital cameras and a ship tracking instrument. The 16.5-pound (7.5-kilogram) satellite was built by Latvian students and funded by the Latvian government.
Eight CubeSats for the multi-national QB50 science consortium, formed by educational institutions to conduct a wide range of research in low Earth orbit, will also head into space Friday.
The QB50 CubeSats launching from India are the second batch of satellites to lift off, following 28 of the compact student-built platforms which launched in April on an Atlas 5 rocket going to the International Space Station.
The QB50 CubeSats launching Friday include:
Pegasus from the University of Applied Sciences Wiener Neustadt in Austria
NUDTSat from the National University of Defense Technology in China
VZLUSAT 1 from universities and institutions in the Czech Republic
COMPASS 2 (DragSail-CubeSat) from the FH Aachen University of Applied Sciences in Germany
UCLSat from University College London in the United Kingdom
InflateSail from the University of Surrey in the United Kingdom
URSA MAIOR from the Sapienza University of Rome in Italy
LituanicaSAT 2 from Vilnius University in Lithuania
Other payloads stowed aboard the PSLV include the SUCHAI 1 CubeSat developed by students and faculty at the University of Chile in Santiago. It carries instrumentation to study the environment in low Earth orbit.
The Aalto 1 CubeSat built by Finnish university students will test a new type of spectrometer in space, measure space radiation and demonstrate an electrostatic plasma brake to drop out of orbit at the end of its mission.
Sponsored by the European Space Agency, the Robusta 1B CubeSat from the University of Montpellier 2 in France will measure the effects of radiation on satellite electronics.
The D-Sat mission, built and managed by a company called D-Orbit in Milan, carries a compact high-thrust solid rocket motor to validate an independent way of de-orbiting satellites. Relying on its own internal control system, the rocket fits inside the end of the D-Sat CubeSat, which is approximately the size of a toaster oven.
Slovakia's first satellite, skCUBE, is also hitching a ride to orbit Friday. Built entirely in Slovakia under the management of the Slovak Organization for Space Activities, skCUBE weighs just 2 pounds (1 kilogram).
Three validation satellites for a commercial communications network planned by Sky and Space Global Ltd., a British-Australian company, are set for launch on a pilot mission. The company plans to deploy up to 200 future nanosatellites for narrowband communications services.
A CubeSat named Tyvak 53b rounds out the payloads aboard Friday's PSLV mission. Manufactured by Tyvak, a launch services broker and small satellite-builder in Southern California, the CubeSat is also testing a new de-orbiting technology.
Friday's launch will be the 40th PSLV flight since it debuted in 1993, and India's fourth space launch of the year. It is the 17th time a PSLV XL rocket will fly using uprated solid rocket boosters.
Email the author.
Follow Stephen Clark on Twitter: @StephenClark1.