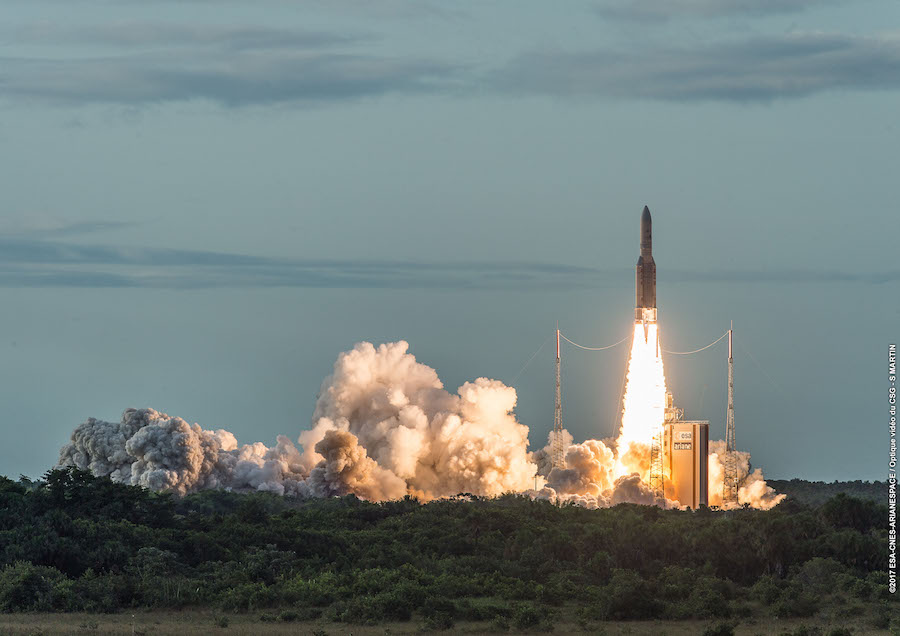 Two geostationary communications satellites rode an Ariane 5 rocket into orbit Wednesday from a launch pad in French Guiana, embarking on missions to broadcast television across Europe, the Middle East and Africa, link European air travelers with Wi-Fi, and relay video and data signals across India.
The tandem satellite launch marked the fourth Ariane 5 flight of the year, and Arianespace's seventh mission of 2017, deploying a spacecraft shared by the Greek and Cypriot operator Hellas-Sat and London-based Inmarsat and a payload built and owned by the Indian Space Research Organization.
The nearly 180-foot-tall (55-meter) rocket blasted off at 2115 GMT (5:15 p.m. EDT; 6:15 p.m. French Guiana time) after a 16-minute delay to allow the Arianespace launch team time to finalize final countdown preparations.
Rocketing into a partly cloudy sky shortly before sunset, the Ariane 5's guidance computer directed the launcher east from the northeastern coast of South America before it dropped two side-mounted solid rocket boosters into the Atlantic Ocean just after the flight's two-minute point.
The Ariane 5's Swiss-made nose cone jettisoned in the fourth minute of the flight, and the core stage's Vulcain 2 main engine, guzzling a mix of liquid hydrogen and liquid oxygen fired for nine minutes before giving way to an HM7B upper stage powerplant for the final maneuver to enter orbit.
The launcher intended to drop off the Hellas-Sat 3/Inmarsat S EAN and GSAT 17 communications satellite into an egg-shaped transfer orbit with a perigee, or low point, of 155 miles (250 kilometers) and an apogee, or high point, of 22,236 miles (35,786 kilometers). The drop-off was inclined around 3 degrees to Earth's equator.
Arianespace said the Ariane 5 reached an on-target orbit before releasing the two satellite passengers, first the 12,742-pound (5,780-kilogram) Hellas-Sat 3/Inmarsat S EAN spacecraft, which launched in the upper position inside the rocket's dual-payload accommodation.
The Indian-built 7,665-pound (3,477-kilogram) GSAT 17 communications satellite separated second.
Officials with Thales Alenia Space, the manufacturer of the Hellas-Sat 3/Inmarsat S EAN satellite, and the Indian space agency confirmed ground controllers established contact with both spacecraft soon after arriving in space.
The launch closed out a successful first half of 2017 for Arianespace, which had its launch campaigns in French Guiana halted more than a month in March and April by a general strike by local workers.
Arianespace resumed launchings May 4, and Wednesday's mission was the French launch company's fourth rocket flight in eight weeks.
"Arianespace is delighted to announce that Hellas-Sat 3/Inmarsat S EAN and GSAT 17 have been separated as planned in the targeted geostationary transfer orbit," said Luce Fabreguettes, executive vice president of missions, operations and purchasing at Arianespace.
"For the fourth time this year, and the 80th time in a row, Ariane 5 performed flawlessly," she said. "Unlike Ariane 5's usual missions, our heavy-lift vehicle delivered not for two but for three major customers at the service of telecommunications today."
The satellites will fire on-board thrusters in the coming days to circularize their orbits nearly 22,300 miles (35,800 kilometers) over the equator, where they will hold position over a fixed spot on the planet in geostationary orbit.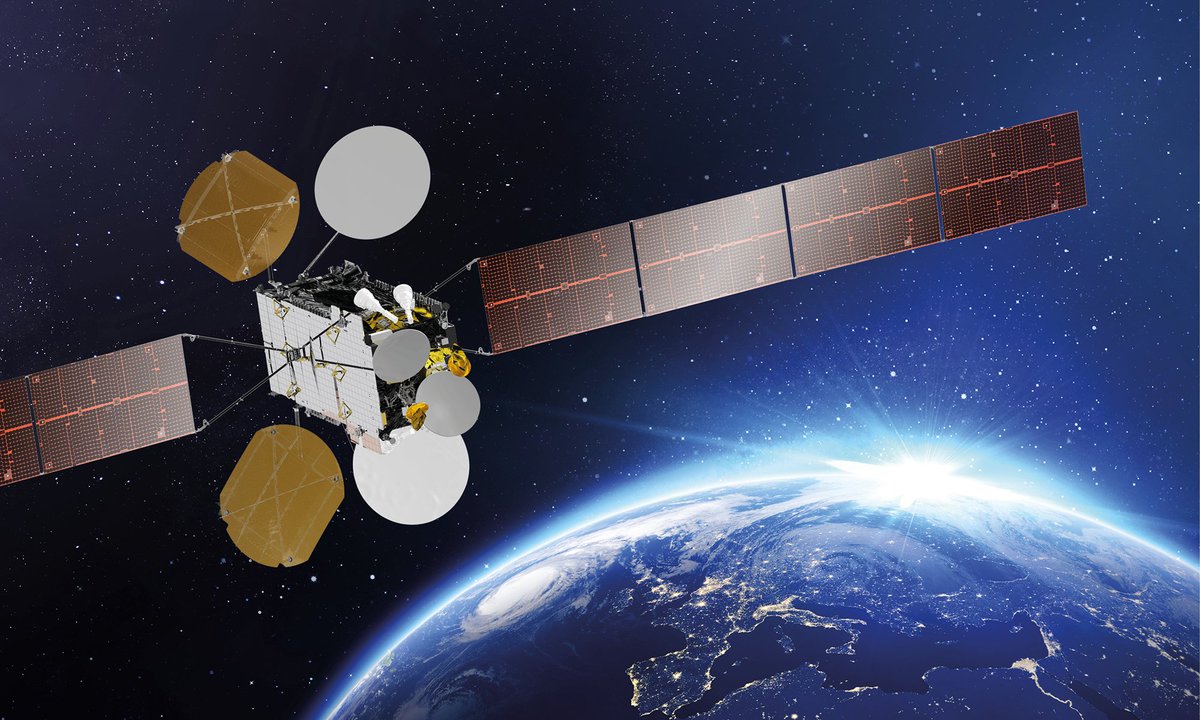 Developed in a cost-sharing arrangement by Hellas-Sat and Inmarsat, the mission's larger payload will broadcast direct-to-home television programming over Europe, Africa and the Middle East with 44 Ku-band transponders and a Ka-band payload owned by the Hellas-Sat, a telecom provider based in Greece and Cyprus.
It will expand and eventually replace broadcast capacity currently offered by the Hellas-Sat 2 satellite launched from Cape Canaveral by an Atlas 5 rocket in May 2003.
Harry Iordanou, Hellas-Sat 3 project manager, said the satellite "will be Hellas-Sat's second satellite at 39 degrees east delivering in-orbit, direct-to-home, and telecom services over its coverage areas in Europe, the Middle East and sub-Saharan African countries.
"Its activation will not only maintain but also expand Hellas-Sat's business reach with additional capacity, while bringing video content in high and ultra-high definition format," Iordanou said.
The satellite's initial orbit-raising maneuvers and deployments will be controlled from Thales Alenia Space's center in Cannes, while in-orbit testing and commercial operations will be managed from a control site in Nemea, Greece.
Speaking soon after Wednesday's launch, Greek telecommunications and digital policy minister Nikos Pappas said Greece is set to start its first space agency "in the next month or two."
The S-band payload on the Hellas-Sat/Inmarsat S EAN spacecraft will connect airline passengers traveling across Europe with Wi-Fi as a centerpiece of Inmarsat's European Aviation Network.
"This is a key milestone for our European Aviation Network," said Michele Franci, Inmarsat's chief technology officer. "It's part of a hybrid satellite and terrestrial network to provide cabin connectivity to passengers throughout Europe. This is one step of many, but with this we hope to be able to launch the service at the end of this year."
The European Aviation Network will have coverage in all 28 European Union member states, plus Norway and Switzerland.
The aeronautical communications project is a partnership between Inmarsat and Deutsche Telekom, which provides a network of approximately 300 4G ground sites, allowing a computerized controller aboard aircraft to automatically switch between ground and satellite Wi-Fi service as needed.
The airborne Wi-Fi network is "a European program that has been riding on one of Europe's best successes, Ariane, and it's to provide a service in Europe for European passengers," Franci said. "It will add to our drive to provide more and more services for aero connectivity, for cabin and passenger connectivity throughout the world. We have several hundred planes already being installed with our terminals and getting into our network, and we'll be able to serve many, many airlines over the next months and years."
Passenger jets operated by British Airways, Vueling, Iberia and Aer Lingus will be among the first to go live in the European Aviation Network.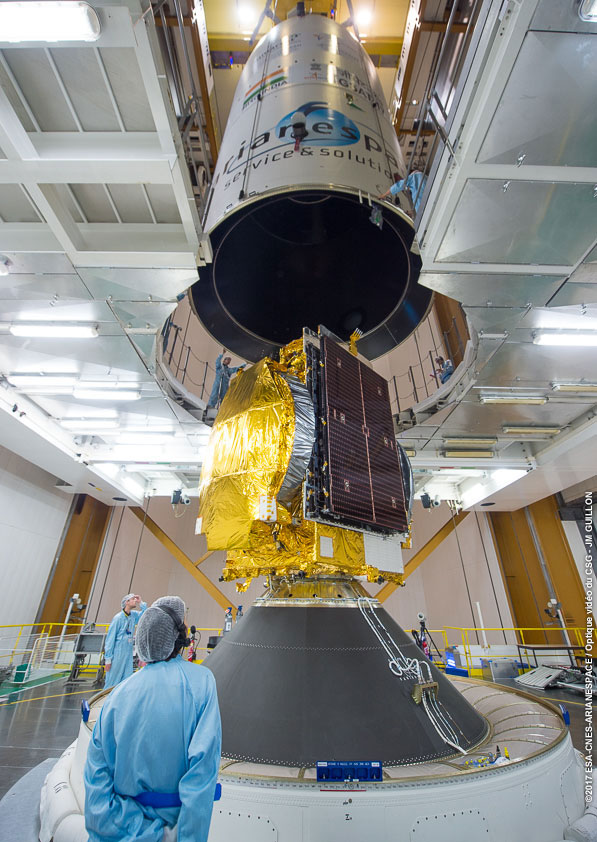 Heading for an operating position at 93.5 degrees east longitude, GSAT 17 is the heaviest Indian-built spacecraft ever built, according to Prakasha Rao, GSAT 17 launch campaign manager at ISRO.
Outfitted with C-band broadcast transponders and an S-band payload designed for mobile services, GSAT 17 will join 17 current satellites in India's communications network. According to ISRO, GSAT 17 also hosts a payload to relay meteorological data and has a search and rescue support mission.
K. Sivan, director of India's Vikram Sarabhai Space Center, said GSAT 17 is the third Indian communications satellite to launch in the last 50 days. It also caps a busy June for ISRO, which launched the maiden orbital test flight of its largest rocket, the GSLV MK.3, June 5 and deployed 31 Indian and international satellites in orbit on a Polar Satellite Launch Vehicle last week.
"GSAT 17 is a major (mission) for ISRO and India," Sivan said "It is providing continuity of services of two aging satellites, as well as augmenting our transponder reliability and broadening our horizon to mobile satellite services, as well as to the Antarctic areas."
Arianespace's next launch from French Guiana is set for Aug. 2 at 0158 GMT (Aug. 1 at 9:58 p.m. EDT), when a lightweight solid-fueled Vega booster will hurl the Optsat 3000 high-resolution reconnaissance satellite into orbit for the Italian military and deploy a French-Israeli environmental satellite named Venµs.
The next Ariane 5 mission is scheduled to lift off Aug. 31 with the Intelsat 37e and BSAT 4a communications satellites.
Email the author.
Follow Stephen Clark on Twitter: @StephenClark1.