Updated June 22.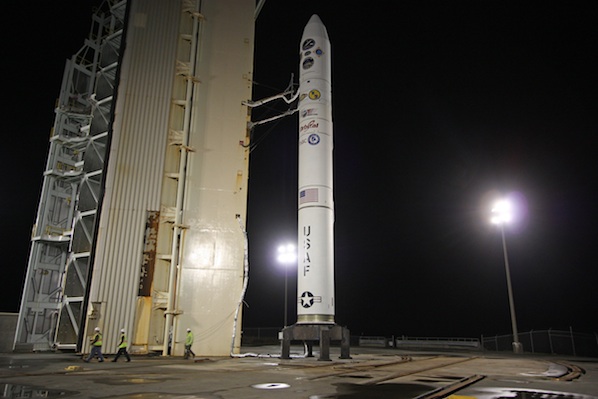 The launch from Cape Canaveral of a small U.S. military satellite built to track objects in geosynchronous orbit has been delayed from mid-July until at least late August, an Air Force spokesperson said.
The Air Force did not disclose a reason for the two-month delay, or a new target launch date for the SensorSat mission. The spokesperson said earlier this week the launch is now scheduled some time between the end of August and mid-September.
Two sources said Thursday the liftoff is targeted no earlier than 11:15 p.m. EDT Aug. 25 (0315 GMT Aug. 26).
The microsatellite is slated to lift off from Cape Canaveral on a Minotaur 4 rocket to locate and monitor movements of spacecraft and debris in geosynchronous orbit, a belt more than 22,000 miles (nearly 36,000 kilometers) over the equator populated by hundreds of commercial and military communications, missile warning, weather and reconnaissance satellites.
The blastoff was previously scheduled for July 15 from Complex 46, a rarely-used facility at Cape Canaveral Air Force Station that was last used for a launch in 1999. The launch facility is managed by Space Florida, a state economic development agency chartered to attract commercial space business to Florida.
SensorSat is being funded by the Air Force's Operationally Responsive Space office, a program set up in 2007 to investigate new contracting and development methods aimed at reducing the cost and time needed to deploy new satellites.
The ORS office, based at Kirtland Air Force Base in New Mexico, awarded a contract to Massachusetts Institute of Technology's Lincoln Laboratory to design and build the SensorSat spacecraft. Orbital ATK's Minotaur 4 rocket, which uses decommissioned Peacekeeper missile stages for its initial boost into space, won a $23.6 million contract to launch the mission in 2015.
SensorSat is also called ORS-5 by the Air Force. It is the latest in a series of ORS missions that tested a new battlefield imager, a space-based data relay antenna for combat troops, and an autonomous rocket destruct mechanism similar to the one now used on SpaceX's Falcon 9 rocket.
The ORS-5 launch will be the first flight of a Minotaur rocket from Cape Canaveral. Twenty-five previous Minotaur launches, employing retired Peacekeeper and Minuteman missile parts, have flown on suborbital and orbital missions from launch sites in Alaska, California and Virginia since 2000.
The Minotaur 4 rocket will place SensorSat in an orbit around 372 miles (600 kilometers) over the equator, employing an extra rocket motor to maneuver into the unusual orbit.
The Minotaur 4 usually comes with four stages — three lower boosters culled from the military's Peacekeeper ballistic missile stockpiles, and a commercial Orion 38 upper stage to maneuver payloads into their final orbit.
For the ORS-5 launch, the Minotaur 4 rocket will use two Orion 38 upper stage motors. The final Orion 38 motor burn will reduce the angle of the ORS-5 satellite's orbit, redirecting the spacecraft to fly over the equator.
Some details of SensorSat's mission remain secret, but the satellite will be a gap-filler to provide geosynchronous tracking data to the military after the retirement of the Space Based Space Surveillance, or SBSS, satellite launched in 2010, which is nearing the end of its design life.
With a mass between 175 and 250 pounds (approximately 80 to 110 kilograms), SensorSat will collect "unresolved visible imagery of resident space objects in geosynchronous orbit from a novel low Earth orbit," according to information posted on Lincoln Laboratory's website.
A follow-on space surveillance satellite is scheduled for launch in the early 2020s.
Email the author.
Follow Stephen Clark on Twitter: @StephenClark1.